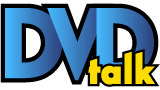 List Price: $26.99 [Buy now and save at Hkflix]
---
The Movie:

A prime contender for the title of Worst Science Fiction Movie Ever, the Euro-cheese puffle Immortal (original title Immortel: ad vitam) is director Enki Bilal's adaptation of his own French comic books (errr, excuse me, "graphic novels") from the 1980s. Considering the staggering incompetence with which the movie is put together, I can only assume that the comics were equally terrible, though after this I have absolutely no desire to verify that for myself. Immortal is one of those "digital backlot" movies like Sky Captain and the World of Tomorrow and Sin City in which live actors are photographed moving around in front of green screens and the entire rest of the movie (sets, props, everything) is filled in by computer later. The difference, of course, is that in those other two projects we are left with the impression that the cartoony CGI animation is styled for deliberate and purposeful artistic effect, whereas Immortal simply inspires reactions of, "Wow, these graphics suck!"



To classify Immortal as a live-action production would be a misnomer. The movie is at least 95% animated. There are only 3 or 4 live actors, and everything else is sub-Playstation quality CGI (when I say Playstation, I'm not even talking PS2; I mean original Playstation). Some of the characters are strange-looking aliens that you could make a reasonable case needed to be digital, but even most of the normal human characters are animated for no particular reason. The movie was produced in English, but most of the European actors (both live and voiceover) are clearly sounding out their lines phonetically, which I suppose was a benefit for them; if they could understand the atrocious dialogue they were speaking, they'd probably be horrified.



The story is set in New York City of the future. Specifically, it's set in New York City of the Fifth Element future. If the CGI wasn't so soft and blurry you could probably spot Bruce Willis driving one of those flying cabs. A giant floating pyramid is hovering over the city, which no one below seems to notice or care about. Inside, half-naked, animal-headed Egyptian gods play Monopoly and card games (I'm not kidding, this is really the plot!). One of the gods named Horus is sentenced to death for reasons that are never explained. He must have lost at gin rummy or something. Anyway, he's allowed seven days to cruise the city looking for chicks, which I guess is the ancient Egyptian equivalent of a last meal. He's desperate to impregnate one so that he can be reborn later or some stupid nonsense like that, but to do that he has to possess the body of a human man, because the Egyptian gods don't seem to have genitals of their own. Problem is, most of the time he tries to do this the human body explodes. Naturally, the police think he's a serial killer (Stop snickering! I'm really not kidding!). Eventually he finds one suitable body in a subversive existentialist poet/political revolutionary guy named Nikopol, and together they roofie a blue-haired goth chick and rape her, but hey the guy is kind of studly so of course she enjoys it and falls in love with her rapist.



It turns out the blue-haired hottie has an alien boyfriend who's totally into her "experimenting" with other men for reasons that are meant to be somehow philosophically profound. Then there's a bright red hammerhead shark-looking monster that slithers along walls and can shrink himself and swim through the plumbing system. I'm not really sure what the point of that was, but he gets zapped into goo by the laser eyes of the bird-headed Egyptian god. At the end, they all go to Central Park, which despite the rest of the city being in the middle of summer seems to be located in the arctic.



The movie is astoundingly stupid and boring and cheesy, with exceptionally poor animation quality and even worse dialogue. I pity poor Charlotte Rampling for getting trapped in this mess, even in such a minor supporting role. She's an actress of a caliber way beyond this tripe, and must have lost a bet to be showing up in it. The story doesn't make any sense, and it's so damn joyless and dull you don't want it to make any sense. You just want it to be over. Sadly, it takes 104 painful minutes to get there. Avoid at all costs.



The DVD:

The DVD under review comes from IVL in Hong Kong and is hard-coded for Region 3 in the NTSC format. A comparable Region 1 edition is available from First Look Pictures, but the import was supplied for free (one of the perks of being a DVD critic) and I'm certainly glad I didn't waste real money on this crap.



Video:

The movie is presented in 1.78:1 widescreen with anamorphic enhancement, and is significantly windowboxed with black bars on all four sides of the frame. That's meant to compensate for television overscan (you know, so we wouldn't miss a centimeter of those wonderful visuals) but is a serious annoyance for anyone with a no-overscan screen. The opening English prologue text was obviously slapped on as an afterthought (there's a random "R" in the upper left-hand corner of the screen for some reason) and is positively blurry.



The rest of the video looks as clean and sparkling as you'd expect from a direct-digital transfer, considering how ugly the movie is. The picture has a clichéd monochromatic look and is intentionally photographed in soft focus so that the few live actors will blend in better with the low-res CGI. Once you accept that, the image has very little artificial edge enhancement or other video transfer defects, and is fine for what it's supposed to be.



Audio:

Though the movie was indeed produced in the English language, it still sounds like a bad dub. Part of that is the European actors sounding out their lines phonetically, and part of it is that the soundtrack has erratic dialogue sync. This could be a DVD transfer issue, or is just as likely the result of bad ADR work and lousy lip-flap animation on the cartoon characters. I can't say for certain, and don't really care. The Dolby Digital 5.1 and DTS 5.1 soundtracks are otherwise loud, crisp, and rumbly, with lots of active separation effects as you'd want from a sci-fi movie of this type.



Optional subtitles are available in English and Chinese (both Traditional and Simplified).



Extras:

Nothing. Not even a trailer. No ROM supplements either.



The Region 1 release gets a half-hour production featurette, if you really had any interest in the startling revelation that, "Hey, this was all made in a computer!"



Final Thoughts:

I find it impossible to believe that anyone could enjoy or think that Immortal is a good movie. It's not even worth a rental. Pretend you never heard of it and consider yourself better off.



Related Article:

UltraViolet (Blu-ray) - Another craptastic CGI-fest in the same vein as this turd.
Sponsored Links
Sponsored Links