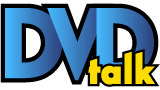 List Price: $10.50 [Buy now and save at Hkflix]
---
The Movie

Anders Klarlund's Strings is an absolute wonder to behold. An epic fairy tale from the land that gave the world Hans Christian Anderson and where they still evidently understand that the best fairy tales are the ones with a hefty dark edge Strings tells a tale of treachery, betrayal, war and love and does so in what, these days, is a nearly forgotten medium: puppets. More specifically with highly expressive stringed marionettes.

Strings is the story of Hal, the young prince of Helbaron and his treacherous ascension to the throne. The film opens with Hal's father, the aged king, despairing of ever bringing peace to the land thanks in large part to his own bloody past, committing suicide to clear the path for his son to assume the throne believing that perhaps Hal will be able to succeed where he has so abjectly failed. But, as if having your father commit suicide isn't bad enough, things take a turn for the worse for Hal when the old King's power hungry brother sees the suicide as a chance to assume power, destroys the king's suicide note, concocts a story that the king was murdered by the country's ancient enemy, and sends Hal on a quest for revenge thus clearing a path to the throne for himself. As Hal sets out on his quest he is forced to confront many unsavory truths about his kingdom, his father and, finally, himself before returning home to set things right.

Strings has a well worn plot, yes, but Klarlund does it right, telling it with enough style and ingenuity to keep things fresh and gripping. His characters are well fleshed out, he laces in numerous sub plots, the voice cast is excellent, and there is a degree of richness and complexity to the story and world that being a welcome reminder that fairy tales are not necessarily meant for children. He gives his story an unusual degree of darkness and Hal's journey is as much an inner journey as he realizes the costs involved in maintaining his privileged lifestyle – an early example comes when he injures a hand and has it replaced with a new hand taken from a living slave bred for spare parts – and that underlying theme of personal responsibility and blindness to our own sins gives the film much of its unusual heft.

As strong as the storytelling is, however, the real stars here are clearly the puppets and their miniature world. This is a film guaranteed to succeed only to the degree that people find the puppets believable and on that count Strings is an absolute, unqualified success. The puppets are stunningly expressive, even more so when you consider that the only moving part on their faces is their eyes. The world the puppets inhabit is fantastically detailed and beautifully shot. But Klarlund's wisest choice proves to be the choice to embrace the artificiality of his 'actors' rather than struggling against it. Rather than trying to force his puppets to behave just as people do he embraces their limitations, not only NOT hiding the strings but actually making them the central driving image of the film. He has built a world where the science, architecture, technology and spirituality of the citizens are all built purely around their strings. Everywhere you look this world is packed with fascinating details, startling and surprising little touches that remind you that this is a fantasy world fundamentally different from our own. It's the sort of film that you can watch again and again finding more and more little things hidden away in the background.


The DVD

Video

I caught the film via the just released Thai all region DVD. The video is presented with an anamorphic widescreen transfer. The print is clean but, unfortunately, very soft with a lot of visible grain in the picture. The transfer could be quite a lot stronger but it's not horrible and the Thai disc provides a cheap option, particularly for those of us in North America, where I don't believe the film has landed distribution.


Audio

This Thai disc includes both the Thai and English dubs of the film in 5.1 surround with the original Danish nowhere to be found. Now, I'm normally not at all a fan of dubs but the puppet animation has an interesting consequence: with no lip synch to worry about the dub directors didn't have to worry about anything beyond the qaulity of the vocal performances. End result is that this dub is quite good. The rest of the sound mix is also quite full and expansive.


Extras

Not a single English language extra to be found.


Final Thoughts

Strings is unusual, compelling viewing and pretty much a must see for fans of arthouse fantasy films. Completely unique, absolutely beautiful, well written stuff. Essential viewing.
---
C O N T E N T

---
V I D E O

---
A U D I O

---
E X T R A S

---
R E P L A Y

---
A D V I C E
Highly Recommended
---
E - M A I L
this review to a friend
Sponsored Links
Sponsored Links