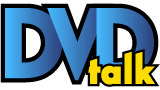 Atomik Circus (Thai version)
Other // Unrated // May 10, 2005 // Region 3
List Price: $3.99 [Buy now and save at Ethaicd]
---
The Film:


So, here's the latest from the Poiraud brothers (Thierry and Didier) where we have a singing toothless dog, a gay cop (who dies very quickly), a fugitive looking for his sweetheart, the wonderful Vanessa Paradis, violent head-chopping aliens, alternative ultra-avant-garde punk rock, and more blood and flying chopped-off heads than you could imagine. Try putting all of this together and you might get a very tiny idea of what Poiraud Bros. latest film, Atomik Circus looks like. This weird production is as violent as Haute Tension yet it is as funny as...well, the closest I could compare it with is the Evil Dead series. Just when you think you have seen the most bizarre scene the Poiraud brothers can come up with...BANG... another violent/ridiculous scene...and....there is another head over in the ditch.





In the tradition of classic trash-cinema (anyone remember Bad Taste and Street Trash?) Atomik Circus a.k.a Le Retour de James Bataille delivers the goods down to the smallest detail. There is no barrier which the Poiraud brothers fail to break with this film. There is over the top violence, ridiculous characters that are so bad they are actually fun to watch, inter-gallactic time traveling, and tons of weird action that will put a smile even on the most pretentious of gore-sci-fi adventure fans. In fact, anything about this film screams excess in a way I have not witnessed in any other production from recent years.








What really strikes in Atomik Circus, however, is the splendid camera work. Shot in glorious 2.35:1 there are some captivatingly beautiful scenes that are delightful to watch. As funny as it may sound Steven Spielberg is really up against a competitor that has mastered his aliens in a very convincing way. Spreading live giant, razor-sharp, shuriken stars that are chopping heads off and eating facial skin these creatures are quite a treat to behold. And the gore…o, boy…so much of it…the shooting sets must have been a lot of fun for the filming crew.



It has been awhile since I have seen anything like Atomik Circus being made by mainstream actors. Whoever approved, sponsored, and made this film a reality has my admiration. It takes a lot of guts to complete such an extreme production where the acting is actually top-notch. I am not the biggest fan of the gore-genre, or perhaps I should say crossover genre as there are a number of other subs here, but it can't be denied that Atomik Circus is wild, funny, extremely violent, and above all absurd film made for the fans to enjoy. At least those that appreciate quality excess cinema will surely get a kick out of it.



The "story" if I could describe it as such also lives up to the expectations. There are twists that keep the viewer guessing what other craziness the directors can bring to the screen. And, o boy, they sure know how to use red paint. What starts up as a simple fugitive, Romeo and Juliet wanna-be thriller, soon evolves into the most violent sci-fi story you could imagine. The killings are massive, the aliens merciless, and the humans as stupid and powerless as they have to be so we can get all these heads rolling on the screen.



Atomik Circus is without a doubt a bad film, there is simply no question about it, but in a good way. In fact, I think that this is precisely what fans of the genre will find so valuable about it. I suppose these are the kind of films that make the hearts of film nerds leap with appreciation yet make critics sweat in their sleep. I am also curious to find out if this violent production will actually make it to US shores. If it does, there will be a lot of head-scratching between film censors. For what is worth though I guarantee you Atomik Circus is unlike anything you have seen in recent years.



How Does the DVD Look?

The DVD reviewed here was generously offered by Nicheflix and it is encoded Region 3. This is the Thai version of Atomik Circus which offers optional Thai and English subs as well as an optional Thai dub. Presented in its original aspect ratio of 2.35:1 and enhanced for 16/9 TV's the image is not spectacular yet it is way beyond average. There is some noticeable edge-enhancement, macro-blocking, and colors appear a tad worn-off. In addition, contrast is not as good as it should be for such a recent release. However, being a PAL encoded DVD I also suspect that the Thai version has been ported directly from the French, non-English friendly, version. Which is not such a bad thing in this particular case as it is practically a PAL to PAL port. With this said it is indeed an average job that I am not particularly impressed with. All in all given the fact that this is the only English friendly version of Atomik Circus I think that the Thai disc, for now, is certainly an acceptable option. (*Please note that all screen captures in this review are "media-shots" and are not directly taken from the Thai R3 version).



How Does the DVD Sound?

The Thai disc offers optional Thai and French 5.1 soundtracks with optional English and Thai subtitles that I am perfectly happy with. The sound is well handled and dialog easy to follow amidst the thunderous punk-pop-rock and alien action. Again, I suspect that the Thai company simply copied the French audio track from the TF1 version.



Extras:

There are no extras on this disc.



Final thoughts:

I was so overwhelmed by this film I decided to write a review for it. I think that those that enjoyed the violent Haute Tension and are keen on experimenting with the same degree of excess (even going a step further) will find Atomik Circus a delight to watch. Those that dislike over-the-top vile gore-sci-fi action films will simply dismiss Atomik Circus as a bad and really poor attempt in exploitation cinema. Count me in the group of people that was really knocked off by the amount of excess in this film. I was impressed. With this said, however, Atomik Circus might not be your cup of tea. It is a weird film that should make some weird headlines. So, lower your expectations and disregard all the hype, including this review that should only serve as a warning, and enjoy the ride.

As to the DVD and its quality…I shall put it this way-the Thai version could be bought for a measly 3.99$ plus shipping. Considering the fact that there is no English friendly version currently available on the market, other than this Thai R3 disc, I can not but RECOMMEND this film to you. It is worth every penny!!!
---
C O N T E N T

---
V I D E O

---
A U D I O

---
E X T R A S

---
R E P L A Y

---
A D V I C E
Recommended
---
E - M A I L
this review to a friend
Sponsored Links
Sponsored Links