Fox // Unrated // May 9, 2006
List Price: $27.98 [Buy now and save at Amazon]
---
Opening Thoughts: Perhaps you missed Grandma's Boy when it hit the theaters just a mere 5 months ago? Well you're certainly not alone. Have no worries, because thanks to a lightning quick Theater-to-DVD turnaround you can see what you missed (or didn't).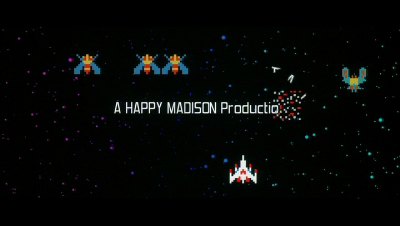 The Movie
The director for Grandma's Boy, Nic Goossen, summarizes the film in three words: Video Games, Grandmother's and Weed. That's pretty spot on, but the three words' I'd use to summarize the film would be: Ninja Blood Orgy. Confused? Good, because that's the way the Tae Kwon Do monkey like's his opponents!
Made by Adam Sandler's production company Happy Madison Productions, there are plenty of familiar faces in this picture (minus Mr. Sandler). Actor/Writer/Producer Allen Covert play's the lead role of Alex who is an aging video game tester. Starting off the film, Alex gets kicked out of his house and is forced to slum around thanks to his roommate's addiction to Filipino hookers. After a few funny mishaps here and there, Alex finally ends up staying at his Grandma's Lilly's house (played by Doris Roberts) and her two roommates Grace (Shirley Jones) and Bea (Shirley Knight). The game developer company that Alex works for, Brainasium, is trying to finish their latest game Eternal Death Slayer 3. To make sure it gets done on time, they hire Samantha Garson (played by the very attractive Linda Cardellini of Freaks and Geeks fame) to make sure the production run smoothly. That's about the extent of a serious plotline that Grandma's Boy offers up. The rest of the film basically flows scene to scene providing plenty of hijinks, crude humor and stoner jokes along the way.
I wasn't sure what to expect going into this film considering its lack of advertising and box office stay. However, I've been surprised before by other low budget comedy outings like Harold and Kumar Go To White Castle and Waiting…. Being a hardcore video game fan for years, I was also interested in seeing how they'd translate the game industry to film. While they nailed some things, by the end of the film it almost seemed like a convenient afterthought. Despite shortcomings that include stale acting, bad pacing, poor script writing and bad direction, I still found myself laughing quite frequently. Stand up comic and co-writer Nick Swardson plays Alex's thumb sucking co-worker Jeff. He riffs out many of the best lines in the movie with a straight face. Actor Peter Dante (Dante) also provides a lot of the funnier moments in the film. If you've ever seen an Adam Sandler film, you'll remember who Peter Dante is, he's hard to forget. Good performances also go out to Jonah Hill (Barry) and Abdoulaye NGom (Dr. Shakalu) who also helped the laughter flow. Then of course there is everybody's favorite Grandmother, Doris Roberts, who does a great job changing things up in this film. Along the way we also get SNL alumni Kevin Nealon, Rob Schneider and David Spade in small roles. Besides Nealon however, they really don't add much to the film.
Grandma's Boy is presented in its original theatrical R-Rating and a new Unrated cut for this DVD release. I'm not sure what the differences are, but the run time on the Unrated cut is a mere 42 seconds longer than the Rated-R version.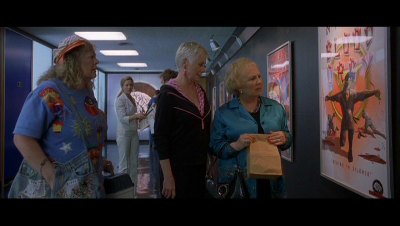 The DVD
Video: Grandma's Boy is presented in it's original theatrical aspect ratio of 2.35:1. The anamorphic widescreen picture is solid throughout the film. Edge enhancement wasn't a problem and there weren't any apparent compression issues. Colors were bright and vibrant while black levels were very good. Overall what you get is a solid looking transfer.

Sound: The English Dolby Digital 5.1 track sounds very clear and crisp for dialogue, which comprises most of the film. Occasionally when music is present in the mix, the sound field opens up into the front speakers and subwoofer. The DVD also includes French and Spanish Dolby Digital 2.0 mixes.

Extras: Fox surprisingly dishes out a decent set of extra's for this release. First off we get a pair of feature commentary tracks. The first is a solo commentary provided by director Nic Goossen. It's rather routine as the director provides personal insights as well as some production tidbits on the film. The second commentary is from actor/producer/writer Allen Covert, and actor's Nick Swardson (also co-writer) and Peter Dante. This is a really fun commentary that was recorded with everyone in the same room. Alan, Nick and Peter have a good time while joking and ripping on each other. They also somehow manage to point out some nice bits of information about the film. This is definitely the commentary track I'd watch if I had to choose.

Next we get 2 featurettes entitled "Covert Wacks It" and "Monkey", which run a total of 10 minutes. Then there's about 11 minutes deleted/alternate scene montages entitled "Scenes That Went Up In Smoke" and "Unsmoked Material". Also included are 10 "Deleted/Extended Scenes" which you can watch individually, but if you've watched the previous two montages you've pretty much seen everything.

Now we get to the fluff. First up is "Fox Movie Channel Presents: Casting Session", which is basically an 8 minute EPK about the casting of Grandma's Boy. A music video, "Another Day" by the Twenty Two's is provided along with a brief 2 minute "Making Of" piece. Wrapping things up we get an unrated trailer for Grandma's Boy and a brief 1 minute advert for the films soundtrack.

Fox also has included some preview trailers for: Dude Where's My Car, Super Troopers, The Ringer and The Omen.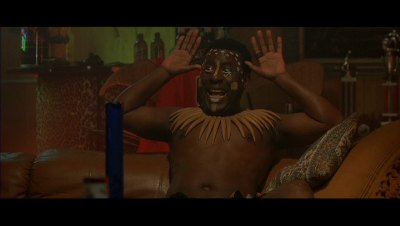 Final Words: As a whole Grandma's Boy isn't that great of a film. On the other hand, I did laugh my ass off quite often, so the filmmakers must have done something right. If you like your humor somewhat nerdy and a little baked, then I'd say look this one up. There's a good enough mix that there should be some laughs for just about everyone. Fox's DVD delivers, so I'd say this is at least worth a rental, but probably not a blind buy.

Sponsored Links
Sponsored Links