SpongeBob SquarePants - Season 4, Vol. 1
List Price: $36.99 [Buy now and save at Amazon]
---
When SpongeBob SquarePants debuted in 1999 on Nickelodeon, we were, as regular Snick (Nickelodeon shows on Saturday night) viewers, frankly disappointed. It was touted as a replacement for the popular Nicktoon, Rocko's Modern Life, which had ceased production in 1996. For whatever reason (and we were not alone -- SpongeBob SquarePants wasn't an immediate hit, despite what people think today), we just didn't cotton to the show at first. I remember thinking it was way too childish for me to watch along with my kids, whereas Rocko was quite entertaining for adults. It also seemed a tad silly, with little viewpoint to grab an adult viewer.
Of course, who cared if an adult didn't like the show -- our kids loved it, and their incessant begging to watch it on Saturday nights eventually wore us down, and we gave it a second look. Maybe we needed time to get used to it, but after awhile, we started to see what everybody else had already discovered: a goofy, high-octane, super-charged cartoon that quickly became essential viewing for child and parent. It's hard to describe to somebody who doesn't watch these cartoons with young kids, how absolutely unhinged they become when that catchy little sea-shanty tune comes on, jacking them up.
When trying to explain the popularity of these influential pop culture cartoons, it's usually said that the really big ratings winners get to the top by appealing to parents as well as their children. Maybe, although I defy any parent to watch more than one episode of Rugrats before mentally tuning out, and that show was a huge hit. But certainly SpongeBob SquarePants has become a pop culture touchstone because almost as many adults watch it as children, regardless of whether or not they even have children.
And what appeals to the adults on one level, probably attracts the kids, too. SpongeBob SquarePants is first and foremost, unapologetically silly. Kids love SpongeBob SquarePants's humor that distorts reality, with the repetition of physical gags (SpongeBob's repeated screaming, over and over again to the point of insanity) carried to such an extreme that even they can understand that the conventions of typical cartoon comedy are being perverted for their pleasure. And adults -- well, they know that, too. They can appreciate the adult references to old Hollywood movies (the dead-pan observers in the foreground who get off a smart quip, the overly dramatic music cues, corny montage sequences) and television (the Perry Mason and The People's Court music cues in the Krabs vs. Plankton episode), while admitting to themselves that SpongeBob running around screaming with his eyes bugging out, is funny -- with no apologies.
There's another element to the SpongeBob SquarePants juggernaut that makes it so popular (on a regular basis, multiple episodes show up in the weekly top ten cable Nielsen ratings) -- confidence. There's a professional, confident air about the show (surely fed by its own success) that transfers to the viewer. You know you're going to be taken care of for your entertainment needs, for 11 minutes, by a bunch of pros. The show knows exactly what its range is, and it stays within in expertly, delivering great episodes consistently, week after week. And at times, the episodes can even go beyond the norm, to genuine moments of poignancy. The Have You Seen This Snail? two-part episode, while being funny, achieves some depth in its depiction of Gary running away from home (the superlatively sad song, Gary, Come Home by Stew) and finding love with Grandma, who thinks he's her long-lost cat. When Gary realizes he has to escape from her crushing love (which equals constant overeating) or die like the other snail shells he finds, it's both funny and rather touching.
Of course, all the professionalism in the world wouldn't help if the characters weren't appealing, and they certainly are here. SpongeBob remains the center of attention; an eternal optimist, an exuberant nerd whose perennial sunny disposition drives his grouchy boss Mr. Krabs and his enervated, ticked-off co-worker and neighbor Squidward, absolutely crazy. I suspect kids really connect with the essential niceness in SpongeBob's character, as well as his penchant for constantly screwing up. Adults probably laugh the most at Mr. Krabs, who has the first dollar he ever made, framed and hanging in his office (we've all had bosses like that), and Plankton, the hilariously stentorian-voiced evil genius who dreams of capturing the famous Krabby Patty recipe, and ruling the world. Kids love Patrick, as well, because they realize that no matter how much they get into trouble, they can't be nearly as dumb as Patrick. If you're like me, and love old movie stars, Ernest Borgnine's regular appearance as Mermaidman, with Tim Conway as Barnacleboy, is a special treat. He's hysterical here in the Mermaidman & Barnacleboy VI -- The Motion Picture episode (Get your hands off me, woman!)
Here are the 18 episodes included on the two-disc SpongeBob SquarePants Season 4: Volume 1 box set:
DISC ONE:

Fear of a Krabby Patty
Plankton sets in motion another evil plan to steal the Krabby Patty formula. This one might be just what the doctor ordered.
Shell of a Man
Mr. Krabs has a reunion of his old navy buddies, but he's molted. Not wanting to go without a shell, he disguises SpongeBob as himself and sends him to the reunion.
The Lost Mattress
Mr. Krabs has a lumpy mattress, so Squidward, Patrick and SpongeBob get him a new one and toss the old one. But that's where Mr. Krabs hid his money!
Krabs vs. Plankton
Plankton falls at the Krusty Krab and sues Mr. Krabs. If Plankton wins, he'll get everything Krabs owns, including the Krabby patty secret formula!
Have You Seen This Snail?
Gary runs away and is taken in by a sweet old woman who showers him with love, attention and lots of food. Can Gary make it out of Grandma's house before he explodes?
Skill Crane
A Skill Crane is installed in the Krusty Krab, and Squidward becomes obsessed. When Squidward wins he feels confident, so he tests his new skills on a real construction crane!
Good Neighbor
All Squidward wants to do is relax on his Sunday off. With SpongeBob and Patrick around, he won't be taking it easy this Sunday, or any other, for a long, long time.
Selling Out
It's early retirement for Mr. Krabs when he sells The Krusty Krab to a conglomerate that plans to turn it into a big corporate chain.
Funny Pants
Because of a nasty trick by Squidward, SpongeBob loses the ability to laugh!
DISC TWO:

Dunces and Dragons
A jousting accident sends SpongeBob and Patrick back in time where they embark on a quest to restore peace to a kingdom in peril.
Mermaidman & Barnacleboy VI -- The Motion Picture
SpongeBob and Patrick decide to make their own movie starring retired superheroes Mermaidman and Barnacleboy!
Enemy-In-Law
Mama Krabs is dating again and things look serious. Her new boyfriend? Plankton!"
Patrick Smartpants
During a day of jellyfishing, Patrick loses his brain and accidentally replaces it with that of a genius.
Squidbob Tentaclepants
Sandy's new invention causes a bit too much togetherness for SpongeBob and Squidward.
Krusty Towers
Mr. Krabs opens a hotel with one goal in mind: charge guests top dollar for room service.
Mrs. Puff, You're Fired
If SpongeBob doesn't pass his next hands-on driving test, the Boating Teacher's Accreditation Bureau will replace Mrs. Puff!
Ghost Host
The Flying Dutchman fears he's lost his scary touch, so SpongeBob lends a hand to help him get his ghostly gift back.
Wishing You Well
When a wishing well is installed near the Krusty Krab, SpongeBob sets out to make all of the wishers' wishes come true.
The DVD:
The Video:
With computer animation and digital transfer technology, kids are very lucky today: SpongeBob SquarePants will look as good a hundred years from now, as it does today. There's no need to restore any picture elements or correct the color. As expected, the picture quality is brilliantly clear and sharp.
The Audio:
The Dolby Digital stereo mix is excellent; all of SpongeBob's screeches come through crystal clear. And if you're a parent whose teeth set on edge every time that song plays, don't worry; they only play it once at the top of the disc. The rest of the episodes are sans song. Close captioning is available (although not listed in the menus), and can be helpful with some of the pop culture references if you need them (identifying music cues, for example).
The Extras:
On the first disc, there is a side-by-side comparison of episode Fear of a Krabby Patty with its original uncut animatic mock-up. Unfortunately, there's no explanation of this process, so if you're not familiar with what the animatic exactly is, there's really no point in watching it. The kids won't like it, either. On disc two, there's another animatic comparison for the Dunces and Dragons episode. Again, there's no commentary, so unless you're an animation buff, there's not much point in watching it. As well, there's a short documentary called Behind the Scenes with SpongeBob SquarePants where we see the vocal talents at work. While it's cool to see the actors matched up with their cartoon counterparts (and to recognize a few actors from other shows), there's no discussion of how the dubbing process is done -- does the voice work come first or last? How hard is it? How often is it done? Those questions aren't asked. And if you have young children who really believe in SpongeBob, it might be a good idea not to let them watch this -- it could confuse them to see the actors sounding exactly like their favorite cartoon characters.
Final Thoughts
SpongeBob SquarePants Season 4: Volume 1 is chock-full of great SpongeBob moments, that you won't feel guilty about watching -- even if the kids aren't home. You know you like the show, and you've seen it a hundred times. So buy the DVDs, and tell the clerk it's for your kids. Highly recommended.
---
Paul Mavis is an internationally published film and television historian, a member of the Online Film Critics Society, and the author of The Espionage Filmography.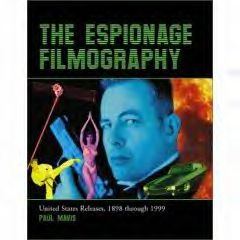 ---
C O N T E N T

---
V I D E O

---
A U D I O

---
E X T R A S

---
R E P L A Y

---
A D V I C E
Highly Recommended
---
E - M A I L
this review to a friend
Sponsored Links
Sponsored Links