Walt Disney Legacy Collection - True Life Adventures, Vol. 4: Nature's Mysteries
List Price: $32.99 [Buy now and save at Amazon]
---
Fridays at my elementary school were, for me at least, anticipated not only because of the coming weekend, but also because, quite often, my teachers would schedule a film for the day. Rolling out the heavy, seemingly huge Bell & Howell 16mm projector, the teacher would turn over its operation to the kids who could thread it up properly and run it (usually me) - as well as not screw around by deliberately messing with the focus or making hand shadows on the screen -- while he or she would relax at their desks, waiting too for the weekend. And invariably, we'd see some kind of Disney educational short; if it wasn't something like Seal Island or Beaver Valley, it would be a cartoon like Donald in Mathmagicland. As well, at our local second-run movie house, at least once a month a Disney feature re-release of some kind would appear for a Saturday matinee, with a True-Life Adventures short tacked on for good measure. Rowdy kids in their theatre seats, or at their desks, would settle down once the soothing, measured tones of narrator Winston Hibbler came forth (or warbled forth, depending on the shape of that 16mm school print), and we'd be treated to yet another True-Life Adventure; a timeless story of nature in all of its infinite beauty and variety, as seen through the eyes of the magic makers at Disney.
Disney's celebrated True-Life Adventures shorts and features, a group of films that have a widespread, emotional connection with audiences who saw them over the decades in theatres, on television and in schools, have long been absent from the Disney video and DVD archives. And those Disney features that have a spiritual connection with the True-Life Adventures series, such as 1966's Charlie, The Lonesome Cougar, have been given rather shabby treatment in their DVD releases. Inaugurating the new Walt Disney's Legacy Collection line of DVDs, Disney's True-Life Adventures: Volumes 1 - 4 is a spectacular collection of all the Disney studio's True-Life Adventures shorts and features that were produced between 1948 and 1960, as well as other nature titles that, for various unexplained reasons, were never officially included in the True-Life Adventures series. They have been lovingly restored for optimal picture quality, and they look better even then when they were first shown. Also included on each volume (the four volumes are sold separately) are hours of bonus materials related to the True-Life Adventures series that no Disney enthusiast can be without. Quite simply, the Walt Disney Legacy Collection, consisting of Disney's True-Life Adventures: Volume 1: Wonders of the World, Volume 2: Lands of Exploration, Volume 3: Creatures of the Wild, and Volume 4: Nature's Mysteries, are four of the finest DVD sets produced this year, and an absolute must-have this Christmas season.
Walt Disney's early love of, and connection with, animals, is well known to students of the man, so it's not surprising that for years, Walt nurtured a growing kernel of an idea for a film series that featured live-action footage of real animals. Prior to the True-Life Adventure series debut, the Disney studios had commissioned live-action footage of animals for its animators to study, to impart greater realism to their cartoon shorts and features (Bambi, in particular, benefitted from this practice). As well, Walt began to see live-action as a cheaper, less work-intensive way to diversify his studio's output, particularly after his experience producing government-sponsored live-action training films during World War II. The war-related work that Disney was commissioned to deliver, and the subsequent sidetracking of his artists away from their pre-war animation projects, had also substantially impacted Disney's ability to produce full-length animated features, which took years of planning and execution before they could reach the screens. Hence, immediately after the war, Disney had to rely on cobbled-together animated shorts made into feature-length films, such as Fun and Fancy Free and The Adventures of Ichabod and Mr. Toad. All of these factors contributed to Walt's decision to inaugurate a new series of live-action shorts called the True-Life Adventures series.
Purchasing 16mm color footage filmed in Alaska by husband-and-wife naturalists Elma and Al Milotte, Walt took the shapeless miles of film and gathered together a team of artists to mold the directionless material into a short subject. Walt put James Algar, one of Disney's top animators and directors, in charge of the new True-Life Adventures unit, and secured the services of Winston Hibler to co-write and narrate the new short. With Anthony Gerard editing, along with Oliver Wallace's arresting score, Seal Island took shape. Once completed, Walt faced the uphill battle of selling the odd little short. Of course, there had been nature documentaries before the True-Life Adventures, but they mostly consisted of either exploitation features such as Frank Buck's Bring 'Em Back Alive, or traveling lecture shows, with naturalists and scientists presenting their random nature footage to local clubs and civic organizations (such as the Milottes did). But no one had thought of taking nature footage, and applying to it basic storytelling techniques to create a story focused solely on the featured animals. Walt Disney's distributor at the time, RKO Studios, initially rejected the idea of showing Seal Island. It was considered too brief to launch as a major release, while its subject matter ("You mean it's just shots of animals?" one can imagine hearing the executives say) was thought too new and experimental to take such a financial risk. Upon hearing this (and Walt had had trouble with RKO before), Walt instructed his brother, Roy (who was the financial genius behind the Disney studio) to rent out a theatre in Pasedena to make sure the short qualified for Oscar consideration. The film proved to be an enormous financial success, further souring Walt's view of his deal with RKO. Indeed, when Walt was ready to release the first full-length feature film in the True-Life Adventures series, The Living Desert, RKO again demurred, forcing Walt and Roy to form their own distribution arm, the famed Buena Vista company, further enriching the Disney studio and generating a far greater field of exhibition for future Disney films. And thus, the True-Life Adventures series was born.
I remember in film school taking a course on documentaries, and my professor taking particular pleasure in attacking the Disney True-Life Adventures series. Chief among her complaints was the notion that these nature documentaries were "staged," and that the process of directing and editing the footage, along with added sound effects (many of them man-made for the animals) and "Micky Mousing" music cues, negated the series from serious critical evaluation. They were, to her, "phony." When I raised my hand and reminded her that Nanook of the North, long considered one of the greatest documentaries ever made, had recreated scenes, including having to teach Nanook how to hunt like his ancestors before filming took place, I pretty much knew I was getting a low grade on my next term paper. The notion that these True-Life Adventures are somehow "dishonest" doesn't make sense to me, in that, the producers were trying to show events and scenes for entertainment purposes -- period. Educating the public, if indeed that notion was even considered, came subliminally. Walt constantly reminded the unit to make entertainments, not nature documentaries. The addition of sound effects, as well as the marvelous musical scores that not only highlight the action, but comment on it (the famous otter slide sequence in Beaver Valley), were in no way considered by the Disney staff as compromises to some vague "truth." Rather, they were necessary tools for making entertaining features; they smoothed over the rough spots of the largely unrelated material, while providing hooks for the audience to appreciate the footage. Have you ever stared at 30 minutes of a beaver gnawing on a tree branch? I would suspect most people might get bored after awhile.
Of course, there can be issues with staging action; in particular, the infamous "lemming suicide" sequence in White Wilderness. Much has been written about this problematic scene. However, some of what's been written is misleading. Often, this sequence is pointed to as an example of misinformation purposely staged by Disney to create a dramatic moment (of course, they never mention all of the myths that Disney corrects in these films -- such as the bad reputation that wolves have, which they don't deserve, in White Wilderness). Listening to the narration, it's clear that the screenwriter is saying the impulse to suicide is a legend with the lemmings, not a fact as I've read before in other accounts. However, it does appear that animals may have been injured in staged sequences. I won't justify such treatment, but I will say that attitudes towards the treatment of animals on film sets have drastically changed over the decades, and it's unfair to hold yesterday's films to today's standards (I don't hear the same critics who decry this sequence call for a ban of all John Ford films - a lot of horses bit the dust from trip wires on his productions).
What critics of Disney's True-Life Adventures series also don't take into account is the tremendous influence for the good that these shorts and features have perpetuated. I certainly remember being in awe of the views of nature on display in the True-Life Adventures; watching them today, there are still sequences that are astounding to behold (the wolverine/osprey battle in White Wilderness). A good case could be made for these shorts and features being a major catalyst for the environmental movement that would grow during the 1950s and 1960s. Leaving behind any specific message of conservation in their narratives, the True-Life Adventures impart a reverence for nature and beauty in their very subtext that has influenced young viewers for decades. How many scientists, environmentalists, naturalists, and botanists decided on their careers after watching these amazing films? Certainly the good will that these films have promoted concerning our environment outweigh an unfortunate incident in one of the shorts.
And as always, there are critics who decry the "Disneyfication" of the animals portrayed in the films, lamenting the anthropomorphizing effects of the editing, sound effects and music cues. But that's a view that's not born out by actually watching the films. Certainly, there are "cute" moments aplenty in the film; there's a high "Awwwww!" factor whenever the films show various baby animals at play. And there's nothing wrong with that; again, these films were meant to reach adults and children, and to entertain them, and those sequences are perhaps the best-remembered parts of the films. However, with all of the films, treated right up front in the narration and in the depiction of the battle for survival, is an unsentimental view of nature that imparts great respect for the animals and the processes of nature presented. Time and again, the films stress that nature is implacable in its disinterest; nature plays no favorites, and cute little animals die in the jaws of less cute animals. Some historians have gone back now, and have tried to wrangle political motives onto these "survival of the fittest" storylines, hoping to tie in their evaluations of Walt himself with these storylines. Whether this is true or not is beside the point (I think it's, at best, a stretch). The True-Life Adventures show a decidedly realistic view of nature and its laws, in direct opposition to what Disney critics like to think Disney films are all about: sweetness, light, and fairy-tale endings. From beginning to end, these True-Life Adventure films firmly get the point across that nature has had its own rules from the beginning of time, and respect must come from that - because you're not going to change it. Animals are born, they fight for survival every day, and they die - usually at the hands of other predators. And these cycles, like the seasons, will continue forever. I hardly call that a saccharin outlook.
Here are the shorts and features included in the Disney's True-Life Adventures Volume 4: Nature's Mysteries:
DISC ONE:
Introduction By Roy Disney
An introduction by Roy E. Disney, the son of Roy Disney, and nephew of Walt Disney, is included on each of the four volumes of the Disney's True-Life Adventures discs. It's a short introduction to the new line of Walt Disney's Legacy Collection discs, as well as what's featured on the following discs.
Secrets of Life
Featuring some of the first stop-motion photography of plants growing, this 1956 feature departs somewhat from the True-Life Adventures formula by focusing more on nature's processes, rather than on cute, fuzzy animals. The main focus, as the narration states, is on nature's forces of adaptation and self-preservation. The close-up photography of the insect battles are stunning. It runs 70 minutes.
Perri
An unjustly neglected feature from Disney, Perri was the first and only True-Life Fantasy, which had a script written first before shooting was attempted. The story of a little squirrel, Perri has some stunningly beautiful sequences, particularly Perri's moon-lit dream sequence, aided by animation. It runs 74 minutes.
DISC TWO:
Nature's Half-Acre
This 1951 True-Life Adventure short takes the fascinating concept of looking at the teeming life and activity that can be found in one small half-acre of land. The chickadee who won't eat is a highlight, as are the bird nest making scenes, as well as the spider web spinning. It runs 33 minutes.
Searching for Nature's Mysteries
This 1956 episode of Disney's Wonderful World of Color features a look at the production of Secrets of Life, along with a look at the scientist-photographers that work on the True-Life Adventures series. Winston Hibler is the host. It runs 48 minutes.
Adventure in Wildwood Heart
This black and white episode from Disney's Disneyland series, from 1957, opens with a very creepy Walt Disney, hanging out in the Disney morgue, which of course, turns out to be the store room for the Disney archives. Here, Walt goes back through the studio's history to show the development of the True-Life Adventures series. There's also a detailed look at Perri's production. It runs 49 minutes.
Backstage with Roy Disney at Disney's Animal Kingdom: Butterflies
Here is the final contemporary segment that features Roy Disney backstage at Disney's theme park, Animal Kingdom. Mr. Disney is obviously the heart and soul of the Disney company, and his personable demeanor is very reminiscent of his father's and uncle's. It's an entertaining, informative 7 minute look at some of the behind-the-scenes animal operations at this theme park.
Tribute of Winston Hibler
This 15 minute tribute to the narrator of the True-Life Adventures series, properly puts Hibler in the real context of his stay at Disney: as one of the studio's most important writers, producers and directors. Hibler considered his voiceover work as just a minor part of his work at Disney (in fact, he never took money for it), so this doc. does a nice job of showing the rest of Hibler's career.
Filmmakers' Journal
This 35 minute documentary, again with no date (although it's a mixture of old and new interview footage) features a detailed look at some of the participants in the True-Life Adventures series, including more interesting anecdotes from Roy Disney. It's an invaluable look at the series' production.
Collectors' Corner
Disney historian Stacia Martin shows off some collectibles and marketing items from Perri and Secrets of Life. This segment is probably the best of the four docs featuring Martin - perhaps because it's twice as long as the other ones. Promotion and marketing is a huge field of interest to the Disney scholar and fan, and more of these kinds of segments would be welcome in the future.
Original Theatrical Trailers
Original theatrical trailers are included for Perri and aSecrets of Life.
The DVDs:
The Video:
The video image for the Disney's True-Life Adventures Volume 4: Nature's Mysteries is nothing short of spectacular. I saw these films on the big screen as well as on 16mm and the tube, and they never looked this good before. Speaking with Roy Disney, I learned that much of the location footage that came to the studio was already subject to dirt and scratches because of the primitive conditions in which they were shot. He also told me that the color balance was often off, because of time factors with the labs, so these restorations, according to Mr. Disney, offer better picture quality than the original presentations, and I concur. Of course, they're full screen.
The Audio:
Since almost all of the sound for these films was added post-production, and considering that these were, for the most part, low-budget shorts and featurettes, the soundtracks originally laid down for the films were mono -- and that's how they're presented here. The tracks are strong and clear.
The Packaging:
A special note about the packaging for the Disney's True-Life Adventures Volume 4: Nature's Mysteries. Disney has really put together an attractive package for the Disney DVD collector. Each disc is attached to a round cardboard holder. The discs are held in a round metal container that is embossed to resemble an old 16mm film can; the can is gold, and adorned with the Disney True-Life Adventures logo, as well as some terrific artwork of an underwater scene. The metal film can then sits in a tight-fitting green felt holder (which also has a logo card above the can holder, signed by Roy Disney), that fits down into a rectangular metal tin base (the same tin base as the Disney Treasures tins, painted dark brown). But instead of a similar metal tin cover, the True-Life Adventures tin has a thick, clear plastic cover so you can see the displayed can. Underneath the green felt holder is a "passport" which is a two-page folded map, which indicates where in the world each short was filmed. As well, there's an insert which lists the program contents of the discs, with their running time. It's truly distinctive packaging (I particularly like the display element by using the clear plastic cover), and only enhances the nostalgic feel for these timeless classics. If you buy these as gifts, they make quite an impression when first opened.
Final Thoughts:
Much more than just nature documentaries, the Disney's True-Life Adventures Volume 4: Nature's Mysteries shorts and features are true Disney works of art, which, through various repetitive editing rhythms and music cues, as well as slow motion photography, can provide moments as surreal and beautiful as Walt's masterpiece, Fantasia. These films give an awe-inspiring look at the wonders of our world, and the implacable impassiveness of nature and her laws. I can't think of a better gift for a young person or family -- and certainly anyone interested in Disney -- than these long-lost True-Life Adventures films. Therefore, I'm giving the Disney's True-Life Adventures Volume 4: Nature's Mysteries disc set our highest rating at DVDTalk: the DVDTalk Collector Series recommendation.
---
Paul Mavis is an internationally published film and television historian, a member of the Online Film Critics Society, and the author of The Espionage Filmography.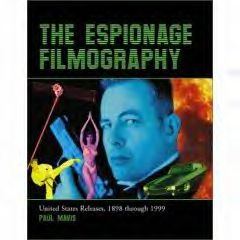 ---
C O N T E N T

---
V I D E O

---
A U D I O

---
E X T R A S

---
R E P L A Y

---
A D V I C E
DVD Talk Collector Series
---
E - M A I L
this review to a friend
Sponsored Links
Sponsored Links