Spongebob Squarepants - Friend Or Foe?
List Price: $16.99 [Buy now and save at Amazon]
---
Nickelodeon's SpongeBob SquarePants: Friend or Foe? is the latest DVD release of the peripatetic, supremely optimistic, hysterically keyed-up, cartoon sponge, and he's just as funny here as he is in his other collections. Now I've already written twice this year on the significance of SpongeBob SquarePants cartoons, and their role in popular culture (you may click on SpongeBob SquarePants: Season 4, Vol. 1 and SpongeBob SquarePants: Season 4, Vol 2 to read those reviews), so I won't bore you with any more sociological claptrap in this review. I will say that there isn't one single cartoon out there that gets my kids as excited as SpongeBob SquarePants. He's clearly at the forefront of popular children's animation today, and from the quality of the cartoons included in SpongeBob SquarePants: Friend or Foe?, I see no sign of that abating.
As well, SpongeBob SquarePants is one of those rare cartoons out there that can satisfy adult viewers, as well, without ever resorting to obvious, risque jokes that might make you and your child uncomfortable. In other words, SpongeBob SquarePants today occupies the spot that Warner Bros. Looney Tunes held when I was a kid: SpongeBob is the go-to cartoon when kids want some silly, innocent, but very cleverly written and executed fun. And parents will find themselves laughing along as well, with his smart little adventures. Kids love it when their parents enjoy the same shows they do (I used to love the fact that my parents would actually sit down and laugh at Foghorn Leghorn and Yosemite Sam with me on Saturday mornings), and SpongeBob SquarePants: Friend or Foe? provides that same kind of quality experience between parent and child.
SpongeBob SquarePants: Friend or Foe? features seven episodes from the series, including a brilliant two-part opener, Friend or Foe?, which finally gives the backstory on the relationship between Eugene Krabs and Plankton. Patchy the Pirate and Potty the Parrot show up in this particular episode; they're always a welcome addition. As for the other episodes, all but two are full length (eleven minutes), providing almost an hour and a half of SpongeBob fun.
Here are the 7 episodes of the SpongeBob SquarePants: Friend or Foe? disc, as described on the box, along with my comments in red:

Friend or Foe?
It's the history of the Krabs/Plankton rivalry! Mr. Krabs and Plankton were once best friends, but things went bad when they tried going into business together. With a special appearance by Patchy!
Patchy and Potty are always funny, so it's great to see them slinging hamburgers in honor of their idol, SpongeBob. I particularly liked the gorilla at the end, whipping burgers at Patchy ("You got me right in the buns!"). This episode is brilliant, partly because Krabs and Plankton are strong enough characters, with their own mythology, that they can sustain their very own episode with only a cameo from SpongeBob. It's also hilarious (I love the fact that it's a barely disguised version of Rashomon), with an especially funny look at Krabs, Plankton, and even SpongeBob, as babies.

The Original Fry Cook
The Krusty Krab's original fry cook, Jim, stops by. Now SpongeBob is convinced Jim is taking his job.
Yet another variation on the "SpongeBob freaks out when he thinks he's lost his job," yet just as fresh and funny as the first time they pulled it. Anyone who's ever worked a job, and had the "popular" guy come back for a visit, will appreciate this one. I particularly like how SpongeBob ominously refers to the period before working at The Krusty Krab as "The Before Time."

Night Light
When SpongeBob reads a scary book before bedtime, everything starts to go bump in the night!
"I've got dreams inside me!" A good superhero villain shows up here, The Moth, which SpongeBob dispatches in a particularly funny way. I also enjoyed the Batman-like NAP! that comes up when Patrick goes into action.

Rise and Shine
Check out Patrick's alarming morning routine!
The shortest of the cartoons (only four minutes), it's still quite funny, with Patrick hilarious as he caroms around his house.

Waiting
After sending in box tops to claim his free Kelp cereal prize, SpongeBob waits by the mailbox for his toy. And waits....
If you have kids who already saw this cartoon, you know the mantra: "We're waiting! We're waiting! We're waiting! We're waiting!" SpongeBob has never been funnier than when he freaks out after Patrick breaks his toy.

Fungus Among Us
SpongeBob develops a nasty, itchy sea fungus that grows over everything it touches!
Easily one of the most gross SpongeBob cartoons -- and so of course, one of the most popular with kids. They love to see parents squirm at stuff like this, don't they? I love it when they turn SpongeBob into The Boy in the Plastic Bubble.

Spy Buddies
Mr. Krabs sends SpongeBob and Patrick on an undercover spying mission.
One of the all-time best SpongeBob moments: SpongeBob doing the classic James Bond gun barrel walk! Some cool Bondian gadgets, including the jet pack, the Pantsophone, the Spymobile (watch the duo list all the gadgets on the car, only to have Patrick immediately hit the "Self Destruct" button the second he sees it). Hilarity ensues when Patrick aims his Laser Pants and wreaks havoc.
The DVD:
The Video:
As with all SpongeBob DVDs, the full frame video image of SpongeBob SquarePants: Friend or Foe? is digital perfection.
The Audio:
The Dolby Digital English 2.0 stereo track is entirely adequate to hear SpongeBob's bleating laugh. Close-captioning is available.
The Extras:
A fun Plankton and Krabs photo gallery is included, with some hilarious stills of them as babies, along with a uncut animatic version of Friend or Foe?.
Final Thoughts:
Perfection. SpongeBob SquarePants: Friend or Foe? is yet another outstanding collection of superior SpongeBob cartoons, with not one loser in the bunch. I highly recommend SpongeBob SquarePants: Friend or Foe?.
---
Paul Mavis is an internationally published film and television historian, a member of the Online Film Critics Society, and the author of The Espionage Filmography.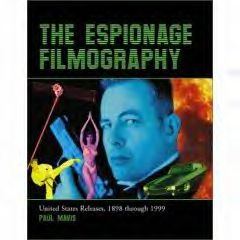 >

---
C O N T E N T

---
V I D E O

---
A U D I O

---
E X T R A S

---
R E P L A Y

---
A D V I C E
Highly Recommended
---
E - M A I L
this review to a friend
Sponsored Links
Sponsored Links