Pan's Labyrinth: 2-Disc Platinum Series
List Price: $34.98 [Buy now and save at Amazon]
---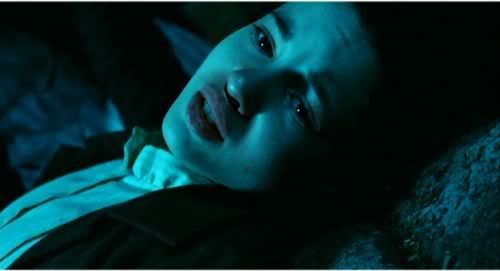 Movies are a visual medium, but a truly memorable fantasy film needs more than pretty sights and a convincing atmosphere to make a lasting impression. Believable characters, a solid story and room for viewer interpretation are all hallmarks of a truly successful effort; after all, we need a sense of familiarity to accept a given world, but it needs to be surreal enough for us to stick around willingly. Guillermo Del Toro's most recent project, Pan's Labyrinth (2006), blends fantasy with horror---and while it's certainly not the first film to do so, it's one of the most effective in recent memory. In other words, those who enjoy carefully-woven dramas sprinkled with mystery, imagination and suspense have come to the right place.
WARNING: MILD SPOILERS AHEAD!
Our first introduction is to young Princess Moanna, who flees her underworld kingdom for a life above ground. Her memory is erased by the sunlight, so the Princess' life is carried out with no knowledge of her true identity; after her death, it's hinted that Moanna will return to her kingdom in another life. Immediately following this prologue, we're taken to the central atmosphere of Pan's Labyrinth: Spain circa 1944, after the last gasps of a civil war. We're now introduced to Ofelia, a young girl with a penchant for fairy tales. After the death of her father, Ofelia and her pregnant mother travel to the home of Captain Vidal, their new stepfather and husband. This proves to be a less-than-ideal living environment, but more on that later.
Along the way, Ofelia encounters an insect-like creature that follows them to their new home. The creature only makes itself known to the young girl, who believes she's encountered a fairy from her storybooks. He leads her to a labyrinth in the vicinity of the Captain's land, where she encounters a faun who believes that Ofelia is the reincarnation of Princess Moanna. She's given three quests to prove herself, each one involving fantastic (and, in some cases, horrifying) creatures or difficult moral challenges. She often escapes to this dream-like world, always willingly.
The film's balance, of course, is maintained by the striking real-world backdrop of civil war and the violence in its wake. Captain Vidal is a fascist who hoards food and medical supplies to flush out local Republican rebels, lording over the landscape as the film's most easily-identified villain. His penchant for cold-blooded judgment and torture are sharply revealed in several stages, from the brutal killing of innocent farmers to the physical demolition of an imprisoned rebel. Vidal is the true monster of Pan's Labyrinth, mirroring The Big Bad Wolf and a plethora of beasts from classic fairy tales. He rules over the house with an iron fist, carefully watching the moves of Ofelia, her mother and the hired help. It's no surprise, then, that the young girl often feels more comfortable in a world of fantasy.
END OF SPOILERS
These two worlds are blended seamlessly, both in a technical sense and a spiritual one. Del Toro frequently employs careful vertical wipes---made to resemble the turning of pages, according to the director's commentary---to coax us into making subtle connections between Vidal's homestead and the mystical labyrinth. His deliberate use of color is another telling giveaway, contrasting the increasingly cold reality of Ofelia's life with the surreal warmth of her fantasy world. The film's solid production design also anchors Pan's Labyrinth nicely, from detailed and carefully-framed sets to amazing costume design and practical effects. It's literally a feast for the eyes...but as mentioned before, it's got plenty of substance to back up the style.
That's all the small talk you'll really need, as Pan's Labyrinth is truly a film that speaks for itself. Those who've already seen Del Toro's earlier companion piece, The Devil's Backbone, will notice a more polished and refined approach taken by the Mexican director, while those new to his work are in for a pleasant surprise. It's been a while since a film really grabbed me the way Pan's Labyrinth did the first time through, and it doesn't look as if repeated viewings will weaken its effect. In all respects, those who appreciate detailed, well-rendered fantasy films will find plenty to enjoy.
Pan's Labyrinth is available from New Line as a standard one-disc release or a two-disc Platinum Series package; the latter is the subject of today's review. The film's technical presentation is nearly flawless in either case, but this version comes fully stocked with an assortment of valuable extras that support the film strongly. Featuring extensive participation by Del Toro and input from the cast and crew, this well-rounded release is a truly satisfying package that fall will eagerly devour. Let's take a closer look, shall we?
Video & Audio Quality
Presented in its original 1.85:1 aspect ratio and enhanced for 16x9 displays, Pan's Labyrinth looks excellent from start to finish. The film's muted color palette appears crisp and accurate, while black levels are generally solid. Only a handful of darker sequences look a bit muddy, but it's hardly anything to get upset about. Overall, the film's subtle textures and bold visuals are represented nicely...so until an HD release comes along, this is the version to beat.
Pan's Labyrinth is presented in Spanish Dolby Digital 5.1 EX, 2.0 Surround and DTS-ES 6.1 mixes; the latter, apparently, is exclusive to Region 1. The film's tense, foreboding atmosphere has been carefully preserved, maintaining a strong dynamic range and a solid amount of surround activity. Dialogue is also clear and easy to understand, never fighting for attention with the onscreen action or background noise. Optional English subtitles, as well as Closed Caption support, are provided during the main feature.
Menu Design, Presentation & Packaging

Seen above, the animated menu designs are simple and easy to navigate. The 119-minute main feature has been divided into 22 chapters, while no obvious layer change was detected during playback. This two-disc release is housed in a single-width black hinged keepcase; also included is an embossed slipcover and a promotional insert.

Bonus Features

Spread over both discs, a number of extras help to round out this release nicely. The centerpiece of Disc 1 is a feature-length Audio Commentary with director Guillermo Del Toro. From start to finish, Del Toro does a fine job of keeping things interesting, sharing production stories and hints about the film's early beginnings. He speaks with conviction about the power and magic of fairy tales and how Pan's Labyrinth is firmly rooted in the genre, though more technical remarks (color schemes, camera angles, budget compromises) are also included. Overall, it's a fascinating track that fans should really enjoy.

The main feature itself is preceded by an optional Director's Prologue (0:26), in which Del Toro briefly summarizes the project and offers a few additional retrospective remarks. Closing out Disc 1 is the film's Marketing Campaign, which includes the theatrical teaser, trailer, TV spots and a handful of poster designs.

Four Featurettes lead off Disc 2, beginning with "The Power of Myth" (14:26), a rather straightforward narrative from Del Toro about the film's fairy tale roots. Drawing comparisons to well-known tales like 'Little Red Riding Hood', this brief chat helps set the proper tone for what's to come. "Pan and the Fairies" (30:29, below left) is perhaps the best of the bunch, focusing on the film's thrifty but convincing visual effects. We're treated to behind-the-scenes footage of Doug Jones' performances as Pan and The Pale Man, as well as the infamous cheek-slicing scene, the giant toad, the mandrake root and more. Several of these sequences are paired with conceptual sketches and sculptures, as well as a few final takes before they reached post-production. "The Color and the Shape" (4:04) offers a brief look at the film's well-defined color palette, while "The Lullaby" (2 parts, 5:22 total) glimpses at the film's musical progression.
Up next is the Director's Notebook, a cornucopia of additional footage and other curious galleries. "Del Toro's Notes and Sketches" is up first: presented in an interactive storybook mode, highlighted icons transport the viewer to smaller 'video pods' (roughly 10 clips, 1-3 minutes each) with additional thoughts from the director and crew. It's a bit awkward at first, but those who like to dig a bit should find it worthwhile. Also here is a collection of 4 storyboard / thumbnail comparisons, containing four separate viewing angles apiece; a fifth clip offers a VFX place comparison entitled 'Del Toro and the Fairies'. Closing out this section is a series of extensive photo galleries focusing on creature concepts, production designs and other behind-the-scenes photos (above right).
The final major extra is an episode of "The Charlie Rose Show" (49:26), featuring Del Toro, Alfonso Cuarón (Children of Men) and Alejandro González Iñárritu (21 Grams). The three Mexican directors seem to be in good spirits here; they're obviously well acquainted with each other and field Rose's questions nicely. Their work is compared and contrasted on several levels, though each director's vision and methods are typically presented in their own terms. Those who like their interviews loose and casual should find this one easy to digest.
Closing out the disc is a collection of four DVD Comics featuring the film's more mythical creatures. At only 30-40 seconds each, they're not very detailed and don't tell much of a story, but fans should still take time to browse.
All bonus features are presented in a 1.78:1 anamorphic widescreen format, with the exception of the 1.33:1 "Charlie Rose" segment. Nearly all of the extras also include optional English and Spanish subtitles, though several Spanish-language interviews (and film clips) feature burned-in English subs. Overall, a lot of care and precision was put into the overall presentation of these materials; they're organized nicely and match the film's atmosphere very well. Several "Play All" options would've been helpful, but that's a minor nitpick at best.
Lush and immersive, Pan's Labyrinth is truly a film to get lost in. Skillfully blending equal parts fantasy and horror, the cold and warm corners of our young protagonist's world are well-rendered and striking. It's almost disarming in its simplicity, yet subtle layers lurk underneath for those who enjoy digging. In all respects, this is a truly amazing work of art and worthy of its multiple Oscar wins and nominations. New Line's dense two-disc package blesses the film with a strong technical presentation, supported firmly by an assortment of quality extras. Overall, this two-disc edition of Pan's Labyrinth is one of 2007's finest releases and worthy of our highest rating: DVD Talk Collector Series.
---
Randy Miller III is an affable office monkey based in Harrisburg, PA. He also does freelance graphic design projects and works in a local gallery. When he's not doing that, he enjoys slacking off, second-guessing himself and writing things in third person.
---

---
C O N T E N T

---
V I D E O

---
A U D I O

---
E X T R A S

---
R E P L A Y

---
A D V I C E
DVD Talk Collector Series
---
E - M A I L
this review to a friend
Sponsored Links
Sponsored Links