Grey Gardens - The Masters of Cinema Series
List Price: $19.99 [Buy now and save at Cd-wow]
---
The Maysles brothers' Grey Gardens documentary has been released on DVD by Eureka!'s The Masters of Cinema Series. Premiering in 1976, Grey Gardens tells the story - and it is a "shaped" story - of Edith Bouvier Beale and her daughter Edie, known as "Big Edie" and "Little Edie." Aunt and cousin to Jackie Kennedy Onassis, the Beales gained national notoriety in the late sixties and early seventies when it became known that they lived in abject squalor in their decrepit, crumbling twenty-six room mansion in wealthy East Hampton. Condemned by the local Board of Health, living conditions in the mansion were dire, with no running water in the house, and infestation by fleas, raccoons, and the many cats the women kept. Onassis and her sister Lee Radziwill, embarrassed by the publicity, quietly provided money to help clean up the house, and the Beales were allowed to stay there. When Radziwill contacted the Maysles brothers about a possible family documentary, Albert and David Maysles latched onto the story of Big and Little Edie, when Radziwill canceled the project.
Grey Gardens picks up the Beales' story at this point (newspaper headlines at the beginning of the film give us the above background story), recording their daily lives as they negotiate the physical jungle of the mansion's overgrown grounds, the perilous interior environment of their shambles of a mansion (which has again fallen into a state of squalor), as well as the obvious psychological battlefield that exists between this decidedly strange mother and daughter. As we listen to the women discuss their past lives - because precious little is happening in their present ones - a vague notion of how they arrived at this arrested state starts to come through (although it's never clear, particularly with Little Edie, what is truth and what is fantasy).
The documentary runs along the lines of "direct cinema," where the filmmakers' goal is to passively present "the truth" by recording real-life events in as unobtrusive manner as possible, avoiding any scripted or predetermined sequences. Then, a shaped picture of that "truth" is assembled in the editing room. As Albert says (in a somewhat startling statement):
"I feel confident I can take on the responsibility of telling the truth about another person's life. Attention must be paid and I am paying that attention. I am doing something of good for the film, for the people I film, for the people who have the opportunity to share the process that I am filming. And I like people."
Watching Grey Gardens of course, one immediately sees the nonsense of declaring such a victory in the name of "truth," or to be more accurate, the uselessness of declaring that the subjects' "essential truth" has been uncovered in a non-biased way by the filmmakers -- as if some overall objective, omniscient viewpoint has been achieved without the slightest hint of directorial or editorial intervention. The Maysles' presence is obvious in many scenes, where they directly interact with their subjects. Quite often, you can hear one of them complimenting or engaging Big or Little Edie in conversation. So you should throw out the notion that the Maysles are somehow capturing unadulterated reality in Grey Gardens. They are firmly a part of the process of capturing their reality of the Beales' situation on the screen, and are thus not separated from it.
Which of course brings us to the question of whether or not what the Maysles' were doing was fair to Big or Little Edie -- a question that Albert Maysles either dismisses out of hand as irrelevant or answers with an affirmation that these women wanted this exposure, and that he was only giving them what they wanted. He backs up this argument with the frequent statements Big and Little Edie made supporting the film after it premiered. Watching Albert in the new (2006) interview included in this DVD, it seems like a subject he's dealt with many times before, and that he's above reacting to now. Obviously, the morality of the debate is a done deal for him. But I would imagine viewers new to Grey Gardens (as well as other Maysles films) will still debate the ethics of the Maysles brothers' technique as long as the film is shown. I've always been uncomfortable by the effect of Grey Gardens, even though I find the film infinitively fascinating. It's a cliche, but watching Grey Gardens is like watching an automobile wreck: you can't look away, but you feel crummy about yourself after you've satisfied your curiosity. While the Maysles brothers often defended the film as some kind of revelation of beauty in uncommon lives, which they then transpose (and further validate) by saying we're all in some way like Big and Little Edie, I find that explanation, at best, glib and facile. As filmmakers, the Maysles brothers had to know a socko story when they saw one, and the notoriety of this particular family, along with the almost Grand Guignol quality of the women's actual lifestyle and interaction, must have excited them first on a purely exploitation level--"This will make a great film for us!"--before they convinced themselves, and the women (who may not have been in the best state of mind to judge their own portrayals on film), that what they were doing was good for the Beales and for the cinema audience.
There are many scenes in Grey Gardens that are extremely uncomfortable to watch. I'm thinking in particular when Little Edie is screaming at the camera, lamenting her life with her mother. It's such a raw, visceral moment, and it's easy to get caught up in it as cinema. But film as a medium is distancing, and we tend to forget this is a real person, in obvious psychological pain, and that we're watching her break down...and finding for ourselves some kind of pleasure out of it. Does "pleasure" sound too strange or strong a word for what we're experiencing? Perhaps it is, but how else would you describe an aesthetic moment, experienced by an audience in response to an artistic product? "Art" brings out a reaction in the audience, either an emotional or intellectual response, which we seek out when watching plays or films, or reading books or listening to music. Grey Gardens is designed to be an ultimately pleasurable artistic experience (after all, the creators have frequently defended the film as filled with "beautiful" moments of real life, specifically defending those scenes that other critics have reacted squeamishly to). We live in such a voyeuristic society today that I'm not sure the impact of these scenes in Grey Gardens will affect people at the same level they affected others and myself when this doc first rolled out in the 70s. There are even those today who find a perverse pride in reveling in the Beales' life. Grey Gardens has become an exercise in camp for them; fans quote lines from Big and Little Edie as if the women's neuroses aren't just that, but rather bitchy Hollywood cliches culled from a Betty Davis or Joan Crawford movie (the film has already inspired a Broadway musical, along with numerous product tie-ins, as well as an upcoming Hollywood fictionalized film version). While that particular reaction may be limited, I wonder just how upset (or thrilled) new viewers will be when they watch Grey Gardens.
As well, it doesn't help Grey Gardens' supposed high ground when you learn that that particular scene occurred quite early in the filming process, but was reshuffled in the film's sequence of events. Anyone watching that scene towards the end of the film would think this was Little Edie finally crying out about the miseries of her life, but knowing that the Maysles brothers deliberately tacked it on as a strong finisher for their film tends to negate the notion that their technique captures the true essence of Big and Little Edie's life. Individual scenes in Grey Gardens may be true, but Grey Gardens as an entity in and of itself, is merely an approximation of the Maysles brothers' idea of what is true or not true about the Beales. One can even argue the notion of how "true" those individual scenes are, when you take into account the brothers' frequent interaction with the subjects (it's a little creepy when you hear one of them complimenting Little Edie from off-camera; it sounds like nothing more than a filmmaker keeping his subject sweet so as not to end the project), as well as the impact the presence of the cameras had on the subjects' behavior (it's obvious that Little Edie often plays up to the camera, enjoying the heightened dramatics of the moment -- along with the filmmakers' attention to her). Perhaps that's the trouble I've always had with Grey Gardens: the Maysles' defense of it and their involvement with the finished product. Always assuming a moral high ground when discussing Grey Gardens, and yet at the same time coming off as obviously defensive about the criticism, they've never struck me as being totally honest about their culpability, if you will, in the shaped "reality" that shows up on screen. If they had been honest right from the start, and declared that they had caught this utterly strange, mesmerizing "show" on camera, without the phoney aesthetical defense of the film, I'd have a lot more respect for them as filmmakers. The film would still make me uncomfortable, I would imagine, but at least I wouldn't feel like I was getting away with something that I knew was ultimately a lie: enjoying a perverse spectacle and calling it a beautiful "absolute truth."

The DVD:
The Video:
The DVD box for Eureka!'s The Masters of Cinema Series's Grey Gardens indicates that this new "restored transfer" has been licenced by Maysles Films. The full frame image looks about as good as you're going to see it, with original grain, soft focus, and shaky framing intact. Although this is a British release, it's all region and NTSC.
The Audio:
The Dolby Digital English mono soundtrack can go in and out (due to the original soundtrack recording), so the optional English subtitles are a great help.
The Extras:
There's a dense, 39-page booklet (and it's really a booklet, not just a folded piece of paper like most DVD inserts) written by Jonathan B. Vogels, discussing the impact of Grey Gardens. The theories put forth defending Grey Gardens are interesting, but I'll leave it up to you whether or not they're valid. There's a new (2006) interview, Albert on Grey Gardens, that runs 30:30. It gives a good look at Albert's thinking concerning Grey Gardens (for better or worse). Jerry's Cab runs 9:31, and features Jerry, "The Marble Faun," who Albert found by chance driving a cab in New York City. Past & Present runs 11;10, and features Jerry returning to Grey Gardens. I wonder if the owners of Grey Gardens (which has been expensively refurbished) knew he was poking around and peeking in their windows? A vintage theatrical and TV trailer are included, as well.
Final Thoughts:
I've never forgotten watching Grey Gardens back in the 70s, but I can't say I felt good about returning to it. Its impact has stayed with me, but it's a suspect impact. Perhaps that staying power is a testament to the Maysles brothers' talent, but I don't buy their "hands off" defense of presenting some overriding "truth" here--they've got voyeuristic, opportunistic blood on their hands for sure. Either way, if you're at all interested in the documentary format, Grey Gardens is required viewing. This new transfer by Eureka!'s The Masters of Cinema Series is about as good a presentation as you're likely to get, and at a cheaper price than a comparable Criterion Collection DVD. I recommend Grey Gardens.
---
Paul Mavis is an internationally published film and television historian, a member of the Online Film Critics Society, and the author of The Espionage Filmography.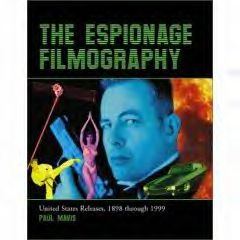 ---
C O N T E N T

---
V I D E O

---
A U D I O

---
E X T R A S

---
R E P L A Y

---
A D V I C E
Recommended
---
E - M A I L
this review to a friend
Sponsored Links
Sponsored Links