Here Comes Peter Cottontail
Classic // Unrated // February 15, 2005
List Price: $9.95 [Buy now and save at Amazon]
---
Sony Wonder has re-released Here Comes Peter Cottontail, the 1971 Rankin/Bass stop-motion Easter favorite starring the voice talents of Danny Kaye, Vincent Price, and Casey Kasem. Owners of the previous 2001 Sony release of this title may not feel a need to double dip, as the transfers are exactly the same. The bonus features vary (see below), but that's the only difference here.
As you may remember from countless viewings over the years, Here Comes Peter Cottontail details how Colonel Wellington B. Bunny (voice of Danny Kaye) decided to retire as head of April Valley, passing along his duties as chief Easter Bunny to Peter Cottontail (Casey Kasem). However, evil Irontail (voice of Vincent Price), a bunny who wears an prosthetic iron tail after his real one was damaged when a child roller-skated over it, challenges Peter's nomination. Irontail insists that the rules of April Valley demand that whoever gives away the most Easter eggs on Easter day shall rule April Valley. The Colonel agrees and the contest is on.
Unfortunately, Irontail sabotages Peter's alarm clock (he feed bubblegum to the rooster), and Peter, who partied the night before instead of getting his rest, sleeps straight through Easter. Irontail wins the contest, and rules April Valley. But Peter finds a friend in our host and narrator, Seymour S. Sassafras (Kaye again), who lends Peter his Yester-Morrowmobile, a time machine, piloted by French inchworm Antoine (Kaye again), that will enable Peter to go back to Easter and compete against Irontail. But Irontail isn't going to give up that easily.
One of the better Rankin/Bass efforts, Here Comes Peter Cottontail boasts several lovely songs by Steve Nelson and Jack Rollins, including the country-flavored If I Could Get Back to Yesterday, the contemplative The Puzzle of Life, the jazzy little Be Mine Today, and of course, the iconic title song. The story, based on The Easter Bunny That Overslept by Priscilla and Otto Friedrich, with a screenplay by Rankin/Bass vet Romeo Muller, is fast-paced and fun (I particularly like Peter's visits to other holidays), and its valuable message to little children is spelled out clearly: never tell a fib and tend to duty before pleasure. You can't go wrong there.
The voice work is impeccable, as always, for a R/B effort, with Danny Kaye lively (and even a little funky) on the songs. Kasem is fine as Peter, and vets Paul Frees, Joan Gardner, and Iris Rainer all do good work. And Vincent Price, in his only R/B appearance, hams it up delightfully as Irontail. The "Animagic" work for Here Comes Peter Cottontail is a little sketchy in spots, and some of the backgrounds are surprisingly sparse, but the models are certainly cute enough, and as with most R/B productions, there's a lightness of touch here, a jovial, buoyant quality to the scripting and the songwork, that's distinctively their own.
The DVD:
The Video:
The 1.33:1 full frame video transfer for Here Comes Peter Cottontail is the same as the one used for Sony's 2001 DVD release. It's not the sharpest picture, and screen anomalies like dirt and scratches do show up (some of that is from the original elements, and not just whatever print was used - these were shot fast), but overall, it looks fairly good.
The Audio:
The Dolby Digital English mono audio track accurately recreates the original broadcast presentation. There's an alternate Spanish language track available, too. Close-captioning is available.
The Extras:
Here's where there are differences between this new re-release and the 2001 version. The earlier release featured an animated Puss 'n' Boots featurette from R/B. This new release features three, 10-minute "animated" stories (which are really still drawings, with either a mouth or eye barely animated), from 1985, based on Golden Books: The Tale of Peter Rabbit, Polly's Pet, and The Little Red Hen. As well, there's a preview of the new Peter Cottontail movie coming to DVD (and a music video for it), along with a sing-along feature for Here Comes Peter Cottontail (which was available on the first DVD release).
Final Thoughts:
If you own the 2001 DVD release of Rankin/Bass' fun Here Comes Peter Cottontail, whether or not you double dip will depend on if you want the new extras that come with this new release. If you're expecting an improved, cleaned-up transfer, don't bother; they're exactly the same. Newcomers, though, should most definitely partake. I recommend Here Comes Peter Cottontail.
---
Paul Mavis is an internationally published film and television historian, a member of the Online Film Critics Society, and the author of The Espionage Filmography.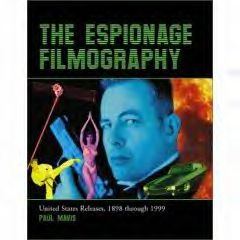 ---
C O N T E N T

---
V I D E O

---
A U D I O

---
E X T R A S

---
R E P L A Y

---
A D V I C E
Recommended
---
E - M A I L
this review to a friend
Sponsored Links
Sponsored Links