Father Ted: The Definitive Collection
List Price: $79.98 [Buy now and save at Amazon]
---
"FECK! ARSE! GIRLS! DRINK!"
"Down with this sort of thing." "Careful, now."
"Ahhhh, go on! Go on, go on, go on, go on, go on, go on!"
Is there no fecking end to the stream of brilliant sitcoms that come over from the Pond? I must admit I was totally out of the loop on the growing Father Ted cult, but after watching the five-disc, 25-episode Father Ted: The Definitive Collection, I'm a fecking fanatic about this marvelously surreal, hysterically funny Irish sitcom. Right up there with the brilliance of Monty Python's Flying Circus, The Office, and Fawlty Towers, Father Ted is a dazzling Irish fairy tale informed by outrageous, politically incorrect satire and farce, making for one of the funniest viewing experiences I've had in quite some time.
The premise couldn't be simpler - nor the details ever-more bizarre and surreal once the first episode begins. On desolate, wind-swept, cruddy little Craggy Island, off the West Coast of Ireland, three wayward Catholic priests find themselves exiled to the worst hole/parish in the Western Hemisphere. And for good reason. Father Ted Crilly (Dermot Morgan), a liar and schemer, was sent to Craggy Island for "financial irregularities" (i.e.: a gambling trip to Las Vegas) involving charity money intended for sick children's visits to Lourdes ("That money was just resting in my account!"). Father Dougal McGuire (Ardal O'Hanlon), an idiot savant without the savant, has been banished to Craggy Island for the mysterious, only whispered "Blackrock Incident" involving a group of nuns and the Sealink Ferry (no one ever explains what happened, but knowing Dougal, it was disastrous). And Father Jack Hackett (Frank Kelly), an alcoholic, grotesque, Frankenstein's monster of a gargoyle who dreams of young girls playing volleyball when he's not in a coma (or dead), needs no explanation as to why he's been banished to Craggy Island (although there was a ruinous wedding he performed in Athlone that no one ever dares talk about). His four favorite words, shouted at the top of his lungs, are "Drink!" "Feck!" "Arse!" and "Girls!" and with his frequent resurrections from death, it's not altogether certain he's human.
Watching over these rejects is Mrs. Doyle (Pauline McLynn), their certifiably insane housekeeper, who is forever pushing tea and biscuits and cake on anyone who comes to the Parochial House, wearing them down with her grating insistence until they finally partake. Falling off the roof or off the window sill like clockwork (the unfeeling, uncaring Ted works her like a dogsbody), Mrs. Doyle is the very soul of Irish hospitality...as filtered through a homely, manic-depressive masochist. And although he only appears in three episodes, the shadow of Bishop Leonard "Len" Brennan ("Don't call me 'Len," you prick!"), as played by Jim Norton, hangs over the entire series. Responsible for sending the three incompetents to Craggy Island, hot-tempered, imperious Bishop Brennan, who isn't above taking a sumptuous bath with a beautiful naked girl, enjoys all the luxuries associated with being a powerful bishop in a overwhelmingly Catholic country, while inspiring terror in Father Ted whenever his name is mentioned.
Father Ted was developed and written by Irish comedy writers Graham Linehan and Arthur Mathews for U.K.'s Channel 4 in 1995, and it ran for three series ("seasons" in Brit-TV speak) until 1998. Combining the idiosyncratic, charming, slightly off-kilter Ealing Studios comedies of the 1950s, the bizarre situational surrealism of Monty Python, and the outrageous gross-out physical gags of Benny Hill (Bishop Len refers to the three fathers as "the cast from Police Academy), Father Ted mixes Irish whimsy and cruel, almost sadistic farcical humor to achieve a most remarkable mult-layered effect, facilitated by the three incongruous leads. Father Ted is probably the most recognizable traditional comedic stereotype here. He's the ostensible "hero lead" who combines scheming mendacity with a frustrated, almost melancholy resignation to his ignominious plight, that soon transitions from slow-burn apathy in reaction his bizarre co-workers, to full-blown rage and ultimately, his utter humiliation at their hands. Father Jack, who makes an immediate and indelible impression just with his grotesque looks alone (his make-up, complete with milky eye, dripping ear wax and various secretions from his florid face, becomes more pronounced as the series develops), has less to do here than you would think, but his broad, repulsive turn, screaming "Feck off!" to anything that moves, serves to deliver the hilariously low-brow belly laughs of the series (he could easily have been called "Father Bluto"). And Dougal, who could very well be an alien considering how utterly detached he is from human reality, blithely wanders through his life as a parish priest without the slightest understanding of even the most rudimentary laws of nature, let alone theological ones. These three disparate comedic forms mesh within the outlandish, absurd narrative framework created by the writers, to deliver a exquisitely birdbrained universe.
Indeed, Father Ted is one of those shows where its very design provides fertile ground for a cult following. Creating an insular (and perhaps inbreed) little world filled with far-fetched eccentrics and aberrant behavior, Father Ted throws out a myriad of small, enticing, unexplained bits of information, jokes and gags - which are then promptly abandoned - which fans love to catalogue and chew over in endless discussions. Of course, it's easy to laugh at Father Jack when Father Ted upbraids him for the various toxic substances he's willingly consumed (including motor oil, floor polish, nose spray, and my favorite, "Toilet Duck" commode cleanser), but the mysterious little tidbits thrown out to viewers who may or may not catch them on the first viewing (such as the references to unseen "Beast of Craggy Island," who doesn't have a mouth but does have four arses, and who has a tremendous fear of stamps) provide an inexhaustible supply of hidden delights for the fans to cherish.
And naturally, there can be a tendency to over-intellectualize such comedy (which has certainly happened with the whole Monty Python cult). Whether or not you approach Father Ted from an academic viewpoint (indeed, the show has a lot to say about how the world views Irish stereotypes, and of course, the Catholic Church) ultimately is beside the point, because Father Ted delivers laughs on so many levels. Capable of producing guffaws as well as thoughtful commentary (the whole "kicking Bishop Len up the arse" probably best illustrates this complexity), Father Ted can be watched either for the most basic satisfaction of enjoying something silly, or for some wickedly subversive critiques on modern life, the human condition, and of course, the Church (when Dougal, with that face of his, condescendingly tells Ted that he's not supposed to take concepts like heaven and hell and everlasting life seriously, Ted's genuine look of dumbfoundedness is purely hilarious - and then thoughtful).
After viewing the 25 episodes in Father Ted: The Definitive Collection (I've already started re-watching them), it's hard to imagine how anybody else could have been cast in the lead roles. Dermot Morgan, a famous writer and performer from Ireland, evidently wasn't the first choice for the role, but he's perfect as the anchor (with his own touch of madness, as well) that's necessary for such an outsized show. Morgan had an almost impossible task. He had to portray Father Ted as the most "normal" character on Craggy Island, inventing a lead that viewers at home could identify with in traditional narrative terms, while gradually revealing Ted to be just as sick and twisted as the others - without turning off the viewers. Just this side of being broad, Morgan expertly walks that fine line, keeping Father Ted the nominal, "clearheaded" leader of the group, the priest that the audience keeps expecting to steer Craggy Island's weirdos toward normalcy, all the while helplessly divulging Ted's own hilarious inadequacies.
Frank Kelly, the celebrated Irish comedian and stage actor, may be remembered by fans for seemingly doing more than he actually does in the series, but that's understandable considering what a strong impression he makes with Father Jack. The go-to character when a scene needs an opener or an end, Father Jack is a beautifully vile and abhorrent creation that pushes Father Ted way beyond the bounds of good taste whenever he appears, with the writers showing a welcome willingness to skirt all propriety - particularly when satirizing what many TV executives felt was hands-off territory: the priesthood. Almost diametrically opposed to Father Jack, Ardal O'Hanlon's Father Dougal is some kind of space child, a preternaturally dense, maddeningly obtuse creation that may be one of the funniest portrayals of a dolt ever put on film or TV. O'Hanlon has this ability to make his face go blank into an almost scary mask of both addle-patted madness and dumbstruck incomprehensibility that's a wonder of comic inspiration. Like the imagined love child of baby-faced Harry Langdon and devilish Malcolm McDowell, O'Hanlon can simultaneously seem brick-wall stupid and weirdly wise. It's one of the finest sustained comedic performances I've seen in a TV series.
It's hard to pick just a handful of memorable moments from Father Ted, because each episode is chock-full of classic bits, gags, jokes and supporting turns. The Flight into Terror episode is brilliant, with many memorable appearances by various twisted priests, including dimwitted Father Flynn, who draws a picture of himself in the nude when he's supposed to write an essay about why he should be given the last parachute on the plane (the plane is going down). Ghastly Father Fintan Fay, "The Monkey Priest of Killybashangel," my personal favorite, also shows up here, horridly hopping around and spouting gibberish in an absolutely hysterical bit part. Married couple John and Mary O'Leary (Patrick Drury and Rynagh O'Grady) are always a bright spot of barely suppressed mayhem. Quick to pretend they're a normal happy couple whenever Ted shows up, they immediately revert back to attempted homicide on each other as they hurl vulgarities at each other. Tom the village idiot is a scream, forever wearing his "I Shot J.R." t-shirt from 1981, blasting an innocent crow from two paces away with a shotgun. Mrs. Sheridan and Mrs. Glynn, the two dotty dowagers in The Passion of St. Tibulus are delightful as they throw down gritty street references as they ponder the moral fate of Craggy Island. Comedian Graham Norton blows the doors off as bizarrely cheery Father Noel Furlong who just won't shut up (I love it when he runs out of things to say and suggests everyone have a screeching contest). And of course, there's the classic Father Ted and Father Dougal's entry for "Eurosong '96," My Lovely Horse ("I want to shower you with sugar lumps, and ride you over fences. Polish your hooves every single day, and bring you to the horse dentist.").
Thinking back on these and other moments as I type them, I'm laughing to myself, and trying to figure out when I can squeeze in a few more Father Ted reruns. Consisting of a short 25-episode run (a little more than just one season here in the States), Father Ted ends on a high note, never really repeating itself while creating a self-contained little world of violence, subversive humor and the most bizarre, surreal happenings. The third season was always intended as the final one, but in a sad, tragic instance of life imitating art, Dermot Morgan passed away just a day after finishing the final episode taping, during a celebration party at his home - a bizarre little twist of fate that no doubt could have been turned into a memorably sick gag on the series. But in some strange way, knowing that Morgan died almost immediately after the show ended, further cements that isolated, insular, completeness about Father Ted. There won't ever be a reunion show. It's fully realized. And perfect.
Here are all 25 half-hour episodes of Father Ted: The Definitive Collection:
DISC ONE: SERIES 1

Good Luck, Father Ted
The annual Fun Fair is at hand (check out "The Spinning Cat" display), and Father Ted scrambles to hog a television interview all for himself.
Entertaining Father Stone
The most boring priest ever, Father Stone, comes to visit, and Dougal and Ted flirt with madness when he won't leave.
The Passion of St. Tibulus
Ted and Dougal mount a half-hearted protest of a new scandalous film at the Craggy Island cinema, at the insistence of Bishop Len. Ted and Dougal's lackadaisical "Down with this sort of thing," and "Careful, now," signs are a series highlight.
Competition Time
Father Ted dons his Elvis gear when he competes in the "All Priests Stars in Their Eyes Lookalike Competiton" But will he be able to best his arch nemesis from Rugged Island, Father Dick Byrne (yes, it's pronounced just like you think it is).
And God Created Woman
Will Father Ted succumb to temptation when an attractive author rents a cottage on Craggy Island?
Grant Unto Him Eternal Rest
Father Jack has died again. And here come the priests to mourn him. Watch out for "The Monkey Priest of Killybashangel," Father Fay.
DISC TWO: SERIES 2, PART 1

Hell
The holiday from Hell is upon Ted, Dougal and Jack, as they caravan in a too-small caravan. Highlights include Jack's "sleeping box," the first appearance of Father Furlong, and Dougal's seeing antelope on the African veldt, when he peers out on Ireland through his binoculars. And no, Dougal still doesn't understand the difference between small toy cows, and big real cows, seen from a far-off distance.
Think Fast, Father Ted
Ted needs to hold a raffle to raise money for a new roof. But then he destroys the grand prize: a new car.
Tentacles of Doom
Guests are expected at the Parochial House: three bishops who wish to upgrade the Holy Stone of Clonrichert to a Class II relic. And of course, Ted doesn't want them around, because he'll actually have to act like a priest.
The Old Grey Whistle Theft
The island is in a panic when the village's whistle is stolen. And Dougal finally finds his teenaged rebellious self when he hooks up with Father Damo Lennon, a bad seed.
Song for Europe
Another contest against enemy Father Dick Byrne results in Ted ripping off an old entry for the "Eurosong" contest. But will Ted and Dougal manage to pull off a win with the loathsome "My Lovely Horse" song?
A Christmassy Ted
In this special, Ted wins the Golden Cleric award (for guiding a bunch of "lost" priests out of the women's lingerie section of a department store). But will he blow his big moment, accepting the award?
DISC THREE: SERIES 2, PART 2

The Plague
Bishop Len faces his worst two nightmares combined: sleeping over at Craggy Island's Parochial House - which is filled with his dreaded phobia, rabbits.
Rock A Hula Ted
Ted is judging the annual Lovely Girls competition ("They all have lovely bottoms!"), while a feminazi singer terrifies Dougal.
Cigarettes and Alcohol and Rollerblading
In yet another contest with Father Dick Byrne, Ted agrees that he, Dougal and Father Jack will give up what they love the most (see episode title) for Lent.
New Jack City
When Father Jack turns werewolf, a new priest takes his place. A very bad new priest. Oh, and Jack's term for the poor? "A shower of bastards."
Flight into Terror
Returning from a pilgrimage, Ted finds himself in charge of determinating who gets the last parachute on the plane, when it runs out of gas midair. Watch Dougal desperately try not to touch the "Do Not Touch" button.
DISC FOUR: SERIES 3, PART 1

Are You Right There, Father Ted?
Father Ted is a racist! Or at least that's what everybody thinks when he fools around, charactering an Asian and being mistaken for Hitler.
Chirpy Burpy Cheap Sheep
The annual "King of the Sheep" contest is here, and Ted places the yearly heating allowance on past champion Chris. But Chris is off his feed when rumors of a sheep-eating beast surface.
Speed 3
Dougal can't let his milk truck go below 4 mph, or else a bomb will explode under him!
The Mainland
Everyone goes to the mainland, while Ted and Dougal check out "The Very Dark Caves," which are billed as "It's Almost Like Being Blind!"
DISC FIVE: SERIES 3, PART 2

Escape from Victory
In yet another contest with Father Dick Byrne, Ted must win the "All Priests Five-a-Side Over 75's Indoor Football Challenge Match." Will he cheat so as not to pay the price of losing: kicking Bishop Len up the arse?
Kicking Bishop Brennan Up the Arse
As you can see by the title, Ted loses the bet from the previous episode. Can he get away with kicking Len straight up the bum?
Night of the Nearly Dead
A sickly sweet on the surface Irish singer (who's a creep in reality) visits Craggy Island when Mrs. Doyle wins a poetry contest.
Going to America
Will Ted leave everybody behind on Craggy Island, when his dream job of a cushy parish in America comes up for grabs?
The DVD:
The Video:
It's important to note here that this review is based on screener copies of Father Ted: The Definitive Collection. All judgments on A-V quality, as well as extras, are based on this fact; final shelf editions may differ. The full screen, 1.33:1 video transfers for Father Ted: The Definitive Collection are about what you'd expect from British TV. They're grainy and alternately washed out/hot, but for this kind of series, that's perfectly acceptable.
The Audio:
The Dolby Digital English Stereo mix is quite good; all dialogue is heard clearly. English subtitles are available.
The Extras:
Here's what pushes the DVD release of Father Ted: The Definitive Collection into heavy-hitter status. There are full commentary tracks for every episode by writer Graham Linehan, with writer Arthur Mathews and actor Ardal O'Hanlon showing up also with Linehan on series two and three. These commentaries are fascinating, and filled with tons of info on the series, its inception, its execution, and the stars. As well, fun extras on all five discs compliment the commentaries. On disc one, there's an interview with Graham Linehan and Arthur Mathews, conducted in the U.S. in October, 2002, which runs 22:10. It's very informative and entertaining. On disc two, footage from A Very Ted Weekend: Ted Fest 2007, which runs 12:03, and shows footage of the celebration of the show that took place on the island of Inis Mor, off the coast of County Galway. There are also skimpy text bios on the cast, as well as a photo gallery. On disc three, Craggy Island Memories, a collection of "Best of" clips includes the music video, My Lovely Horse. There's also an excellent documentary on the show, Comedy Connections from the BBC in 2004, which runs 29:17. As well, there are edited clips of Father Ted and Dougal hosting Comic Relief '97, which runs 11.25. On disc four, Ted Fest 2007: Two Tribes Go to War is included, which features footage from a football game held during Ted Fest 2007, with fictional commentary laid over it by Father Tim Shuttlewoode (Arthur Mathews) and Father Conor Claycee (Paul Woodfull). It runs 4:23. And on disc five, the second part of the 2002 interview with Linehan and Mathews is included, running 18:23. All in all, a Master's course in all things Ted.
Final Thoughts:
You don't have to get all the references to and parodies of Irish pop culture to enjoy Father Ted (just like you didn't have to get all the inside British jokes on Monty Python, either). Beautifully surreal and violent and sick and whimsical and magical, Father Ted: The Definitive Collection gives the viewer the entire 25-episode cult series in one lump sum, with a copious amount of extras to satisfy the most ardent Ted fan. Fall-down funny in both low-and-high brow fashion, Father Ted stands with the absolute best U.K. sitcoms. It may be one of my all-time favorite TV sitcoms ever produced. With an amazing amount of extras (those commentaries are priceless), Father Ted: The Definitive Collection gets our highest award here at DVDTalk: the DVD Talk Collector Series rating.
---
Paul Mavis is an internationally published film and television historian, a member of the Online Film Critics Society, and the author of The Espionage Filmography.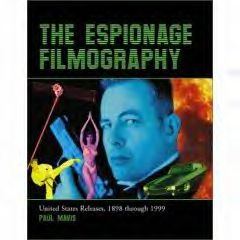 ---
C O N T E N T

---
V I D E O

---
A U D I O

---
E X T R A S

---
R E P L A Y

---
A D V I C E
DVD Talk Collector Series
---
E - M A I L
this review to a friend
Sponsored Links
Sponsored Links