Midsomer Murders - Set Ten
List Price: $49.99 [Buy now and save at Amazon]
---
Is it me, or did the murders in Midsomer County suddenly become much more grisly? Acorn Media has released Midsomer Murders: Set Ten, four more deliciously perverse "English village mysteries" inspired by the novels of Caroline Graham, and starring John Nettles as the delightfully normal Detective Chief Inspector Tom Barnaby. The four stand-alone mysteries included in this tenth set are Second Sight (original U.K. airdate - January 1, 2005), Hidden Depths (March 13, 2005), Sauce for the Goose (April 3, 2005), and Midsomer Rhapsody (October 2, 2005).
Looking ahead at the episodes that still haven't made it on to DVD, I'm heartened to see there are quite a few more of these marvelous little mysteries to come, because Midsomer Murders is rapidly becoming one of my favorite British series. Having reviewed the previous two sets, the quality of writing and production hasn't flagged in the slightest here; if there's a downturn somewhere down the road for this series, I haven't seen it yet.
If you're not familiar with the series, don't feel intimidated about diving right in. Each mystery is essentially "stand alone," so newcomers (like myself with Set Eight) are more than welcome. Just to get briefly acquainted with the basic set-up, Midsomer Murders details the seemingly continuous mayhem (which nobody seems to notice or comment on) that afflicts rural, affluent (and fictitious) Midsomer County. Bodies drop like flies, and in the most appalling ways, and it's up to Detective Chief Inspector Tom Barnaby (John Nettles) of the Criminal Investigation Department to clean up the mess. He's aided by Detective Sergeant Dan Scott (John Hopkins), a city cop who initially seemed disgruntled at being stuck in the Midsomer hinterlands, but who has by now settled in to an agreeable routine with Barnaby. Lending a hand with vital forensic data is jovial coroner Dr. George Bullard (Barry Jackson). Offered as punctuation, but rarely as significant subplots, glimpses of Barnaby's home life frequently bookend an episode, with Joyce Barnaby (Jane Wymark), Tom's put-upon wife (who frequently loses her husband to a case right before an important event in their social life), and Cully Barnaby (Laura Howard), their somewhat directionless daughter, making frequent appearances.
I found the four cases presented here in the Midsomer Murders: Set Ten to be particularly strong episodes in the series, although I did notice what appeared to be a perceptible jump in the depicted violence. Earlier Midsomer episodes (or at least the ones that I've reviewed) seemed to step away right at the moment of impact whenever someone was bumped off, but not so in several of the episodes here. While the opener, Second Sight, hints at electrocution-as-torture (but doesn't show it), Hidden Depths has a spectacularly bizarre, Avengers-worthy death-by-wine-bottle-catapult plus someone drowned in a Saw-like manner. Sauce for the Goose has a victim crunched by a forklift in close-up, with the naked corpse then parboiled in a bottle sanitizer, while Midsomer Rhapsody delivers a truly gruesome decapitation (repeated twice for our benefit), with the topper of having Sgt. Scott toe-around the noggin so we can get a good look at it!
Putting aside those rather jumped-up pyrotechnics, the mysteries in Midsomer Murders: Set Ten are as inscrutable and densely plotted as ever (I can never figure them out), with terrific supporting players turning in engaging performances. Second Sight is a good example of the fun little deceptions the series is good at, leading us to think the story might indeed be about ESP and premonitions, before undercutting that supernatural explanation in favor of more a prosaic, and deadly, motivation (money, what else?) - before tricking us again by confirming our first impressions. Hidden Depths is an exceedingly strange and violent addition to the Midsomer pantheon, particularly when the killer engages in some Saw-like torture scenes (the aforementioned catapult scene is rather frightening, and the drowning within a sealed TV cabinet is fairly sick. And inventive). And Sauce for the Goose is an interesting Midsomer episode, more for the very subtle, barely hinted-at subtext of Tom, perhaps, falling ever-so-lightly for a pretty female suspect. Throughout the episode, Tom's wife, Joyce, has reacted jealously to his mild attentions to this suspect, but at the fade out, when she sees that he's been hurt by the suspect's betrayal of his trust (and hurt perhaps by the realization that he's been had), she's tenderly understanding - and understated - in dealing with his disappointment. It's a nice moment between the two actors (Nettles and Wymark make an appealingly mature couple), and hopefully, there will be more to come in future episodes.
Here are the four, 100-minute episodes in the four-disc box set, Midsomer Murders: Set Ten, as described on their slim cases:

DISC ONE:


Second Sight
Work turns spooky for the detectives when a man dies under mysterious circumstances at Midsomer Mere - a town whose villagers seem able to predict the future. Was John Ransom's death the result of psychic experiments gone wrong or a pub brawl that got out of hand?

DISC TWO:


Hidden Depths
When a local solicitor falls to his death, the detectives wonder whether it was suicide or murder. Then a neighbor notorious for scams perishes in a truly bizarre manner. Barnaby begins to suspect the strange deaths are linked by an elaborate fraud.

DISC THREE:


Sauce for the Goose
A tour of Plummer's relish factory proves too hot to handle when a man get crushed by a tower of bottles, then thrown into a sterilizing oven. Upon learning that the deceased worked for a competitor in the industry, Barnaby and Scott discover that the Plummers harbor far more secrets than just the family recipe.

DISC FOUR:


Midsomer Phapsody
A successful local composer, Joan Alder, has been dead for decades when a series of mysterious events revive interest in her work. From murder to forgery to the sudden appearance of long-lost relatives, Barnaby struggles to uncover the culprit before further murders add a deadly coda to Alder's career.
The DVD:
The Video:
The anamorphically enhanced, 1.78:1 widescreen transfers for Midsomer Murders: Set Ten look particularly good here: crisp, sharp images with nicely balanced color and no compression issues whatsoever.
The Audio:
The Dolby Digital English 2.0 stereo mixes for Midsomer Murders: Set Ten are more than adequate for these largely dialogue-driven mysteries. Unfortunately, there are no close-captions or subtitles included.
The Extras:
A minor, scant text bio for Caroline Graham is included, as well as slim filmographies for some of the cast. Pretty poor selection of extras.
Final Thoughts:
Anyone in the slightest bit interested in the "English village mysteries" genre, and who hasn't become acquainted with Midsomer Murders, needs to do so - pronto. John Nettles is terrific as the gentlemanly Detective Chief Inspector Tom Barnaby, and the convoluted, impenetrable mysteries are a marvel of script construction, with location work in the beautiful English countrysides that's second to none. This series just keeps getting better and better. I highly recommend Midsomer Murders: Set Ten.
---
Paul Mavis is an internationally published film and television historian, a member of the Online Film Critics Society, and the author of The Espionage Filmography.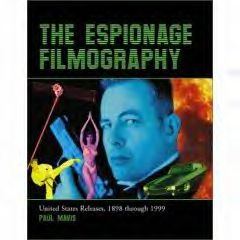 ---
C O N T E N T

---
V I D E O

---
A U D I O

---
E X T R A S

---
R E P L A Y

---
A D V I C E
Highly Recommended
---
E - M A I L
this review to a friend
Sponsored Links
Sponsored Links