SpongeBob SquarePants - Pest of the West
List Price: $16.99 [Buy now and save at Amazon]
---
I had no idea what a kind of ruckus would be raised when the very latest SpongeBob SquarePants DVD, Pest of the West, arrived in the mail the other day. Evidently, the title toon's arrival has been advertised for weeks and weeks on Nickelodeon (it premieres on TV for the first time this Friday), and my little kids had duly taken notice. So when they found out that they were going to see Pest of the West two days before any of their friends, they quite simply freaked out. Even my bored-to-tears teenaged son was suitably impressed. You would have thought Hannah Montana was going to perform in our living room. I can think of no other cartoon out there today that creates that kind of excitement with kids. SpongeBob is the animated rock star of American pop culture.
Pest of the West gathers together seven SpongeBob toons, of varying length, to terrific effect. There's not a loser in the bunch. Obviously, interest is going to be focused on the title toon, and its quite amusing. It may not be fall-down SpongeBob funny, but it's clever and bright - as are the vast majority of SpongeBob cartoons - and fans with knowledge of the western and spaghetti western genres will enjoy some of the in-jokes worked into the 22-minute short.
I've written extensively about SpongeBob in several other reviews (please click on SpongeBob SquarePants: Season 4, Vol. 1, SpongeBob SquarePants: Season 4, Vol 2, SpongeBob SquarePants: Friend or Foe, and SpongeBob SquarePants: Season 5, Vol. 1 for more info on the series), so I'm not going to go into extensive detail on the background of the show, or its place in current pop culture, but as I've written before, I am continually impressed by the quality of this animated show. Let's be clear. This isn't Noel Coward. It is extremely juvenile and at times, (marvelously) grating and repetitive. When SpongeBob starts screaming - and he doesn't stop - it's a test of whether or not you enjoy ridiculous, puerile humor. If you have a tolerance for it, you'll find SpongeBob frequently hilarious. If not, well.... But its appeal is not solely infantile, or parents wouldn't be watching the show along with their kids. There's an irreverent, sly, fresh quality to the writing in the SpongeBob shorts that's a constant delight to adult viewers, as well. SpongeBob knows he's stupid, and the creators know you know he's stupid, and you know they know you know it, because they keep reminding you that you're watching a kids' cartoon - and that you're laughing at it when you really shouldn't be. Maybe that's SpongeBob's secret for success, at least for adult viewers: this ability to wink at the viewer and let them know that, yes, it's silly, but it's okay to enjoy it. Either that, or it's just flat-out funny, which needs no explanation.
That's certainly the easier way around all of this. As all the comedic greats have said, in one way or another over the years, funny is funny, and no further explanations or justifications are needed. And SpongeBob is funny. The scripting is clever and witty in surprising ways (Pest of the West has some nicely surreal moments of whimsy that shouldn't be present in just a "dumb kid's show"), and the production is flawless (the production design is always colorful and imaginative). And of course, as I've mentioned before in other reviews, the voice work is simply perfection. In Pest of the West, Tom Kenny, the voice of SpongeBob, gives SpongeBob a dufus Western twang that's perfectly in synch with the SpongeBob credo: keep it funny, keep it relevant to pop culture, and keep it silly. SpongeBob sounds exactly like a kid trying to sound Old West tough, and it's quite entertaining. Even better, Mr. Lawrence (Doug Lawrence), the voice of Plankton, gets to take his hilariously over-the-top thesping to new, ridiculously funny heights as Plankton reaches Simon Legree-levels of evil in this twisted Western tale. Voice work is the backbone of the SpongeBob toons, and they're sublime here in Pest of the West.
Here are the 7 episodes of SpongeBob SquarePants: Pest of the West, as described on the back of the DVD hardcase, followed by my comments in green:
Pest of the West (22:33)
While researching his family tree, SpongeBob discovers he was related to Western hero SpongeBuck. Flashback to SpongeBuck arriving in Bikini Gulch around 1882 and going head-to-head against dastardly Dead-Eye Plankton
Obviously the headliner here, Pest of the West is a real treat for fans of westerns and spaghetti westerns, because the writers play off time-honored genre clichés so well. Listen carefully during the final showdown between SpongeBuck and Dead-Eye Plankton and you'll hear the music cues from Sergio Leone's Once Upon a Time in the West, complete with Ennio Morricone's harmonica riff used for the Charles Bronson character. Naturally, other western conventions get spoofed, as well. Tough-guy SpongeBuck orders milk at the saloon ("Give me a shot...of milk. Two-percent!"), Patrick gets to play saloon gal with a song about Dead-Eye, and SpongeBob gets to go crazy in the desert heat. There's a great throw-away gag that only serious fans of westerns might get; a young boy asks his "Pa" a question, only to have the guy say, "I'm not your Pa!" - a beautiful twist on audience expectations. Plankton reaches insane levels of hilarity here, brandishing a whip like Lash LaRue and cracking it at the "hayseeds" that get in his way. It's a terrific vocal performance by Doug Lawrence (made even more funny during the town's ritualized squashing of villain Dead-Eye, as he screams grotesquely off-camera). The best line may be SpongeBob's, as he ponders a bird-fouled statue: "I'll bet you're somebody's famous poop-covered ancestor."
The Krusty Plate (4:00)
Out, out darn spot! SpongeBob refuses to leave work until he gets a stubborn spot off one of the dishes.
SpongeBob obsessed with his job always equals a good laugh, and here, his use of the Spot Master 6000, complete with particle beam, water cannon, and special alloy steel wool makes for a great gag (there's a masterful, frenzied build-up to SpongeBob, going for maximum power, setting off a nuclear holocaust, with a perfect edit to an archival shot of a nuke mushroom cloud).
Pat No Pay (4:03)
When Patrick eats his weight in Krabby Patties without paying, Mr. Krabbs puts him to work.
A funny variation on the standard "SpongeBob screwing up at his job" works well here with Patrick. Uber-cheapskate Mr. Krabs' "Non-Paying Customer Alert", complete with clanging alarms and slamming steel plates over the windows, is a highlight. Patrick's ability to blow even the simplest task is par for the course.
The Inmates of Summer (11:00)
SpongeBob mistakenly boards a boat hauling inmates to prison. But being SpongeBob, he can have a good time anywhere, with anyone!
Rapidly becoming one of my favorite SpongeBob episodes, this side-splitting spoof of prison films benefits enormously from Full Metal Jacket's and Mail Call's R. Lee Emery's fantastically enraged voice work. An almost perfect comedic setup for a SpongeBob short, The Inmates of Summer expertly builds on one laugh after another (Patrick and SpongeBob, in "the Hole" covered in chum, is a classic, with Patrick thinking they were in a hot tub). Emery tops it when, running out of insults, his warden character just stands there, breathing insanely. And nobody but SpongeBob would put on a Gilbert and Sullivan take-off for the prison play.
To Save a Squirrel (11:00)
Sandy tricks SpongeBob and Patrick into attending survival-training camp, where the creed is "eat or be eaten."
Sandy is probably my least favorite SpongeBob character, but she isn't around much here in this very funny romp. The highlight of the short is obviously when Patrick and SpongeBob, complete with Robinson Crusoe beards, turn first hermit, and then cannibal, as paranoia and dementia twist their heads as they try to eat each other. Of course, there's no explanation on how they're starving, if they have bread and ketchup to use as sandwich-makers for each other - other than the fact that they're both morons.
20,000 Patties Under the Sea (11:00)
SpongeBob and Patrick discover an old submarine, and Mr. Krabs talks them into using it to take the Krusty Krab on the road!
This snappy parody of submarine films benefits from some very funny lines; Plankton's disdainful rejoinder to an uninterested customer - "I'm Plankton, you old hag! And your son smells like boogers!" may be the funniest SpongeBob line ever. I also like how Plankton's sub is shaped like a giant, threatening fist.
The Battle of Bikini Bottom (11:00)
It's well-groomed SpongeBob versus never-washes Patrick. In this battle, will SpongeBob clean up or will Patrick resort to dirty tricks?
A fast-moving, funny SpongeBob, with a memorable opening ("Best Friends" T-shirts, with accompanying arrows, drive Patrick and SpongeBob insane when they can't match them up) and an equally memorable SpongeBob line: "Patrick's digging for gold!"
The DVD:
The Video:
The full-screen, 1.33:1 video transfer for SpongeBob SquarePants: Pest of the West looks perfect, with no compression issues and an incredibly bright, colorful, sharp image.
The Audio:
The Dolby Digital English 2.0 stereo audio mix is nice and loud, and as a bonus (for the adults), you only get to hear the theme song once, at the beginning of Pest of the West. Close-captioning is available.
The Extras:
There's an animatic included for Pest of the West, which should interest animation fans curious to see the origins of the short. There are also four mini-toons, associate with Pest of the West, that almost operate like out-takes. Sea Horse Riding Made Easy plays like one of those old training films from the '50s; SpurSkate is a spoof advertisement for the latest sport in Bikini Gulch; Saloon Door Sorrows is a witty take-off on those silent morality plays from the teens and twenties, animated in scratchy black and white, and the final segment, untitled, shows how SpongeBob is made over to be Old West tough. In total, these mini shorts run a very brief 2:52.
Final Thoughts:
SpongeBob SquarePants: Pest of the West is another sensational collection of SpongeBob SquarePants cartoons, headed up by the affectionate self-titled western spoof. There's not a dog in the bunch here. SpongeBob SquarePants: Pest of the West proves again that it's the best cartoon out there today - bar none. I highly recommend SpongeBob SquarePants: Pest of the West.
---
Paul Mavis is an internationally published film and television historian, a member of the Online Film Critics Society, and the author of The Espionage Filmography.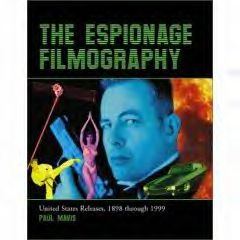 ---
C O N T E N T

---
V I D E O

---
A U D I O

---
E X T R A S

---
R E P L A Y

---
A D V I C E
Highly Recommended
---
E - M A I L
this review to a friend
Sponsored Links
Sponsored Links