WGBH // Unrated // May 13, 2008
List Price: $24.95 [Buy now and save at Amazon]
---
WGBH Boston Video has released Astrospies, a fascinating look at the United States' and the Soviet Union's ultra-secret military space reconnaissance and warfare programs (MOL and Almaz, respectively) in the 1960s. Originally broadcast this past February on Nova, Astrospies' intriguing look at the Cold War space race to get manned orbital spy stations clicking away with their cameras at military targets features interviews with several MOL astronauts (speaking for the first time on camera), as well as previously classified film footage of the astronauts training for their missions, vintage military animation, newsreel footage and fun retro graphics to reveal this heretofore covert page in space race history.
Astrospies begins in 1960 with the U.S.'s difficulties with its newly-launched photographic spy satellite, the Corona. Orbiting 100 miles high in outer space, the satellite was equipped with over half a mile of unexposed film, ready to take lots of close-up pictures of Russian missile bases - that is, as long as there was no cloud cover (Corona was unmanned, and its automated system couldn't distinguish between a cloudy and clear atmosphere below it). Couple this problem with the downing of Francis Gary Power's U-2 spy plane (with President Eisenhower grounding all future flights), and the U.S. had a high-flying espionage gap with the equally curious Russians. The solution? Put a man and a camera up in space.
Beginning in 1964, some of the military's best pilots were given orders to report to ARPS (Aerospace Research Pilot School) at Edwards Air Force Base, in California. What the pilots didn't know was that the military was training them not only to be astronauts, but astronauts who would pilot the government's ultra-secret espionage operation high in space. Given a cover story that they would be performing scientific experiments in an orbiting space station, the MOL project (Manned Orbital Laboratory) astronauts were given further cover by President Lyndon Johnson, who announced the project to the world, in the hopes (according to the documentary) of keeping the secret operation "hidden in plain sight."
Of course, the Russians saw right through this ruse (as no doubt the CIA assumed they would), and began their own development of an orbital spy station. The Russian project, titled Almaz (Russian for "diamond in the rough") looked to accomplish the same goal as the Americans: get a man on the shutter of a high-orbiting spy camera. But whereas the U.S. version was to feature only two astronauts in a disposable station, fulfilling 30-day missions at a time, the Russians planned on permanent stations, manned by quite a few cosmonauts - with the added bonus of a mounted space cannon (!) ready to knock out any too-close flying killer satellites. Clearly, the Russians and the U.S. had long ago determined that space was the future (and perhaps final) battleground in the Cold War (newly revealed documents show that MOL astronauts were to train on various maneuvers in space, including taking out Russian satellites).
Unfortunately for the U.S. MOL astronauts (who had to toil in absolute secrecy while the civilian NASA astronauts bathed in the glow of mid-to-late sixties adulation for anything space-related), the project was cancelled by President Nixon in 1969, due to, according to the documentary, a competing (and cheaper) unmanned program over at the clandestine National Reconnaissance Office. The MOL program never got off the ground. However, the Russian Almaz project did fly, with three stations eventually built, and the last mission scrubbed by 1977 (despite the billions of rubles spent -as opposed to the billions of U.S. greenbacks shelled out - the Almaz only brought off five missions, three of which were deemed unsuccessful). The U.S. had determined ten years earlier that video-guided unmanned spy satellites were cheaper, more efficient and much less dangerous (for the astronauts). In the final analysis, the MOL project was obsolete before it ever came to fruition.
Running a brief 54 minutes, Astrospies is a speedy, entertaining look at a subject I had frankly never heard about before. With the plethora of spy and space movies that were produced during that era, I guess I always just assumed that something was up there taking pictures (the much sought-after little capsule full of secret pictures that floats down in the Artic in Ice Station Zebra, for instance), or that maybe the civilian Gemini or Apollo astronauts might have been squeezing off a few surreptitious snaps during their celebrated flights. But I had no idea our government had a stealth group of astronauts specifically trained to man a camera the size of a car with optics that produced high-resolution images down to three inches (the film is quite good at making clear just how techincally difficult it was to have an orbiting space station, moving at over 17,000 mph, take a picture of something the size of a baseball card from 100 miles up, while the earth rotated in the opposite direction at a 1,000 mph).
It's an amazing story, and Astrospies is admirable in getting some of the actual men involved in the project to speak on camera - when evidently, quite a bit of the program is still flagged by the CIA as highly classified. As always when listening to these military men from this era (the film interviews MOL crew members General Lawrence Skantze, Vice Admiral Richard Truly, Hank Hartsfield, Lachlan MacLeay, Karol Bobko, Albert Crews, Donald H. Peterson, C. Gordon Fullerton, General Robert Herres, and Lt. General James Abrahamson), I'm struck by their unapologetic patriotism and their enthusiasm in the belief that what they were doing was a worthwhile and necessary cause for their country - which make its all the more melancholy that the MOL mission was eventually scrubbed before any of them were able to launch. The notion that these dedicated men sacrificed so much time and work to this project - while having to lie to their families and forego any public admiration for their work - without having at least the payoff of completing one mission, is frustrating, but one gets the feeling that all of them take it stoically as part of their duty.
Equally impressive is Astrospies's visit to the former Soviet Union, where outside Moscow, a restricted warehouse holds the last remaining Almaz station - fully intact and preserved as a museum (which evidently is routinely off-limits to most visitor requests). It's a massive structure, and the Nova cameras are allowed in to prowl around, showing the various pods and quarters where the cosmonauts worked (there's a frightening story relayed concerning one of the missions that went wrong, when the electricity went out, plunging the crew into total darkness for two hours, and the subsequent mental breakdown of one of the crew members). Showing the other side of this Cold War space race illustrated how remarkably similar both programs were in terms of development timelines and innovations for technical problems.
Astrospies itself looks great, with an overabundance of cool vintage footage from the era to illustrate this exciting spy story. I particularly enjoyed the military-commissioned animation of the various space flights, as well as the purposefully retro-looking "special effects" graphics of the stations in space (and the square-jawed, super-serious, cartoon astronauts), to convey that "Stone Age" dawn of outer space travel. Written by author James Bamford (featured in the film) and directed by C. Scott Willis, Astrospies is necessary viewing for spy and space enthusiasts.
The DVD:
The Video:
The anamorphically enhanced, 1.78:1 widescreen video transfer for Astrospies looks razor sharp, with a bright, hard, clean image and no compression issues whatsoever. Color values are correct, and blacks hold.
The Audio:
The Dolby Digital English 2.0 stereo audio mix is entirely adequate for this kind of documentary, that relies on mostly on dialogue. Close-captions, as well as descriptive video, is available.
The Extras:
Extras are relegated to DVD-ROM features, which are merely some questions teachers can print out for a possible quiz on Astrospies, and access to the Nova website.
Final Thoughts:
Telling a hidden story from the pages of covert espionage and the Cold War space race that I'm sure most of us haven't heard before, Astrospies is a fascinating look at the ultra-secret MOL operation, and the astronauts who trained to be spies in the (outer) skies. Cool vintage film footage and animation makes this documentary as visually interesting as it is informative. I recommend Astrospies.
---
Paul Mavis is an internationally published film and television historian, a member of the Online Film Critics Society, and the author of The Espionage Filmography.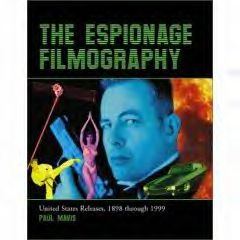 ---
C O N T E N T

---
V I D E O

---
A U D I O

---
E X T R A S

---
R E P L A Y

---
A D V I C E
Recommended
---
E - M A I L
this review to a friend
Sponsored Links
Sponsored Links