McLeod's Daughters - The Complete Sixth Season
List Price: $79.98 [Buy now and save at Amazon]
---
Okay. Maybe now it's all getting a tad silly. Koch Vision has released the eight-disc, 32-episode boxed set, McLeod's Daughters - The Complete Sixth Season, and I have to say that even though I'm a devoted fan of the show, it's all becoming a bit much at this point. I mean, major characters are leaving the show again, dead people are coming back to life, people are going blind, somebody has ESP, ghosts are walking around Drovers, death threats are coming in from all points, Stevie and Rose go shopping (jesus), picture frames are jumping off walls, Claire may be directing a horse to give Tess a "sign," and people are hooking up and breaking up at a dizzying pace, while the actual ranching at Drovers falls by the wayside. I love long-format serials, but you can see where the series is eventually headed in McLeod's Daughters - The Complete Sixth Season, and it's not pretty.
A quick recap of the series for those newcomers (and McLeod's Daughters is newcomer-friendly; you can jump in at any time and sort yourself out fairly quickly as to the plots - a "Previously on McLeod's Daughters," recap at the beginning of each episode helps). McLeod's Daughters concerns a cattle ranch in the spectacular Australian outback, run by Tess McLeod (Bridie Carter). Tess inherited half the ranch from her deceased father, with the other half being owned by her half-sister, Claire (Lisa Chappell), who died in a car crash in the Fourth Season. Helping out at Drovers is Stevie Hall (Simmone Mackinnon), a rough-and-tumble redhead who oversees the farm and who is now part-owner (and who has a major hankering for Alex); Jodi Fountain (Rachael Carpani), the gorgeous blonde ranch hand whose mother Meg (Sonia Todd) used to work at Drovers and who, as it was revealed in Season Five, is actually a McLeod daughter as well, and Kate Manfredi (Michala Banas), a soft-spoken but determined young woman who also works as a farm hand. Killarney, the expansive, successful neighboring farm, is run by gruff, bullying Harry Ryan (Marshall Napier) and his two sons: sensitive Nick (Myles Pollard), who recently married Tess and then promptly died in a plane crash, and hotheaded lunkhead Alex (Aaron Jeffrey), who was to marry Claire, but who is now engaged to gorgeous, rich (and lying) Fiona (Michelle Langstone). Harry's wife, Sandra (Inge Hornstra), is a scheming, manipulative snake who's always angling to get control of Killarney, while Dave Brewer (Brett Tucker) is the local vet who frequently gets caught in the middle between the ambitions of the two farming families - and who has his own romantic troubles this time out, when heartbreaker Regan (Zoe Naylor) returns full-time to Drovers.
SPOILERS ALERT!
Longtime, devoted fans of McLeod's Daughters generally agree that the Seventh Season of the series was the "jump the shark" moment for the show, where plots became even more far-fetched than in previous outings (evidently, ratings also fell big-time during this seventh season, with viewers expressing their disapproval of not only the silly plots, but the loss of some more popular characters). But after watching the previous five seasons of McLeod's Daughters, you can see big problems right here and now during the Sixth Season - and they start with the loss of Tess McLeod. The previous season, when Jodie was quasi-introduced as a potential McLeod daughter, I just assumed the producers and writers wanted to maintain a dual sisterhood/clashing wills dynamic at Drovers, after the loss of Claire in Season Four. But right from the start of this 2006 go-around, you can just tell that Tess is going to fly the coop (I know; it's easy to just get online and figure out all of this in advance, but where's the fun in that?). And without Tess, the internal rationalization for the entire series just vanishes. Without the two original McLeod daughters on Drovers, what's the point of the show? Sure, you can make Jodie a "real" McLeod, but it doesn't feel real - it's just a plot device - while new characters come and go, further making long-time viewers feel like the show has folded up. It doesn't help, either, that actress Bridie Carter comes off as so pissy and preoccupied in her final episodes, either; although I always favored Claire, I was really starting to warm to the Tess character, but there's very little to find likeable in her final appearances here.
Perhaps that flinty demeanor is understandable, though, when you see the idiotic way that the producers engineer her departure: they bring Nick back from the dead. Just as Tess begins to accept Nick's demise in a plane crash over Argentina, he's calling her on the phone, in-between her silly premonition scenes (a gimmick that's really overworked this season). Myles Pollard, who was always a bit of a thick stick in the mud as Nick, also is suffering from flashbacks (enough!) and walks around Drovers like a zombie, before finally coming around long enough to take Tess back to Argentina (it's never fully explained why she's want to leave Drovers in the first place). Bringing back Nick from the dead to get Tess to leave Drovers is a desperate, pathetic dues ex machina that plays just as badly as it reads here. If you're going to take away the series' linchpin, you had better come up with a believable angle when you do it.
Tess's deliverance from Drovers via heaven-sent angel Nick isn't the only false note struck here; outright silliness abounds in this Sixth Season of McLeod's Daughters. Matt's wayward younger brother Patrick (Luke Jacobz) comes back - with absolutely nothing to do but create a false rivalry with his brother Matt over Kate, as well as blind himself during a welding accident (it's very amusing to see how Patrick is consumed with a bitter frustration/rage concerning his blindness...only two hours after the accident). Meg (Sonia Todd) shows up again, just long enough to marry long-suffering, dimwitted (perhaps from a head injury?) Terry (John Jarratt) and swan off again (how many times had they broken up already?). Kate seems to have most of the silly moments this season. She's inserted, CSI-like, into the memory of Stevie's argument with Harry, as she watches the "crime" unfold (a goofy gimmick that doesn't come off at all), that's topped when the writers have Kate actually rat-out Stevie to the cops when she believes Stevie killed Harry - why in the world would the producers introduce this nonsensical character motivation...and then botch the whole "Stevie might go to jail" subplot? Kate gets roped into another stupid moment, this time revolving around a hitman who comes to Drovers, looking to silence Witness Protection Program member Rob/Matt (Jonny Pasvolsky), with flashbacks again abounding later on in the season when Jodie needs to remember this incident...to set up another incident (let's not even go into the wretched Cupid dream sequences with Kate and Dave in the final season episode). And then we get the ghosts, with long-dead pioneer Henrietta McLeod dropping by to give Regan and Jodie a thrill, while rearranging the house's picture frames, to boot. But when people started coming up to truckstop co-owner/psychic fortune teller (and bad Meg replacement) Moira (Doris Younane), and grabbing her hand in successful attempts at precognition, I drew the line. I mean, what the hell? This is McLeod's Daughters? A romantic soap I can buy, but The Man From Snowy River meets The Dead Zone? No way.
There are some elements that do work (to a certain extent) this Sixth Season. I enjoyed the Fiona character, who dug a hole deeper and deeper for herself as she lied about her first engagement and then being pregnant. But the writers then turn her into a lunatic almost the second she finds out Alex can't forgive her, and we're all set up for Fi to be a perpetual thorn in Alex's side...until they whisk her off without a decent goodbye. The whole Leo Coombes (Daniel Feuerriegel) "crop duster who almost ruins Drovers then sleeps with Stevie and almost rapes Rose (Basia A'Hern)" subplot is entertaining (if weakly motivated), but again, it's reworked too many times to be effective. But over all, Season Six is a misguided mess, and this is perhaps best exemplified by the loss of the Harry character. What McLeod's Daughters desperately needs is a sizeable villain - preferably a man - who can provide identifiable menace to the livelihood of the Drovers women on a consistent basis. That way, the women can prove themselves to be the equal of any the (almost exclusively) male ranchers, and thus give the series its rationale, its reason to be. With Harry gone, however, there's nobody to push against the Drovers women, no believable, realistic outside threat to the survival of the Drovers ranch, and thus, conflict is eliminated (that, and we don't get to see the excellent Marshall Napier any longer). Rather ridiculously, the writers then try out putting Alex in the old Harry position (Alex screws over the Drovers on a deal), but it totally fails because Alex always positioned himself as the opposite of Harry - particularly when it came to ruthless business deals. The fact that the producers would try to change the Alex character so fundamentally, is just one more indicator of how unstuck McLeod's Daughters has become this Sixth Season.
Here are the 32, one-hour episodes of the eight-disc box set, McLeod's Daughters: The Complete Sixth Season, as described on their hardcase back covers:
DISC ONE:

Episode 139 - Lost and Found
Jodi reveals to Tess that they are sisters - but the news doesn't go over quite as Jodi had hoped. Stevie's heart is broken when Alex returns with his new fiancée, Fiona.
Episode 140 - Truth Hurts
Tess asks Jodi to move into the big house - but the move proves too much for the new "sisters" and Jodi decides to stay with Kate.
Episode 141 - Kiss of Death
Stevie's one-night stand with Leo leads to Drovers Run losing its organic status when he sprays the land with chemicals.
Episode 142 - Luck Be a Lady
Sandra's fight for control over Killarney is lost when Fiona reveals to Harry that Sandra was responsible for undercutting Drovers Run.
DISC TWO:

Episode 143 - The Real McLeod
Tess has a pregnancy scare and offers Jodi half her share of Drovers Run. Meanwhile, Harry receives death threats after his bull is found dead.
Episode 144 - The Calling
After a series of confusing dreams and visions, Tess learns that Nick is still alive. Kate makes the frightening discovery that she may have skin cancer.
Episode 145 - What Lies Beneath
After many long months, Nick returns, but is troubled by flashbacks of his mugging in Argentina. Meg also comes home and finally reconciles with Jodi.
Episode 146 - Where the Heart Is
Jodi discovers that a mild mannered "journalist" looking for a story on Nick is actually a hit-man after Rob.
DISC THREE:

Episode 147 - Deliver Us From Evil
Unwittingly pushed together by Jodi, Meg proposes to Terry. Meanwhile, Rob is wounded when he and Jodi attempt to flee the hit-man.
Episode 148 - The Big Commitment
Patrick is accidentally blinded and must rely on Kate for help. Jodi arranges a surprise wedding for Meg and Terry.
Episode 149 - Biting the Bullet
Regan returns with a devastating secret, Fiona discovers she is infertile, and Stevie forces Jodi to take her place as a part owner of Drovers Run.
Episode 150 - Second Best
Alex asks Stevie to fill in as his best man, but she ends up being Fiona's bridesmaid instead. Kate and Moira find common ground when they partner up for a radio trivia quiz.
DISC FOUR:

Episode 151 - The Trouble with Harry
Jodi believes she has killed Harry Ryan in a car accident. Back at Drovers Run, Stevie helps a Japanese delegate's wife reconcile with her husband.
Episode 152 - The Legend of Harry Ryan
Alex learns that Harry was an orphan, abandoned by his adoptive parents. He reconciles with his father's ghost and gives a heartfelt eulogy.
Episode 153 - Second Chances
Fiona's mother Trudie arrives at Killarney and is determined to see the wedding through. Jealous of Stevie and desperate not to lose Alex, Fiona tells him she's pregnant.
Episode 154 - Secrets and Lies
Stevie discovers that Fiona is lying about her pregnancy. She races to stop the wedding, but is too late - Fiona has fast-tracked the ceremony before Alex can find out.
DISC FIVE:

Episode 155 - The Life of Riley
When brumbies are found shot dead, the Drovers girls suspect Riley, a handsome, but mysterious stranger.
Episode 156 - Wild Horses
Sandra and Fiona create a stalemate of power at Killarney when it's revealed they each have damaging information on the other.
Episode 157 - The Great Temptation
Regan saves the day when she discovers that a paratyphoid outbreak on Drovers Run is the result of Sandra's dirty work.
Episode 158 - Suspicious Minds
Kate's night of passion with Patrick is interrupted by her preoccupation that Stevie could be guilty of Harry Ryan's murder.
DISC SIX:

Episode 159 - Days of Reckoning
Kate learns a valuable lesson about trusting her heart when she realizes she was wrong to got to the police about Stevie.
Episode 160 - Scratch the Surface
Sandra loses the war when Fiona's honesty leads Alex to kick Sandra out of Killarney for good.
Episode 161 - For Better or Worse
Tensions rise between the Drovers girls when Jodi is forced to make a decision based on the possibility that Stevie might go to jail.
Episode 162 - The Eleventh Hour
As Stevie ties up loose ends on her last day at Drovers Run before trial, she's saved at the final hour by a desperate confession.
DISC SEVEN:

Episode 163 - Old Wrongs
Jodi looks to right the wrongs of the past after she discovers that Phil Rakich is lobbying to exclude the Drovers Girls from Gungellan's 150th anniversary celebration.
Episode 164 - Handle with Care
Stevie tells Rose they need to be honest with each other. Rose agrees, and tells Stevie about her new boyfriend, keeping his identity a secret.
Episode 165 - Guess Who's Coming to Dinner
Stevie enthusiastically prepares for dinner with Rose's "mystery man," but is horrified when Rose's date turns out to be Leo.
Episode 166 - One Perfect Day
Dave and Regan make some decisions about their relationship - but is it really what they both want?
DISC EIGHT:

Episode 167 - Winners and Losers
When Alex returns from the city with Fiona, Stevie fears he's changed his mind about leaving his wife.
Episode 168 - Damage Control
Stevie learns that Alex missed their rendezvous because of Fiona's accident but is brutally rejected when she is caught lying about her whereabouts the previous night.
Episode 169 - Risk
Stevie is now determined that if Alex wants a war, that's what he's going to get. Meanwhile, Moira, newly divorced, finds herself the object of Phil Rakich's affection.
Episode 170 - Twenty Questions
Kate is rattled. Dave's imminent move to Africa has awakened old feelings and she lapses into daydreams of him declaring his love for her.
The DVD:
The Video:
The anamorphically enhanced, 1.78:1 widescreen video transfers for McLeod's Daughters: The Complete Sixth Season look spectacular, as usual. Colors are brilliantly realized, in a crisp, clean, compression-free image (one of the few genuine pleasures this go-around).
The Audio:
The Dolby Digital English 2.0 soundtrack is more than adequate for this largely dialogue-driven drama. No subtitles or closed-captions are available, unfortunately.
The Extras:
No extras are included for McLeod's Daughters: The Complete Sixth Season.
Final Thoughts:
McLeod's Daughters: The Complete Sixth Season comes this close to crossing over into ludicrous farce - and that's a big shock to this reviewer who has enjoyed this beautifully lensed Aussie soap for the past five seasons. Two characters critical to the success of the show leave, and we're left with ghosts, Cupid shooting his arrows (in person), and Moira seeing into the future every time somebody grabs her hand, for christ's sake. I'm obviously not going to not recommend McLeod's Daughters: The Complete Sixth Season for fans of the show who will have to see how storylines turn out, but taken on it's own, out of context with the rest of the seasons, the seriously confused, compromised McLeod's Daughters: The Complete Sixth Season is a rental, at best.
---
Paul Mavis is an internationally published film and television historian, a member of the Online Film Critics Society, and the author of The Espionage Filmography.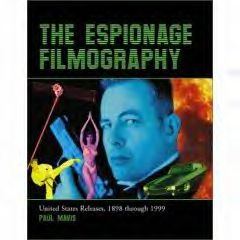 Sponsored Links
Sponsored Links