List Price: $14.95 [Buy now and save at Amazon]
---
No, it's not Flood!, Irwin Allen's 1976 TV movie - and more's the pity (I hear the faint sounds of hundreds of mice clicking off this review). At least that schlock-fest only ran 100 minutes. This distended, water-logged British disaster film, made in 2007 and starring the likes of Robert Carlyle, Tom Courtenay, Joanne Whalley and David Suchet, runs an unimaginable three hours and seven minutes long. Even The Towering Inferno, the Gone With the Wind of disaster films, is twenty minutes shorter. And a hundred times more exciting.
Off the coast of Scotland, a huge storm surge combines with the ocean at high tide and wipes out the town of Wick. British officials watch anxiously as the storm tracks towards London...before it changes direction and heads off towards the North Sea. Certainly Keith Hopkins (Nigel Planer), head meteorologist to 10 North Downing Street is pleased; he's just given the cautious go-ahead to Deputy Prime Minister Campbell (David Suchet) to announce that the storm threat is officially over, and that the planned evacuation, from the upper classes downward, of course (kidding), needn't happen. However, as storms will do, this gigantic swell moves again, headed right back to Old Blighty, and everyone is doomed.
They're doomed because the Thames Barrier (a mechanical marvel river/sea wall that's supposed to keep tidal surges under control on the Thames) was badly engineered - just like Professor Leonard Morrison said it was, twenty years ago (it's too far down river, you see). But nobody listened to him then, and evidently, the strain of all that wading around in tide pools ruined his marriage, keeping him away from his marine engineer son Rob (Robert Carlyle) and daughter Kate (Nathalie Boltt). Rob's anger and resentment at his father's disappearance burns brightly, but will soon be doused in the London flood when a tidal surge overwhelms the Thames Barrier. Good thing Rob's ex-squeeze, Sam Morrison (Jessalyn Gilsig) is wearing a too-small shirt when things are about to get wet...I mean; good thing Sam is the Head of Operations for the Thames Barrier. Now she can work with Rob to pull the plug on London's big drain, while patching things up with her ex.
SPOILERS ALERT!
Floating up to the top of the barrel like cream and ...well, never mind; Flood belongs on the Sci-Fi Channel at best, not on the big screen, with its dopey, protracted script, sub-par CGI effects, and its general air of bland, boring incompetence. Don't take me for a snob when it comes to the disaster genre; you're reading a review written by someone who has a VHS copy of the "director's cut" of Irwin Allen's When Time Ran Out - certainly one of the worst disaster films ever made. But what makes that watchable - even desirable - is full-blown incompetence, coupled with Tinker-Toy special effects, acted out by a cast of stars who look like they want to be anywhere but in that film. Its aim is high, and its reach is comically low. It screws up on a grand scale, mister. But this? This...British disaster film; so thoroughly...British in its execution: so correct, so stiff-upper-lip, so low-key, so bloody well-mannered. Who the hell is going to revel in its ineptitude? Where's the juice, man? Where's the likes of Shelley Winters, or Ernest Borgnine, or Robert Wagner, or even James Franciscus, throwing themselves into the silliness with abandon? Hell, after watching Tom Courtenay, of all people, staring glassy-eyed off into space, mumbling about tidal gauges, I would have settled for Red Buttons, Alex Karras or Pat Morita to show up (you know they're from When Time Ran Out.... Don't pretend you haven't watched it).
So many elements of Flood sink straight to the river bottom that it's hard to know where to dredge. While the idea of a massive flood slamming into a urban metropolis like London should be a cinch for visual excitement, Flood manages to take what should be terrifying and turn it into something thoroughly unimpressive. I don't mind so much that the CGI effects are so poor - that can be fun if the movie doesn't take them or itself too seriously. But watching Flood, you'd think these bozos actually believe all this stuff (and yes I know it's scientifically possible, but that's not the point). If you're going to act that serious and ponderous, and elongate the film like it's some kind of epic, you had better have the energy to make it seem fun - even if you don't have the money to make the effects any good (my favorite CGI shot is the "painted on" helicopter, hovering in the air...with no pilot).
And it's not just the CGI stuff that suffers; it's the physical gags, too. Apparently, that wall of water (which just appears, with no set-up whatsoever) that continues to roll into London, smashing cars, trees, houses and anything else in its path with the force of a hundred atomic bombs...has no debris floating around in it, nor any measurable current. Because poor Robert Carlyle (and I write "poor" because he looks like he can't even swim) keeps jumping into these raging torrents, only to paddle around comically in clear water: no bodies, no trees, no cars, no dirt, apparently. And no pesky 100 knot current that would rip him apart like a rag doll. Oh, and Carlyle is also part fish, evidently, because he can stay under water for about eight minutes at a time. And don't even talk to me about how everyone seems to have a layer of whale blubber on them, because nobody is shivering in the slightest in all that icy North Sea water.
Even with all that silliness, the makers of Flood could have pulled off something if they had just kept things moving in a logical, timely manner, but they can't even do that. So many scenes are ripped off from other, better disaster films, that Flood has the potential for being a drinking game where film fanatics try and identify all the references. The death of Rob's father (taken directly from the equally terrible Poseidon remake, which was stolen from...oh, forget it) is one of the more ludicrous scenes that I've seen in this type of film. When it's determined someone will have to sacrifice their life (because "they'll run out of air") to shut off a valve in some flooded room, he naturally saves his son and goes himself. So...why does he wear one tiny, slim oxygen tank? How about...two tanks? Or one big one? Apparently, he's not allowed two tanks under Britain's strapped NHS, so....
And it's so slow and long! Why does the director, Tony Mitchell, constantly interrupt or end a scene with a superfluous freeze-frame that goes to black and white, with a time code stamped on it? Do I really need to know it's 1:45pm while Carlyle appears to be perfecting the dog paddle? Really, it's 3:30pm? Let me know when it's 4:30pm - maybe this mess will be over by then (Nope! 2 more hours to go!). Flash cutting, hyper-sped-up transitions and shaky camera zoom-ins that were all the rage in 1997 abound in Flood, but even those quaint anachronism pale next to Mitchell's and screenwriters Justin Bodle and Matthew Cope biggest sin: they, um...don't actually show the final action sequence. Evidently, Professor Morrison is the only brainiac who figured out that the Thames Barrier, having been breached, is now acting like a dam, keeping central London flooded. His plan? Open up the sluice gates down river, and push the standing water back into the sea (but then what about the sluice water?). Infuriatingly though, we never get to see this complicated plan in action; we see a couple of computer screens simulating what's supposedly happening, but the movie cheats us on the big wrap-up. And that's inexcusable in any disaster film.
The DVD:
The Video:
The anamorphically enhanced, 1.78:1 widescreen transfer of Flood looks perfect, with no compression issues nor screen anomalies. Detail is fine, with the rather cold colors perfectly rendered. Razor-sharp clarity; looked very fine on a big monitor.
The Audio:
The strong Dolby Digital English 5.1 stereo mix made full use of deep bass cues, with some good expansion across the rear speakers - during the action scenes, which are less than you'd expect in a three-plus hour film. Dialogue was mixed correctly with the foley and music - which is too bad, because we have to then endure one of the most repetitive action scores (by Debbie Wiseman) that I've heard since Bernstein's score for McQ. There are no close-captions or subtitles.
The Extras:
There are no extras for Flood.
Final Thoughts:
Pull the drain plug for this sinker. A three hour and seven minute disaster film? From Britain? Tedious beyond all endurance, with lapses in logic on a minute-by-minute basis. Suddenly, the weekly Sci-Fi Channel disaster epics look pretty good by comparison. Disaster film completists may rent for a chuckle, but everyone else should jump ship. Swim right by Flood.
---
Paul Mavis is an internationally published film and television historian, a member of the Online Film Critics Society, and the author of The Espionage Filmography.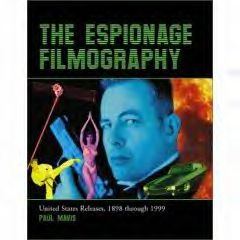 Sponsored Links
Sponsored Links