Midsomer Murders - Set 11
List Price: $49.99 [Buy now and save at Amazon]
---
Perhaps I spoke too soon. In my previous review of Midsomer Murders: Set Ten, I was again impressed with the superior writing for this popular English murder mystery series set in the fictional - and most deadly - county of Midsomer, seeing no dip in the quality of the scripts after so many episodes. Alas, Midsomer Murders: Set 11, featuring four episodes from 2005-2006's series nine ("season nine" in Brit-TV speak), didn't quite live up to the heady mixture of Midsomer's bizarre murders and sly, macabre English black wit that I took for granted in the previous seasons. Episodes this time around include The House in the Woods, Dead Letters, Vixen's Run (the best of the lot here, and entirely in keeping with the usual Midsomer excellence), and Down Among the Dead Men.
As I've written in the past three reviews of Midsomer Murders, if you're not familiar with the series, don't feel that you can't begin watching the show, even this late in the game. Each mystery is essentially "stand alone," so newcomers (such as myself, who only started watching this from Set Eight) are more than welcome. Not to spend too much time on recapping the series for the fourth time, but to briefly acquaint readers with the basic set-up, Midsomer Murders details the seemingly continuous mayhem (which nobody notices or cares to comment on -- except Barnaby on rare, wry occasions) that afflicts rural, affluent (and fictitious) Midsomer County. Bodies drop like flies, and in the most appalling ways, and it's up to Detective Chief Inspector Tom Barnaby (John Nettles) of the Criminal Investigation Department to clean up the mess. Previously aided by Detective Sergeant Dan Scott (John Hopkins), Barnaby finds himself with a new sidekick this season in the person of Constable Ben Jones (Jason Hughes), an inquisitive, competent copper who catches Barnaby's eye (due to his quick reasoning and forthright manner) at the scene of the first crime in this set of episodes, and who is invited by Barnaby to tag along as an "acting Detective Constable." Jones soon proves himself to be a more than competent compliment to Barnaby's low-key detective skills. Lending a hand with vital forensic data is jovial coroner Dr. George Bullard (Barry Jackson). Offered as punctuation, but rarely as significant subplots, glimpses of Barnaby's home life frequently bookend an episode, with Joyce Barnaby (Jane Wymark), Tom's put-upon wife (who frequently loses her husband to a case right before an important event in their social life), and Cully Barnaby (Laura Howard), their somewhat directionless daughter, making frequent appearances.
SPOILERS ALERT!
The biggest change this season comes with the departure (unseen) of Detective Sergeant Dan Scott. I didn't have a problem with the character leaving the series; Hopkins' Scott character was at times amusing but he never seemed vitally important to the series. John Nettles' DCI Barnaby is such a calm, quiet, understated (and thus an appealingly compelling) presence on Midsomer Murders that Scott always seemed like an afterthought; an excuse to move along the various plot mechanics as the mysteries worked their convoluted way through to their surprising denouements. I didn't get that feeling with Hughes' intriguingly "rough-edges-smoothed-over" take on Constable Jones. Almost immediately, the talented Hughes' (This Life) enigmatic, ever-so-slightly quirky essaying of Jones perfectly captures the vaguely surreal atmosphere of the series. He's a perfect fit, and a nice, competent counterpoint to Barnaby. One gets the feeling he'll keep Barnaby as much on his toes, as Barnaby will with Jones.
No, the problem lies in his introduction to the series, and with Scott's disappearance. Both are utterly...arbitrary, as well as sloppily accomplished, and I'm not used to that kind of laziness with Midsomer Murders. In the set and season opener, The House in the Woods, Barnaby shows up at the crime scene and explains to someone that Scott called in sick. And that's it. He's never mentioned again, nor seen (couldn't someone had made a sly, joking suggestion that a heinous fate befell Scott, as happens with most of Midsomer's population?). Equally sketchy and capriciously, Barnaby picks out Constable Jones at the drop of a hat, and suddenly, he's a full partner. Yes, Midsomer Murders is, after all, a fantasy, pure and simple. And the disappearance of Scott and the sudden appearance of Jones could, I suppose, safely be explained away as a whimsical extension of the show's basic comedic bent. But the whole switch-off feels rushed and thin, and that surprised me with this usually clever show.
As well, the mysteries in Midsomer Murders: Set Eleven, except for Vixen's Run, left me feeling somewhat disappointed in the course of the series. The opening episode, The House in the Woods, with its tale of a deadly ramshackle hidden house and murderous twins, was entirely predictable even to a viewer like myself who never tries to "figure out" the mystery (I much prefer to just go along with the flow, and let the mystery happen, instead of trying to outwit the sleuth and missing the fun of being in the dark). That was surprising, as well; I hadn't encountered a Midsomer Murders episode that was so blatantly obvious prior to The House in the Woods. Dead Letters, with its customary "country fete" that pops up in so many of these and other English "country village" murder mysteries, seemed somewhat rote and predictable, as well, with the characters straining too hard to be outsized and quirky. And Down Among the Dead Men broke the spell of keeping the action within Midsomer County by having Barnaby split up from Hughes and take a brief working vacation along the English coast - a plot diversion that may have seemed necessary to the script, but which played out as an arbitrary excuse to work in some new scenery into the series. Only Vixen's Run played like quintessential Midsomer Murders, with an agreeably cliched "country manor" murder plot nicely twisted into the Midsomer mold, complete with Barnaby playing like a Christie sleuth at the end, gathering the suspects together in the drawing room to suss out the suspect. The characters are hysterically snotty and shifty, even amazing the usually unflappable Barnaby with their naked greed and avarice. It's a terrific episode among mediocre ones, and the one saving grace to Midsomer Murders: Set Eleven.
Here are the four, 100-minute episodes in the four-disc box set, Midsomer Murders: Set 11, as described on their slim cases:

DISC ONE:


The House in the Woods
Schoolchildren believe that Winyard, a secluded and long-abandoned house, is haunted. Eerie lights and mysterious noises seem to confirm their belief. But when a young couple looking to buy the property gets garroted, Barnaby recruits Detective Constable Ben Jones to help him catch a very corporeal killer.

DISC TWO:


Dead Letters
In Midsomer Barton, tragedy intrudes on the celebration of Oak Apple Week when Marion Slade, the mother of a former festival queen, drowns in a stream. Did she commit suicide, grieving for her deceased daughter? Or was she murdered? In ferreting out the truth, Barnaby uncovers dark secrets lurking beneath the gaiety.

DISC THREE:


Vixen's Run
On the verge of making a dramatic announcement at a family gathering, Sir Freddy Butler drops dead, apparently as the result of a lifetime of gluttony. He leaves a widow, two ex-wives, a dotty brother, an heir apparent, and a vulgar daughter-in-law - all with good reason to want him dead. And the casualties don't stop there.

DISC FOUR:


Down Among the Dead Men
Investigating the murder of Martin Barrett, Barnaby and Jones discover that the government accountant led a far from boring life. Apparently, the dead man had dug up dirty secrets on people from miles around and used them for blackmail. But which of Barrett's many targets eventually made him a victim?
The DVD:
The Video:
The anamorphically enhanced, 1.78:1 widescreen transfers for Midsomer Murders: Set 11 look, as always, particularly good here: crisp, sharp images with nicely balanced color and no compression issues whatsoever. The image is remarkably bright and clean.
The Audio:
The Dolby Digital English 2.0 stereo mixes for Midsomer Murders: Set 11 are more than adequate for these largely dialogue-driven mysteries. Unfortunately, there are no close-captions or subtitles included.
The Extras:
A few text extras are included in Midsomer Murders: Set 11. There's an explanation of the in-joke included in Dead Letters, The Killings at Badger's Drift Connection, which includes a clip from that earlier Midsomer Murders episode for those, like myself, who didn't get the joke at all. Fascinating Facts gives some trivia on the show, while the same scant text bio for Caroline Graham, as well as slim filmographies for some of the cast found on other sets, are included here again.
Final Thoughts:
Midsomer Murders: Set 11 was a bit of a let-down, with scripts fairly predictable, and the loss of one major character, and the introduction of another, handled in an arbitrary and clumsy manner. Still, Vixen's Run was as good as any Midsomer Murders episode I've seen - and even mediocre Midsomer Murders is miles above most other similar fare. I recommend Midsomer Murders: Set 11, but I hope this is just a momentary dip in the series.
---
Paul Mavis is an internationally published film and television historian, a member of the Online Film Critics Society, and the author of The Espionage Filmography.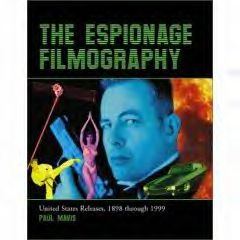 ---
C O N T E N T

---
V I D E O

---
A U D I O

---
E X T R A S

---
R E P L A Y

---
A D V I C E
Recommended
---
E - M A I L
this review to a friend
Sponsored Links
Sponsored Links