Midsomer Murders - Set 12
List Price: $49.99 [Buy now and save at Amazon]
---
Back to form, what? Acorn Media has released Midsomer Murders - Set Twelve, featuring four more episodes of the delightfully twisted, macabre murder mystery series from England. Titles include Four Funerals and a Wedding, Country Matters, Death in Chorus, and Last Year's Model, which were the last four episodes of Series ("Season") 10 of the show, originally aired in September of 2006. Inspired by Caroline Graham celebrated novels, these bizarre, intricate little "English village" mysteries bounce back from the disappointing round of episodes we saw in Set 11, with razor-sharp yet benignly bemused Detective Chief Inspector Tom Barnaby matching wits with four more clever murderers, while sidekick Detective Constable Ben Jones shakes his head in quiet disbelief at the assortment of suspects he and Barnaby encounter.
As I've written in my past four reviews of Midsomer Murders, if you're not familiar with the series, don't feel that you can't begin watching the show, even this late in the game. Each mystery is essentially "stand alone," so newcomers (such as myself, who only started watching this from Set Eight) are more than welcome. Not to spend too much time on recapping the series for the fifth time, but to briefly acquaint new readers with the basic set-up, Midsomer Murders details the seemingly continuous mayhem (which nobody notices or cares to comment on -- except Barnaby on rare, wry occasions) that afflicts rural, affluent (and fictitious) Midsomer County. Bodies drop like flies, and in the most appalling ways, and it's up to Detective Chief Inspector Tom Barnaby (John Nettles) of the Criminal Investigation Department to clean up the mess. Barnaby is aided in his inquiries by Constable Ben Jones (Jason Hughes), an inquisitive, competent copper who caught Barnaby's eye on a previous murder investigation (due to his quick reasoning and forthright manner). Tagging along as an "acting Detective Constable," Jones soon proved himself to be a more than competent compliment to Barnaby's low-key detective skills, with a promotion to Sergeant likely in the works. Lending a hand with vital forensic data is jovial coroner Dr. George Bullard (Barry Jackson). Offered as punctuation, but rarely as significant subplots, glimpses of Barnaby's home life frequently bookend an episode, with Joyce Barnaby (Jane Wymark), Tom's put-upon wife (who frequently loses her husband to a case right before an important event in their social life), and Cully Barnaby (Laura Howard), their somewhat directionless daughter, making frequent appearances.
SPOILERS ALERT!
While I was a bit grumpy about the last collection of one of my favorite British TV series, I'm happy to say that three of the four episodes included in this Midsomer Murders - Set Twelve are right back in the groove for this dust-dry, witty black comedy/mystery. In particular, these three episodes (the fourth, Last Year's Model, doesn't really fit the Midsomer model; I'll discuss that later) were consistently amusing - an element that seemed in short supply in the previous set (the mysteries weren't much to write home about there, either). Watching the shows in the order Acorn presents them, Four Funerals and a Wedding is first up, and it's a prime example of Midsomer's good-natured, sometimes perverse tweaking of the classic "English village" mystery framework. Barnaby, sent on doubly dreaded duty to the small Midsomer Broughton village (doubly dreaded because he must not only perform "community relations" with the town - acting as the officiator of the Skimmington Fayre - he has to do so with his wife's mother in tow), quickly realizes there's something "off" with the small, insular town, particularly when he gets a load of the fayre's annual "Ride." Designed to remind the menfolk of Broughton about a notorious incident of misogyny in the town's past, "The Ride" has one unlucky man strapped blindfolded and backwards on a donkey that has to navigate a course while women, dressed in medieval finery, whack him with ladles (!), trying to knock him off. Playing like a distaff version of The Wicker Man, Four Funerals and a Wedding becomes increasingly more amusing as it goes along, throwing out comic bits here and there that only serve to further obfuscate the mystery. George the forensics expert has a nice set piece, setting up a complicated laser imaging system to determine the source and trajectory of a bullet that kills the "Rider"...a complicated process which turns out to be totally useless since Barnaby and Jones (hey... I just got that!) already guessed the only place possible for the shooter. As the bodies pile up in the little town, with previously locked-in suspects suddenly winding up as corpses, Jones looks incredulously at Barnaby and says, "We're never getting out of here, are we, sir? It's Groundhog Day."
Country Matters and Death in Chorus are even funnier, with John Nettles and cast clearly having a good time with the snappier-than-usual lines and situations. Country Matters has a deliciously perverse premise of the local lovely ladies of Elverton cooking up a prostitution and blackmailing operation (I love the opening, which has the first victim engaged in some delightfully satirical fantasy role-playing). Into this rather wild little Midsomer town comes Barnaby and Jones, who must also contend with Reverend Suze (Kirsty Bushell, in a very funny performance), a "modern" member of the clergy who first gets Tom's rather astonished attention when, out of the blue, she clasps his hands in the local supermarket and prays with him (later, listen to Nettles' hysterical line reading when he says, "Good God!" after a jogging Suze says, "Catch you later!"). There's also a very funny bit with Suze when she recounts her "talks" with a local deliveryman...which consist of her leaping into the back of his van for sex. And one of the best bits of the entire series comes at the very end of the episode, in one of those enjoyable closer segments with Tom and his wife Joyce at their home, where Joyce reveals that not only was she propositioned to join the local brothel, but that she wouldn't have minded enacting the dominatrix - a statement that causes Tom to exclaim in astonishment, "Really!" and excitedly close the book he was reading.
Death in Chorus has the unusual background of a choir competition for the mystery framework, affording Jane Wymark and Barry Jackson (whose characters belong to the choir) a bit more screen time than they normally get - and well worth it, too. There's a terrific bit where Tom and Joyce go to a restaurant, with Joyce hoping Tom will try something, anything new on the menu, with Tom utterly rejecting that notion, slamming the menu board shut, and mussing Joyce's hairdo with the resulting wind. Nettles gets a chance to work out some of his broader eye-rolling in this episode (and for Nettles, "broader" is still very subtle and funny), particularly when Joyce plays hero, wishing to continuing singing when bodies start to pile up, and when Jones finds himself hysterically outfitted in one of Barnaby's old suits, after falling into a pond and showering up at Tom's home (there's a shot of Jason Hughes in the buff for the admiring women out there). As delightful as these three episodes are, the final Last Year's Model, although well-put together and decently plotted, just doesn't fit the standard Midsomer mold. Structured as a courtroom trial told with flashbacks, the notion that Barnaby could have nailed the wrong suspect is certainly intriguing, but Midsomer Murders isn't Trial & Retribution. It needs to be out and about in the beautiful, fictitious Midsomer county, in weird, insular little hamlets and villages where the inhabitants all know each other, plotting their hideous revenge on each other - preferably in as gruesome a manner as possible. And where the only "law" and sense of order that comes to the town comes in the form of Barnaby - an outsider who's quietly astonished at the bizarre people he meets. Last Year's Model has none of that whimsical, black comedy feeling, instead coming off as rather...conventional in its plotting and structure. The only interesting element in the episode is the rather enigmatic ending, where clinical psychologist Pru Plunkett (Siobhan Redmond) mysteriously intones, "Love's a funny thing," as she watches Barnaby walk away, causing some puzzled looks on Tom's daughter's face. Will this be explained in another episode? Was there some backstory to this in an earlier episode? It's an intriguing idea: someone else in love with Barnaby. Unfortunately, it's only hinted at here.
Here are the four, 100-minute episodes in the four-disc box set, Midsomer Murders - Set Twelve, as described on their slim cases:
DISC ONE

Four Funerals and a Wedding
Reviving a medieval ritual, the annual Skimmington Fayre gives the women of Broughton their chance to symbolically humiliate the menfolk. This year, the males have vowed to break with tradition and reclaim their dignity. But neither side in this battle of the sexes expected so many casualties.
DISC TWO

Country Matters
With a proposed Goodfare supermarket dividing the residents of Elverton, an environmental consultant hired by the store is found stabbed to death in a dilapidated barn. As it turns out, the mysterious victim had been "consulting" with several local ladies in the countryside - and definitely not about the environment.
DISC THREE

Death in Chorus
Laurence Barker, the new director of the Midsomer Worthy choir, wants to win the upcoming choral competition in the worst way, and he demands perfection from his singers. But when tenor and local artist Connor Simpson is murdered after practice and other choir members receive threatening notices, disharmony reigns.
DISC FOUR

Last Year's Model
Annie Woodrow, the wife of a pop music impresario, stands accused of killing her best friend. Although all the evidence points to Mrs. Woodrow as the killer, DCI Barnaby begins to doubt her guilt. With his old friend, clinical psychologist Pru Plunkett, feeding his suspicions, Barnaby sets out to find the truth.
The DVD:
The Video:
The anamorphically enhanced, 1.78:1 widescreen transfers for Midsomer Murders - Set Twelve look, as always, look very good: crisp, sharp images with nicely balanced color and no compression issues whatsoever (no pesky PAL conversion issues, either). The image is remarkably bright and clean.
The Audio:
The Dolby Digital English 2.0 stereo mixes for Midsomer Murders - Set Twelve are more than adequate for these largely dialogue-driven mysteries. Thankfully, Acorn Media is putting more and more subtitles on their U.K. imports - good news for some viewers who may have a hard time with those local accents. English subtitles are included here.
The Extras:
A few text extras are included in Midsomer Murders - Set Twelve. There are some 50th episode production notes, as well as some leftover Nettles and Hughes interviews (I've read them, I think, in other sets), along with the same Caroline Graham bio and cast filmographies.
Final Thoughts:
Midsomer Murders - Set Twelve is a big improvement over the previous set - and thank god for that; I was afraid one of my favorite mystery shows was slacking off in quality (and a very strange, twisted little mystery show it is, too). A particularly funny trio of episodes keeps things interesting here (the fourth episode, although well done, doesn't seem very much like a Midsomer). And of course, the cast and visiting supporting actors are excellent, as always. I highly recommend Midsomer Murders - Set Twelve.
---
Paul Mavis is an internationally published film and television historian, a member of the Online Film Critics Society, and the author of The Espionage Filmography.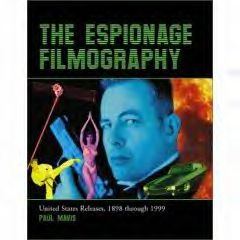 ---
C O N T E N T

---
V I D E O

---
A U D I O

---
E X T R A S

---
R E P L A Y

---
A D V I C E
Highly Recommended
---
E - M A I L
this review to a friend
Sponsored Links
Sponsored Links