One Foot in the Grave: Season 5
List Price: $34.98 [Buy now and save at Amazon]
---
"I don't believe it!"
"It just never ends, does it?"
Flat-out one of the funniest, most rewarding sitcoms I've seen from either side of the Pond. BBC Video has released One Foot in the Grave - Season 5, a two-disc gathering of the beloved U.K. sitcom's 1995 season. Starring Richard Wilson as Victor Meldrew, the universe's most unlucky, most put-upon, most shat-upon old-age pensioner, and Annette Crosbie as his wife Margaret, who is rapidly losing her mind at Victor's constant whinging-about, One Foot in the Grave is six parts hilariously funny, surreal comedy, to one part surprisingly deft, almost tragic drama, blended seamlessly into a unique, unforgettable series. Anyone even remotely interested in British humor must see this series.
The series' set-up is the essence of simplicity - yielding, though, a seemingly endless supply of surreal comedic moments (later on in the review, some spoilers will crop up, necessary to the discussion, so if you don't want to know them, just skip down to the bottom comments). Retired security guard Victor Meldrew (Richard Wilson) has nothing to do. He putters around at his comfortable suburban home, and drives his wife crazy with his constant complaining, pontificating, and his unique ability to take life's many little annoyances and turn them into huge, blown-out-of-proportion nightmares. Margaret (Annette Crosbie), Victor's seemingly patient but quick-to-anger wife, suffers quietly in an effort to keep an emotional even-keel with her exasperating husband, but eventually, Victor's insistence on being not only irritating beyond belief but also almost cosmically unlucky, gets the better of her tolerance and she blows her stack. Next door neighbors Patrick and Pippa Trench (Angus Deayton and Janine Duvitski) try mightily to keep their distance from Victor, but Patrick in particular can't seem to escape the sphere of Victor's catastrophic influence.
I've seen quite a few references to One Foot in the Grave during background research for other U.K. comedies I've reviewed, but I'd never had the chance to watch it prior to this DVD showing up (I'm still eagerly awaiting some Only Fools and Horses, Dad's Army, and Steptoe and Son DVDs). I know its reputation in the U.K. is quite high, where it is consistently ranked as one of England's most beloved sitcoms. It even had an American remake: CBS's Cosby, from 1996 (I did catch that series, which, by comparison with the British original, was quite safe and pallid). Seeing One Foot in the Grave now, I had the same feeling I had when I finally caught another U.K. classic, Father Ted, for the first time: utter delight at finding yet another superior English sitcom (and now that one Father Ted episode featuring Richard Wilson makes much more sense!).
And like my previous Father Ted review, getting at the essence of what makes One Foot in the Grave so hilarious is almost impossible to adequately convey in a written review. Simply put: what makes it funny, has to be seen. Just like any funny moment on a TV show someone else tried to explain to you, you have to experience the bit first-hand, and either accept it and laugh, or scratch your head, wondering why someone else would think that's funny. The premise would seem to lead naturally to tragedy (a tone that is beneath the surface of the show at all times). After all, what's funny about an angry, disgruntled old man making life's miseries all the more intolerable for himself and the only person who can stand him - his wife? What's amusing about watching a man subjected to an almost cosmic slap-down to every single endeavor he undertakes, with a constant parade of indignities and humiliations heaped upon him in some kind of karmic payback for his sour disposition (or is he sour as a result of what happens to him?). Well...nothing, if you look at it logically. But then again, most comedy is "cruel" by nature if one looks at it objectively (ever see somebody slip and fall in real life? Not particularly funny, but if they do it on a banana peel in a movie - screams). Perhaps, then, it's the veritable avalanche of ridiculously piled-on degradations that Victor instigates/suffers that pushes One Foot in the Grave from heartbreaking material over into surreal comedy. The inevitable existential drubbing we know Victor is going to suffer is all out of proportion to his petty whinging-about, and that overkill is a ever-building source of pitiless delight: we know it's not happening to us, thank god, but to Victor, and the crushing sense of overwhelming doom and inexorable punishment headed his way primes us for malicious, cringing laughs.
An excellent example of this is the opening episode, The Man Who Blew Away. The promise of a quiet weekend for the Meldrews (sounds like "mildew") is almost immediately quashed by a series of unfortunate events. On Saturday, after bitching about the adverts for sex in the newspaper, Victor bemoans the series of practical jokes that continue to plague him (he found a fake severed arm hanging out of his trash can, and later unwrapped a Christmas "cracker" which contained a joke about Victor being a "tosser," inserted by the unseen prankster). Margaret discovers an evil-looking snowman has been built outside their house (with a Biblical warning shooing off potential visitors to the Meldrews) before they both discover that incomprehensibly, their hated rust-bucket car that was stolen earlier at the local garden center has been miraculously recovered...in Finland ("In Finland? That car couldn't get to Finchley!") Crushed that they won't get any money from the insurance agency for a new car ("Thank you, Sir Total Bastard, patron saint of the insurance companies!" Victor yells), and further annoyed by a new practical joke (a false set of legs have been stuck under his garage door, prompting Victor to viciously yank them out when a suspicious neighbor jogs by, which in turn causes the horrified, distracted jogger to be hit by a car), the Meldrews settle down for bed...only to be kept up all night by a neighboring party, where the enthusiastic partygoers play The Laughing Policeman till all hours.
Sunday is worse. Waking them from a sound sleep, a stranger they met seventeen years ago on holiday, Mr. Foskett (Brian Murphy) calls them up and invites himself over for the day...because he happens to be standing outside their house. Victor and Margaret, unable to momentarily drop their English politeness, invite the man in, along with his two young boys, and endure a Sunday morning, afternoon, and evening from hell as Mr. Foskett drones on and on about trivialities (his hobby is collecting false teeth) while the boys eat Victor and Margaret out of house and home. Realizing that Mr. Foskett is mentally unsound (the boys aren't his, but actually the pranksters that have been plaguing Victor - they just happened to be standing outside their door at the same time Mr. Foskett was invited in), Victor and Margaret try desperately to keep the poor man from killing himself when it's revealed that his wife and child have just left him. Walking along their roof in only a towel, Mr. Foskett tries to jump (he admits to multiple attempts in the past), managing to hang from the gutters naked - and in the process, ruin a business deal for neighbor Patrick Trench, whose potential clients get an eyeful of Mr. Foskett. With Mr. Foskett bundled off to the hospital, several days go by when Victor and Margaret receive a huge box in the post: it's Mr. Foskett's false teeth collection, along with a note from the hospital, saying that Mr. Foskett was finally successful in his bid to kill himself. He left his collection to the Meldrews because they were so nice to him on that Sunday afternoon.
Reading that description doesn't come close to conveying the seamless mixture of comedy with a little bit of thoughtful tragedy that One Foot in the Grave routinely achieves. At first sure where the episode was going, with the expertly-built comedy scenes topping each other as they went from sequence to sequence, the tragic, sad ending came totally out of left field for me. What was brilliantly executed as a rather cruel, merciless (and hysterical) series of misfortunes befalling Victor became quite sad and meaningful as Victor and Margaret contemplated the enormity of Mr. Foskett's loneliness. While we were encouraged at first to laugh at Mr. Foskett's clueless impertinence in coming over and annoying strangers he met seventeen years ago (this part of the episode plays like an extended Monty Python skit), we're pulled up short with the realization that this sad man was so alone in the world that the Meldrews were the only ones he could call on in the end, leaving them his hideous collection of false teeth merely because they were "nice" to him on a Sunday afternoon (which of course heightens the Meldrews' guilt as they remember their treatment of Foskett on that day). Victor and Margaret try to assuage their depression by remarking that one has to laugh at moments like this in life, or else risk thoughts of one's own suicide, before Victor gives up, and resignedly asks where Margaret keeps the sleeping pills. It's a beautifully layered wrap-up to what we thought was a brilliantly funny but in essence conventional sitcom episode.
There are many more moments like that in One Foot in the Grave, particularly a brilliant episode, Rearranging the Dust, which one might be tempted at first to say is the equivalent of the best of the surreal Seinfeld episodes - but one which differs significantly in that it actually has something to say about the characters outside of their petty awfulness. Waiting endlessly in a solicitor's office (we never find out why), Margaret tries to read a magazine while Victor moves restlessly about the room, getting into trouble no matter where he sits. From getting bird droppings on his nose, to having his underwear painfully cinch up one of his "bits," to urinating noisily in the bathroom next door, to pelting a dog outside the window with cakes ("Take that, you little bastard!"), Victor is a spectacular walking case of infuriating ticks and bad luck, with Margaret barely able to contain herself in wanting to flog him for mucking up something as simple as sitting in a waiting room. With Victor finally settled down, Margaret brings up the first time she saw "him" at a party, watching him, wanting him, and slipping out of the darkened party to kiss him...only to come back and realize that she had kissed the wrong man: Victor, not "him," the other man she really wanted. This gets a huge laugh, because we had been primed for a nice moment between the two characters, but the audience quiets down when she discusses how life is funny, and how we can end up with people who aren't our first, or even fourth choice...to which Victor replies, unconcernedly, that Margaret was always his first choice. Moved by Victor's statement, she says important words aren't always spoken between couples, and just as she's about to say something to Victor, they're interrupted, and the episode ends. It's an amazing moment, one that felt as "true" as anything I've seen in any drama I've watched (Wilson and Crosbie are geniuses in this series), made all the more notable for coming at the end of a frequently hilarious (and sometimes even crude) sitcom. One Foot in the Grave is a remarkable achievement.
Here are the six episodes included in the two-disc set One Foot in the Grave - Season 5, as described on the back of the hardshell case:
The Man Who Blew Away
The Meldrews play host to a suicidal stranger from the past, who they met on holiday 17 years ago. Someone has been tampering with Victor's Christmas Crackers, and the Meldrews are decidedly unhappy when their stolen car is finally returned.
Only a Story
Mrs. Warboys comes to stay with the Meldrews while her flat dries out after a flood. She tries Margaret's patience - but Victor is entirely unperturbed. Just who and what is responsible for his new outlook on life?
The Affair of The Hollow Lady
Everyone is stunned when Mrs. Warboys has a wax model of herself made as the prize for a competition. Millicent the local greensgrocer takes a fancy to Victor and attempts to claim him from Margaret.
Rearranging the Dust
The Meldrews suffer a long wait in their solicitor's waiting room. Victor observes the strange habits of the other visitors, fidgets impatiently, and finally attacks a dog with a cake. Margaret remembers the first time they kissed.
Hole in the Sky
Margaret and Pippa once more attempt to get Victor and Patrick to bury the hatchet but the result is no less of a disaster than usual. Victor restores a Dutch girl marionette and experiments with some deadly seafood cookery.
The Exterminating Angel
Romance is in the air for Mr. Swainey when he finally invites Tania the nurse out for a date. Victor takes a job as a chauffer but rapidly wipes out his employer's beloved fleet.
The DVD:
The Video:
The full-screen, 1.33:1 video transfers for One Foot in the Grave - Season 5 are about what you'd expect for this kind of series from this time period. Shot on videotape for the interiors, and film for the exteriors, the sometimes washed out, muddy colors are par for the course for English TV exports from this time period. Image overall, is relatively clean, although a slight fuzziness can crop up. Overall, a decent but unremarkable transfer.
The Audio:
The Dolby Digital English 2.0 stereo track is entirely suitable for this dialogue-driven comedy; all words are cleanly delineated, while English subtitles help out if the accents get in the way.
The Extras:
Two nice extras are included in this One Foot in the Grave - Season 5 set. First, there's a funny commentary track for The Man Who Blew Away with star Richard Wilson and series creator and writer, David Renwick. They're quite informative (as well as amusing), giving the new viewer to the series some helpful production tidbits. As well, the 1995 Christmas special episode, The Wisdom of the Witch is included here on the second disc, and it's just as funny as the previous offerings. We learn that Victor's Aunt Ursula died as a result of a lightning bolt as she was going to the refrigerator (the police found her with an egg fried on her forehead), while Victor lands another humiliating part-time job: picking through a farm field, looking for a lost watch (he later learns the farmer really was using Victor as a walking scarecrow). The highlight has to be Victor's and Patrick's stay in Aunt Ursula's creepy mansion, where Edwin the bird-eating spider is on the loose (the sight of Victor trying to coax Edwin out of the toilet with a banana - a gesture that Patrick sees through a crack in the bathroom door and assumes is something quite else indeed - is priceless).
Final Thoughts:
Brilliantly funny and surreal, as well as touching and thoughtful at times, too, One Foot in the Grave - Season 5 fulfills the basic requirement of any sitcom - it's paralyzingly funny - while offering a bit more with some surprisingly effective moments of tragedy and drama. Written by talented David Renwick, and brought to life by hysterically funny Richard Wilson, Annette Crosbie and the rest of the cast, One Foot in the Grave - Season 5 is one of the most amusing sitcoms I've ever encountered. On content alone, One Foot in the Grave - Season 5 deserves our highest rating here at DVDTalk - the DVD Talk Collectors Series - with the bonus commentary track and extra Christmas special episode sealing the deal.
---
Paul Mavis is an internationally published film and television historian, a member of the Online Film Critics Society, and the author of The Espionage Filmography.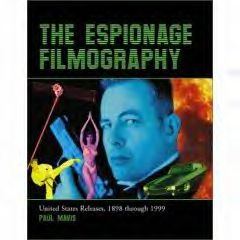 ---
C O N T E N T

---
V I D E O

---
A U D I O

---
E X T R A S

---
R E P L A Y

---
A D V I C E
DVD Talk Collector Series
---
E - M A I L
this review to a friend
Sponsored Links
Sponsored Links