Life and Legend of Wyatt Earp - The Complete Season One (1955-1956), The
List Price: $39.98 [Buy now and save at Amazon]
---
I'll tell you a story,
A real true life story.
A tale of the Western frontier.
The West, it was lawless,
But one man was flawless,
And his is the story you'll hear.
Wyatt Earp! Wyatt Earp!
Brave, courageous, and bold!
Long live his fame, and long life his glory!
And long may his story be told!
Well, he cleaned up the country,
The old Wild West country.
He made law and order prevail.
And none can deny it,
The legend of Wyatt,
Forever will live on the trail.
Wyatt Earp! Wyatt Earp!
Brave, courageous, and bold!
Long live his fame, and long life his glory!
And long may his story be told!
"Make up your mind to something. Being a man is just that simple."
Infinity, SFM Entertainment, and Falcon Picture Group have released The Life and Legend of Wyatt Earp - The Complete Season One, a five-disc, 35-episode set encompassing the entire premiere 1955-1956 season of TV's acknowledged first "adult" Western series. Starring rugged, handsome, stalwart Hugh O'Brian as the legendary peace officer, The Life and Legend of Wyatt Earp - The Complete Season One may not be factually all that accurate, but who cares, quite frankly, when the stories are written this concisely (the vast majority were written by Frederick Hazlitt Bennan), and the action of those smoke wagons comes hard and fast. Noted for its serial-like qualities (events progress more or less in continuity from episode to episode, building on previous scripts), The Life and Legend of Wyatt Earp - The Complete Season One may not reach the dramatic heights of Gunsmoke (the second "adult" western which premiered four days later over on CBS), but it's professionally executed and quite satisfying in its idealized portrayal of a law officer who would rather use psychology - and a gun barrel brought down over the head of a criminal - than a fatal bullet from his Colt Buntline Special.
Based very loosely on writer Stuart N. Lake's 1931 "biography," Wyatt Earp: Frontier Marshal (which apparently wasn't all that accurate to begin with), The Life and Legend of Wyatt Earp - The Complete Season One may have occasional real-life biographical signposts throughout its 35 episodes, but clearly, mythmaking palatable for 1955 network TV consumption is the order of the day here (and certainly in line with Ford's later The Man Who Shot Liberty Valance, where most Hollywood Westerns were neatly summed up with, "When the truth becomes legend, print the legend."). Beginning with young Earp's arrival in Ellsworth, Kansas, Earp (Hugh O'Brian) is soon reluctantly thrust into the role of peace officer when his friend, Sheriff Whitney (Marshall Bradford), is gunned down by dangerously unbalanced Bill Thompson (Hal Baylor). Using psychology as much as courage and gunfighter skills, Earp shows himself to be a formidable foe against clear-thinking, wily brother Ben Thompson (Denver Pyle), who runs Ellsworth's illegal activities. Throughout the course of the season, Wyatt tames first Ellsworth and then Wichita, Kansas, where, with the aid of friends Doc Fabrique (Douglas Fowley, who would come back later to play Doc Holliday on the series) and Wichita Eagle owner and editor Marsh Murdock (Don Haggerty), Wyatt gradually builds his reputation for fairness and duty to almost mythic proportions. Never once killing a man in the line of duty, Wyatt, in the final episode of the season, moves on to the infamous Dodge City - only to find it's a far more deadly place than comparatively tame Ellsworth and Wichita ever were to the dedicated lawman.
I had never watched an episode of The Life and Legend of Wyatt Earp prior to this set, but I certainly knew of its reputation among Western fans who rightly see it as one of the very first beginnings of television's maturing of the genre. Although big-screen movies had been moving in this direction for several years prior to The Life and Legend of Wyatt Earp's 1955 premiere (films like Stagecoach, My Darling Clementine, The Gunfighter, High Noon, and Shane among others had advanced the genre into "serious" drama), television Westerns were still dominated by what some critics derided as "kiddie" Westerns, like the William Boyd's re-edited "Hopalong Cassidy" films and The Lone Ranger. Yet in 1955, a trio of Westerns would debut within weeks of each other (Gunsmoke on CBS, and Frontier on NBC) which sought to recreate the feeling of those more serious, more "adult" Westerns that increasingly dominated the big theater screens.
The Life and Legend of Wyatt Earp caught my interest not so much for the intricacies of its plotting (while the stories do revolve around the interior motivations of the characters, their thematic development isn't as involved or as complex as say Gunsmoke's), but for the uniqueness of the Earp character himself. Promoting the idealized image of a peace officer who wanted just that - peace - The Life and Legend of Wyatt Earp's main character is a most unusual Western figure for 1955's audiences. Refusing to drink, smoke or, apparently, make love (whenever a female shows interest in Wyatt, he gets real nervous, real fast), this filmic Earp combines the epitome of the classic American male action hero, with a new kind of gunslinger pop psychologist who susses out what his opponents are thinking before they even realize it. Lopping into Ellsworth on a lazy horse (a terrific iconic opening in the first episode, with that stirring theme song - no doubt influenced by ABC's massive success the year before with Walt Disney's The Ballad of Davy Crockett), Earp isn't looking for any trouble, and doesn't want to be bothered with other peoples' fights. He's reluctant to put himself in charge of becoming the town's marshal, but he'll do it when the fight becomes personal. And he'll finish that fight without running scared (even though frequently throughout the series, Wyatt admits to just that emotion: fear).
Combined with that traditional American action stereotype of an individual who wants no part of "group think" in terms of vigilantes or posses, is a newer, more modern take on the Western hero, where Earp, through quick thinking and importantly, empathy for even the villains who want to plug him, frequently outwits his opponents before they've ever drawn a gun on him. Possessing an almost Zen-like calm (inbetween bouts of admittedly getting overexcited and slapping people around), Earp outsmarts the constant parade of clueless tough guys and damaged victims who think gunning the great Wyatt Earp down will somehow elevate themselves in their own eyes. Using the superior skills of a gunslinger that nobody can beat (Earp can even name the nerve that he always aims for in a man's shoulder that temporarily paralyzes him, allowing Earp and the other man to survive), Earp can afford to be generous in his enforcement of the law. He has absolutely nothing to prove to anyone (no one can touch him as a fighter or as an enforcer of the law), so his meting out of justice is surprisingly benign. Killers who try to ventilate him are forgiven; criminals on the run who have no warrants in Wichita and who promise to behave are left alone, and men who deserve to die in high-noon gundowns are spared with a winging. His morality comes from the Bible and the McGuffey readers, he states, and his strict, even foolhardy-at-times adherence to the law is backed up by his ability to get out of trouble with his quick-thinking and his greased-lightening draw (which often times cows a suddenly sobered opponent into quitting on the spot).
This isn't to say that Earp is wishy-washy or accommodating in the face of obvious insult or law-breaking. On the contrary, this Earp is known for viciously slapping the face of anyone who even dares suggest he's a liar. Despite the sophistication of his thought-processes and his advanced sense of fair-play, Earp, when it comes down to it, is still a hard-assed gunman who constantly walks a fine line between the various tensions that forever assail him: the ever-present threat of mob violence breaking out (due to Wyatt's careful treatment of prisoners the public feel should be lynched); the frequent whims of the towns' businessmen who chafe economically under Wyatt's stringent attacks on town vice, and his own battle to maintain a confident air of control lest he be overwhelmed by superior forces who always wait for his first sign of weakness. Fair to the point of endangering himself by oftentimes bending over backward to give a criminal the benefit of the doubt, Earp's stated philosophy is to let old quarrels die; one has to in the job he does or else face eventual, certain death. This kind of complex Western hero just wasn't on the tube prior to 1955, and regardless of the overall impact of the episodes (Earp's character is always interesting, but the supporting players are usually invisible or stock in their motivations, such as the grumpy misanthrope Doc), The Life and Legend of Wyatt Earp turns out to be a fine introduction of the "adult" Western to TV fans.
Here are the 35, one-half hour episodes included in the five-disc box set The Life and Legend of Wyatt Earp - The Complete Season One, as described on the back of the slimcases:
DISC ONE

Mr. Earp Becomes a Marshal
Wyatt Earp begins his career as a lawman when he is appointed marshal of Ellsworth, Kansas.
Mr. Earp Meets a Lady
Wyatt's buddy Bat Masterson falls for the female friend of an outlaw.
Bill Thompson Gives In
Scouts aid Wyatt in his search for a killer.
Marshal Earp Meets General Lee
Civil War wounds in Ellsworth are re-opened by an alleged insult to General Robert E. Lee.
Wyatt Earp Comes to Wichita
Wyatt leaves Ellsworth for Wichita and has to step in when a dance hall girl is threatened by outlaws.
The Man Who Lied
A gunman, who's broke, plans to replenish his wallet by accepting an offer to kill Wyatt.
The Gambler
Wyatt comes to the aid of a Confederate War veteran who has gotten himself involved with some unscrupulous gamblers.
The Bank Robbers
A gang of outlaws pulls off a robbery and cuts their wounded leader out of his share of the loot. So the leader's wife informs Wyatt.
DISC TWO

The Assassins
Gamblers put a price on Wyatt's head but get a surprise when the hired killers arrive in Wichita.
John Wesley Hardin
Notorious outlaw John Wesley Hardin comes looking for Wyatt with the intention of killing him.
The Killer
Knowing that he will be outnumbered against Mannen Clements and his gang, Wyatt uses psychology instead of gunplay to outwit Clements.
King of the Cattle Trails
Gambler Shanghai Pierce imports a beautiful actress from Kansas City to persuade Wyatt to join forces with him.
The Big Baby Contest
Unscrupulous gamblers make it difficult for Wyatt to chair a baby contest.
Frontier Journalism
Scheming gamblers try to gain control of the mayor's office in order to get rid of Wyatt as marshal.
Trail's End for a Cowboy
Young Brad Cullen comes to Wichita to sell his father's cattle, but his inexperience and impulsiveness cause him to lose everything until Wyatt steps in.
Rich Man's Son
Wyatt gets involved with a teenager who is fleeing from his wealthy father and arrives in Wichita.
DISC THREE

The Buntline Special
A bombastic little man comes to Wichita brandishing an enormous gun and demanding to see Wyatt Earp. Intrigued by the gun, the Buntline Special, it becomes an important asset to Wyatt when he gets involved with a trigger-happy hoodlum.
Marshal Earp Plays Cupid
Wyatt, smitten with Mamie Perkins, tries to prevent a killing and preserve a romance.
Ben Thompson Returns
Although Ben Thompson has a reputation as a gunfighter and a killer, Wyatt maintains that he is a fair and honest man. When bushwhackers make an attempt on Wyatt's life, he's grateful for Thompson's friendship.
The Bribe
Wyatt returns to Wichita after a brief absence to learn that a greedy deputy wants to eliminate him so that he can have his position.
Mr. Cousin and Mr. Brother
Two native Indians, Mr. Cousin and Mr. Brother, are the prisoners of Hoss Daggett and his gang. Wyatt uses an ingenious disguise and dangerous trick to free them.
The Frontier Theatre
Wyatt censors a peep show and is faced with a vengeful impresario who's out to close Wichita's legitimate theater.
Killing at Cowskin Creek
A group of cowboys discover that one of their members is bushwhacking the big winners at one of Wichita's casinos and plan to take matters into their own hands...with or without Wyatt's involvement.
The Desperate Half-Hour
Another lynch mob is forming and this time it's a teen by the name of The Kansas Kid who needs Wyatt's protection.
DISC FOUR

The Englishman
Wyatt is on the case when an English visitor to Wichita gets duped by a swindler.
A Wise Calf
Wyatt tries to keep a cattle-rustling suspect from becoming the victim of a lynch mob.
One of Jesse's Gang
When a bank teller shoots and kills an apparent bank robber, he becomes a town hero - until Wyatt learns there is more than meets the eye.
The Pinkertons
Wyatt has a dispute with famed detective Allen Pinkerton who comes to Wichita in pursuit of Crummy Newton and his gang.
The Suffragette
Suffragette Joan Laramie and Senator Teague clash over their beliefs. Wyatt has his hands full maintaining order without altering his feelings of impartiality.
DISC FIVE

Bat Masterson Again
Wyatt Earp must protect the girlfriend of Bat Masterson after she is marked for death by outlaw Sergeant King.
Wichita is Civilized
Citizens of Wichita learn that a relative of famous outlaw Mannen Clements is residing in their hometown and want to take action.
The Necktie Party
A horse thief tries to frame a band of Gypsies for his crime and Wyatt has no easy time proving that the Gypsies are innocent.
Hunt the Man Down
A local gambler is killed and the blame falls on Turner Ashby, a young man who had been in the process of robbing the gambler at the time. When Wyatt tracks Ashby, he finds himself not the pursuer, but the pursued.
The War of the Colonels
In order to prevent a range war from breaking out, Wyatt decides to make mass arrests of cowboys caught carrying guns on the streets of Wichita.
Dodge City Gets a New Marshal
After moving to Dodge City, Wyatt finds it a lot more dangerous than Wichita ever was.
The DVD:
The Video:
The full-screen, 1.33:1 black and white transfers for The Life and Legend of Wyatt Earp - The Complete Season One looked, for the most part, quite good considering the age of the original materials. While the episodes fall shy of a typical Paramount vintage TV release, it was much better than I expected. Damage can be seen in some episodes, such as scratches and dirt and even splices, but infrequently. Image clarity is relatively sharp, while blacks are stable. Compression issues (minor) do crop up, and interlacing and edge enhancement was a factor the bigger I went up in monitor size, but I would imagine most fans of these kinds of vintage releases already know what to expect from a release such as this.
The Audio:
The English mono audio tracks are adequate, but unspectacular. Hiss is audible, but again, fans will probably expect this. No subtitles or close-captions are available.
The Extras:
There are no extras for The Life and Legend of Wyatt Earp - The Complete Season One, which is a shame, considering that O'Brian is still healthy as a horse, and I would imagine eager to discuss his most famous role.
Final Thoughts:
Cleanly produced, and intriguing, to boot. The Life and Legend of Wyatt Earp - The Complete Season One neatly combines mythmaking and complex characterization (of Earp) to achieve a memorable first "adult" TV western. Hugh O'Brian is perfectly pitched as the alternately polite, civil, and vicious peace officer. The Life and Legend of Wyatt Earp - The Complete Season One is an absolutely necessary touchstone for Western fans. I highly recommend The Life and Legend of Wyatt Earp - The Complete Season One.
---
Paul Mavis is an internationally published film and television historian, a member of the Online Film Critics Society, and the author of The Espionage Filmography.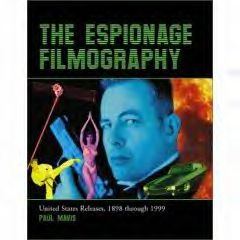 ---
C O N T E N T

---
V I D E O

---
A U D I O

---
E X T R A S

---
R E P L A Y

---
A D V I C E
Highly Recommended
---
E - M A I L
this review to a friend
Sponsored Links
Sponsored Links