List Price: $49.99 [Buy now and save at Amazon]
---
"Country ways, Mr. Barnaby. Country ways."
A solid set of episodes from the long-running British television mystery series. Acorn Media has released Midsomer Murders: Set 13, which features the first four outings of the show's tenth series (season), originally airing from November of 2006 to February of 2007. Titles include Dance With the Dead, The Animal Within, King's Crystal, and The Axeman Cometh. Typically dry, black British humor is a hallmark of this enthusiastically perverse take on the English country village mystery genre, but the laughs have been toned down a bit here (until the final episode where we get to see staid Inspector Barnaby...rock out?), while some valuable supporting players seem to have little to do. Still, the mystery plots are wicked and convoluted, and John Nettles is as slyly entertaining as always.
As I've written in my past five reviews of Midsomer Murders, if you're not familiar with the series, don't feel that you can't begin watching the show, even this late in the game. Each mystery is essentially "stand alone," so newcomers (such as myself, who only started watching this from Set Eight) are more than welcome. Not to spend too much time on recapping the series for the sixth time, but to briefly acquaint new readers with the basic set-up, Midsomer Murders details the bizarrely continuous mayhem (which nobody notices or cares to comment on -- except Barnaby on rare, wry occasions) that afflicts rural, affluent (and fictitious) Midsomer County. Bodies drop like flies, and in the most appalling ways, and it's up to Detective Chief Inspector Tom Barnaby (John Nettles) of the Causton Criminal Investigation Department to clean up the mess. Barnaby is aided in his inquiries by Sergeant Ben Jones (Jason Hughes), an inquisitive, competent copper who offers an oftentimes wry, slightly baffled compliment to Barnaby's low-key detective skills. Lending a hand with vital forensic data is jovial coroner Dr. George Bullard (Barry Jackson). Offered as punctuation, but rarely as significant subplots, glimpses of Barnaby's home life frequently bookend an episode, with Joyce Barnaby (Jane Wymark), Tom's put-upon wife (who frequently loses her husband to a case right before an important event in their social life), and Cully Barnaby (Laura Howard), their somewhat directionless daughter, making frequent appearances.
SPOILERS ALERT!
I was eager to see this next set of episodes show up because I was wondering if the writers were going to do anything with the clinical psychologist character, Pru Plunkett (Siobhan Redmond), who closed out the previous set's episode, Last Year's Model, by implying there might be an upcoming romance between her and Barnaby. Unfortunately, at least for now, that potentially interesting plot thread has been abandoned - while no compensating amount of time has been spent on Jane Wymark's Joyce character, and that's a shame. She's barely in these four episodes - a mistake as far as I'm concerned because Wymark is terrific in the role, and her presence usually allows for some fine comedic moments in Barnaby's private life (the fact that the final episode here has Barnaby doing something so...untoward as to rock out with a bunch of musicians - and his wife isn't shown reacting to that - is really a lost opportunity). I'm also curious as to why Barry Jackson's Dr. Bullard - admittedly a minor supporting player in the series' scheme of things, is so underutilized (he doesn't look too happy when he does show up, either), while Jason Hughes' Ben Jones, who started out so promisingly as a copper who might have been as quirky as some of the suspects Barnaby meets on his cases, is rather hit-and-miss as to participation from episode to episode.
And when Hughes is given something substantial to do, such as in King's Crystal where we discover his character is a Freemason, that potentially fascinating element is used merely to advance the plot - not the character. For the most part, Jones isn't called on to do much more than appear puzzled when Barnaby throws out an off-the-wall observation, being careful to stand in the background. There's another one of those odd moments in Midsomer Murders where a bit of information that seems portentous for a character - Cully, in Dance With the Dead, gives a long, wistful, enigmatic look at Ben when he leaves her at a dance. But nothing is made of it later in the episode, and so far, it seems to be another red herring, since Cully finds a boyfriend in The Axeman Cometh. That would have been an interesting dynamic: Jones dating the boss' daughter. I've often noted the appeal of Midsomer Murders' insistence on keeping its stories insular to the fictitious Midsomer County, with its weird, grasping, frequently fatuous (and very "British," in a humorously stereotypical way) suspects backstabbing each other in vain attempts to keep their baser emotions like greed and lust and envy at bay. But the regular supporting players function as audience anchors, facilitating the comfy familiarity of the show (even though the murders are played for sick keeps), so when they're diminished or ignored, Midsomer Murders feels less special. It's still quirky and strange, but we want those back-up characters surrounding Barnaby, giving him added tension to battle as he tries to solve a case (while providing us with more comical situations). One can only imagine what will happen to the series when Nettles finally leaves this year (he announced his retirement a few months ago), taking, I would assume, most of those supporting characters with him.
As for this set's episodes, I found them to be solid representations of the series. Dance With the Dead has a terrifically enigmatic opening as two lovers apparently commit suicide in a WWII-era Humber (the scene is cleverly shot, along with the instantly iconic I'll Be Seeing You on the soundtrack, so as to make us think, at first, this could be taking place during WWII). Usually, nothing is as it seems in a Midsomer episode, and this scene is a good case in point: the romantic fog rolling in isn't fog, it's car exhaust fumes; the lovers both look asleep in the vehicle, but one is actually dead. Moving swiftly back and forth between the romanticism of the WWII era that infuses the piece (there's a marvelous WWII-themed dance in the middle of the episode that's quite funny), and the decidedly nastier aspects of today's more coarse culture (a kindly photographer is a bit of perv; a seemingly loving father is actually a wife-beater), Dance With the Dead is quite adept at getting over the Midsomer Murders trademark of a convoluted series of attractions/misunderstandings/betrayals between the suspects, before the deadly - and quite sad - ending (Georgine Anderson is wonderful playing the tragic, dotty Rosemary, while Nicola Redmond comes off as alternately mild and eccentric, and then scarily wronged as Marrisa).
Turning in one of the best performances I've seen in the series, old pro Richard Johnson (appearing only in a series of flashbacks) makes for a memorably crafty "toe-rag" of an flamboyant eccentric who uses people for his own enjoyment, but who also makes for an engaging - and highly credible - seducer of women (there's a scene where Johnson, not quite as spry as some of you may remember him from his best-remembered role here in America, 1963's The Haunting, where he is utterly believable, through only his smooth voice and even smoother eye contact, in getting attractive Emily Woof to do just what he wants her to do: try on some sexy lingerie). There are a few amusing lines in this episode, as well (I liked Jones declaring, "At least that's two less suspects," when more victims pop up during the baffling case). The episode is also particularly strong in the motivations of the characters, with the Lisa Eichhorn subplot of rediscovering her independence and conquering her fears about life in general, quite moving. King's Crystal is a bit of a disappointment because of the aforementioned ball-dropping with Jones' revelation as a Freemason - it's a pity this wasn't used to reveal more of the character. Still, it sports a nicely menacing performance by John Castle, along with some troubling social commentary on the loss of fine craftsmanship and manufacturing in England. Certainly The Axeman Cometh was a surprise, particularly when seeing the usually reserved John Nettles bringing out Barnaby's rock, rhythm and blues side in this fun mystery. The episode's commentaries on aging rock stars are amusing (wait till you see Happy Days' Suzy "Leather Tuscadero" Quatro making Janis Joplin look like a member of the Temperance League), while Nettles is clearly having a ball jamming with James Cosmo (again, someone should have worked in more of Barnaby's wife's reaction to all of this - that seems like prime comedy material). A bit of introspection comes at the end of the show, when the killer implores the musician Barnaby to understand his murderous actions because, "you're one of us," to which Barnaby, sternly and maybe a bit wistfully and regretfully replies, "No, no, no, I'm not. I'm just a copper, plain and simple...whatever I may wish. And you, sir, are a murderer, equally plain and simple." A nice moment in the series, giving us a side of Barnaby I certainly didn't expect.
Here are the four, 90-minute episodes in the four-disc box set, Midsomer Murders - Set 13, as described on their slim cases (the boxes say approximately 100 minutes, but that's not how they timed out. I didn't hear anything that sounded like they were sped up - which wouldn't make sense anyway because each episode has its own disc):
DISC ONE

Dance With the Dead
Never mind the tube connecting the exhaust pipe to the window of the vintage automobile - Simon Bright's death only looks like a suicide. The lovesick young man's murder touches off a search for Laura, his girlfriend and partner in ballroom dancing classes. But who saved the last dance for Simon?
DISC TWO

The Animal Within
Faith Alexander's unannounced visit to her wealthy Uncle Rex's estate turns into quite a surprise, indeed. Everyone there thinks she died in a plane crash three years earlier. When Rex's body turns up, his would-be heirs engage in a battle of wills that exposes plenty of motives for murder.
DISC THREE

King's Crystal
Owners of an artisan glassworks, the King family harbors relationships of positively Shakespearean complexity. When the enterprise shatters into pieces and its accountant winds up stabbed, Barnaby digs into rivalries of business and blood - while DS Jones explores secret Masonic rites.
DISC FOUR

The Axeman Cometh
Thirty years past their prime, the band Hired Gun aims for a comeback at the Midsomer Rocks Music Festival. With Barnaby among the legions of fans who still love the band's music, their revival holds promise - until someone sounds a discordant note by killing off the musicians, one by one.
The DVD:
The Video:
Acorn's transfers for Midsomer Murders never miss - superlative. The anamorphically enhanced, 1.78:1 widescreen transfers for Midsomer Murders - Set 13 look, as always, look very good: crisp, sharp images with nicely balanced color and no compression issues whatsoever (no pesky PAL conversion issues, either). The image is remarkably bright and clean.
The Audio:
The Dolby Digital English 2.0 stereo mixes for Midsomer Murders - Set 13 are more than adequate for these largely dialogue-driven mysteries. Thankfully, Acorn Media is putting more and more subtitles on their U.K. imports - good news for some viewers who may have a hard time with those local accents. English subtitles are included here.
The Extras:
The same Caroline Graham text bio and cast filmographies are included. Again. I love Acorn Media, but some new bonuses would be nice (and they weren't much when they were new).
Final Thoughts:
Solid scripts and execution mark the four episodes included in Midsomer Murders - Set 13. Memorable performances by veteran performers make up for the fact that some of supporting regulars are conspicuously downgraded here in screen time. If you're at all familiar with the series, you won't want to miss this collection, while newcomers could do worse than to jump in at this point with the Midsomer Murders - Set 13. I highly recommend it.
---
Paul Mavis is an internationally published film and television historian, a member of the Online Film Critics Society, and the author of The Espionage Filmography.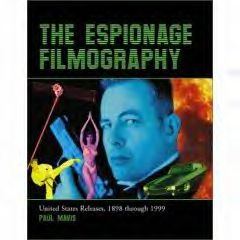 ---
C O N T E N T

---
V I D E O

---
A U D I O

---
E X T R A S

---
R E P L A Y

---
A D V I C E
Highly Recommended
---
E - M A I L
this review to a friend
Sponsored Links
Sponsored Links