Mary Tyler Moore Show - The Complete Fifth Season, The
Fox // Unrated // October 6, 2009
List Price: $29.98 [Buy now and save at Amazon]
---
No more Rhoda. Sigh. Well, it's taken more than three years for the fifth season of The Mary Tyler Moore Show to be released on DVD, and after looking at this insulting, bare-bones edition - not even an episode list is included, for chrissakes - one might assume that Fox has all but washed their hands of the public relations debacle they created for themselves with their previous botched releases of one of the greatest sitcoms in television history. Apparently, the remaining seasons are to be dumped quickly on the market, and that's that for Fox and TMTMS. What a shame for such an iconic title in the genre - and quite unnecessary, too. This fifth season of The Mary Tyler Moore Show is a transitional one, and while the laughs are consistent, and funny peripheral characters get more to do, one can't help but miss the soul of the series that is now gone: the friendship between sweet, slightly naïve Mary Richards, and wise, knowing, hilarious Brooklyn-born Rhoda Morgenstern.
For those who haven't seen the show, a bit of background is necessary for this fifth season of episodes. 34-year-old single career woman Mary Richards (Mary Tyler Moore) is in her fourth year as the associate producer of The Six O'Clock News at third-rate TV station WJM-TV, in Minneapolis. Moving to Minneapolis after a failed relationship, independent Mary has acquired a new family of sorts at her work and at her new digs. Occupying the second floor apartment of a beautiful Victorian house, Mary is frequently bemused by the neurotic ramblings of her self-absorbed, oblivious landlady, Phyllis Lindstrom, played by Cloris Leachman (Mary's best friend Rhoda Morgenstern, played by Valerie Harper, used to occupy the attic apartment above Mary's, before she got her own spin-off series this season). At work, Mary's gruff boss, Lou Grant (Ed Asner), often plays stern-but-loving father to like-a-daughter Mary, while Mary's deskmate, gloriously bald newswriter Murray Slaughter, acts like a waspish, naughty older brother, insulting idiot anchorman Ted Baxter (Ted Knight) at every turn. Man-eating cooking show celebrity, Sue Ann "The Happy Homemaker" Nivens (Betty White), is on the make for Lou...or any available man in pants, while ultra-sweet, slightly dim Georgette Franklin (Georgia Engel) pines only for on-again, off-again boyfriend Ted Baxter.
SPOILERS ALERT!
I'm not going to get into a big rant about the shabby way Fox has treated The Mary Tyler Moore Show on DVD, but I will say that it will probably go down as one of the all-time classic screw-ups between a seemingly clueless studio and a product that should have brought nothing but accolades for the releasing company - not derision and scorn. After the beautifully-appointed first season was released in 2002, fans of the show eagerly awaited subsequent seasons. But haphazard delays, bonus-less editions, and rumors of discontinuing the series on DVD altogether, created a firestorm of criticism for the company that in the end, was totally unnecessary. Now it appears the series will come out in its entirety, but the presentation here speaks volumes about how Fox really feels about this television classic (more about that in "Video" and "Extras" sections).
As for this particular season's content, it's not exactly a tough call (the show is still marvelous), because even less-than-stellar Mary Tyler Moore Show is still head-and-shoulders above most sitcoms from that era. However...there are problems with this transitional 1974-1975 season, difficulties from which the series never really fully recovers (the dreaded "fifth-season slide" for most sitcoms). First and foremost, the loss of the Rhoda character is without a doubt the series' most debilitating setback, regardless of the quality and quantity of the laughs that were subsequently generated by the show. Anyone who grew up on The Mary Tyler Moore Show understood that the true heart and soul of the program was encapsulated in those first few encounters between naïve Mary and wisecracking Rhoda. These were best friends that the audience truly came to care about outside the confines of the show's aesthetic structure; you could feel the genuine friendship that developed between performers Moore and Harper, and that translated beautifully into their characters' carefully plotted relationship. Mary Richards' journey of self-discovery in the "big city" really started with encountering the trickery of Brooklyn-born Rhoda Morgenstern (Rhoda tries to lie her way into stealing Mary's apartment), and from that tension, a friendship was born that first saw Mary gaining knowledge from street-wise Rhoda (particularly in terms of dealing with men), and then gradually becoming a more give-and-take affair, with Rhoda gaining equal confidence in her looks and appearance from the radiant, supportive Mary.
With that element now gone in this fifth season (Valerie Harper's Rhoda would immediately trump the ratings of its parent series,TMTMS), Mary can now "grow up," transitioning away from a naïve, trusting optimist, to a more savvy, knowledgeable career woman (remember: Rhoda's favorite nickname for Mary was "kid."). And with that evolution of the Mary character, there's an inevitable bittersweet acceptance that the show has evolved away from its original core objective: no longer do we have to take the qualified words of the theme song - "You might just make it after all," as a guidepost for the character - Mary has made it. And it doesn't seem to be as much fun now that she has. Mary gets a promotion this season, to full-time producer of the news, but it entails almost no new creative responsibilities, while this career leg-up dramatically increases the petty hassles and silly minutia of being in charge of a mentally-challenged, emotionally needy anchorman (Lou is constantly fobbing off the show's stupid problems to Mary). She's not so much a producer of a news show as she is increasingly a nursemaid to a lunatic. Mary Tyler Moore doesn't even look like young "kid" Mary Richards anymore this season, supposedly flustered by her responsibilities: she's a big, gorgeous, stacked Hollywood star (someone should have caught that perpetual Hollywood tan that Mary Richards mysteriously maintains in the middle of chilly Minneapolis). I don't remember Moore looking this good before in the series; she and the writers and producers are obviously not shy about showing off her spectacular body in a series of form-fitting outfits. She's feeling her oats as a successful TV star, and it shows (gloriously), but that confidence ironically undercuts the thematic element of having Mary still be a sweet innocent at times...when the plot calls for her to be sweet and naïve. Take the classic Will Mary Richards Go to Jail? episode, where Mary is jailed for not revealing her confidential source for an important news story. Mary sobs and cries to Lou about going to jail, and she blathers on and on to the hookers inside the cell because she doesn't know what else to do, but we don't really buy it from Moore as we would have several seasons before. This Mary Richards/Tyler Moore doesn't really look or act that naïve anymore. She's not retiring; she's imposing in her glamour.
The producers and the writers obviously got it that the dynamic of Mary having a confidante in Rhoda was a chief selling point (and convenient plot mechanism) for revealing many of the series' themes, so this fifth season, they try and replicate that dynamic through Phyllis, Georgette, and even Lou...with sometimes funny but ultimately diminishing results. It's always a matter of personal taste when debating a series' character's "worth," but I've never been a big fan of Cloris Leachman's Phyllis character here - and slotting her into the "Rhoda" function makes her all the more grating. Whereas Rhoda was a totally sympathetic character, Phyllis is essentially unsympathetic...and not particularly funny in the bargain, either (her long, torturous scenes in Mary's apartment this season are grueling). Having Phyllis "pop in" to annoy Mary only reminds us of better scenes where Rhoda used to "pop in" and actually generate laughs, while elevating both her's and Mary's character. Georgette is even more limited in this ability to try and generate meaning within the laughs because her character is so narrowly defined (a sweet dope, and that's about it). The writers even go so far as to have Lou drop in occasionally (he winds up in Rhoda's apartment for a few days), but those scenes between Asner and Moore always seem to work better in the WJM offices, where the layers of employer/employee intriguingly contrast with Lou and Mary as friends/father-daughter (and later, as potential lovers).
Certainly one of the most common threads of discussion Mary and Rhoda had concerned being single women and the quality (and quantity) of the men in their lives, but with Rhoda gone, with whom can Mary discuss these problems? Perhaps that's why Mary's romantic life is in flux this season. Finding out early on in the season that it's okay in 1974 to not only pick up a handsome stranger but also date him for no other reason than physical and sexual attraction (Not Just Another Pretty Face), Mary's choices for a meaningful relationship are then narrowed down to a listless flirtation with a platonic friend of Phyllis' (Ménage - A - Phyllis), and a divorced man with a kid Mary hates (Anybody Who Hates Dogs and Kids). You've come a long way, baby. It's curious that the writers didn't try and do more with Mary's romantic single life now that she's really and truly "on her own" (without Rhoda's support, and elevated in her career), but perhaps they thought more laughs could be mined by concentrating on the dysfunctional romantic foibles of Ted, Lou, Sue Ann, and Murray - some of which work quite well (anything with Betty White's pathetic, nymphomaniacal Sue Ann Nivens is sublime); some of which is spotty (Lou is given a new steady in Sheree North...who is then promptly forgotten); and some of which doesn't work at all (seriously, outside of his hilarious 15-second put-downs of Ted or Sue Ann, who cares if Murray is happy in his marriage or if he wants to adopt a kid?). As for Ted Knight as Tex Baxter, what else can one write about one of the funniest supporting characters in TV history? Going way out on a limb by this fifth season, the Baxter character as essayed by Knight is veering dangerously close to out-and-out farce, with his exaggerated blubbering and his maniacal giggling, but there's no getting around the fact that when Knight is on screen, he's stealing every scene he's in. The writers at this point seem obviously hesitant to lock him in with Georgette (he mentions dating other women), but the increasingly willingness to explore the farcical aspects of the character speaks volumes as to where the writers are going: clearly, they see more laughs in Ted than they do in Mary or anyone else. And while I wouldn't trade those classic Ted moments for anything (Ted's hyperactive reaction to Mary's deliciously exposed body in You Try to Be a Nice Guy is priceless), the focus of the show - Mary's maturation as an independent, single woman - seems to be blurring here in this fifth season.
The DVDs
The Video
If possible, the transfers for The Mary Tyler Moore Show: The Complete Fifth Season look worse than those for Season Four - and they weren't anything special. While the original source material looks sound, with good color and relatively blemish-free prints, the authoring is inadequate, with compression and artifacting noticeable (seriously - macro-blocking on the opening red titles?). Edge enhancement is also too heavy. Subpar presentation.
The Audio
The Dolby Digital English audio track accurately reflects the original broadcast presentation (at least for most of us who first heard this show through those tiny little TV speakers). For the most part, the tracks are clean, with only slight hiss. All dialogue is crisply rendered. Subtitles in English and Spanish, and English close-captions are available.
The Extras
I'm used to the fact that Fox isn't going to spend one more penny on this series, but seriously - you couldn't include an episode list with synopses? You couldn't type that on the back of the lousy cover art? That's beneath a major releaser like Fox. Poor form, that.
Final Thoughts
Finally. It looks as if Fox is going to release the rest of The Mary Tyler Moore Show after all (Season Six is set for a February release). But don't expect the quality of the transfers to match the quality of the content...and surely you jest if you think they're going to throw in extras, too. A transitional season for the series, The Mary Tyler Moore Show: The Complete Fifth Season still effortlessly generates laughs while funny supporting players push past Mary to the forefront, getting the best jokes. But with Mary's best friend Rhoda gone...something is just...missing here. I highly recommend The Mary Tyler Moore Show: The Complete Fifth Season.
---
Paul Mavis is an internationally published film and television historian, a member of the Online Film Critics Society, and the author of The Espionage Filmography.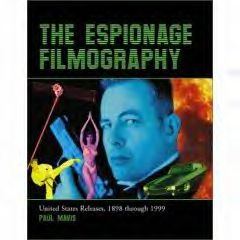 ---
C O N T E N T

---
V I D E O

---
A U D I O

---
E X T R A S

---
R E P L A Y

---
A D V I C E
Highly Recommended
---
E - M A I L
this review to a friend
Sponsored Links
Sponsored Links