Donna Reed Show: Season Three, The
Other // Unrated // December 1, 2009
List Price: $39.95 [Buy now and save at Amazon]
---
Delightful, of course. Virgil Films has released The Donna Reed Show: Season Three, a four-disc, 39-episode (is that even possible?) collection of the 1960-1961 season of one of the classiest, smartest sitcoms from television's golden age. A few extras are included in this gathering for fans of the series, while most importantly, all episodes appear to be complete and unedited. Terrific fun, and perfect family viewing.
For those who have unfortunately missed seeing this iconic sitcom classic, The Donna Reed Show focused on the Stone family, a typical American family set down in the fictional Midwestern town of Hilldale. Donna Stone (Reed), a former nurse, was the beautiful, even-tempered, and empathetic wife to pediatrician Dr. Alex Stone (Carl Betz), and patient, understanding mother to eldest Mary (Shelley Fabares) and young son Jeff (Paul Petersen). Alex maintained his private practice at his home office, while he did double and triple duty as a researcher and as the Head of Pediatrics at the local hospital. Mary, the adorable high schooler, was a popular girl (never at a loss for a date on any given night) who had the same emotional ups and downs of any transitional teenager - a state of flux not exactly aided by her ornery, all-American younger brother Jeff, who took great delight in constantly tormenting her. Mary, to her credit, was equally adept at sweet-faced revenge, and gave as good as she got from the rowdy Jeff. Stories focused almost exclusively on the inter-relationships between the family members, with life's little daily adventures providing most of the comedy, and emotion, as the kind, good-natured Stones set out to live a happy, uniquely American way of life in their small town.
A little over a year ago, I wrote an extensive discussion of the aesthetic achievements of the smart, self-reflexive The Donna Reed Show for its complete first season DVD release (please click here to read that review), so I'm not going to re-tread a lot of the same ground I covered in that review. Suffice it to say, The Donna Reed Show is a far more important marker in the television landscape than it is often given credit for, particularly for its witty, unselfconscious take on feminism (the real kind) and sex and parenting and love in a typical middle-class American family. I was surprised to receive such an enthusiastic response to the review from so many readers who welcomed a championing of this sometimes maligned series, but unfortunately, we didn't receive the second season of The Donna Reed Show here at DVDTalk, so I wasn't able to track the progression of the series into its all-important sophomore season (usually a critical juncture for a series as it shakes out its bugs and settles down into whatever kind of series it's going to be). Reviewing this third season, though, I was delighted to find that the series hadn't missed a beat in delivering a remarkably consistent number of episodes (try and find TV writers today who could produce 39 high-quality episodes in a production year) that remain not only quite witty and funny today, but that also touch on universal subjects like marriage, parenting, childhood growth, and most importantly (since there seems to be so little of it in evidence on our current networks), a regard for kindness and tenderness towards each other that only deepens the sweetness of the comedy.
As with the first season of The Donna Reed Show I reviewed, the notion of the Stones as a "perfect sitcom family" may have taken hold with writers who have never actually watched the series, or for viewers who see the sometimes idealized situations here in this third season and automatically jump to conclusions as to the series' intentions (it was, after all, conceived as entertainment, first and foremost). However, The Donna Reed Show was smart enough from the start to recognize the potential for criticism had it not commented on its own structure, and it routinely (and neatly) avoids the pitfalls of artificiality by the warmth and the truth of its scripting and performances. As if to refute any suggestion that the Stones enjoy a carefree existence, the very first episode this season, Weekend, finds the Stone house a chaotic, anxious mess, with Donna and Alex snarking at each and the kids until they recognize they miss each other as husband and wife: they need time away from their family (a big reversal of the typical family-obsessed sitcom plot from this time period) to be husband and wife again (and the rest of the episode makes it clear that the resulting sexual freedom will be welcome, as well). As with the first season, Alex and Donna embody a remarkably "normal" relationship. In other words, it's far from perfect. They still fight (such as the big blow-out they engage in in the hilarious The Mustache, or in Mary's Driving Lesson, where they scrap over a bad memory together). They constantly question their parenting skills and where they fit in their children's lives. They worry over the state of their home and their unity as a family. And they realize, at the most inopportune moments, how important they are to each other (Donna Reed has a wonderful, quiet moment in It Only Hurts When I Laugh, where she describes the ache she feels when Alex isn't with her). The series' frequent "battle of the sexes" are never played mean-spiritedly; Alex and Donna may suffer the constant, universal frictions that accompany any long-term romance, but they'll suffer them without deliberating hurting each other, often giving up their own wants and needs to aid their partner (a good example is The Busy People, where Donna discovers Alex's scam to get out of "togetherness" activities...but doesn't unduly punish him in the end).
That respect for others' feelings shines through so many episodes of The Donna Reed Show, a tone that seems almost foreign now in so many current network offerings that come off as mean-spirited and selfish. One of the developing sub-currents of the show is the evolving popularity of Mary, and her constantly rotating roster of boyfriends, such as slightly slow Roger (Jan Stine), the weirdly bumbling Elroy (Ray Baumann), and the boy-next-door Herbie (Tommy Ivo). In The Mystery Woman, Mary is seen to be dangling one boy over another to get the best possible date for herself...a situation her parents strongly disapprove of because that kind of game-playing is only going to wind up hurting someone's feelings. In the Stones' middle-class television world of the 1950s and 1960s, someone's word still counted for something, and Mary has to learn to mean what she says. Not content just to show Mary stumbling in her maturation, The Mystery Woman goes further and shows Donna to be just as human and imperfect, as well, as she, too, tells a little white "social lie" - and pays for it (there's a great moment for underrated Carl Betz as he tells Donna that Mary isn't going to love Donna any less when her daughter finds out she's not perfect). Indeed, Donna's imperfections are still routinely trotted out, such as in Character Building, when Donna writes a self-serving, self-righteous letter to the editor about being a better parent, a situation that builds out of control and then blows up in her face.
Other interesting takes on 50s and 60s sociological preoccupations show up here in The Donna Reed Show's third season. A very subtle examination of race and culture in The Geisha Girl, with a fine turn by visiting Miyoshi Umeki, shows not only the series' evolving focus on situations many current historians don't believe sitcoms "back then" covered, it goes one step further and inverts the situation, finding that the housewives aren't prejudiced against a doctor's Japanese wife...they're ticked off at him for letting her remain subservient in his American (and therefore, idealistically democratic) household. In Donna's Helping Hand, everyone wants Alex to "advance" in his career and take a desk job at the Board of Health - a seemingly reasonable request for a 50s sitcom dad who was expected to rise ever-higher in his profession as a duty to his family and his country. But Alex refuses, even when he knows Donna wants the promotion so he can spend more time with his family. Alex wants to stay connected to his patients, and even though it means his family will "suffer" as a result, he turns down the job - a most unusual turn of events for this kind of story during this time period. The height of irony seems to be reached in How the Other Side Lives, when Mary becomes...ashamed (gasp!) of her perfect middle-class suburban lifestyle when it compares, in her mind, unfavorably with her rich friend's more lavish lifestyle. But again in a turn away from the perception that late 50s television families were obsessed with materialism, Donna and Alex wisely show how the grass isn't always greener on the other side of the fence, and that it's better to have a few things one loves, than a whole lot of things one doesn't (I love it when Alex incredulously states, "Do you get the feeling we're living in a slum?" when Mary shows her embarrassment at their seemingly perfect household).
Politics and sociology aside, it's important to note that the average The Donna Reed Show episode is delightfully funny, as well, with clever lines and winning performances routinely getting laughs. In Worried Anyone?, the screenwriter expertly builds on the situation of Alex wondering what exactly has happened to Mary on a date, to the point where he's frantically sure she's been in an accident...when of course she hasn't. Let's Look at Love starts off with the Seinfeld-worthy set-up of Alex simply trying to read a medical journal article, and the complications that arise when he has to avoid the chaos at home that keeps interrupting him. In The Stones Go to Hollywood, the series wisely avoids the Lucille Ball treatment of bringing in big stars for slapstick effect, and instead shows the Stones having a miserable time (it rains constantly), until they go to the studio and meet director George Sidney. A part in his new movie, Pepe, is assured, until again, the series undercuts those expectations (and pays off the family by giving them a visit from Hollywood's biggest star - Lassie). And in two perfectly realized little screwball/romantic comedy episodes - Tony Martin Visits and Aunt Belle's Earrings - the conventions of those genres are beautifully distilled down into 25-minute episodes, with Tony Martin having a wonderful time visiting the slightly wacky Stone household (he even gets a stock screwball comedy courtroom scene inbetween singing a beautiful rendition of Dream Your Troubles Away), while veterans Gladys Hurlbut and Will Wright shine as old star-crossed lovers reunited under the guiding hand of Donna Stone. I've written this before in other reviews of vintage television series, but after seeing the genuine quality of these expertly crafted, heartwarming, meaningful episodes of The Donna Reed Show, I wonder how many more such examples of superior television storytelling are now lost to time (and to the ignorance of critics who dismiss, before they actually see).
The DVD:

The Video:
The full-frame, 1.33:1 black and white video transfers for The Donna Reed Show: Season Three look quite good for vintage prints, with expected scratches and screen anomalies popping up with regularity. Still, overall, these look better-than-expected on a smaller monitor. Compression issues do pop up (and there's some interlacing that's noticeable on a bigger monitor), but stepping down in monitor size lessens the impact. As to the length of these episodes, all of the episodes in The Donna Reed Show: Season Three collection run over 25 minutes, a first good indicator that these episodes are complete. It should be noted, though, that a couple of episodes include a different title graphic over the opening title sequence that I suspect (?) might be an indication of a syndication version.
The Audio:
The English mono audio track accurately reflects the original broadcast presentation of The Donna Reed Show: Season Three. Dialogue is cleanly rendered, while minor hiss is noticeable, but not intrusive. Subtitles are not included.
The Extras:
There's a fascinating Q & A featuring Paul Petersen and Mary Owen (Donna Reed's and producer Tony Owen's daughter), taped at the Barnes & Noble in New York City, that runs 27:15, and offers some good insight into the series. As well, there's a gallery featuring an original fan letter to Donna Reed from a WWII soldier; as well as a brief It's A Wonderful Life tribute.
Final Thoughts:
More smart, clever sitcom amusement from one of the best examples of the genre. The Donna Reed Show: Season Three continues with its warm-hearted look at the thoroughly average, delightfully normal Stone family, with an astounding 39 episodes here...and not a loser in the bunch. Another stealth example of 50s and 60s network television excellence, made all the more obvious when viewed against many of today's rancid tube offerings. I highly, highly recommend The Donna Reed Show: Season Three.
---
Paul Mavis is an internationally published film and television historian, a member of the Online Film Critics Society, and the author of The Espionage Filmography.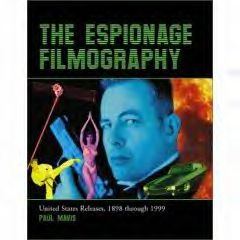 ---
C O N T E N T

---
V I D E O

---
A U D I O

---
E X T R A S

---
R E P L A Y

---
A D V I C E
Highly Recommended
---
E - M A I L
this review to a friend
Sponsored Links
Sponsored Links