Fugitive: Season Three, Volume One, The
Other // Unrated // October 27, 2009
List Price: $39.98 [Buy now and save at Amazon]
---
The running continues...but many viewers stopped, deciding the previous two seasons of The Fugitive were enough to get the point. Paramount has continued their policy of split-seasons with the release of The Fugitive: Season Three, Volume One, a four-disc, 15 episode collection of the first half of the series' 1965-1966 season. For many DVD collectors, the single most important aspect of this release will be whether or not Paramount has continued substituting original music cues for new synthesizer ones. My answer is...I don't think so. I'm no music expert (as I've stated countless times before - although apparently not enough times to satisfy a few "Fugitive fanatics" out there), but everything seemed to be in order here. Paramount still has their standard disclaimer about video and audio being changed for this DVD set, but some believe this disclaimer is going on all releases just to cover potential legal issues. Be forewarned, though: I just reviewed the third season of Mannix, and only the warning of possible video/content editing was present - there was no emphatic "music has been changed for this home entertainment version" warning as appears here on The Fugitive: Season Three, Volume One set. So, Fugitive experts, do you worst. Music considerations aside, I'm not sure that TV viewers weren't right in 1965 to start pulling away from The Fugitive; by this point in the third season, the series, while still exciting, is also quite familiar.
I wrote extensively on the mythos, the sociological impact, and the aesthetic structure of The Fugitive in my previous four reviews of the show, so I won't retread too deeply into the show's powerful construction. For the uninitiated, The Fugitive, loosely based on a combination of the Victor Hugo novel, Les Miserables and the infamous Dr. Sam Sheppard murder case, followed the harrowing plight of convicted wife-murderer Dr. Richard Kimble of Stafford, Indiana. Falsely accused, tried and found guilty of a crime he didn't commit, Dr. Kimble narrowly cheats death when the train carrying him and Lieutenant Detective Gerard (Barry Morse) derails. Kimble escapes, and has been on the run for the past year, with the grim, relentless, brilliant Gerard breathing down his neck at every turn in the road. Gerard vows to bring in Kimble no matter what his own personal feelings are concerning Kimble's innocence or guilt, while Kimble vows to keep running at all costs until he can find the one-armed man he saw leaving the vicinity of his home on the night of his wife's murder. Finding temporary help - and hindrance - from people he encounters all over the country, Kimble has changed his appearance and toils in menial jobs, following the slimmest of clues concerning his prey, while trying to eke out a pathetic existence of loneliness and despair, sure that at every turn he's going to be captured and returned to the death house before finding the infamous one-armed man - the only chance he has of clearing his name
SPOILERS ALERT!
For me, the most fascinating consideration for this third season of The Fugitive is: why did the series fall from grace with the viewers, jumping dramatically from its first season ranking of 28th all the way up to 5th for its sophomore season...only to tumble completely out of the Nielsen Top Thirty for this third go-around (as well as the fourth and last)? Looking at the 1965-1966 network schedules that year, there were no day or time changes for the series (The Fugitive stayed right at its Tuesday 10:00pm timeslot for its entire four-year run). With that potential obstacle out of the way, did the competition against The Fugitive change, or did its own lead-in line-up alter or fade? It's always tough to guess what makes an audience leave a series - and a more than 25-slot drop in the rankings from one season to the next is definitely an audience leaving a series - so many factors can contribute to that erosion. It probably didn't help that line-up anchor Combat (10th the previous year) and The Fugitive's immediate lead-in, Peyton Place (20th for the Tuesday night installment) both dropped out of the Nielsen Top Thirty, as well, while McHale's Navy (28th in 1964-1965) failed to build, while newcomer F Troop went nowhere. It seems as if the whole evening collapsed for ABC. Perhaps part of the immediate problem was increased direct competition to The Fugitive, which before only contended with marginal shows like The Bell Telephone Hour and The Doctors and the Nurses (formerly The Nurses) at 10:00pm, but which now faced the growing NBC Tuesday Night Movies, which got a jump on viewers' attention at 9:00pm, building on the trend for increasingly big ratings for television airings of post-1948 Hollywood films.
All of that probably contributed to The Fugitive's spectacular decline in the ratings this third season, but I wonder if, too, audiences felt the way I did after watching many of the episodes here: the series had already made its point. It's not that the episodes in this third season aren't good - they are, for the most part. But I didn't see one that offered a significant new slant on who Dr. Richard Kimble was, or on his plight, nor did I see one that offered up characters or situations that didn't either suggest other Fugitive episodes from the previous two seasons, or which just seemed...familiar in general. Watching these third season episodes, I began to feel the same way I did about another outstanding drama anthology, Route 66, a series that also seemed to make its point early, only to overstay its welcome. It's not a fair comparison, since Route 66 lost one of its two leads halfway through the second season, seriously altering the show's concept. But the comparison between the two series' existential angst, embodied by Buz and Tod's hopeful wanderings through a fractious, changing America, and once-stalwart, upstanding citizen Dr. Richard Kimble's descent into a seemingly normal America that in reality holds only the promise of detection, capture, and the execution of his death sentence, is comparable. And just as Buz's and Tod's journey, which felt fresh and exciting during that first, great season and a half, turned decidedly arbitrary and formulaic, so to does much of this first half of the third season of The Fugitive.
As I wrote in my previous reviews of The Fugitive, the first season was caught up in the terror Dr. Kimble felt at being constantly on the run in an America that seemed decidedly strange and downright hostile to his survival - a peculiar place to be for a doctor who was considered a valued member of his community (and indeed, an ideal of upstanding, dutiful American citizenry in general). The second season seemed more action-oriented, with Kimble becoming a grizzled, paranoid hardcase who could survive any trap laid for him; the exhilaration of those episodes was following Kimble and wondering how he was going to survive in an America that knew - really knew - he was out there. Trying to find a handle on this season is mostly impossible since I'm only reviewing the first 15 episodes, but the feeling I had here is one of disjointed purpose. We get a smattering of emotions and predicaments we saw in the first two seasons, and that's all. Kimble's dash seems less motivated (in these first 15 episodes, Kimble never talks about finding the one-armed man who killed his wife - isn't that just as much reason for his running, as eluding the hangman?), while importantly, David Janssen, who was flat out brilliant as the furtive, almost suicidal Kimble in the first two seasons, seems...frankly bored in many scenes here. Looking a tad heavier, too, his energy is low during these outings, and it has nothing to do with the character's evolution towards despair. This is an actor on autopilot (still accomplished, but not 100% engaged), with scripts that frankly just aren't as clever or original as previous outings. And the whole cycle feeds on itself.
As I stated above, it's almost impossible to judge the aesthetic direction of a particular season of a television series if you can't actually view the entire series, but these first 15 episodes - while still entertaining, for the most part, simply don't hit the heights of the first two seasons. And it doesn't help that the first couple of episodes are particularly iffy in comparison to previous efforts (as I've written before in other TV reviews, the first few episodes of any new season are critical to holding on to an existing audience that wants to stay with a successful show - blow those opening shows, and people start looking elsewhere fast). Particularly disconcerting is the season opener, Wings of an Angel, with the frankly ridiculous set-up of Kimble helping to capture a criminal, getting wounded, and winding up in a prison hospital. Awkwardly directed and spottily scripted (why do the cops just stand there and not shoot the criminal who's about to stab Kimble? Because the story needs Kimble to get injured, that's why), it never seems kosher that Kimble would wind out at the prison hospital (once his immediate care was met, they wouldn't transfer him the hell out of there?). Even worse than the set-up is the cavalier approach taken with both the Greg Morris character and the girl who helps Kimble, played by Lane Bradbury (her character in particular seems but a cipher, really, when compared to the previous complex, conflicted Fugitive women who fall for Kimble). The very next episode, Middle of a Heat Wave, offers up more puzzling actions by Kimble that loyal Fugitive viewers might have questioned. What, exactly, is he doing maintaining any kind of long-term relationship with a woman? And once he dumps her, and sees the reaction she takes (badly scratching his face), why doesn't he immediately take off, sensing that only trouble can result? In the older episodes, if anyone so much as glanced at Kimble, he'd bolt. But now, he sticks around and willingly goes to the cops to help them find a missing woman who scratched him badly the night before and now claims assault? Ridiculous. He even helps out on the manhunt for her - why in the world would Kimble-on-the-run stay anywhere near a situation fraught with such obvious dangers of being caught? Incredibly, there are even more examples here where Kimble goes out of his way to contact the police, such as Three Cheers for Little Boy Blue, where Kimble goes to the police not once but twice to alert them to a potential murder (he can't just phone it in on the run?). I guess because the scripters needed him to - that's what happens when a concept runs out of new ideas.
I don't want to sound too negative about this third season of The Fugitive - just disappointed it couldn't maintain a continuation of its unique vision. While solid entries like Crack in a Crystal Ball (with the usually excellent Larry Blyden turning in a terrific performance) or An Apple a Day (Arthur O'Connell, excellent) match up well with previous episodes, others look slightly desperate to capitalize on the premise, rather than enlarge or expand it. Another offender of this is the arbitrary, far-fetched two-part Landscape With Running Figures, which fortunately sports a terrific performance by Barbara Rush as Gerard's wife. While I originaly wrote that Gerard's wife actually saw Kimble on the bus, a sharp-eyed reader of mine corrected my mistake: she doesn't see him. But Kimble still gives off enough clues, enough of a vibe, that one would assume the smart wife of the obsessed cop who is so wrapped up in Kimble that he broke off their vacation to look for the doctor in that very same area, would seemingly have picked up sooner on the kind yet suspiciously vague, furtive stranger possessed of doctoring skills, who's also lamming it on the only bus out of town. It doesn't help that the rest of the story is a tease, basically, with the threats of marauding punks and rising flood waters, with neither element paying off particularly well in the end (and how did the cops trace that call to Tilden, when you can distinctly hear Marie disconnect the phone after her too-short first call to her husband?). Far too many episodes of this third season play out the same way: entertaining for what they are, but ultimately, not as satisfying and certainly off the mark from previous efforts.
Here are the 15, one-hour episodes of the four-disc box set The Fugitive: Season Three, Volume One, as described on its insert. PLEASE NOTE: As with most vintage TV series released by CBS/Paramount, there is a small disclaimer (smaller than normal, actually, with no prominent border box for this one) at the back of the DVD slimcase that states, "Music has been changed for this home entertainment version. Some episodes may be edited from their original network versions." There is no further explanation of what cuts, if any, were made. Most of the episodes time out at around 51 and a half minutes, which is about right or close for the original network run times. It's possible, though, that these are the syndicated versions, which may account for the minor cuts for time. Edited TV shows are one of the hottest topics concerning DVD releases, and as a reviewer, I've taken both sides of the issue, depending on what title I'm reviewing. It's usually a case-by-case basis; the fact that most of the run times seem close if not complete, prompts my favorable rating. I've included run times and guest stars for all the episodes, as well as, just for fun, all of Kimble's aliases, occupations, and the various episode locations:
DISC ONE

Wings of an Angel (51:32)
Alias: George Egan.
Occupation: Ranch hand.
Location: No location.
Guest Stars: Lin McCarty, Greg Morris, Harold Gould, Lane Bradbury.
Richard Kimble is wounded while capturing an escaped convict. But when he is taken to a prison hospital to recover, he's blackmailed by two inmates.
Middle of a Heat Wave (51:35)
Alias: Jim Owen.
Occupation: Highway road construction crew
Location: Lake City, New York.
Guest Stars: J.D. Cannon, Carol Rossen, Sarah Marshall.
Kimble tries to break it off with a woman he got involved with romantically. But after she is mysteriously attacked, he is held for questioning.
Crack in a Crystal Ball (51:33)
Alias: Joe Warren.
Occupation: Gas station attendent.
Location: Somewhere in the Midwest.
Guest Stars: Larry Blyden, Joanna Moore, Frank Maxwell, Pitt Herbert, J. Pat O'Malley, Nellie Burt.
After a fake psychic spots Kimble working at a gas station, he devises an elaborate scheme in which he will lead the police to the fugitive using telepathy.
Trial By Fire (51:24)
Alias: No alias.
Occupation: No occupation -- on the run.
Location: Chicago, Illinois.
Guest Stars: Charles Aidman, Frank Aletter, Jacqueline Scott, Tommy Rettig, Marion Ross.
Kimble's sister tells him there is a new witness, a decorated war hero who saw the one-armed man. But Kimble will have to turn himself in to get a new trial.
DISC TWO

Conspiracy of Silence (51:18)
Alias: Fred Tate.
Occupation: Houseman at a motel.
Location: 62 miles outside of Reeseberg, Arizona.
Guest Stars: Donald Harron, Malachi Throne, .
While working at a golf resort in Arizona, Richard Kimble is mistaken for a spy by the U.S. militar, who are testing secret weapons in the area.
Three Cheers for Little Boy Blue (51:23)
Alias: Tom Nash.
Occupation: Chauffer.
Location: The Midwestern city of Archmore.
Guest Stars: Richard Anderson, Edward Asner, Ray Spain, Milton Selzer, Woodrow Parfrey.
Kimble chauffeurs a millionaire back to the man's small hometown, where the initial welcome by old friends turns to bitter resentment and death threats.
All the Scared Rabbits (51:30)
Alias: Joe Taft.
Occupation: Driver.
Location: Iowa.
Guest Stars: Suzanne Pleshette, R.G. Armstrong, Liam Sullivan.
A desperate mother hires Kimble to driver her and her daughter to California, but the youngster brings along one of her father's diseased research rabbits.
An Apple a Day (51:22)
Alias: Ed Curtis.
Occupation: No occupation -- on the run.
Location: Briar County, Colorado.
Guest Stars: Arthur O'Connell, Sheree North, Kim Darby, Bill Quinn.
Injured while trying to escape, Kimble falls under the care of a doctor who practices without medicine, and who won't allow Dr. Kimble to treat his patients.
DISC THREE

Landscape With Running Figures (Part 1) (50:52)
Alias: Steve Carver.
Occupation: Kitchen help for all-night diner.
Location: Tilden.
Guest Stars: Barbara Rush, Herschel Bernardi, Jud Taylor, Arthur Franz, Noam Pitlik, Rodolfo Hoyos, Adam Williams.
Lt. Gerard and his wife rush to an area where Kimble was spotted. But then Gerard's wife flees town and boards the same bus as her husband's prey.
Landscape With Running Figures (Part 2) (51:23)
Alias: Steve Carver.
Occupation: Kitchen help for all-night diner.
Location: Tilden.
Guest Stars: Barbara Rush, Herschel Bernardi, Jud Taylor, Arthur Franz, Noam Pitlik, Rodolfo Hoyos, Adam Williams.
Temporarily blinded when the bus has an accident, Mrs. Gerard goes with Kimble to an evacuated town and waits for help, slowly becoming aware of her savior's identity.
Set Fire to a Straw Man (51:30)
Alias: Chris Benson.
Occupation: Truck driver.
Location: Tracton, New Jersey.
Guest Stars: Diana Hyland, Edward Binns, Joseph Campanella.
At an auto parts warehouse, Kimble gets mixed up in a family drama when his boss's sister asks him to help her kidnap the son she was forced to give up.
Stranger in the Mirror (51:23)
Alias: John Evans.
Occupation: Itinerant laborer.
Location: No location..
Guest Stars: William Shatner, Julie Somers, Norman Fell.
When a series of cop killings plague a small town, Kimble begins to suspect the wholesome athletics director of a boys club, who is hiding a dark past.
DISC FOUR

The Good Guys and the Bad Guys (51:24)
Alias: Bill Watkins.
Occupation: No occupation -- on the run.
Location: Drover City, Montana.
Guest Stars: Earl Holliman, Collin Wilcox, Bruce Dern.
In rural Montana, Richard Kimble stumbles into a town's western carnival, where he is made a sheriff's prisoner for the day. But then Lt. Gerard shows up.
End of the Line (51:05)
Alias: Bob Mossman.
Occupation: Dishwasher, Chinese restaurant.
Location: Raiford, Florida.
Guest Stars: Andrew Prine, Len Wayland, Crahan Denton, .
When Kimble loses his wallet and boards a train full of prison guards, he's forced to steal the fare from the owner of a dairy, who later turns up murdered.
When the Wind Blows (51:17)
Alias: Jim McGuire.
Occupation: Motel handyman.
Location: Small Groves, Wyoming.
Guest Stars: Harry Townes, Georgann Johnson, Johnny Jensen.
A disgruntled constable seeking publicity comes looking for Kimble at a motel, where the fugitive is being hidden by a sensitive boy and his concerned mother.
The DVD:
The Video:
The full-screen, 1.33:1 video transfers for The Fugitive: Season Three, Volume One are as impressive as they were from the previous volumes. Blacks are solid and velvety, and except for the expected grain and some scratches here and there, this is one of the sharpest looking transfers I've seen for a vintage television series. Beautiful job again, from Paramount.
The Audio:
The restored Dolby Digital English mono mix accurately represents the original broadcast presentation, and is clear as a bell. The only exception? Stranger in the Mirror has a strange, distorted echo to it at the beginning of the episode. Is this from the original materials used for the transfer, or the audio transfer itself? Close-captioning is available.
The Extras:
Again, Paramount shows total disregard from one of the greatest TV shows ever produced, by including zero extras for this split-season set.
Final Thoughts:
One of the best drama series of the 1960s loses its way...at least for these first 15 episodes of the season (and the original ratings bear this out...why else did the series take such a dramatic fall in the Nielsen's?). Coincidence and arbitrary, silly plot machinations - along with a less-than-energized David Janssen - mar what are otherwise enjoyable but lesser entries for this iconic series. Of course I'm still recommending The Fugitive: Season Three, Volume One, but I'm hoping the second volume of episodes from this 1965-1966 season improve.
---
Paul Mavis is an internationally published film and television historian, a member of the Online Film Critics Society, and the author of The Espionage Filmography.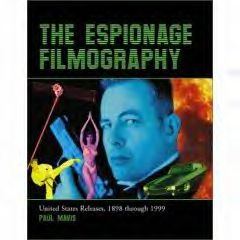 ---
C O N T E N T

---
V I D E O

---
A U D I O

---
E X T R A S

---
R E P L A Y

---
A D V I C E
Recommended
---
E - M A I L
this review to a friend
Sponsored Links
Sponsored Links