List Price: $49.99 [Buy now and save at Amazon]
---
Just a small point before we go any further. Anyone who's read my reviews knows I'm an avowed fan of Acorn Media (they release the juiciest, most entertaining titles from U.K. TV). But seriously, Acorn - if you're going to put a quote on the front cover of your DVD boxes, can it at least make sense? For this latest release of the delicious Midsomer Murders box set, a quote from the San Francisco Chronicle (the author's name has mercifully been excluded) states, "The British rural version of Law and Order." Has this reviewer ever seen Law and Order? For that matter, has anyone at Acorn Media, either? I can't think of two shows less similar stylistically and thematically than the perverse, delightfully droll Midsomer, and the dour, square-headed, faux-docudrama, faux-timely Law and Order. This may seem like petty carping (and it is, my old son), but for newcomers to the Midsomer series, that blurb on the front promises something that Midsomer Murders is decidedly not. So in the future, Acorn Media, when you're looking for a quote for your U.K. releases, might I direct you to a prolific reviewer at DVDTalk?
And that last name is spelled, "M-A-V-I-S."
Peeved niggling ended. Midsomer Murders: Set 14 is a smashing set of episodes, comprising the final four episodes of this long-running series' 10th season (or "series" in U.K. TV-speak), which originally aired from May to August in 2007. I can't say I'm happy about the concreteness of John Nettles' upcoming departure from Midsomer Murders (I had hoped his recent retirement announcement was merely a contract negotiating ploy, but apparently, his successor has been named), but we're still experiencing a bit of a backlog in episodes being released here in the States, so we'll be able to enjoy quite a few more Tom Barnaby-led outings. Episodes for this release include Death and Dust, Picture of Innocence, They Seek Him Here, and Death in a Chocolate Box. The mysteries are just as impenetrable as before, and the humor just as dry and black-British as we've come to expect.
As I've written in my past five reviews of Midsomer Murders, if you're not familiar with the series, don't feel that you can't begin watching the show, even this late in the game. Each mystery is essentially "stand alone," so newcomers (such as myself, who only started watching this from Set Eight) are more than welcome. Not to spend too much time on recapping the series for the sixth time, but to briefly acquaint new readers with the basic set-up, Midsomer Murders details the bizarrely continuous mayhem (which nobody notices or cares to comment on -- except Barnaby on rare, wry occasions) that afflicts rural, affluent (and fictitious) Midsomer County. Bodies drop like flies, and in the most appalling ways, and it's up to Detective Chief Inspector Tom Barnaby (John Nettles) of the Causton Criminal Investigation Department to clean up the mess. Barnaby is aided in his inquiries by Sergeant Ben Jones (Jason Hughes), an inquisitive, competent copper who offers an oftentimes wry, slightly baffled compliment to Barnaby's low-key detective skills. Lending a hand with vital forensic data is jovial coroner Dr. George Bullard (Barry Jackson). Offered as punctuation, but rarely as significant subplots, glimpses of Barnaby's home life frequently bookend an episode, with Joyce Barnaby (Jane Wymark), Tom's vibrant but put-upon wife (who frequently loses her husband to a case right before an important event in their social life), and Cully Barnaby (Laura Howard), their somewhat directionless daughter, making frequent appearances (the Cully character gets a bit more play here, as well, with the addition of Sam Hazeldine as her new boyfriend, Simon Dixon, causing a bit of tension with grumpy Tom).
SPOILERS ALERT!
I've written extensively about the appeal of Midsomer Murders in my last six reviews of the series (please read here), so I won't go into any lengthy background here on the whys and wherefores of this delightful show. Suffice it to say that it's my favorite U.K. murder mystery series, and it shows no sign of flagging at this (2007, at least) point. Incorporating the sacred English village mystery genre with a slyly perverse, blacker-than-black English humor that revels in grotesque murders delivered with a wicked, sick sense of fun, Midsomer Murders plays like the very best moments of a Hitchcock film: cynical jokes right before a horrific murder...and then more jokes that follow. This set of episodes are particularly strong, with ingenious plots and a seemingly never-ending series of subtle jokes, for the serious lover of English murder mysteries.
Death and Dust, at first glance, appears to be a rather straightforward entry in the series, with as much suspense generated by the building of Tom's patio, as the murder proper, but it soon splinters off into several satisfying elements. Tom, dreading dealing with Joyce's desire to enlarge his patio (and suspicious of the quoted low cost and time it will take to sort it out), is dubious of the effort...but not to the point where he won't ask one of the prime suspects in the murder if he can give him a quote for the job...after his interview (a funny moment early on in the episode). Tom's wariness over Cully's new boyfriend, Simon, creates a nice tension here, as good-guy Simon offers to build the patio as a surprise for Tom while he and Ben Jones are away in Wales on further investigation (this tension is nicely counterpointed by the main characters in the murder investigation, comprised of an overly-supported parent and venal, grasping - and possibly murderous - adult children). The murder investigation itself is rather lighthearted at first, with many funny gags coming from the possibilities presented with having a pig farmer as one of the suspects (speaking about an unrequited love, the farmer throws out his arm and states, "She could have had standing in the porcine community! She could have had all this!", as he stands in pig foul). One or two bits of staging were suspect (would that tire track really still be there in the morning...after a heavy, all-night rain?), but good fun seems to main purpose of Death and Dust.
But once the investigation moves to Wales (with some truly stunning vistas caught by the cameraman), a strange, cool menace creeps into the episode, with cold, off-putting lighting and ominous music that's quite effective (the constant refraining of Myfanwy is at first beautiful...then deadly). It's still amusing in spots, with a terrific scene where Tom and Ben, like little boys, challenge each other to a stone-skipping contest, or when Tom, watching Ben flummoxed as to how to enter an interviewee's home, shakes his head and says, "Not a pretty sight, I agree," but there's a quiet stillness to those Welsh scenes that's quite unsettling. Unfortunately, much of that is wasted in the subsequent "action finale," with Barnaby brought in by helicopter to observe the killer almost strike again as he drags his victim to the edge of a cliff (all of this is poorly staged and executed, with Nettles all-too-obviously protected from any real danger in the stunt). As well, it's a bit of a stretch to believe this final set-up, anyway: would Ben really take his eye off the main victim during that hike...when his whole reason for being there was to watch the victim? Would Barnaby sack him for such an obvious and almost deadly mistake? Still, there's an interesting coda where Tom allows a diary to remain outside a potential investigation for assisted suicide, labeling the doctor's action a "courageous decision," that might raise a few eyebrows for viewers who believe Barnaby is a stickler for the law. As for Tom's acceptance of Simon, who successfully completes the patio (and later proposes marriage to Cully), we'll have to see if that relationship stays cordial.
Picture of Innocence is one of those delightful Midsomer Murders episodes that lampoons the quaint, outmoded traditions of village life in their losing battle with England's modernization...while coming clearly down on the side of laughing at, but ultimately supporting, those vanishing customs. This time it's traditional film photography versus digital imaging, and the screenwriter has a field day with observing/skewering the wonderfully backward, eccentric characters that hang around the ancient-looking Madrigal Photography store. The owner, Headley Madrigal (the marvelous, deep-voiced Peter Eyre), is a fatuous, pompous bore who lords over his traditions like an imperious wizard, casting a baleful eye at anyone who dares even ask about digital images, while his two remaining supplicants, Lionel Bell (Nigel Anthony), who takes incredibly boring pictures of trees, and Eddie Carfax (Adrian Scarborough), who captures sickeningly sweet, hilarious shots of gamboling kittens, breathlessly await whose picture is chosen for the cover of the next exhibition poster. Headley's socially backward, cowardly son Seb (Martin Hutson), has taken a picture of his evening meal every night for the last ten years...and it's always the same meal ("The changing color of tinned to frozen peas is really exciting,"). These kinds of jokes, made at the expense of the expected quotas of eccentrics populating the backgrounds of typical English village mysteries, never fail in the Midsomer framework.
For added amusement, there's an excellent subplot concerning the murderer setting up Tom for the crimes - a situation fully exploited to allow Jason Hughes some amusing double-takes as he looks at Barnaby with perhaps less than complete confidence in his innocence (Ben's reaction is totally in keeping with Midsomer's askew humor - of course Tom could be guilty...weirder things have certainly happened in Midsomer County). And with this subplot a perfectly hilarious nemesis for Barnaby is brought on: Inspector Martin Spellman (Richard Lintern), a ladder-climbing, officious dolt who wants to bring Tom down. Utterly clueless when it comes to investigating, he spends more time on the phone, arguing with his fiancé about upcoming wedding plans than actually listening to his investigators, to the point where he totally misses the fact that his fiancé is involved in the plot. Hopefully, the scheming Spellman will be back for more attacks on Barnaby.
They Seek Him Here is one of the funnier Midsomers I've seen, perhaps because the episode's focus on the deadlier aspects of moviemaking is so dead-on. With the dual plotlines of a phony art/insurance scam and some particularly gruesome deaths via the guillotine (a movie company is remaking The Scarlet Pimpernel at a Midsomer manor), the episode keeps the viewer puzzled over how the two plot threads connect up, while we're laughing at all the inside moviemaking jokes. The flippantly cool rejoinders come steadily here, from Joyce delivering "crones and hags, as ordered," from the senior center, to Tom disapproval of the manor's trophy room (complete with stuffed animal heads) as a suitable place to interview suspects, to a perfect take on the guillotine ruined when the executioner's hidden cell phone goes off. All of this is quite amusing, with further delicious camp good-will coming from Desmond Barrit as Raymond Clandillon, a bitchy queen has-been who throws out naughty Noel Cowardisms at the drop of a hanky (disappointed with his lodgings, Raymond tells the hotel clerk, "I've spent the last 30 years coming out of the closet, and you've put me back in one."). Certainly the best moment comes at the finale, when the killer, giving a bravura, hammy performance from Pimpernel on the guillotine ('Tis a far, far better thing I do, than I have ever done,") is corrected by an incredulous Ben, who indignantly states, "That's from A Tale of Two Cities!" Nothing sums up Midsomer Murders' effortless ability to switch from horror, to pathos, to comedy, all within the span of one scene.
And finally, Death in a Chocolate Box has a sensational set-up for its mystery. An old copper friend of Barnaby's, Jack Colby (Pip Donaghy) is murdered, and it looks like the old scandal that ended his and his wife's (Clare Higgins) careers (she was a cop, too), may be the motivation for the crime. It seems that 14 years ago, Jack was the duty officer for the Causton lock-up, and he ratted out a group of officers - the "Friday Nighters" - for their sexual hijinks involving nymphomaniac Maria Godbold (Wendy Morgan)...in the cells. Now a parole officer, he and his wife Gina, a therapist, operate a halfway house community for ex-cons, but someone isn't happy being rehabilitated. Several gory deaths highlight this moody, violent episode (it's always good to see Barnaby engaged with his past...only to find it wanting), while an incidental inclusion of a marvelous full-scale town square camera obscura gives the episode a visual metaphor right in synch with Midsomer Murders' whole raison d'etre. A working camera obscura that cranks about like a turret on a large, round shed, the viewer inside can see a remarkably accurate - but slightly darker - reflection of whatever the pinhole is pointed at...with an almost imperceptible double image. The director of Death in a Chocolate Box obviously loved shooting multiple snippets of that reflection, and it works because it's the perfect symbol for the entire series. We see these quaint little villages and their funny little characters who move about their days in the fictional county of Midsomer, but seen through a different, all-seeing eye/lens, the picture becomes darker, and doubled, and what seemed picturesque and amusing at first, now reveals an infinitely odder, more deadly world.
Here are the 4 episodes of the four-disc set, Midsomer Murders: Set 14, as described on the back of its slimcases:
Death and Dust
When local ladies' man Dr. James Kirkwood and beautiful divorcee Delyth Mostyn decide on a midlife marriage, their families don't exactly celebrate. But when a hit-and-run driver kills Dr. Kirkwood's colleague, Barnaby concludes that the murderer actually had Delyth's fiancé in mind - and someone will stop at nothing to prevent their nuptials.
Picture of Innocence
At the Luxton Deeping Photographic Society's annual exhibition, a "shooting war" breaks out between digital-camera devotees and old-fashioned film fanatics. The situation turns deadly serious after one of the photographers winds up strangled and a trail of evidence seems to implicate Barnaby himself in the murder.
They Seek Him Here
When a production company invades Magna Manor to film a new version of The Scarlet Pimpernel, the off-camera conflicts among cast and crew prove almost as deep and bloody as those in the script. Barnaby delves into their sordid real-life histories to end a murderer's reign of terror on the set.
Death in a Chocolate Box
Midsomer Holm provides a picturesque setting for the halfway house operated by Barnaby's friends and former colleagues, Gina and Jack Colby. But a brutal murder spoils the village's tranquility, leading Barnaby and Jones to dig into one of its long-buried scandals.
The DVDs:
The Video:
Acorn's transfers for Midsomer Murders never miss - superlative. The anamorphically enhanced, 1.78:1 widescreen transfers for Midsomer Murders - Set 14 look, as always, look very good: crisp, sharp images with nicely balanced color and no compression issues whatsoever (no pesky PAL conversion issues, either). The image is remarkably bright and clean.
The Audio:
The Dolby Digital English 2.0 stereo mixes for Midsomer Murders - Set 14 are more than adequate for these largely dialogue-driven mysteries. Discreet left-right directionality, with solid recording levels. Thankfully, Acorn Media is putting more and more subtitles on their U.K. imports - good news for some viewers who may have a hard time with those local accents. English subtitles are included here.
The Extras:
The same Caroline Graham text bio and cast filmographies are included. Again. I love Acorn Media, but some new bonuses would be nice (and they weren't much when they were new).
Final Thoughts:
More mayhem and laughs from this sensational series. Midsomer Murders: Set 14 has some particularly strong episodes for fans of the show. I'm going to miss John Nettles as Barnaby, but luckily, we have a bit of a backlog here in the States, and there are plenty of upcoming episodes featuring the one and only lead detective (for my money) of the series. I highly, highly recommend Midsomer Murders: Set 14.
---
Paul Mavis is an internationally published film and television historian, a member of the Online Film Critics Society, and the author of The Espionage Filmography.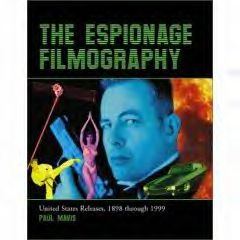 ---
C O N T E N T

---
V I D E O

---
A U D I O

---
E X T R A S

---
R E P L A Y

---
A D V I C E
Highly Recommended
---
E - M A I L
this review to a friend
Sponsored Links
Sponsored Links