List Price: $59.99 [Buy now and save at Amazon]
---
Over-long, tense, sometimes pointless, frequently hilarious, and suspect politically, G.B.H., the Alan Bleasdale-scripted U.K. television miniseries from 1991, presented here by Acorn Media in a four-disc, seven episode set, always has something interesting going on - particularly an amazing tour de force turn by Robert Lindsay as the constantly flipping-out Militant Labour party councilor, Michael Murray. Co-starring Michael Palin as the neuroses-riddled school headmaster Jim Nelson, Murray's nemesis in his rise to power, the Dickensonian G.B.H. ("Grievous Bodily Harm") at times feels like several different little films (some better realized than others) all jumbled into one, a fractured structure that lessens the overall power of the piece, but which still allows the viewer an abundance of intriguing, thoughtful, funny moments. A few nice bonuses help make this cult mini a must for fans of British television.
Egomaniacal Militant Labour councilor Michael Murray (Robert Lindsay), newly-elected head of a Northern England city council (think Liverpool), has some old scores to settle before he further scrabbles his way to the top. First stop: his old primary school, where Michael retrieves his incriminating school records, and gives a kicking to his hated headmaster, Mr. Weller (David Ross). Tortured Michael flashes back to his school days, where he was severely beaten by Mr. Weller for a heinous act he claims he never committed: pouring acid on a cage full of hamsters. And indeed, he did not do such a thing; it was Eileen Critchley (Jane Danson), an upper-class sadist who has it in for lonely, fatherless Michael. But something far worse happened between Michael and Eileen, something that changed Michael, something he won't ever tell anyone else about...and that secret will come back to haunt him just as he's realizing his ambitious dreams of power.
As further punishment to broken Mr. Weller, Michael has appointed one of his dimwitted thugs as Director of Education, to force Mr. Weller out of his headmaster position, and humiliate him by sending him to a special needs school as a mere instructor, under headmaster Jim Nelson (Michael Palin). Nelson, a kind, caring administrator and teacher with a smart, attractive wife, Laura (Dearbhla Molloy), three kids and a randy poet, Martin (Michael Angelis) for a best friend, is just the kind of middle-ground socialist the lying, thieving, bullying Michael can never be. But all is not perfect with Jim, either. He's beset by neurotic obsessions, including all-encompassing hypochondria and a crippling set of tics that get worse as his anxiety levels rise (he sleepwalks in the nude; he hides in his wardrobe; he develops a paralyzing fear of bridges). His wife is exceedingly tolerant, but as his personal situation worsens, she resents his shutting her out of the process of helping him.
It would seem that Jim and Michael would never meet professionally or certainly not socially, but events transpire to force the two together in a life-altering manner. Ruthless Michael, taking his political marching orders - and bully-boy troops - from Old Labour Marxist, Trotskyite ideologues like Mervyn Sloan (Paul Daneman) - has been convinced to order a "Day of Action," where all city services are shut down by the trade unions to protest the budget cuts and poll taxes of the Conservative national government (led at the time of the script's writing by Prime Minister Margaret Thatcher). But Michael's ineffective thugs forget to picket one place: Jim's school. And the newspapers, looking for any kind of contrary lead story to sell papers, regardless of the politics, finds their hero for the day: the "defiant" Jim Nelson. "Bubbles" McGuire (Peter-Hugo Daly), an odious little journalist, smells a good headline and tips off Michael that his "Day of Action" was, in the end, a failure, because Jim's school is still in business. Michael and his gang of bullies descend on the school, and terrify the children inside, but Jim isn't budging, adding insult to injury by laughing at Michael's hole card: they should stand together because they're both socialists. Jim states Michael's methods have nothing to do with "true" socialism (whatever the hell that is), and that he'll oppose him all the way. This sets up the rest of the mini, where both Michael and Jim spiral down into increasing mental anguish as they first battle each other...until they realize they're both pawns in an infinitely bigger - and more sordid - game of national and local political subterfuge. A "game" instigated by the mysterious Peter and Lou (Andrew Schofield and Tom Georgeson), and the seductive, scheming Barbara Douglas (Lindsay Duncan)...who may have known Michael from his youth.
MAJOR SPOILERS ALERT!
I must admit it did take me an episode or two to adjust to the abrupt changes in tone from episode one of G.B.H., which played often like a tense, sometimes surreal personal drama married to a political thriller, to the broad, farcical feel of episode two and beyond. From that point on, the two styles alternately surface and fade, and you can enjoy the separate moments of hilarious comedy (Barbara's seduction of Michael) and politically-charged drama (Michael's confrontation scene with the city rioters), but to be fair...there's a lot of dead weight in-between that could have been cut away. In a disc bonus interview with writer Alan Bleasdale, he admits that the film's producer eliminated over 120 scenes from the ungainly screenplay prior to filming. Frankly, they didn't go far enough. Originally conceived as a novel, the film version, G.B.H., still has quite a few scenes and minor themes that would be home in such a long, Dickensonian novel, scenes that would offer additional insights and asides from the author that would be expected and welcomed by the attentive reader, but which somehow fail to connect here on the screen, distracting from the main storyline. The television miniseries format as broadcast, at least back in 1991 (prior to the ability we now have to watch an entire season or series in one long, DVD-sitting), demanded breaks for commercials and different viewing nights, so the focus of the narrative should be more rigorous than the languid approach a long-format novel can utilize. Of course the TV miniseries format was designed specifically to counter those limitations of the medium (and to push against established viewing habits), and there have been spectacular successes in approximating, in TV-watching terms, the experience of reading a long novel (Brideshead Revisited and War and Remembrance immediately come to mind).
However, there are quite a few passages in G.B.H. that may be interesting on their own, but which simply don't work within this particular main story arc. As for chief offender among these superfluous but lengthy subplots, it's a toss-up between Michael's brother Franky (Philip Whitchurch) and his tribulations over becoming a sailor (?), and Jim's friend, poet Martin, and his and his wife Diane's infidelities (Julia St. John, who has the loveliest eyes...). I put up with the scenes where Martin first seduces then breaks-up with a student, chalking them up to random character background (in the belief that perhaps Martin would be more important later on in the story). But then there are long, irrelevant passages involving Diane's revelations that she's pregnant by another man, and Martin's worries about being that child's parent, that served no purpose in advancing the main story, while criminally breaking up the tension that had been previously so well crafted. We really just want to know about Michael and Jim, and their epic struggle against their own limitations, and against each other. Don't get me wrong; many of these extraneous scenes are quite good, on their own. There's a marvelous scene between Jim and his long-suffering Dr. Jacobs (John Shrapnel), who, after enduring years of Jim's hypochondria, is now dying himself (Bleasdale moves from humor to tragedy effortlessly). And I found the whole holiday retreat to Grosvenor's (a beautifully snotty, condescending Daniel Massey) dilapidated Woodlands estate hysterical (apparently this sequence was the core of the original novel from which G.B.H. mutated). But Bleasdale has to stretch the circumstances to include the sequence into the political storyline, and it shows.
More troubling, though, are scenes that should be more developed wind up getting short shrift. At the opening of episode 2, when we've been primed for the escalation of the fight between principled Jim and amoral Michael, Michael's campaign of intimidation against Jim and his school is fobbed off with a quick, sometimes nonsensical montage of images that fail, crucially, to establish just what kind of hell Jim is going through at the hands of bully-boy Michael. As interesting (and funny/sad) as the neuroses and tics are that Jim develops (and the necessity of their being mirrored in the breaking-down, spastic Michael), couldn't just a few of those scenes have been dropped in favor of forcefully establishing the very context that pushes Jim over the edge? After all, that is the main crux of the plot line (those gags with Palin begin to wear out their welcome, anyway, when the same joke is repeated over and over again throughout the long, long narrative - we get it: Jim takes his clothes off at the most inopportune moments, and yes, he cowers every time he sees a bridge. Neither gets funnier through needless repetition).
The other two main story threads - Michael's secret from his past (I won't tell) and the elaborate government plot to first radicalize the Left and then destroy it - are more easily accessible and tightly focused for the viewer. It's not hard to see where Bleasdale is going with government agents Lou and Peter's role in the plot, but you can tell he's having a good time slowly unfolding the scheme while commenting on the backstabbing state of modern politics (a typically surreal, funny, and at the same time disquieting moment from Bleasdale comes when he has Lou and Peter inexplicably break out into a delightful duet of All the Chapel Bells Were Ringing, menacing Pete's brother). And to his credit, at least initially, he's quite fair in attacking both the Left and the Right. Although the message of G.B.H. ultimately centers around the plea by socialist Jim Nelson to return to politics a civility, honesty and integrity that is sadly missing, Bleasdale doesn't let the Left off the hook in that condemnation. After all, Michael is an example of what can happen to any political figure that puts ideology over humanity, regardless of political viewpoint. Bleasdale makes jokes about the limitations of Left viewpoints, from Michael realizing there's no money to build council houses for the poor because he advised the poor not to pay their poll taxes, to Jim admonishing himself to quit reading the ultra-left Guardian when he makes some pat sociological excuses for the thugs threatening him. He even goes as far as having Barbara admit that Labour governments pull the same kinds of shenanigans as the current Tory administration (an even-handedness that earned socialist Bleasdale some criticism from the Far Left at the time of G.B.H.'s airing).
One could then take G.B.H. as an attack on the abuses of governmental power in general, regardless of the orientation of the office holders, and for the most part, that approach works, until we get to the final sequences where Jim triumphs over the militant thugs and Michael through sheer decency (on Barbara's part, as well) and old-fashioned socialist ideas...and with the help of all those simple, muscular, decent socialist farmers. Those farmers should be fair game, as well, in a well-rounded satire; they need as good a skewering as Lou and Peter. But clearly Bleasdale reveres them and their storybook, idealistic socialism, and they're hands-off (and as such, largely ciphers) - and that takes the sting out of his other barbs (he plainly states in the DVD interview that he would never "turn his back" on socialism, but leaving that big stone unturned - the simple farmers - limits the breadth of his vision and comedy here). By the end of Jim's speech, where he implores the young thugs to read more than just one book by any ideologue, but to get other opinions, other viewpoints, you sense that Bleasdale didn't listen to his own words; the naïve tossing-off of "harmless" socialist ideals like redistribution of wealth are left standing in Jim's speech without counterpoint, and G.B.H. suddenly becomes not a Dickensonian, but a rather toothless, one-sided plea for a particular political viewpoint. The message clouds the all-encompassing, cynical eye.
But in the context of what does work in G.B.H., that's a relatively minor setback. Perhaps the biggest selling point for the series is the frankly astounding turn by Robert Lindsay as Michael Murray (Palin, who was originally signed for the Murray part, never quite seems to kick his character into gear; I never believed his character). I must admit that I wasn't familiar with Lindsay's work prior to this, but I haven't seen too many other television performances that impressed me as much with their wide range and absolute fearlessness, as did Lindsay's. Lindsay goes from a believably odious, scary villain, menacing Weller, to slightly comical and inept when he's trying to muscle Jim, to outrageously farcical during his frenetic seduction scene of Barbara, to an almost Greek tragic figure whose illusions are blown away, and who comes to the saddest of all points of human existence: truly understanding what kind of man he could have been, had he not wasted his talents and opportunities. The central hotel sequence, where Michael tries to bed Barbara while simultaneously fighting off an invading Doctor Who convention in the lobby, finding condoms for his seduction, and eluding his wife, is sheer comedic brilliance, both on Bleasdale's and Lindsay's part. An absurdist take on the classical bedroom farce mechanics of slamming bedroom doors and hiding out under beds from furious spouses, this sequence shows Lindsay in full spastic glory, uncontrollably throwing his arm up and twitching his face and neck in his body's futile attempt to control his overpowering fear and anxiety. And I don't think I've laughed as much this year at anything as when Michael finally loses it on that snotty Dalek who calls him a "lucky bastard," and then starts shouting, "Fornication! Fornication!" in that truly hilarious electronic Dalek voice. It's a remarkably sustained, breathtaking performance by Lindsay that swings wildly from dead serious to manic hamminess, and it puts G.B.H. over the top.
Here are the 7 episodes of the four-disc set, G.B.H., as described on the back of its slimcases:
DISC ONE
Episode 1: It Couldn't Happen Here
One of Michael Murray's first acts as newly elected council leader is to terrorize his former teacher, Mr. Weller. Then he stages a "Day of Action" against the Conservative government but clashes with Jim Nelson, the headmaster of a school for children with special needs.
Episode 2: Only Here on a Message
When Jim becomes a local hero in a tragic accident, Michael has his thugs back off. He's appalled when his political friends, Lou and Peter, next suggest provoking racial violence in the city, but two words - Eileen Critchley - bring him around. Michael also falls for a mysterious stranger, while Jim develops a fear of bridges.
DISC TWO
Episode 3: Send a Message to Michael
Jim plans a summer holiday that avoids bridges. Meanwhile, the beautiful Barbara Douglas seems more interested in Michael's past than in his advances, even visiting his mother. To make matters worse, Jim and Michael have a violent confrontation.
Episode 4: Message Sent
Thanks to Mr. Weller, Jim finally has something he can use against Michael: his enemy's old school records. But Barbara would like to get her hands on them, as well. Tormented by messages purportedly from Eileen Critchley, Michael is a nervous wreck. Barbara offers to calm him down - in her hotel room.
DISC THREE
Episode 5: Message Received
Feeling like a new man after his night with Barbara, Michael attempts to regain control of his city and put a stop to the incipient racial violence. Believing they have eluded their tormentors, Jim and his family arrive in North Wales. And Lou and Peter reveal their mission to a reporter.
Episode 6: Message Understood
When the plotters raid the Nelsons' holiday home and steal Michael's school records, both men start to realize that they are pawns in someone else's game. Even scheming Barbara begins to sympathize with Michael and wonders who her real friends are.
DISC FOUR
Episode 7: Over and Out
As the city erupts in flames, Jim confronts Michael, Michael faces those who plotted his downfall, and Barbara sees the light. When an old conspiracy is revealed, everything Michael ever believed is turned upside down, and the Nelsons look to the future.
The DVD:
The Video:
The full-screen, 1.33:1 video transfer for G.B.H. is on a par with the look of most British TV shows from that period. The transfer itself looks fine (I didn't see any compression issues, nor any PAL conversion trouble), but the sourced material looks a bit washed out and grainy, with a dullish, not-quite sharp image. Again, this won't be a deterrent to anyone familiar with the look of these British source materials.
The Audio:
The Dolby Digital English 2.0 stereo track is adequate, with all dialogue understood, and with little or any separation effects. English subtitles are included.
The Extras:
There's an interesting commentary track for episode one featuring Michael Palin, Robert Lindsay, and editor Peter Ansorge. Palin's and Lindsay's personal politics seem fairly clear, so it's unintentionally amusing to hear them discuss the dangers of skillful orators like the Michael Murry character and Hitler who whip up the masses (I wonder if they feel the same sense of danger about a certain skillful orator on the world stage today...). There's also an interview, running 22:00, with author Alan Bleasdale, where, along with discussing the production of the series, he holds forth on then-current events, including putting George Bush, Tony Blair and muslim terrorists all in the same ideological basket (the obvious irony being, of course, that Mr. Bleasdale could make such an outrageous statement in either Britain or America, free of any government reprisals, whereas if made in certain Middle-Eastern countries, Mr. Bleasdale's ultimate fate might have been slightly different).
Final Thoughts:
Somewhat compromised by a refusal to go after any and all political viewpoints, G.B.H. nevertheless is often quite hilarious and thought-provoking, and sports an amazing performance by Robert Lindsay as a crazed, egomaniacal and pathetic local government leader. I highly recommend G.B.H..
---
Paul Mavis is an internationally published film and television historian, a member of the Online Film Critics Society, and the author of The Espionage Filmography.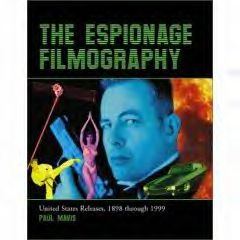 ---
C O N T E N T

---
V I D E O

---
A U D I O

---
E X T R A S

---
R E P L A Y

---
A D V I C E
Highly Recommended
---
E - M A I L
this review to a friend
Sponsored Links
Sponsored Links