List Price: $29.99 [Buy now and save at Amazon]
---
A dramatization based on the memoirs of historian Jill Ker Conway, Masterpiece Theatre's The Road From Coorain is a visually stunning coming-of-age television movie that follows the celebrated academic from her harsh, isolated upbringing in the Australian outback of New South Wales, to her graduation from college with honors - all seen through the stormy relationship she had with her indomitable mother, Eve. Stark and quietly obsessive in its opening section, where little Jill comes to terms with her existence in the unforgiving outback, the film is less successful once she grows up and moves to Sydney, with a sketchily-developed romance getting in the way of what seemingly was the story's central focus: Jill's relationship to her mother, Eve. No extras to speak of in this good-looking Acorn Media release.
The late 30s, early 40s in the arid, hostile Australian outback. Five-year-old Jill Ker (Alexandra Galwey) has no playmates on her family's vast cattle station other than her older brothers, Bob (Sam Dunn), and Barry (Sebastian Lamour). However, they're going off to boarding school - a tradition insisted upon by their English-born mother, Eve (Juliet Stevenson). So Jill clings to her force-of-nature mother, who teaches her resilience in the face of almost unbearable loneliness for the child, while instilling in her early a love of books that will chart Jill's later course in academia. From her beloved, handsome father, Australian Bill Ker (Richard Roxburgh), Jill learns the unsentimentality of back-breaking work and self-denial, as well as a mystical appreciation of, and a spirituality taken from, the land (Bill is a Catholic on the sly since Eve is vehemently opposed to the religion). Tragedy strikes the Ker family in the guise of a five-year drought, and a move to Sydney sees the maturing Jill (Katherine Slattery) growing away from her increasingly erratic, fractious mother. A romance with a married American oil man, Alec (Tim Guinee), is the final catalyst for Jill's break from her girlhood past.
SPOILERS ALERT!
The biggest problem with The Road From Coorain is running time. At a short 97 minutes, the plot threads and thematic elements introduced need more room to be explored and resolved, particularly the second half of the film when interesting developments are hinted at...and then left to wander off. And that's too bad, because the first half of the movie is exceptionally well structured. It's certainly not new to have an Australian film that looks at the isolation and loneliness of the outback's relatively few inhabitants (I know I've seen countless Aussie films that deal, at least in part, with this theme), but in that first section of The Road From Coorain that deals with little Jill and her parents out on the big nowhere of the cattle station, there's a stillness and a raw beauty to those scenes that I found quite moving. Director Brendan Maher, with the work of cinematographer Tristan Milani and editor Suresh Ayyar, pulls of the neat trick of producing epic-seeming frames, melting into each other in a languid yet compelling manner, that don't exist just to denote "epic scale." The frames don't overwhelm the senses just for the sole purpose of indicating, "look how big and empty and awe-inspiring the outback is," but to comment realistically on the story and characters. It's such a quiet section, too, rejecting a bombastic score in favor of many silent passages that let it settle in that Jill is precariously alone out in the desert, save for her parents. There's a remarkable overhead shot where little Jill spells out, in rocks, "Jill is here," that only works because the director properly set the environment and atmosphere of severe isolation. If we didn't really feel that Jill was alone within her very existence (despite the presence of her beloved, complicated parents), that plaintive, heartbreaking message wouldn't mean anything (special mention must be made about Alexandra Galwey, a beautifully unaffected, natural child performer). And there's a rather remarkable scene, filled with shadowy motivations and vague intentions, where older Jill (Alex Tomasetti) returns home with her parents from a dinner dance, and drowsily looks out the window, seeing naked ranch hands bathing in the early morning light. Once at home, she watches her parents dance together in the barn, affection for each other turning into sexual arousal, as Jill drops off into sleep. Moments like that in The Road From Coorain are quite arresting because of, not despite, their simplicity of execution and by that point in the film, I thought The Road From Coorain might be something truly special.
However, with the move to the city once Bill dies (or commits suicide, as the film strongly suggests he did, in another hypnotic scene as he quietly says goodbye for the last time to his sleepy daughter), The Road From Coorain becomes increasingly more conventional in structure and vision, while too many thematic elements are brought in, only to be left unexplored. After a little digging on the net, I discovered that the real Jill Ker's experiences at college - including her perception of bias against her because of her gender and her subsequent will to exceed beyond all the limited expectations placed on her - were just as central to her memoir as her childhood out on the cattle station. But The Road From Coorain (which makes it clear at the very end of the film that this film is a dramatization, not a biography - something they could have stated right up front) largely ignores specifics of her college life (which sound fascinating), instead focusing more on the mental deterioration of her mother...while at the same time failing to adequate explain that break-down. And while Stevenson is compelling as the once-strong Eve morphing into a shrill, mean-tempered harpy with increasingly worrisome obsessions (she survived the cattle station but becomes terrified of a house cat), we never get the feeling that the film is ready to commit to viewpoint concerning her transformation. Is it grief over the loss of first her husband and then her surrogate companion, son Bob (Bernard Curry) that puts her over the edge? Or was this growing paranoia and ill-temperament always there? We don't know, because the film keeps cutting away to either Jill in some inexplicable college scene, with no context whatsoever (for example, what the hell is that library scene about, with her securing "original sources" about a paper or project we know nothing about?), or to her romance with Alec. Those scenes in particular are of the most expected, stock fashion; we're three scenes ahead at all times (she's attracted to him; he offers sexual initiation; she begins to fall in love; she thinks he offers freedom away from her troubles; his marriage is an obstacle, and so on). Only in the very final sequence, when we discover the secret to a previous first-section small scene where we were deliberately left in the dark (very young Jill whispering something important to her mother), does the film briefly regain some ground and power (not surprisingly, in a flashback on the cattle station). But even that heartbreakingly sad scene (who doesn't remember a childhood moment like that, when love for and dependence on a parent was so complete and all-consuming?), only works because we remember the better first half of The Road From Coorain.
The DVDs

The Video
The anamorphically-enhanced, 1.78:1 video transfer for The Road From Coorain is fairly sharp, with minor edge enhancement and subtle color. Some smearing during the night scenes, though.
The Audio
The Dolby Digital English 2.0 stereo soundtrack is quite nice, with adequate left-right separation effects from time to time, and a decent recording level. Dialogue comes over nicely. English subtitles are available.
The Extras
There's a text bio on Ker and a text filmography for Stevenson.
Final Thoughts
The beginning sequences of The Road From Coorain that depict young Jill Ker's isolated life on an Australian cattle station are mesmerizing, and promise much. But conventional structuring and too many abandoned plot threads mar the unfocused second half. Still, that first half will go a long way in your memory. On the strength that, I'm recommending The Road From Coorain.
---
Paul Mavis is an internationally published film and television historian, a member of the Online Film Critics Society, and the author of The Espionage Filmography.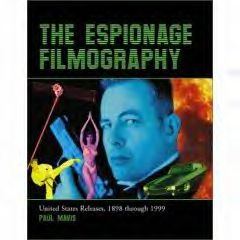 ---
C O N T E N T

---
V I D E O

---
A U D I O

---
E X T R A S

---
R E P L A Y

---
A D V I C E
Recommended
---
E - M A I L
this review to a friend
Sponsored Links
Sponsored Links