Jerry Lewis Show Collection, The
List Price: $29.98 [Buy now and save at Amazon]
---
It would have been easier to just listen to Stuart on this one. Infinity, through their Legends of Entertainment line, has released The Jerry Lewis Show Collection, a two-disc gathering of "best of" highlights from Jerry's little-seen 1967-1969 NBC variety series, The Jerry Lewis Show. I write "highlights" because these 13 episodes aren't true, complete episodes from the series, but rather edited clips and selections from Jerry's skits, cobbled together for syndication purposes some time ago (no doubt by Lewis himself, who owns the copyrights to almost all his work). Naturally, this presents a dilemma for the Lewis fan: put up with badly, even ineptly chopped-up highlights to see rare Jerry action you won't find anywhere else, or reject The Jerry Lewis Show Collection outright on the grounds of the intrinsic and historical value of the material. No bonuses to speak of here, unless you want to count the six little trading cards that feature photos of Jerry as his various comedic characters (his Nutty Professor portrait now holds a revered place among my wallet photos...in front of my wife and kids).
A couple of weeks ago, my favorite DVDTalk writer, Stuart Galbraith IV, reviewed The Jerry Lewis Show Collection, and to be honest, there's not a whole lot I can add to what he wrote (please click here to read Stuart's excellent review). The Jerry Lewis Show Collection is, as Stuart writes, a "fans-only" release if there ever was one. I can't imagine the average movie and TV watcher being interested in this DVD (do they even remember the controversial Jerry?), while vintage TV collectors - as hard-nosed a bunch of goons as you'd ever want to meet - will vociferously reject The Jerry Lewis Show Collection on the grounds of tampering with the original hour-long episodes. That leaves Jerry Lewis fans - a dwindling base, I would imagine, consisting of older viewers who remember Jerry from his days with Dean, or guys from my generation (don't even try and find women who like him) who grew up on endless re-runs of his films on television, and his yearly MDA telethons. And among those fans, there are a dedicated core who will watch anything he does. That isn't to say they believe everything he does is hilarious or artistically important, but there is for some of us this...inexplicable, almost morbid fascination with this performer which borders on the ghoulish. If it's a genuine masterpiece, like The Nutty Professor, fine. I find new things in it every time I watch that brilliant, hysterically funny film. But if it's a train wreck like Which Way to the Front?, strangely, so much the better (on the poster, which hangs, carefully framed, in a place of honor on the inside of one of my closets - the only place where my wife would agree to hang it - Jerry, in full Nazi regalia and a Van Dyke, demands, "You vill laugh!"). There are always moments, in anything he does, that make you laugh. And just as often, there are moments that make you cringe. But never is Jerry Lewis uninteresting, even in an unhealthy way for fans. I find him remarkable just on that level alone.
Which leaves us with The Jerry Lewis Show Collection. As Stuart rightly points out, by 1967, the "Jerry Lewis phenomenon" was rapidly grinding to a halt, while his former stand-up and movie partner Dean Martin was reaching heights in the movie, television and recording arenas that must have left the ego-compulsive, uber-competitive Lewis gnashing his teeth. Lewis, who was one of the most popular and highest paid movie stars/nightclub entertainers/and yes, singers (god help us) of the late 50s and early 1960s, had by 1967 succumbed to a serious case of overexposure with his increasingly adolescent audience, grinding out more and more suspect comedies of varying worth that saw less and less ticket sales for the producer/writer/director/star/star-for-hire. By comparison, Dean Martin, who had a disastrous first step away from Lewis when they broke up their act in 1957 (the unwatchable Ten Thousand Bedrooms), carefully rebuilt his career with more-than-credible dramatic turns (Some Came Running, The Young Lions), popular audience favorites (Rio Bravo, the "Rat Pack" films), records (remember: his Everybody Loves Somebody knocked the unstoppable The Beatles off the charts in '66), and finally television, where his easy-going, almost catatonic charm and goofily breezy comedic talents scored big with audiences in The Dean Martin Show (which was 8th in the Nielsen's the year The Jerry Lewis Show premiered). This last Martin achievement most assuredly had to gnaw at Lewis, for whom television was still an unconquered medium after Lewis' disastrous excursion into the talk/variety genre with 1963's spectacular, multi-million dollar bomb, also titled The Jerry Lewis Show (one could make the argument that this terribly misjudged fiasco was the starting point of the American public gradually turning against the comedian). Jerry, who had (and appears to still have) a highly competitive, complex love/hate/love relationship with Dean, must have felt the pressure to succeed when The Jerry Lewis Show debuted on September 12th, 1967...particularly since it was airing on Martin's own network, NBC.
I can't judge The Jerry Lewis Show itself, because it's not presented here in The Jerry Lewis Show Collection (and it originally aired when I was just a baby - my memory for TV is good, but not that good). I can say that the series didn't exactly set the Nielsen's ablaze when it premiered in 1967. Originally shot piecemeal its first year, with Jerry-only and guest skits recorded separately (and without a studio audience) and then assembled later into hour long episodes (a production method the control-crazy Jerry probably liked), the first season 8:00pm timeslot didn't get much traction when viewers switched over at the halfway mark to enjoy the nation's seventh most popular show, The Red Skelton Hour, over on CBS (although Jerry's lead-out, the successful The NBC Tuesday Night Movie helped a little). But a move back to 7:30pm for its 1968-1969 season, the loss of fun lead-in I Dream of Jeannie, and a commitment by Jerry to shoot the one-hour episodes as a whole in front of a live studio audience, didn't help, either, particularly when The Jerry Lewis Show was pitted directly against buzz-worthy, rising youth hit, The Mod Squad over on ABC. It was a goner by spring, 1969.
No, what we get here in The Jerry Lewis Show Collection are not unlike those Carol Burnett & Friends 22-minute episodes that resulted from Burnett and CBS editing-out selected comedy skits from her self-named variety series for easily-packaged half-hour syndicated strips. At some point in the 80s or early 90s, Lewis must have made the same decision to extract excerpts from his The Jerry Lewis Show skits and repackage them for syndication (perhaps after seeing how many more millions Jackie Gleason made from all those "newly discovered" Honeymooner kinescopes in the mid-80s?). And honestly, who could blame Lewis? The Jerry Lewis Show was unsuccessful and unmourned when first aired and cancelled, with subsequent VHS distribution a highly unlikely prospect - so why not chop it up and re-sell it back to TV if he could get away with it? After watching the skits presented here in The Jerry Lewis Show Collection, one can guess what Lewis thought of these episodes' intrinsic value. Did the original hour-long shows work better in their complete form, with Lewis coming out in his tux for the intro monologue (I suspect Jerry being "Jerry" was quite fun in those moments)? Were there musical numbers that gave the audience a break from the comedy skits? And did the skits play better in their complete run times, since many "highlights" of the skits on this DVD show internal editing, within the actual skits (with bad jump cuts and chroma keyed title cards explaining the edits)? It's impossible to say until (or more probably, if) we get a look at the unedited episodes from the series.
Watching these edited skits, it tough to get a bead on where Lewis is in his own head, as far as his relationship to this series. Certainly by 1967, his feature film output was bringing forth desultory, even adversarial notices from the few critics left reviewing him, with resulting dips in profit margins (remember: kiddie tickets were usually half-priced). Did he consider this television show a real chance to "come back" to a family audience that original made his career? Or was it just another deal to produce product for the Jerry Lewis brand? There's no getting around the fact that the majority of the material here is second-hand, both in conception and execution. Jerry recycles a few characters from his hit movies, most noticeably his Julius Kelp/Nutty Professor character, here known as Professor Frobesher, as well as Sidney Portnoy, an amalgamation of his generic schnook/"creep" (his word) roles. And he pulls out quite a few physical bits from earlier works (his delightful typewriter bit, the conductor with the imaginary orchestra, the baton twirling bit). Filler comes from labored, wheezy old vaudeville, spoof, and bedroom farce routines, with second-tier guest stars (The Osmond Brothers, Janet Leigh, Shirley Jones, Lynn Redgrave, Imogene Coca, Richard Kiley, Frank Gorshin) showing up, wondering what the hell they've gotten themselves into when Lewis starts ad-libbing his way through the frequently poorly-written scripts. Due to the nature of the black-out skits, there really isn't any time for Jerry's maudlin schmaltz (thank god), so laugh-getting and not heartstring tugging, is the front and center goal. By this point in his career, whether because he felt he "earned it," or simply because the material is so iffy, Jerry is incapable of staying in character, mugging constantly (and often embarrassedly) to the audience as if to say, "What the hell else do you want me to do with this dreck except make fun of it?"). Sometimes engaged (his funny ventriloquist bit with Ben Gazzara), sometimes contemptuous (watch him subtly knock Laurence Harvey), and sometimes outright bored or pissed off (his skit with Barbara Feldon is quite uncomfortable), you're never quite sure which Jerry will show up for the skits, such is the hit-and-miss quality of the performances and the material in The Jerry Lewis Show.
What does miss in The Jerry Lewis Show Collection is truly awful. The very first opening skit, from the premiere episode, is a disaster, with Jerry looking distinctly unhealthy, sweating profusely, and hoarsely delivering his terrible lines in this vulgar updating of his schnook character to the Swinging Sixties (Sidney gets an apartment in a swinging singles building). Jerry's penchant for leering sexuality comes right to the forefront whenever a pretty, well-endowed girl passes him by, and worst yet, he tries a little bit of his maudlin shtick before getting to the punch line. Needless to say, I wasn't expecting much from the DVD set after that inauspicious start. And quite a few later bits also failed to meet any previous standard Lewis used to regularly meet (his Bonnie and Clyde take-off with Audrey Meadows is so bad even he shakes his head and says, "Terrible," in an embarrassed, ashamed tone). But flashes of the "old Jerry" still come through more often than not here, and being patient, one can pick out little gems of business that any Jerry fan will welcome having on disc. These shows may be poorly edited, but where else am I going to see Jerry getting manhandled (in a sensitive area) by a laughing, delighted Ben Gazzara (Ben Gazzara? In a comedy?). Or see Don Rickles in all his sweaty glory, saying to himself, "The cobra strikes," as he gets ready to hit on Dorothy Provine? Or Jerry executing an increasingly funny bit where he takes over a supermarket, insanely ordering people around in a German accent? Or Jerry's delightful "Roman Orgy " dream sequence, seemingly right out of one of his more inventive films (perhaps The Ladies Man?), which morphs effortlessly into a big swing production number, with Lou Brown and His Orchestra chopping away on those horns? Or Nanette Fabray literally vibrating all over the set, and baying at the moon, over the prospect of having sex with Sergio Franchi? Or the sight of Laurence Harvey, painfully thin and sporting a cornpone hillbilly accent, goofing around with sexy Joey Heatherton in a western send-up? Or one of my favorite old Lewis bits - the punch-drunk fighter from Sailor Beware - here hilariously sent up, with Jerry effortlessly breaking up pals Del Moore and Harold J. Stone? The answer is: I'm not going to see those moments anywhere else, at this point, except in The Jerry Lewis Show Collection. Of course I wanted Lewis and Infinity to release the complete episodes. And I hate the hack job that was done on these hideous syndication efforts (seriously, that opening credit sequence, with Jerry's god-awful, screeching laugh and that plinkety-plink synth music, is truly unbearable). But what if those uncut episodes simply don't exist anymore (that's happened before to original materials when syndication prints are made)? And if they do exist, who says Lewis or his business partners will ever want them released? Maybe there are music copyright issues stopping that from happening. And who says any other DVD releasing company is going to think those original, uncut episodes are viable in the marketplace? Who knows. Life's too short, though, to wait for perfection, so if you're a die-hard Jerry Lewis fan, there's no way you can turn down The Jerry Lewis Show Collection, regardless of its obvious drawbacks.
The DVD:
The Video:
The full-screen, 1.33:1 video transfer for The Jerry Lewis Show Collection is about what you'd expect here: inferior-quality studio taping, with a sometimes curious periscope effect on some shots. Colors bleed, and image sharpness varies. Compression becomes noticeable the bigger you go up in monitors. Acceptable.
The Audio:
The Dolby Digital English mono audio track is also held hostage to the original source materials. Dialogue and music comes in and out at times, and hiss is noticeable, but again, any vintage TV fan is going to expect this sound.
The Extras:
Unlike Stuart's review copy of The Jerry Lewis Show Collection, mine appears final shelf, and the only extras here are those six little glossy trading cards.
Final Thoughts:
Funny is funny. Period. You can wait and wait for perfection (good luck), or you can enjoy what's out there. That doesn't apply for every compromised vintage TV DVD release. But considering the overall middling aesthetic results of 1967's The Jerry Lewis Show itself, and taking into account that we'll probably never see this footage surface in any other format any time soon, if you want to watch everything Jerry, get it. I'm not going to qualify the rating with a "Rent it" for general audiences, because they're not going to go anywhere near this release. Recommended for serious Jerry Lewis fans.
---
Paul Mavis is an internationally published film and television historian, a member of the Online Film Critics Society, and the author of The Espionage Filmography.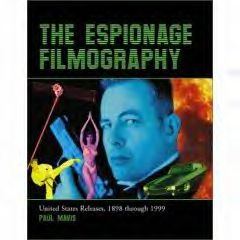 ---
C O N T E N T

---
V I D E O

---
A U D I O

---
E X T R A S

---
R E P L A Y

---
A D V I C E
Recommended
---
E - M A I L
this review to a friend
Sponsored Links
Sponsored Links