Father Knows Best: Season Four
List Price: $34.99 [Buy now and save at Amazon]
---
"I swear you people are the nicest humans on earth."
One of my favorite sitcoms from any decade, Father Knows Best: Season Four has been released by Shout! Factory (you already know what I think about you dreamboats) in a tidy release that sports a few fun extras and most importantly, 25:00+ run-times for the episodes, which would seem to indicate unedited source material (let me know, Father Knows Best experts, if seconds here or there have been chopped). Unfairly dismissed with withering condescension or outright scorn by, ahem...pop culture/TV historians (in the immortal words of Mad Magazine: yeeeech!), Father Knows Best is a bright, warm, tender sitcom (and quite funny, too), expertly scripted, directed and performed, with valuable, universal lessons to impart to receptive viewers (maybe even more so today, some 50-plus years after its debut). A must-have for vintage TV lovers.
Springfield, U.S.A., in the Great Midwest, 1957-1958. Jim Anderson (Robert Young), crackerjack agent for the General Insurance Company, has an equally important job at home: helping his lovely, smart wife Margaret (Jane Wyatt) take care of their three growing children. Eldest Betty Anderson (Elinor Donahue) is now a sophomore in college, and when she's not obsessing about doing everything perfectly (including the proper etiquette for romancing in 1950s America), she's beginning to find her own voice and purpose outside her family role as father's "Princess." High schooler James, Jr. - "Bud" to everyone (Billy Gray) - is also beginning to evolve away from embodying the typical American teenaged boy, only interested in sports and his broken-down hot rod, towards a thoughtful, sensitive young man groping for the first time with big issues like personal responsibility and self-image, and of course, love. Youngest daughter Kathy ("Kitten") Anderson (Lauren Chapin), too, is fast approaching the point where she'll leave behind the games and fantasies of young childhood for the more confusing, more rewarding - and more painful - realities of a young adult. The daily adventures of the Andersons could be viewed as mundane, but within those lessons learned every day could also be viewed a surprisingly layered, deft view of the human condition.
SPOILERS ALERT!
As many of the fans of the show know, Father Knows Best began as an NBC radio program in 1949, where it ran quite successfully until it was snagged by CBS for a television adaptation in the fall of 1954. Mistakenly plugged into the wrong time slot (too late for families on Sunday at 10:00pm), it was plowed under in the ratings by The Loretta Young Show over on NBC, and CBS cancelled it at the end of the season. But viewer protests were strong for the series, and NBC, sensing a cheap pick-up (along with a new sponsor move), took on Father Knows Best for its 1955-1956 season, where it built a loyal (but initially small) audience until this fourth season, where it finally cracked the Nielsen Top Thirty, coming in 25th for the year. There would be more network switches in the next few years (Father Knows Best would be one of the few series in TV history to air in prime time on all of the "Big Three" networks), with the show self-canceled at the absolute height of its popularity (it was sixth in the year-end ratings in 1960, when a tired Robert Young wanted out) - along with endless reruns in the 60s, 70s, 80s, and even 90s. So its clear that the show strikes some resonant chord with old and new viewers. Reading reviews of the show from today's critics, you might get lucky with a fair-minded assessment (DVDTalk's former reviewer, Jeffrey Kaufman, gave it an affectionate pass), but mostly you're going to wade through a lot of film and television school P.C. dross that either dismisses the show as "camp" (I can't think of a series that's less "camp" - a term that's seriously misused, anyway), or attacks it for perceived transgressions against all that is holy in today's pop culture studies: gender issues, race issues, political issues, sociological issues (it's a pity "entertainment issues" are rarely discussed). These frankly ridiculous criticisms of Father Knows Best are usually based more on the personal prejudices of the critics who have been steeped in the "hate anything traditional" politics of the American higher education system than anything inherently "evil" in this warm, funny show (hey - you want a job teaching film and TV history? You want to publish? Better come in through the Left door). Looking through a few of these pieces prior to watching Father Knows Best, I was vividly reminded of why I left professional academia.
Of course, Father Knows Best can come off as idealized (a big "no-no" for many critics today), such as the season opener, Follow the Leader, where this clever little The Blackboard Jungle send-up is predicated on some fairly unbelievable, over-the-top hero-worship by the students for a beloved teacher. And in Margaret Learns to Drive, Jim and Margaret, finally letting loose on each other in front of the kids (arguing over driving lessons), decide to tell the kids the fight is made up, because the act is obviously disturbing the children (but importantly, the episode shows they do fight - they're not perfect - and the script is knowing enough about the unreality of the situation to pile on the jokes from the kids about "parents who don't fight"). I don't think very many children today believes parents don't fight, but more importantly, I don't believe very many people believed it back then, either; too many critics today look at the entertainment products of a time, and extrapolate that of course, real people acted the same way, ignoring the elements of fantasy and wish-fulfillment and of course, just plain, honest common sense that TV viewers were smart enough then that they could recognize a piece of entertainment as just that: entertainment, not a mirror.
As well, any show from this time period that embraces traditional values (or perhaps more accurately, accepted dramatic and comedic conventions of the day) are ripe for scorn, driving touchy, nervous academics looking for a term paper topic right up a tree. In The Rivals, Margaret is deeply amused by Betty's predicament of having two dates for one night: she feels every girl should have such a situation at least once in their life. And in The Weaker Sex (I can just hear the grumbling over that title...), Jim tells Betty the "ultimate truth" about men and their wives: they're not as naïve as woman might like to think they are...and the women like that game, too. The script pulls no punches in asserting that marriage is largely a game of attraction, a dance of wits that doesn't stop just because years have passed (on the surface, the scripts for Father Knows Best may seem simplistic, but they're actually quite layered, with surprising little twists and turns of thought to them). Perhaps it's that un-ironic title that inspires the charges of paternalism that dog the series (if the TV show had just kept the "?" that ended the radio title - Father Knows Best? - I firmly believe a lot of these criticisms would never have cropped up). But if one actually watches the show, there are a surprising number of episodes that illustrate just the opposite of that criticism. In the season opener, Follow the Leader, Bud finds himself in a particularly tight dilemma: support an unpopular teacher, or go along with the crowd and haze him right out of the classroom. Time for a stern lecture from Father, right? Wrong. Jim tells him it's his decision to make, and he trusts him to do the right thing (Bud eventually does...but not before a crisis of faith in himself almost makes him chicken out - another realistic touch). In Bud Quits School, Bud becomes enamored of a trucking magnate who never finished school. Bud wants to follow suit, but does Jim come down on him like a ton of bricks? Nope. Jim tells him straight: your decision has consequences, including affecting Jim's faith in Bud to do the right thing. Good luck, and I hope you make the right decision (realistically, Jim's plan backfires, and Bud does quit...for one day). In The Good Neighbor, Margaret inherits a rental property, but she states quite specifically (and somewhat facetiously) that she wants to stay dependent on Jim (I hear gnashing of teeth), but it's Jim who insists she become an independent businesswoman, and he supports her efforts 100%. He acts the same way in Mother Goes to School, where he continually encourages her to stay in school, even when she wants to quit (so much for the facile stereotype about this and other 50s sitcoms where the man "kept his woman down.")
Father Knows Best is surprisingly critical of its times and stereotypes that it was supposedly whole-heartedly endorsing all along. While you're laughing at the unbelievable exuberance of the students for their absent teacher in Follow the Leader, take a second look at how mean and nasty all those clean-cut suburban kids are in plotting to overthrow their new instructor (so much for the cliché that all those WASPy kids in sitcoms were schlubs who toed the party line of obedience and conformity to society's rules). In the delightful Sentenced to Happiness, everyone wants to help immigrant Fronk (Natividad Vacio) live his life along "proper" American lines (get with the program, Fronk)...but he has his own way of existing that has nothing to do with established cultural norms of 50s America - and Jim realizes at the end that the "Establishment" was wrong in trying to pigeonhole this free spirit. The cliché of the go-getting, high-achieving, proper little American teenager like Betty gets turned on end in several episodes. In Big Sister, Jim openly worries that always wanting to be the best (that used to be America's official motto) may be detrimental to Betty...who then proceeds to prove Jim right when she turns into a snobby tyrant towards underachieving Kitten (Revenge is Sweet and Country Cousin really go overboard, though, in making Betty a screaming, snobbish shrew). For The Trial, Jim commits supposedly one of the deadliest sitcom sins for a 1950s father: he's dead wrong about a crime he thinks his son has committed (he apologizes, too). And in the beautifully designed, Father's Biography, Jim admits to 50s American sitcom heresy: he believes he's a failure in business...a hateful belief that is seconded by Margaret (in a revealing interior monologue) who believes Jim throws away all his business chances in favor of letting the children run his life. In a dream sequence, as Jim awaits his fate at the Pearly Gates, he rejects the stereotype of success at any cost by admitting maybe he wasn't meant to be a great leader, but an ordinary man who is loved by his family. Of course such an admission proves the true "greatness" of his character with St. Peter (who's portrayed like some angry Pentagon general), and indeed for his wife, too, who cries and states she loves him unconditionally.
If you look carefully, Father Knows Best can even be...forward-thinking in some of its themes. In Betty's Crusade, college student Betty fights the good fight to save a flea-pit restaurant (run by a sympathetic old codger who's a like a Dutch uncle to all the kids) from being destroyed by Jim's company (for a brand-new office building), an act of self-determination that Jim at first laughs at...and then approves of (including helping fix up the old place at the last moment). And in the marvelous Betty Finds a Cause, she does just that: she convinces an angry old coot to cut down his hedge that is blocking the sightlines at a dangerous intersection. Not only is this relationship between Betty and the old man quite salty and tender at the same time (the misanthrope comes to respect her grit and determination), her proto-feminist howl of indignation at his initial obstinacy is quite an eye-opener in showing a 50s female owning her own identity and shaping it through protest.
So many times I've read critiques of Father Knows Best that belittle it with faint praise, never entertaining the idea that it might deal with important issues because...well, because those kinds of shows weren't supposed to deal with anything important (or at least that's the accepted generalization). With most of the scripts written by either Paul West or Roswell Rogers (and all directed by the extremely talented Peter Tewksbury - read my My Three Sons review to see what I think of this unsung director), Father Knows Best is surprisingly weighty for such a piece of "fluff." In Bud the Executive, what could have been a little story about Bud blowing an assignment to organize a school picnic, carries some heft from the subtext of Bud wishing to be a slacker ("Why can't a guy be a happy slob?") compared with Jim's optimistic encouragement for his son to take the initiative and be a leader at something. In The Indispensable Man, Bud breaks training during football practice, and he knows the right thing to do, ultimately, is to rat himself out (even though every fiber of his being says "try and get away with it"). He eventually does, and misses out on the big game...but he gains his coach's and father's respect for being a man (the same thing happens in Bud, The Mind Reader, where a vengeful-looking Jim gets ready to come down on a defiant Bud...before he understands and respects Bud for telling him the truth). In the curious The Way of a Dictator, the episode is all misdirection as it gets to the real point by stealth: Bud's school project on dictators is playing out in his own soul, as he creepily manipulates Kitten to do his bidding, just like any good dictator would do (Jim counters with the once-believed-in-America "the end does not justify the means," a sentiment that would get old Jim a file at Homeland Security today). And in the arresting Mr. Beal Meets His Match, the show breaks through the standard sitcom mold by barely disguising its Faustian/fascist nightmare as a short story come to life, narrated by Betty, as the family has all of its 1950s desires fulfilled before Jim offers his soul as payment for the children's.
One element of Father Knows Best that's never escaped it loyal fan base is its warmth and sincerity in illustrating the small moments in life that any family, from any time period, might recognize as their own. In Mom Goes to School, Margaret willingly sacrifices her class with Betty, to respect Betty's "private world" she's intruded upon. In Man With a Plan, Margaret takes Bud's potential humiliation at a party (his friends throw him a celebration when he falsely states he's joined the armed services) upon herself because she wants to spare her child such embarrassment (Jim does the same thing for Bud in A Matter of Pride). But Margaret is no push-over; in Tell It To Mom, she becomes ensnared in the children's web of deceit (brilliantly orchestrated by director Tewksbury), and when it becomes too much...she rats them out to Jim for their own good. This warmth of purpose in telling a moral never feels strained; it usually flows quite naturally from the expertly-crafted scripts. And those lessons and moments of everyday can be rendered here with great tenderness. In Kathy Makes a Wish, her desire to believe a lost pony came to her in a wish is beautifully realized against that memory we all have of skirting the edges of losing belief in our own childhood fantasies. In Poor Old Dad, a consistently funny episode that hinges primarily on Bud thinking Jim's personal freedom is thwarted in his marriage, the poignant ending comes out of nowhere as Jim visits a bachelor friend, with Bud in tow, where a quiet Bud listens to the bachelor's lonely lament, only to go home to appreciate his mother's and his girlfriend's presence more acutely (Gray is quite good in both comedy and dramatic scenes). In the heartbreaking A Friend in Need, written by Dorothy Cooper, a simple, beautiful "lost dog" story is given added depth by being grafted onto the Father Knows Best formula, with Jim having a magical moment at the end of the episode, wondering if that wonderful dog Duchess actually did ring that doorbell of their warm, inviting home (I defy anyone not to get a lump in their throat for this episode). And in a sweet, very funny episode perfect for this weekend's Mother's Day (A Medal for Margaret), Margaret tries to learn how to fly fish - from real-life National Fly Fishing Champion, Cliff Wyatt (any relationship to Jane?) - so she can finally earn a medal like the rest of the Anderson clan. Of course something comes up and she can't compete in the tournament (even though Cliff - in a hilarious performance - says she's the best he's ever seen), but Jim and the family put on a This is Your Life parody for her, telling her in-between the laughs how important she is in their life, regardless of any old fly fishing medal. It's a delightful episode among 32 other delightful Father Knows Best episodes, and shows yet again the hidden charms that aren't so hidden in so-called "harmful" 50s sitcoms...if you're willing to look for them (and if you truly want to see them).
The DVDs
The Video
There's no getting around the fact that the full-screen, 1.33:1 transfers used here come from original materials (or video dupes) that vary greatly in quality. Occasionally, you'll get a high-quality print that looks as good as anything a studio like Paramount will put out for its vintage TV releases. But mostly, they're of a lesser quality here, with grain and some video noise apparent, contrasty shifts now and then, and a soft picture. It's not terrible (and stepping down to a smaller monitor helps), but this isn't top of the line (but they do look complete, and that more than makes up for the quality).
The Audio
The Dolby Digital English mono audio is a problem, though. Hiss is apparent and consistent. Vintage TV lovers won't even notice, but newcomers might have some adjustments to make. English close-captions are available.
The Extras
On disc one, an episode of Robert Young's follow-up series, Window on Main Street, is included: The Boy Who Got It Made. I've written before about this series, and it still intrigues me. There's something inherently interesting with the set-up (a writer goes back home to his small town for inspiration), but the execution is fairly standard, with odd touches that seem at odds with the goal (dramatic stretches punctuated by an inappropriate laugh track). I'd still like to see Shout! release the entire series in one fell swoop. On disc two, A New Housekeeper, one of the original radio episodes from Father Knows Best? has been included, along with New Arrangements on disc three, and Vacation Arrives on disc four. The tone is definitely different here than the television show (much more smart-assed and jokey), but they're fascinating to compare. And on disc five, there's another Window on Main Street, The Haunted House, that's much more successful than the first offering, with a nice ending where Young talks about prosaic lives needing mystery and nonsense. Exactly.
Final Thoughts
This was the third and last year Father Knows Best appeared on NBC (after its premiere on CBS in 1954). It would move back to CBS for its two highest-rated seasons, and be cancelled by Robert Young in 1960. CBS would then run repeats of the old shows in prime time (very unusual) for the next two years, and even odder, ABC would then run an additional year of reruns in prime time, before Father Knows Best appeared on their daytime schedule for years, with countless syndication seasons for the venerable sitcom following. I detail all of that because obviously something about the Andersons struck a chord with Americans looking for a small window on some of their own life experiences, and watching the series today, over 50 years later, it's not difficult at all to see why it still holds our attention: it's intelligent, funny, warm, and altogether believable...even in its unreality. I'm giving Father Knows Best: Season Four a DVD Talk Collector Series rating on content alone.
---
Paul Mavis is an internationally published film and television historian, a member of the Online Film Critics Society, and the author of The Espionage Filmography.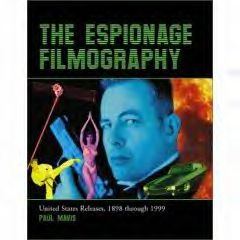 ---
C O N T E N T

---
V I D E O

---
A U D I O

---
E X T R A S

---
R E P L A Y

---
A D V I C E
DVD Talk Collector Series
---
E - M A I L
this review to a friend
Sponsored Links
Sponsored Links