List Price: $19.99 [Buy now and save at Wbshop]
---
Promising...but ultimately, scattershot and empty. Warner Bros. Archive Collection has made available A Death in California, the 1985 ABC two-part made-for-TV movie starring Cheryl Ladd and Sam Elliott. Based on a true story, this tale involving brutal murder and rape would seem to be a natural for the sensationalistic true-life crime minis that began to dominate the made-for-TV movie genre in the mid-80s, with two TV heavyweight names in Ladd and Elliott to anchor the harrowing story. Unfortunately, spacey scripting, poor character development, and rather bland direction negate much of the impact of the stronger but isolated scenes.
Detective Bob Swalwell (John Ashton) in on the hunt for a psychopath. Serial thief, rapist and murderer David Jordan Williams (Sam Elliott) has escaped from prison and he's contacting his lawyer, beautiful Shannon Foley (Kerrie Keane), asking for help. Why would this attractive attorney have anything to do with such a vicious criminal? It's simple: Williams is an equally attractive, smooth operator with a genius for zeroing in on women's weaknesses and making them emotionally dependent on him. A true sociopath with no remorse, Williams will say anything to get a woman's trust - and once he has that trust, he feeds on it like a drug. Skipping off to L.A., California (after women - including Foley - aid him in several vicious robberies), Williams spots gorgeous Beverly Hills resident Hope Masters (Cheryl Ladd) with her kindly, cuddly, non-threatening fiancé, connected lawyer Richard Morgan (Granville Van Dusen). Immediately hatching a plan, Williams becomes "Brad Tyler," chiseled '70s hunk (complete with 'stache and briar pipe) and L.A. Times reporter, doing a piece on Los Angeles' 10 most eligible bachelors. Invited up to Hope's mother's (Alexis Smith) ranch for the weekend, Williams eyes his prey - with Hope perhaps being a bit too friendly for her own good - before he zaps Richard and brutally rapes Hope. End of story, right? Wrong. Because by the end of the morning, Williams has convinced Hope he's on her side: a contract killer hired by her first husband, Craig Masters (Peter Fox) to kill Richard because Craig owes money to the mob. And now Hope and her children are targets because of Williams' sparing a witness' life. Despite another rape, she buys his story....because he was tender to her. But what will happen when the cops, led by Detective Swalwell, come knocking on Hope's door?
SPOILERS ALERT!
I have no idea if A Death in California, based on a true-crime book by Joan Barthel, accurately follows the facts of this particular case or not (I couldn't find any outside info on the net). The case isn't famous enough that most viewers would know the ins and outs of the actual events, so there's no use in trying to compare and contrast (or in faulting or crediting the film for how closely it sticks to the real story). In the case of most of these true-life TV minis, it's usually best to review them as fictional pieces, anyway, and judge them on their own internal logic (because characters and events are almost always jumbled around for dramatic purposes). So...viewed outside of its historical context, A Death in California promises a lot, but provides precious little in terms of concrete characterizations or believably motivated drama.
At first glance, the most obvious drawback for A Death in California is the paucity of background on the Willams character, as essayed by Elliott. Elliott, who was memorable in a similar but better written true-life TV mini, 1981's Murder in Texas, starts Williams at "9" and goes to "11" - which doesn't leave much room for character development. Rolling his eyes devilishly when he's not sinking his head down in a menacing stare, Elliott gets across "psycho" quite well, but this good performer can do better than the underdeveloped character given to him here. We're supposed to take it on faith that he can instantly snake-charm women into not only helping him commit crimes on the spot, but that he can keep these women on an emotional string long after he's gone, such as his attorney Shannon. But the film doesn't give Elliott any significantly developed scenes where we could come to believe those actions. He's a frightening figure, to be sure, but we get no sense of depth concerning his character and his interaction with Hope, because he's drawn in such a two-dimensional fashion.
But not getting a more complete picture of Williams in action isn't nearly as fatal to A Death in California as losing track of Hope Masters. What, exactly, are we to think of this victim? The screenplay, written by veteran E. Jack Neuman and directed by feature and TV film heavyweight, Delbert Mann, seems to want to have it many ways with the Hope character...while committing to none of them. Our first impression of Hope is that, despite two failed marriages, she's a lucky woman, with three kids, a wealthy mother and stepfather (Fritz Weaver, wasted here as is Alexis Smith), and a kind, gentle new man on her horizon. But then some disquieting moments are introduced. Hope has premonitions of doom concerning her and her fiancé - a fiancé, by the way, that doesn't seem to be in any hurry to marry her. She begs Richard to make sure no one comes between them, an odd, anxious request for someone supposedly secure in her relationship. We learn she dumped her first husband because she found him a "boring, stay-at-home" - which certainly might describe the "cuddly" Richard (Hope's subtly dismissive description of him). We also learn her most important desires: to be needed by someone, and sex - two elements in her placid relationship to Richard that seem...missing. Once Williams, assuming the guise of a reporter, arrives at the ranch for the weekend, we see Hope suddenly come alive, nervously fixing her hair after she spots the handsome stranger from her bedroom window, while subsequently flirting with him during the bogus photo shoot for the article (even complimenting him on his zodiac sign, while denigrating Richard's boring Virgo status) to the point where even Richard nicely warns her she may be laying it on a bit thick. Is A Death in California setting us up to think that Hope is going to welcome the vicious rape coming her way?
It seems to play that way, at first. But clearly, the rape scene itself, graphically presented by 1985 network standards, indicates it's not welcome by Hope (even though...the producers couldn't resist putting some puzzling moans on the soundtrack, as they show a clichéd shot of Hope's bloodstained hands, grasping the sheets and releasing them - a standard convention in these types of minis to convey sexual ecstasy). And later, when Williams rapes her again, she's clearly heard to say, "No" several times. So...why set the character up as a frustrated tease? Later, as the film progresses, we suspect that Hope may have suffered a severe mental trauma due to the rape and the subsequent, repeated violent threats by Williams to kill her and her kids...but we're also given clues that Hope may have had problems way before Williams came along (I love the honesty of the scene with her kids, specifically her younger, pissed-off daughter, who, after meeting the creepy Williams, says point-blank to her mother, "You're crazy. I hate you!"). So...is Hope an accomplice to Williams, not only because of the bogus story he spun, touching on her desire to be needed (as her supposed killer, he says he's willing to protect her and her kids now that that the "Organization" is after him, too, for botching the job), but also because his violent rape was also somehow "tender," as she later describes his actions? Or is she a classic victim in the "Stockholm Syndrome" vein, and not at all responsible for her subsequent actions, which include not immediately running to the police when she had numerous chances, and supplying the police with a phony alibi for Richard?
It's impossible to say in A Death in California, because the film deliberately fogs the characters' motivations. And the film's final scene says it all...or rather, says nothing at all. Hope, cleared of her charges, goes to visit the convicted Williams in jail...after answering one of his patented love letters he sends to all his women. She sits down, inscrutable behind her dark sunglasses. Why did she come to see him, after the misery he caused her? He repeatedly, viciously raped her. He killed her fiancé, the man she supposedly loved. He skipped out and let her take the rap for the killing. And yet she shows up to see him. And once she sits down, she does his bidding again, taking off her sunglasses when he indicates she should do so. Once off, there's no misinterpreting that half-smile she gives him. End of scene. End of movie. Was the prosecution right? Did Hope know Williams long before the murder? Or is she still infatuated with him, even though she knows his story about contract killers was fake all along? And what are we to make of Hope's final statement on the matter when, once out of the courtroom, she tells her mother, "It never occurs to anyone that he might have kept me alive because I'm a good person, a useful person." I guess we're supposed to make up our own minds as to the answers to all those questions above, but quite frankly, by the time this 188-minute mini is over, the point of wondering about it seems past. Beautiful Ladd, probably better here than you might imagine, can't get a grip on the character because nobody has a grip on this character here, with director Mann keeping things squarely in frame, and ploddingly vague. Some might argue it's intriguing to be kept in the dark about the ultimate truth of Hope's actions, but in most cases, that's a classic excuse for poor, unfocused scripting and compromised direction - both of which are more clearly on display in A Death in California than any semblance of well-motivated dramatics.
The DVD:

The Video:
The full-screen, 1.33:1 transfer for A Death in California looked serviceable, with reasonably valued color, a medium-sharp picture, some grain, and the expected, minor screen anomalies (scratches, dirt). Compression issues were present (some noticeable jaggies here and there), but I doubt anyone is getting this boringly-shot telemovie for its pictorial splendor.
The Audio:
The Dolby Digital English mono audio mix did seem quite low in its recording level. Hiss is noticeable but not distracting. Close-captions or subtitles are not included.
The Extras:
There are no extras for A Death in California.
Final Thoughts:
Two good actors, a story that seems like a natural for this kind of true-crime miniseries...but a weak, unfocused script and plodding direction sinks this promising telemovie. Vague, and not at all intriguing. A rental if you're a fan of the actors. Otherwise, skip it.
---
Paul Mavis is an internationally published film and television historian, a member of the Online Film Critics Society, and the author of The Espionage Filmography.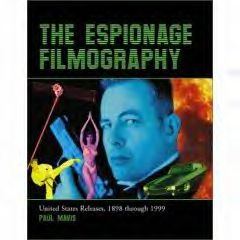 Sponsored Links
Sponsored Links