List Price: $29.95 [Buy now and save at Amazon]
---
Tame and fairly dreary. Warner Bros. direct-mail Archive Collection has released another high-end television miniseries from its vaults, 1986's Blood & Orchids, taken from the novel by Norman Katkov, and based rather loosely (and I do mean loosely) on the infamous 1932 Massie trial in Honolulu, Hawaii. Some big names and good actors show up here in this CBS production, including Kris Kristofferson, Jane Alexander, Sean Young, Jose Ferrer, Susan Blakely, Richard Dysart, and Madeleine Stowe, and the producers spent a lot of money renting old cars to dress up this seemingly can't-miss tale of murder, rape, and racial tension in Old Territorial Hawaii. But clichés abound here, along with some unnecessary filler subplots, and it all goes South-Seas before you can say, "This movie would work a lot better with some Mai Tais under my belt." There's actually an original network trailer included on this two-disc set (is that a first for the Archive Collection?).
The Territory of Hawaii, 1937. In the vast sugar cane fields owned by imperious white settlers like Doris Ashley (Jane Alexander) and Harvey Koster (Richard Dysart), poorly-paid native workers toil, including John Liluohe (Robert André), Henry Shiguru (Russell Omori), Mike Romero (Warren Fabro), and David Masuda (Shaun Shimoda). Blowing off steam after a sweltering day of cutting and processing cane, the four young men take off in their car, with a case of beer in the back seat, to skinny dip in a secluded spot. Driving back, they spot something in the road: a naked white woman, lying bloodied and unconscious. John wants to help, but his friends beg John to leave her: they know that she can only spell trouble for these island natives. And they're right. The victim is Hester Ashley Murdoch (Madeleine Stowe), no less than the daughter of sugar cane industrialist Doris Ashley (Jane Alexander), and the wife of upstanding Navy officer Lloyd Murdoch (William Russ). And she's pregnant, unbeknownst to her husband. Dropping Hester off at the hospital, the boys succeed in making themselves look extremely guilty (they basically dump her and try to run away), and they're almost immediately arrested.
In her hospital room, Hester is set upon by her cold, calculating mother Doris, who insists Hester, rather than tell the truth about who viciously assaulted her (that would be her husband's best friend and the father of her baby, Naval officer Bryce Parker, played by Matt Salinger), should finger the four native men as the rapists and brutalizers. Hester resists, but her mother lays it out straight: get with the program and blame the natives, and you won't ruin her reputation and empire by admitting adultery and pregnancy by another Naval officer. Hester reluctantly goes along and the judicial systems swings into high gear (her mother also arranges an illegal "therapeutic" abortion for her daughter). But several people aren't swayed with her story, including Hawaiian police captain Curt Maddox (Kris Kristofferson), who knows a dodgy set-up when he sees one. Powerful forces begin to press Maddox when he starts to ask uncomfortable questions about Hester's story, and adding insult to injury, he's dumped by his hash-slingin' girlfriend, Marie (oh why, Susan Blakely?). But that's nothing compared to the turmoil that comes when Lloyd blows away one of the native defendants in the courtroom, or when Maddox develops a keen interest in limpid Leonore Bergman (Sean Young), the hot-to-trot wife of old geezer defense lawyer, Walter Bergman (Jose Ferrer).
SPOILER'S ALERT!
With the recent slew of made-for-TV movies and minis I've been reviewing these past few weeks, I've written several times about the pros and cons of synching up fictionalized dramatics with their true-life facts (it's a crap-shoot, depending on how well-known the facts are, and how well-done the film is, in spite of, or because of, its fictionalization). For Blood & Orchids, based on the screenwriter's highly fictionalized account of the infamous Massie trial in Honolulu, Hawaii (of which I'm certainly no scholar), and directed by TV veteran Jerry Thorpe, from everything I could track down, very little in this mini matches up faithfully with the facts of the actual case. Characters have been invented out of wholecloth (Maddox is the most obvious), or fictionalized to avoid direct comparisons with their historical counterparts (Jose Ferrer's character is supposed to line up with defense attorney Clarence Darrow, but there's no evidence his wife was having an affair with a cop during the trial), or eliminated entirely (apparently their were five local men arrested for the initial crime). As well, events have been drastically altered for dramatic purposes (one of the men arrested wasn't shot in the courtroom as the mini shows, but rather was kidnaped by the "victim's" husband, mother and two other Navy men, where he was tortured and subsequently shot). There's even a question as to whether or not any rape actually occurred in the original case.
So as historical fiction, Blood & Orchids can safely be labeled entirely "fiction." Because so much of it has been outright invented, it's of zero historical value and should be judged strictly on how it well it comes off as a film. Is it a good mystery? A good romance? A good courtroom drama? Unfortunately, the answer to those questions is a collective, "No." Viewed outside its sham historical context, Blood & Orchids comes across as a thoroughly ordinary, conventional mystery/courtroom drama that apes little snippets of far, far better films like Chinatown and Anatomy of a Murder, pasteurizing all the tang and zip out of those borrowings by squeezing them into predictable, "network-safe" segments that fit in nicely between the commercial breaks. There are absolutely no surprises here for anyone who has seen even a modicum of similar mysteries or courtroom dramas. Within the first ten minutes of Blood & Orchids, we already know where the film is going, and eventually we despair that no one is going to mix-up or tweak the clichés even a little bit, for variety's sake. Characters come on, and are instantly pegged. The minute Kristofferson appears, we know he's a loner, having it off (badly) with Blakely's waitress character, and that he's eventually going to fight the powers-that-be over the case...as soon as he has his predestined, totally arbitrary affair with Sean Young (I'm not blaming the guy, I'm just saying...). The "heroes" wear masks of easily-decipherable (and frankly uninteresting) contradictions, and the "villains" are almost laughably one-note in their motivations and deeds.
...which would be fine, had Blood & Orchids at least embraced those clichés and easy-outs with a little appreciation and verve. You want to give me clichés? Fine. I love 'em. You want to give me stock situations and thoroughly familiar genre conventions? Good. Nothing I like better...just don't be embarrassed by them. Embrace them! Give me the pleasures of undemanding genre work by putting over your pap with some energy and with an appreciation for exactly what you're doing: selling rubbish. The makers of Blood & Orchids, however, actually view this old wheeze as "serious" stuff, employing a solemnity to it that's suffocating and insufferable. Yes, I know the film talks about serious issues such as race and imperialism and sexual taboos, but "intent" doesn't equal "success," particularly when the nobility of those attempts is suspect (the native men are rendered as such interchangeable nonentities - perhaps to quell any later calls of perceived racism had they been portrayed as rounded, flawed characters - that I had a hard time keeping these ciphers' names straight), and when the supposedly daring elements of this hokey melodrama are no more original nor ground-breaking than the average Mod Squad episode from 15 year before. Guess what: according to Blood & Orchids, rich white land owners treated native Hawaiians badly in the 1930s. As well, rich, powerful parents sometimes exert such control over their kids as to ruin their lives. Thank you for those stunning revelations. If that's the extent and the depth of the messages of Blood & Orchids, I got those lessons way before 1986, so you had better make the characters more interesting, the situations more layered dramatically, or at the very least, emphasize the genre elements so I can get some rudimentary pleasures there. No such luck, unfortunately, with the square, stale, bloodless Blood & Orchids.
Even the cast seems to be suffering from neurasthenia (particularly the actors cast as the locals, whose characters are so impossibly noble that we lose interest in them immediately). Kristofferson, way too good for the cardboard cut-out character he's expected to play here, looks and sounds right as the cynical, tough cop, but absolutely nothing he does is surprising or even entertaining (he looks...sour about the whole thing). Jane Alexander and Richard Dysart are distressingly one-note as the venal, evil landowners, while Jose Ferrer isn't even allowed to chew up the scenery in his too-brief courtroom scenes - an absolute crime against a marvelously hammy actor (his turn here is a sad reminder of how great he was in a similar role in The Caine Mutiny). God knows what Susan Blakely is doing in this mess with that awful perm and those terrible, slack costumes (is there anyone who cries prettier than Blakely?), while Sean Young's line readings are so awful you tend to forget how good she looks in period clothes (gorgeous girl...spotty actress). And William Russ, as usual, plays "constipated" quite well. Only Madeline Stowe shows some life as the conflicted "victim." With her nicely shaded, sometimes raw performance, she's the only one here that seems clued into what Blood & Orchids could have been.
The DVD:
The Video:
Considering the age of the original materials (or at least the sourced materials used for this full-screen, 1.33:1 transfer), Blood & Orchids looked surprisingly good. Scratches and screen anomalies did pop up, but colors, while a bit faded, looked correct, and the image was relatively sharp. Not bad for a TV mini from 1986.
The Audio:
The Dolby Digital English mono accurately reflects how most people probably heard this mini over their tiny TV speakers back in '86. The recording level at times seemed a tad low, but all dialogue was heard well enough. No close-captions or subtitles, as per Archive Collection standards, are available.
The Extras:
And unlike Warner Bros. Archive Collection standards, a bonus extra is included! Blood & Orchids was originally shown over two nights, and a bumper trailer for the second part is included here - pretty cool for the Archive Collection!
Final Thoughts:
Not at all daring in its subject matter, solemn beyond all reason, and no juice to the genre elements. What could have been a sure-fire mini, exploiting themes such as murder, rape, racial taboos, and forbidden love under the swaying palms, turns into a depressingly familiar, stale reworking of much better films. Don't waste your time: rent Chinatown or Anatomy of a Murder instead. Or better yet: a Charlie Chan "B." You can skip Blood & Orchids.
---
Paul Mavis is an internationally published film and television historian, a member of the Online Film Critics Society, and the author of The Espionage Filmography.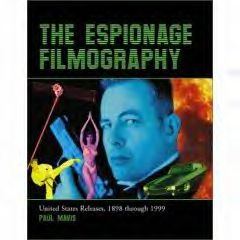 Sponsored Links
Sponsored Links