List Price: $39.99 [Buy now and save at Amazon]
---
Bad form, Acorn Media. No, it's not that stupid Law & Order come-on that's still printed on the front of the box (apparently they don't read my reviews). Loyal fans of the show have come to expect a minimum of four episodes included on these Midsomer Murders sets; however, Midsomer Murders: Set 15 only ponies up a paltry three episodes here from the show's eleventh "series" (season), fobbing off a fourth disc documentary as some kind of appeasement for this penurious error. Episodes included are Blood Wedding (featuring the wedding of Barnaby's daughter, Cully...or will she marry?), Shot at Dawn, and Left For Dead. Luckily, two of these three episodes are absolutely first-rate examples of Midsomer magic, and not to be missed by fans of the show. But only three episodes here...?
As I've written in my past seven reviews of Midsomer Murders, if you're not familiar with the series, don't feel that you can't begin watching the show, even this late in the game. Each mystery is essentially "stand alone," so newcomers are more than welcome. Not to spend too much time on recapping the series for the seventh time, but to briefly acquaint new readers with the basic set-up, Midsomer Murders details the bizarrely continuous mayhem (which nobody notices or cares to comment on -- except Barnaby on rare, wry occasions) that afflicts rural, affluent (and fictitious) Midsomer County, England. Bodies drop like flies, and in the most appalling ways, and it's up to Detective Chief Inspector Tom Barnaby (John Nettles) of the Causton Criminal Investigation Department to clean up the mess. Barnaby is aided in his inquiries by Sergeant Ben Jones (Jason Hughes), an inquisitive, competent copper who offers an oftentimes wry, slightly baffled compliment to Barnaby's low-key detective skills. Lending a hand with vital forensic data is jovial coroner Dr. George Bullard (Barry Jackson). Offered as punctuation, but rarely as significant subplots, glimpses of Barnaby's home life frequently bookend an episode, with Joyce Barnaby (Jane Wymark), Tom's vibrant but put-upon wife (who frequently loses her husband to a case right before an important event in their social life), and Cully Barnaby (Laura Howard), their somewhat directionless daughter, making frequent appearances (the Cully character gets more play here in Blood Wedding, with her planned marriage to Simon Dixon, played by Sam Hazeldine, creating some new-found tension in the relationship).
SPOILERS ALERT!
I've written extensively about the appeal of Midsomer Murders in my last seven reviews of the series, so I won't go into any lengthy background on the whys and wherefores of this delightful show. Suffice it to say that it's my favorite U.K. murder mystery series, and even though it can lag from time to time, just when you think the series is going out...it comes roaring back with some startling episodes (such as Shot at Dawn and Left For Dead here in this set). Incorporating the sacred English village mystery genre with a slyly perverse, blacker-than-black English humor that revels in grotesque murders delivered with a wicked, sick sense of fun, Midsomer Murders plays like the very best moments of a Hitchcock film: cynical jokes right before a horrific murder...and then more jokes that follow. Let's look at the individual episodes...and spoilers will be revealed, so you've been warned.
I would imagine for some Midsomer Murders viewers that the marriage of Cully Barnaby (Laura Howard) would be of interest.... I wish I could say the same; however, I've always found the character frankly annoying, with her inclusion into various episodes offering little more than brief moments for Tom and his wife Joyce to cluck about what direction their wayward, itinerant actress daughter was taking with her life inbetween the murders and the jokes. In Blood Wedding, the scripter, David Lawrence, obviously wants to parallel "commoner" Cully's simple, tasteful wedding with the somewhat gauche excesses of the titled, entitled Fitzroy snobs who stage their own loveless marriage; it's no coincidence that at one point in the episode, Ben Jones mentions the classic British TV miniseries, Upstairs, Downstairs, which chronicled the inequities between aristocrats and their servants. But if I don't care about the Cully character in the first place, why do I want her taking up time away from the central murder (which I found far more amusing with the snotty, lethal "aristocratic" Fitzroys). Particularly distressing were Lawrence's obvious attempts to create false suspense about Cully's impending nuptials with red herrings about Simon's whereabouts prior to the ceremony, and false dodges about Ben possibly providing a romantic stumbling block for Cully. All of that was fairly transparent and drawn-out, with Howard's usual unsympathetic turn as Cully not helping matters, either (she's a frowner). As for the wedding itself, the filmmakers inexplicably fade out and end the episode just as Cully goes to the altar, denying viewers a satisfying coda for all the seasons-long sturm und drang concerning Cully's frustrating love life (is Lawrence going for a little foreshadowing about the marriage, though, when he has veiled Cully say, "I can't see a thing," before she enters the church?).
Far more successful is the parody of the aristocratic family, the Fitzroys, beginning with the evocative, Hardy-esque opening where, back in 1971, having come back from some shooting with his dog, a murderous Fitzroy coldly states, "Not close enough," when he's told his bastard son came this close to death. Scripter Lawrence has a ball ripping on the landed gentry and their snobbish, imperious ways, culminating in almost total farce with the final, funny duel between the Fitzroy brothers (well-played by Charles Edwards and Mark Umbers) in their mansion's hall, complete with broadswords and mace (with Ben wielding a shield for protection). There are many amusing scenes where a Fitzroy looks down their nose at Barnaby and Jones, with Jones making a telling comment to romantic interest Sally Fielding (Emma Cunniffe), "They like playing lords and serfs, don't they?" to which she knowingly replies, "What makes you think it's a game?" A couple of particularly gruesome deaths are shown in typically funny/sick Midsomer close-up, including an impaling to a wall with a ceremonial dagger, and a hatpin through an ear, while equally strange Midsomer asides pile up, such as Ben's conversation with thieving, addled cook Mary Cooper (Veronica Roberts). As she pets and cuddles a sweet bunny rabbit, she states, "Love hurts," to which Ben replies, "So I've been told,"...right before she forcefully snaps the little bunny's neck (Midsomer has a genius for these kinds of gross/hilarious scenes). I could have used much more of Patrick Barlow as flaming wedding planner Maurice Morrison (he only has one brief, hilarious scene where he audibly gasps when Cully mentions the word, "budget."), but with the exception of the other superfluous Cully wedding scenes, Blood Wedding is quite amusing in its upper-class bashing.
A terrifically entertaining entry in the series, Shot at Dawn has all the prerequisites for a top-flight Midsomer episode: several suitably bizarre murders, a family (or two) of maladjusted malcontents, some pointed commentary on the clash between "olde England" and today's Britain, a smattering of sexual hijinks, and lots of very funny jibes at everything and anything under the sun, from prescription medicine addiction to the sacredness of war memorials. Midsomer Murders is never more hilarious than when it indulges in that brutally cruel English humor that's brought into sharp relief through a script framework that highlights Britain's incessant class warfare. Shot at Dawn's intricate set-up revolves around a 90-year-old feud between the upper-crust military Hammond family, and the local "townie" Hicks clan, two "awful families," as Barnaby neatly dismisses them, of "war huffers...and spivs." In an arresting opening flashback, Tommy Hicks (Will Featherstone) is unfairly sentenced to death for desertion during the Great War, but escapes his fate when the firing squad deliberately misses him. Local rival Duggie Hammond (Josh Stanley), though, takes matters into his own hands and shoots Tommy through the skull, and a decades-long death feud is born, based as much on mutual class hatred as on this outrageous crime (the episode goes for full-on farce when it has the elderly sons of these two war vets engage in a ridiculous game of wheelchair jousting, complete with baguettes for lances). Samantha Bond has a terrific turn as the drugged-out wife of homosexual military buff, Malcolm Sinclair, a frustrated woman who finds a suitable mating sire with her older father-in-law (the absolutely marvelous Donald Sinden - one of my all-time favorites - who's wonderfully crotchety and harrumphing here), and sexual relief with Duggie Hick's grandson, Dave, played by Brian Capron (after making the mistake of thinking she's in love with him, rather than just having sex with this Hicks commoner for the "perversity" of it all, he spits out, "You bloody Hammonds think you're so superior," to which she icily responds, "Because we are."). Even Barnaby gets to be a little more ornery than usual here in Shot at Dawn, sneering, "Crack regiment, this," at the sight of the bumbling play troops who help dedicate the town's war memorial. Attending a later reenactment of a WWI battle that claimed many Midsomer young men during WWI, Barnaby cracks, "Now watch it all go to hell," when it's time for the phony pyrotechnics, before giving Jones a look of disgust when Ben admits to be moved by the staged heroics. Even better is Barnaby's whining to his wife Joyce to avoid going to the local pub with her, blaming his reticence on local reaction to his public appearance: "All the local loons come out of the woodwork and start to gibber at me." A classic moment for Barnaby (almost matched by Jones later on; when Barnaby spies Bond crying over the open casket of Sinden, he intones solemnly, "Dickens," to which Jones answers, "Munsters."). One of the more enjoyable, funny Midsomers I've seen in quite some time.
On the other hand, largely eschewing any laughs, Left For Dead is the first Midsomer episode I've seen that created some truly frightening scenes in its complex, ultimately sad story of child torture and abduction. The building of a highway overpass through a secluded section of Midsomer County sheds some unwanted light on a hermitical couple who are found dead in their cottage. This leads to a complicated backtracking detective story for Jones and Barnaby as it's revealed that childhood friends of Jones were involved in a horrific child torturing and murder incident...one where the victim actually survived and has come out of the shadows to kill. Mostly somber (with a few laughs generated by Ben's uncomfortable moments at his friend's wedding), Left For Dead moves through its downbeat story (the child torture scenes are uncomfortable) towards a dark, scary ending - a haunted house ending where Barnaby has to think fast in a foreboding, shadow-filled secret cellar before a hulking man/child bashes in his skull. The mystery's resolution is depressing, while menacing Harry Peacock's performance as severely damaged Patrick Bradley is remarkably poignant...and terrifying. Scripted by Michael Crompton and directed for maximum chills by Renny Rye, Left For Dead is a most unusual Midsomer episode: one that feels quite somber, one that feels not like a spoofy, delightful goof, but rather like a hard-edged, realistic, heartbreakingly sad thriller.
Here are the 3 (only 3? Really, Acorn Media?) episodes of the four-disc set, Midsomer Murders: Set 15, as described on the back of its slimcases:
Blood Wedding
Barnaby is torn between work and family obligations when the maid of honor at a high-society wedding is murdered just days before his own daughter's nuptials. The body count rises as the detectives sift through a tangled web of upper-crust affairs and servants' gossip. Barnaby races to solve the case in time to walk Cully down the aisle.
Shot at Dawn
A nine-decade rivalry between the Hammond and Hicks families turns violent after a dishonored soldier's name is added to the World War I memorial in Midsomer Parva. When the Hicks patriarch is shot dead, suspicion naturally falls on the Hammonds. As the investigation proceeds, however, it appears that the two families have much more in common than they believed.
Left For Dead
Already divided over the construction of a new overpass, the village of Dunstan is further shaken when psychic Lynne Fox discovers a reclusive couple brutally murdered in their home. Local boy DS Jones finds himself personally involved in the case when it turns out that his old schoolmates are keeping secrets about the death of one friend and the disappearance of another.
The DVDs:
The Video:
Acorn's transfers for Midsomer Murders never miss - superlative. The anamorphically enhanced, 1.78:1 widescreen transfers for Midsomer Murders - Set 15 look, as always, look very good: crisp, sharp images with nicely balanced color and no compression issues whatsoever (no pesky PAL conversion issues, either). The image is remarkably bright and clean.
The Audio:
The Dolby Digital English 2.0 stereo mixes for Midsomer Murders - Set 15 are more than adequate for these largely dialogue-driven mysteries. Discreet left-right directionality, with solid recording levels. Thankfully, Acorn Media is putting more and more subtitles on their U.K. imports - good news for some viewers who may have a hard time with those local accents. English subtitles are included here.
The Extras:
Okay, it's a very nice documentary from 2006. It runs 47 minutes, and it gives us interviews with the cast, Caroline Graham, and other mystery writers, discussing the inception and success of the Midsomer books and TV series. And that's fine. But it's not a substitute for the fourth episode that should be included on this set. The doc would have made a terrific bonus, had that episode been included. But it seems like a consolation prize now...and a particularly wasteful one, since it gets its own disc and slimcase (they could have easily slipped this on to another episode disc).
Final Thoughts:
It's difficult to get angry at Midsomer Murders: Set 15 because two of its offerings, Shot at Dawn and Left For Dead, are such startlingly good examples of the series' power to both amuse and mystify. However...only offering three episodes instead of the standard four seems miserly, with a substituted 47-minute documentary on its own disc making matters worse (see above). Fans will buy, but a rental of the two aforementioned episodes for casual viewers looking for some hilariously creepy British mystery fun.
---
Paul Mavis is an internationally published film and television historian, a member of the Online Film Critics Society, and the author of The Espionage Filmography.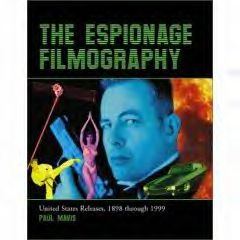 ---
C O N T E N T

---
V I D E O

---
A U D I O

---
E X T R A S

---
R E P L A Y

---
A D V I C E
Recommended
---
E - M A I L
this review to a friend
Sponsored Links
Sponsored Links