Mary Tyler Moore Show: The Complete Sixth Season, The
Fox // Unrated // February 2, 2010
List Price: $29.98 [Buy now and save at Amazon]
---
"So go ahead, dear - laugh for Chuckles."
Beaten to the punch for my Mary review by my buddy Stuart (it would have to be one of his standard excellent reviews). All I can say is it's a good thing the other characters are so funny...because the writers still don't know what to do with headliner Mary. Fox has released The Mary Tyler Moore Show: The Complete Sixth Season in a typically insulting bare-bones 3-disc set (at least they had the decency to list the episodes this time around). Considered by many fans (including Stuart) to be the series' best season, this sixth go-around certainly has its justifiably memorable episodes and bits (the widely-heralded Chuckles Bites the Dust is deservedly considered a classic moment from all of sitcom history), but the evolution of the Mary character stills feels...unfocused, with a major change in setting (a new apartment) and in her love life (she gets a serious, steady boyfriend...for two whole episodes), doing little to change the fact that The Mary Tyler Moore Show could very well by this point be called The Mary Tyler Moore Show Starring Everyone Else.
Just a little background on the show (you haven't seen it? Really?). 35-year-old single career woman Mary Richards (Mary Tyler Moore) is in her fifth year at third-rate TV station WJM-TV, in Minneapolis, functioning now as producer of The Six O'Clock News. Moving to Minneapolis after a failed relationship, independent Mary acquired a new family of sorts at her work and at her new digs...until her apartment friends, Phyllis and Rhoda, eventually moved away (for their own spin-off series). Feeling herself in a rut, Mary decides it's high-time for a change, so it's off to a new apartment in the downtown high-rise Riverside Plaza (and who knows - maybe some new wacky neighbors). At work, Mary's second family remains intact this year. Mary's gruff boss, Lou Grant (Ed Asner), often plays stern-but-loving father to like-a-daughter Mary, while Mary's deskmate, gloriously bald newswriter Murray Slaughter, acts like a waspish, naughty older brother, insulting idiot anchorman Ted Baxter (Ted Knight) at every turn. Man-eating cooking show celebrity, Sue Ann "The Happy Homemaker" Nivens (Betty White), is on the make for Lou...or any available man in pants, while ultra-sweet, slightly dim Georgette Franklin (Georgia Engel) pines only for on-again, off-again boyfriend Ted Baxter...whom she finally snags as her husband in this 1975-1976 go-around.
I wrote before about The Mary Tyler Moore Show (please click here to read my Season Five review), detailing the problems that arose from the transitional Fifth Season when the show finally lost its most crucial thematic element: the friendship between Mary and Rhoda (at the end of the fourth season, Valerie Harper spun off into her own hit series, titled appropriately, Rhoda). Perhaps responding to the remarkable ratings success of that spin-off (Rhoda bested its originator in the Nielsen's, grabbing 6th place for the 1974-1975 season, while Mary dropped out of the Top Ten for the first time since its premiere season), the creators of The Mary Tyler Moore Show must have felt that a major shake-up was needed, so out went Mary's charming, homey third-floor Victorian apartment and in came an anonymous chrome and steel high-rise flat that Mary promptly christens with (a prophetic, perhaps), "I...don't like it." Now, I don't want to make too much out of this (because I would imagine most fans of the show would concentrate on this season's excellent writing, instead), but that apartment switch was devastating to me back in '75...and it still doesn't work today. It was a cliché often toted out about TV back during its various golden periods, but familiarity was often seen as a desirable tone to achieve for a show to get viewers to come back week after week. Archie Bunker never left that grimy little house. The Jeffersons never moved on up again. The Bradys stayed in that sweet split-level. TV families and characters, for the most part, stayed put; we the audience like those familiar TV surroundings because they stay the same just like our own homes. So why would the producers move Mary out of that darling, quirky apartment that was so strongly identified visually with the show - the one we all came to love? I suppose one could make an argument that the move more suited the image of a young, single career woman's social and professional fluidity. However, there are little indications that maybe the producers wanted to recreate what happened at the old apartment, but just didn't have the desire to go through with the rebranding. Certainly the appearances of Mary Kay Place and Penny Marshall (twice) as a pair of nurses living next door to Mary would seem to suggest that the writers were trying out some new "Phyllises and Rhodas" for Mary to ping-pong off of in her new space (it doesn't work, and they're dropped without further mention). As well, almost nothing is made of the locale change itself. She's downtown now, in the middle of the things in the city, but the series isn't interested in creating any kind of context for that change of scenery, so the new apartment merely serves as new window-dressing - window-dressing that most viewers probably didn't want any more than Moore apparently did (that "I...don't like it," seems charmingly real as she faces the empty new set).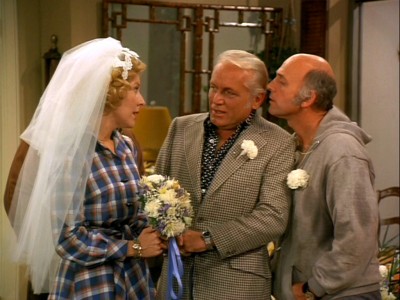 Add to that the fact that now her co-workers are stopping by all the time (since she doesn't have the requisite sitcom "whacky neighbor"), and those employee pop-ins could just have easily have happened at the old apartment. Before the move, Georgette peers around the third-floor Victorian and states to Mary, "This house sure feels empty without Rhoda and Phyllis," an indicator for some that the show is acknowledging it, too, is in a rut like Mary. But if anything, that line just points out the fact that the necessary camaraderie between Mary and her non-work friends is missing now...and something has to be done about it (for falling ratings, if nothing else). Presto-chango: Mary has a new apartment, and her boss and co-workers are over, seemingly, night and day (how entirely...Mary would it have been for her to try the new apartment, only to go back to the old one! If only....). This may seem like the most picayune carping, but I would imagine most fans prefer that old apartment, and the funny comings and goings associated with those first five seasons. Change the look of a show, and you change the audience reaction to it (at the very least, couldn't they have at least kept the orientation of the front door entrance the same - right-to-left, instead of the now left-to-right? It all just feels...odd and dark and cramped, somehow).
More disturbing than the apartment change is the fact that Mary still somehow seems to be getting lost amid all the spectacular showing-off from the talented supporting cast. Watching these final seasons of The Mary Tyler Moore Show, I can't help but view Moore as the equivalent of the fully-evolved Mickey Mouse in the Disney animated stable. Sweet, perky, cheerful, and above all, nice, it was no secret that the Disney animators and writers preferred to work on the Donald Ducks and the Goofys because there simply was more to mine from these flawed but energetic, hilarious characters. Mickey had become as much a corporate symbol as a legitimate character, and thus his image had to remain relatively sedate and pasteurized (in his later shorts, of course). Did the same thing happen to Mary Tyler Moore in her own show? What writer wouldn't rather concentrate on the endless comedic possibilities of the morose, volatile Lou Grant, or the outwardly 1950s picture-perfect, yet perversely sexual "Happy Homemaker" Sue Ann Nivens, or the quite insane, blubbering fool Ted Baxter, than sweet, perky, cheerful, nice Mary Richards? When the Mary character is front and center in a straightforward storyline, the punch of the series is somewhat muted. A good example is the two-episode arc (separated) of Mary's new boyfriend, Joe (poor talented Ted Bessell), in Mary Richards Falls in Love. Did the writers think Mary needed a steady, troublesome relationship to mirror the one going on with Rhoda (who, tellingly, makes a funny cameo during this episode, with her own Joe beside her in bed)? If so, it all falls distressingly flat, with Moore's and Bessell's scenes coming off like any number of countless other similar scenes from sitcoms old and new. Only when Moore is a linchpin to the various parts of the flywheel that have broken off to spin around the WJM newsroom, does she find opportunities here to really shine - and she is a most accomplished light comedienne (the Chuckles episode is a prime example: everyone else gets all the one-liners, but strategically-placed Mary scores the biggest laughs at the end). It's just a pity that a series called The Mary Tyler Moore Show couldn't maintain a steadier focus on its underutilized star.
Fortunately, the quality of the writing for the three supporting players - Ed Asner, Ted Knight, and Betty White - is matched only by their obvious aplomb in pulling off these hilarious, sometimes sad characters. Right off the bat, I noticed a marked increase of "Lou dealing with middle age and/or sex" episodes this go-around (could Asner's complaining about Knight stealing the spotlight have paid off?). The season opener, Edie Gets Married, is a wonderfully seriocomic outing for Asner, who has to deal with the fact that his ex-wife loves another man enough to marry him; Lou's past life with Edie, still faithfully held onto by Lou as a memory that could possibly come back to life, is truly, and irrevocably, over (the direction here during the wedding scene is top-notch). In Murray in Love (Gavin McLeod doesn't have much to do this season, really), Lou gets the chance to impart a little hard-won advice to the pining Murray, who's sure he's in love with the incandescent Mary ("That's just middle-age. I go through the same thing every time I see Joey Heatherton."). In the marvelous Lou Douses an Old Flame, prior to having yet another old memory proven wrong (an old flame from the war only wants money from him today), Lou gets to give Ted a toast during his post-wedding bachelor party ("He says it's his right as a stud," is Georgette's statement on the party), filled with believable regret and outright morbidity: "Here's to the girls of your youth. The girls of your dreams. The first girl you ever loved. To the things that might have been, and to the things that never will be...throughout your whole life...until you die," to which Ted hilariously rejoins, "I'm not drinking to that!" Lou's December/December relationship with man-eater Sue Ann (The Happy Homemaker Takes Lou Home), would seem to be a golden opportunity for some crass, funny sexual hijinx for White's beautifully perverse, funny creation, but in typical Mary Tyler Moore class, it turns out quite sad and quiet, with Lou telling Sue Ann "the treasure shouldn't do the hunting" (whether you believe Lou or not is another story). The Seminar is another exploration of the "sad, lonely Lou" whose time has passed by. Taking Mary to a seminar in Washington, D.C., Lou regales her with all his old war stories from the capitol - as well as priming her for the fun they're going to have when all his old buddies, the movers and shakers in the town, begin to return his phone calls. However...they never call. But in a quite satisfying turnabout, Lou gets the last laugh when he tells Mary about all the famous people that did visit his room while she was out, including President Ford and his wife Betty (who makes a shaky cameo here - big news in '76). Asner's even better in Once I Had a Secret Love, when a one-night stand with Sue Ann (how'd that happen after their first and final date?) becomes the secret that Mary blows to Murray (Moore is just...angelic when she first cries at Asner's believable coldness, telling her they're simply no longer friends, and then cajoles a smile out of him. There should have been so many more scenes like that for Moore by this point in the series). And finally, Lou suffers yet again in an old love, in Menage-a-Lou, when one-time girlfriend Charlene is in the picture again...with a younger boyfriend. That's a whole lot of middle-aged Lou Grant, falling in and out of love as he ponders the mysteries of lost youth and broken dreams.
Betty White's contribution to the series, just in its second year here, was obviously welcomed by the writers as they give her several plum episodes this go-around. While her entrances into the newsroom were teetering close to becoming hackneyed (Sue Ann enters, casts a lustful eye at Lou's office, makes a dirty remark, is countered by Murray suggesting she's a nympho before she makes a bald joke), White is given room to expand the humanity of the Nivens character without losing its bite. The Chuckles episode is great for showing Sue Ann as an equal to the guys, enjoying a laugh with Lou and Murry when straight-laced Mary won't allow herself to find amusement in Chuckles' death ("I don't know what you two are laughing at, but I'll take a chance it's something dirty."). White shows quite a range in the aforementioned The Happy Homemaker Takes Lou Home and Sue Ann Falls in Love (she's unusually good switching back and forth between Sue Ann the man-eater and Sue Ann the emotionally-damaged woman). Lest you think the writers are humanizing Sue Ann too much, What Do You Want to Do When You Produce? lets the mean Sue Ann come forth with a vengeance (giving us the classic still of Murray almost missing that cake when he plops Sue Ann down on it). White gives what may be her best line reading as Sue Ann in Once I Had a Secret Love when, after spending the night with Lou and anticipating much, much more, is asked by Lou at work, "Sue Ann, could you do me a favor?" to which she replies, "Well, maybe on my lunch hour" (this is the absolute essence of White's performance: outwardly Emily Post, inwardly Xavier Holland, the "Happy Hooker"). However, my favorite Sue Ann moment has to be during Mary's Delinquent, when, competing with Mary over getting a "Little Sister" to mentor, Sue Ann enjoys a double-feature of Shaft and Superfly, exclaiming to Mary, "Oh, it was wonderful seeing them sticking it to the honkies!" Classic MTMS moment.
There simply is no way for Ted Knight not to be funny, but unfortunately, the writers can't resist the temptation to "humanize" Ted Baxter even further this season (a result of Knight's carping about hating the character because he was so stupid?). In the hilarious Ted's Wedding, there's no denying the script is one of the best of the season (Murray feeding Ted his "lines" during the ceremony is great, but the writers top it with Ted unknowingly repeating Murray's final insult out loud), but the notion of marrying off Ted to Georgette only allows for the "cutesifying" of the character. And if Ted is too cute for words, that ameliorates all the awful (and awfully funny) things he says and does. Later, when Ted suffers from impotence (Not With My Wife, I Don't), low-sperm count, for God's sake, and adopting a kid (didn't they try that with Murray last season to zero results?) in Ted and The Kid, you know the writers are probably close to running out of things for Ted to do before they just start repeating themselves. Still, as I wrote in my Fifth Season review, when Ted Knight is "on," there's no one who can touch him. In Not With My Wife, I Don't, Ted tells his dream that includes a duck "disgracing" himself on his show that is...priceless for comedic build. And in Murray Takes a Stand, Knight tops all previous Ted Baxter sniveling with his astounding begging of, "Please! Please!" as he shuffles around the coffee table, on his knees, pleading with his co-workers to leave him out of their plan to quit WJM en masse (watch McLeod and on-screen wife Joyce Bulifant break character and openly laugh at Knight when they think they're out of frame). Of course, everyone gets some classic one-liners in one of TV's greatest single episodes, Chuckles Bites the Dust. Sue Ann's on-air special is entitled, What's All This Fuss About Famine?; while Murray offers a silver lining to the death of Chuckles the Clown, who, dressed as Peter Peanut, is stomped to death by a rogue elephant: "It could have been worse: he could have gone as Billy Banana and had a gorilla peel him to death." At Chuckles' funeral, Asner gets some remarkably funny reaction shots as he looks back at the snickering Mary, while Moore has never been better in first her laughter and then her believable grief-stricken sobs, for poor Chuckles. But for me at least, nobody could top Ted's admission of bias against Chuckles the Clown: "I was prejudiced against him just because his skin was different colors than mine." I don't know if sitcom writing (by Emmy winner David Lloyd in this case) gets any better than that.
Audiences, however (regardless of the quality of this season's writing), continued to abandon the series this sixth go-around, while they ironically bled over to prop up MTM Productions Rhoda and Phyllis. And the reason isn't very mysterious: the absence of ratings Godzilla, All in the Family, on Saturday nights. Leaving its comfortable Saturday night line-up where it had remained number one out of all shows for four straight years, the loss of All in the Family had a serious, debilitating effect on The Mary Tyler Moore Show's ratings, as well as the other CBS hits that had previously enjoyed inflated ratings due to the Norman Lear powerhouse. As soon as All in the Family left for Monday nights (where it boosted lead-ins Rhoda and Phyllis to 8th and 6th places, respectively), The Mary Tyler Moore Show and The Bob Newhart Show showed significant drops in popularity (The Carol Burnett Show held steady at a disappointing 29th). The Bob Newhart Show went from a healthy 17th to 26th, and The Mary Tyler Moore Show went from 11th in the 1974-1975 year, to this sixth season's year-end tally of 19th - a precipitous drop. Lead-in Doc was a non-starter, while even transporting over the previous year's fourth-rated monster hit The Jeffersons didn't help: it dropped a hairy 17 notches on a Saturday night that just couldn't generate the viewers without Archie Bunker. I've often read where the producers of The Mary Tyler Moore Show decided to end the series "while still on top" after the following seventh season, but considering what its ratings were by that last season, it was probably a decision they didn't have to make on their own.
The DVDs
The Video
The full-screen, 1.33:1 video transfers for The Mary Tyler Moore Show: The Complete Sixth Season look about on par with previous releases - not the greatest. While the original source material looks sound, with good color and relatively blemish-free prints, the authoring is inadequate, with compression and artifacting noticeable. Edge enhancement is also too heavy. Subpar presentation.
The Audio
The Dolby Digital English 1.0 mono audio track accurately reflects the original broadcast presentation (at least for most of us who first heard this show through those tiny little TV speakers). For the most part, the tracks are clean, with only slight hiss. All dialogue is crisply rendered. Subtitles in English and Spanish, and English close-captions are available.
The Extras
There are no extras for The Mary Tyler Moore Show: The Complete Sixth Season.
Final Thoughts
Many of the series' best episodes are included in The Mary Tyler Moore Show: The Complete Sixth Season disc set, including one of television's single greatest episodes, Chuckles Bites the Dust. Asner, Knight and White probably shine as brightly as they ever will in the series, but Moore is still left holding the bag, lost amid the sharper-written supporting players. And picayune or not, that apartment switch was the death knell for the series. I highly recommend The Mary Tyler Moore Show: The Complete Sixth Season.
---
Paul Mavis is an internationally published film and television historian, a member of the Online Film Critics Society, and the author of The Espionage Filmography .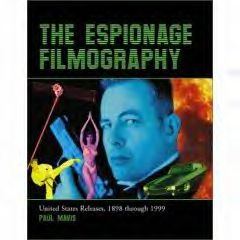 ---
C O N T E N T

---
V I D E O

---
A U D I O

---
E X T R A S

---
R E P L A Y

---
A D V I C E
Highly Recommended
---
E - M A I L
this review to a friend
Sponsored Links
Sponsored Links