Otley (Columbia Classics)
---
"I'm Gerald Arthur Otley, and I've had enough."
Delightful shaggy-dog spy story. Sony joins Warner Bros. in the direct mail-order business, printing on-demand DVD copies of their Columbia Pictures library catalogue with smashing results, based on the three titles I've received (watch for my reviews of The Mad Room and Jacqueline Susann's The Love Machine next...). 1968's scruffy comedy spy thriller Otley, starring Tom Courtenay, Romy Schneider, Alan Badel, Leonard Rossiter, and a host of wonderful British supporting actors, is first up, and it's a low-key gem directed and co-written by Dick Clement. No extras (not even a menu), but fans of 1960s British comedies and spy films will most definitely want to add the beautifully-transferred Otley to their year-end wish lists.
Notting Hill antiques scrounger and "five-finger discount" king Gerald Arthur Otley (Tom Courtenay) is in real trouble. With absolutely no money in his pockets, and an eviction notice from the landlord of his furnished apartment (after he sells-off everything in it, including the brass fittings, she gets back at Otley...by sleeping with him), he can't find a soul to put him up. Ex-girlfriend and lovely bird Lin (Fiona Lewis) is sympathetic, but new boyfriend Albert (James Bolam) isn't having any of it. A chance meeting at the pub, however, with sometime-acquaintance Eric Lambert (Edward Hardwicke), yields Otley a couch for Saturday night. Unfortunately, Eric was at the pub earlier that day to meet with Hendrickson (James Villiers), where an arrangement was made for the transfer of some sensitive information to the tune of £10,000--an unfortunate arrangement because Eric is subsequently zapped in his kitchen while a completely oblivious Otley wishes him goodnight out on the living room sofa before falling asleep.
The next thing Otley knows, it's Monday morning (he's lost an entire day), and he's laying in a field at the end of a runway at Gatwick Airport...with his shoes on the wrong feet. At the home of fellow antiquers Rollo (James Maxwell) and Jean (Phyllida Law), Otley discovers he's also wanted by the police in their inquiries into Lambert's death, right before he's hauled off to an abandoned railway station by two of Hendrickson's goons. Hendrickson wants to know what Otley knows, and mysterious beauty Imogen (Romy Schneider) is along for the ride, but it soon becomes apparent to completely confused Otley that he's is in way, way over his head in a dangerous game involving national security and assassination.
SPOILERS WARNING!
Coming out just a bit too late to gain much notice from either critics or ticket buyers during the "golden age" of espionage films, Otley, I would bet, doesn't have much name recognition today outside of dedicated spy/60s British comedy enthusiasts' circles. And that's too bad, because it's a charming little spy caper, featuring one of Tom Courtenay's more breezy, funny performances, excellent location work in and around London, a fine supporting cast, and quite a few amusing set-ups from well-regarded British comedy scribes Dick Clement and Ian Le Frenais (The Likely Lads). Certainly by 1968, the peak of the spy craze, initiated almost entirely by the overwhelming success of the Bond films, had already come and gone. 1965's Thunderball broke international box office records (it may still be the most successful Bond film of all time, if its b.o. is adjusted for inflation), becoming the most financially successful example of the spy film subgenre that emphasized out-sized sex and violence amid colorful locales, while the critical success of that same year's magnificently dour, downbeat The Spy Who Came In From the Cold marked for many the best example of the responding "realistic" subgenre of espionage films that emphasized the dirty, squalid, and existentially bleak realities of the spy game. By 1968, however, international movie houses had been absolutely glutted with both kinds of product for over five years, and increasingly, ticket buyers were becoming more and more blasé about the almost weekly releases of the film studios' spy pictures. Even Sean Connery's "biggest" Bond ever, 1967's You Only Live Twice, pulled in a disappointing b.o., no doubt hurt by the big success of Columbia's massively hyped Bond rival earlier in the year: all-star comedy spoof Casino Royale (and when a spoof become as big a hit as the films its spoofing, that can be the first inkling that a genre is on the wan with ticket buyers). 1968 saw the cancellation of TV's The Man From U.N.C.L.E. and I Spy, the 1st official "retirement" of Sean Connery from the role of James Bond, no third installment of the once-popular Flint spoofs featuring James Coburn, as well as the financial failure of Tom Courtenay's other espionage film for 1968, A Dandy in Aspic, among other signs that the public was tiring of cloak-and-dagger mischief. Is it any wonder, then, that a funny little spy flick like Otley got lost in the shuffle?
Perhaps Otley failed to find an audience because it refused to telegraph its intentions. It's a sly little comedy thriller, refusing to come right out and state it's either a serious spy film with bits of comedy, or a full-bore satire with some late-60s violence. Beginning like Alfie Meets Goldfinger, the opening trucking shot of Courtenay just walking along the Portobello Road Market in Notting Hill, with the bluesy/countrified harmonica theme song playing in the background and the pedestrians obviously recognizing Courtenay the actor (he openly acknowledges them and smiles), seems a million miles away from Connery's Bond or Caine's Palmer or Burton's Lemas. The director doesn't seem to mind the shot is totally blown by the pedestrians, and neither does Courtenay, so we think Otley might be a different kind of spy film altogether. Yet then...the director gives Otley his own graphic logo as the title card comes up, which seems quite Bondian for a "kitchen sink" spy hero. Indeed, as the film progresses, we see the scripters and director see-saw back and forth with their influences, emphasizing the scruffy grottiness of Otley's condition (his stripped apartment and less-than-glamorous landlady conquest--who's using him sexually--seem more like something out of Look Back in Anger rather than From Russia With Love), against the occasional graphic outbursts of violence (Lambert's assassination is realistically physical as he's thrown back against a wall, while the final demise of Hendrickson is a marvel of surreal violence, with his whitewashed face a kabuki mask of terror as his head is sickeningly run-over by a coach wheel with a resounding, "crrrruuunch!").
Director Clement subtly fools the audience all along as he ever-so-slowing tries to convince us that monumental screw-up Otley is growing into his role as a spy...when we should know damn well he could never cut it as a secret agent. Made to look physically like a fool (shoes on backwards, sporting half a beard at one point, grimy clothes), Otley is supremely unimpressive as a man of action, unable to point a gun correctly, or drive a Jag (Schneider can't help but laugh at him stalling out the car, as an impatient, snotty lorry driver stuck behind Otley calls him a "great fairy"), or run away properly from chasing goons (he refuses to relinquish his bacon sandwich as he awkwardly scrambles away, until he unknowingly takes refuge in an anti-white "black power" parade, giving up to the goons out of sheer amazement at his bad luck--a brilliant moment). Openly admitting he perforated his ear drum to skip out on his National Service, while taking pride in his joke about winning last year's "Duke of Edinburgh's Award for Lethargy," sticky-fingered Otley doesn't even have the fortitude of ex-thief-turned-spy Harry Palmer, who at least knuckled down and took his espionage missions seriously.
But then...spying really isn't the point of Otley. We're never given a clearer picture of Otley's antiquing friends' espionage unit other than they operate with government approval to "mislead" people with false information--a pretty good summation of Otley's goals, too. "The whole world's bent," as assassin Rossiter states, sums up the movie's existential outlook, while Schneider's half-hearted assertion that her spy ring is like "the cowboys next to the Indians," is meaningless. Indeed, if one took Otley's spy plot seriously, the whole purpose of the final dénouement, the act that gets Otley so excited when he feels he's finally a bona fide spy--the revelation that soon-to-be-knighted Badel is a traitor--is marvelously beside the point...because Otley forgot to turn on the secret tape recorder. Badel gets his knighthood, and Otley loses out on Schneider. Spying doesn't matter in Otley, because Otley is a colossal f*ck-up right to the end.
Humor is more central to Otley's mission, and yet it's just as oblique and sideways-funny as its spy antics are off-center. Veteran comedy writers Clement and La Frenais (working off of Martin Wadell's novel) drop in lines and amusing bits with charming off-handedness, refusing to telegraph the jokes. While a handful of bits are more direct (Born Free plays on the radio during Otley's captivity; Clement takes time out for Courtenay to specifically make fun of ever-chipper Julie Andrews, featured on a Thoroughly Modern Millie poster in the London tube), most of the film's best jibes come out of left field. During the first act's party sequence, after Otley dismisses all that "Spanish dancing" when Lin drearily contemplates discussing Antonioni, two anonymous partygoers plant punchlines for the audience without the benefit of any set-ups ("He's either dead or terribly well--I can't remember," is my favorite). As we wait for Otley to gather his bearings at Gatwick Airport, two airline clerks grope each other (under a sign that reads "Gatwick Handling") without any purpose or backstory. As Otley and Imogen escape from the villains through a posh private golf club, the real reason for the chase is revealed at the very end: one of the players sniffily asks a goon, "Are you a member?" Clement sets us up to think that Courtenay is going to take out his kidnapper assassin Rossiter...only to have the hitman spray him with a hose while we learn he was teaching Otley about armed combat (so unimpressed is he with any potential threat from the novice). And not ignoring the de rigueur slapstick scene required in every "swingin' London" comedy, Clement orchestrates a car chase out of Otley's driving test (funny idea right there), that includes some hilarious sight gags, including a line of moped-riding coppers who spastically convulse all over themselves when Otley cuts them off.
Aiding this delightfully off-kilter comedy is a superlative cast of familiar British faces. Geoffrey Bayldon has just one scene as Inspector Hewett, but he's a stitch as an overly-polite, even embarrassed police inspector who treats murder suspect Otley like a visiting dignitary, once he susses out that Otley "belongs" to the secret service. James Cossins is, as usual, up-tightly amusing as the terrified driving instructor, while Leonard Rossiter plays it very low-key (and very well) as the seemingly kindly assassin. And one of my all-time favorites, Freddie Jones, steals the show as Philip Proudfoot, who executes bitchy little turns and florid little catwalk spins on his toes as he camps it up something awful as a gay gangster (when he improvises a slight flick of his finger on Otley's dandruff-covered collar, saying, "I know a good man for that," I hit the floor). Romy Schneider unfortunately is left out in the cold here, given almost nothing to do in the film that sticks with the viewer. But there is one brief profile shot of her confidently leaning back in bed, her legs erotically sheathed in leather boots, that goes a long way towards explaining her popularity with international movie audiences back in the 1960s. Courtenay's performance should please those who only know him from super-serious fare like The Loneliness of the Long-Distance Runner or his humorless turn in Doctor Zhivago. Here, he's consistently charming without ever being broad or obvious in a performance that could have degenerated into an obvious comedic romp, and his enthusiasm is infectious, providing the out-of-left field Otley with yet another unexpected delight.
The DVD:
The Video:
In a word: terrific. Although a few minor scratches popped up once or twice, the anamorphically-enhanced, 1.85:1 widescreen transfer for Otley made the film look like it was shot yesterday. Yes, some scenes are a bit dark or grainy, but those are the result of the "look" of this kind of film from that time period (and this subgenre). Otherwise, the image is razor-sharp (it really pops off a big monitor), with nicely-valued color (no fading that I could detect) and no compression issues. Quality of the transfer is always a big, big consideration for collectors when they're thinking of buying these print-on-demand titles, but no worries here. Nice one, Sony and Columbia.
The Audio:
The English 2.0 stereo audio track is loud, with a heavyweight recording level that was frankly most welcome, after hearing so many mis-mixed and under-recorded transfers. Directionality isn't prominent, but the sound effects are booming. Nice again, Columbia.
The Extras:
Unfortunately, no extras--not even a menu. You put the disc in, the FBI warning comes up, and the movie starts. And when the movie ends, the disc shuts off. Can't get any more bare-bones than that (I do like Columbia's policy of using the full original poster artwork for the DVD case cover--vintage film fanatics love that).
Final Thoughts:
Off-center and delightful, Otley is a scruffy little gem that combines 1960s British spy shenanigans with a 1960s British humor--to equally memorable effect. Tom Courtenay is loose and funny playing a charming slacker who stumbles unwillingly into espionage, and director/co-writer Dick Clement, in his feature film debut, keeps things subtle and slightly strange, consistently pulling the rug out from under viewers' expectations. A marvelous "forgotten" spy spoof that hopefully will get its due now that it's more widely available through Sony's Columbia Classics direct mail-order service. I highly, highly recommend Otley.
---
Paul Mavis is an internationally published film and television historian, a member of the Online Film Critics Society, and the author of The Espionage Filmography.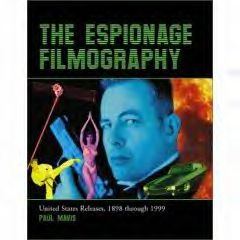 ---
C O N T E N T

---
V I D E O

---
A U D I O

---
E X T R A S

---
R E P L A Y

---
A D V I C E
Highly Recommended
---
E - M A I L
this review to a friend
Sponsored Links
Sponsored Links