SpongeBob SquarePants - Season Six, Volume 2
List Price: $29.99 [Buy now and save at Amazon]
---
Nickelodeon and Paramount have released SpongeBob SquarePants - Season 6, Volume 2, a two-disc, 23-episode collection of SpongeBob shorts from the 2008-2010 season...which have all been released already on various discs (so double-dipping isn't necessary here). Having already reviewed the stand-alone discs that included all of the toons and bonus features found in this second volume (Truth or Square, Viking-Sized Adventures, Spongebob's Last Stand, and Triton's Revenge), I'll port over my thoughts from those reviews. As to the quality of these SpongeBob shorts (increasingly a consideration at this point), some genuinely funny titles appear, but the overall feeling is one of "hit-and-miss"...which is par for the course for SpongeBob at this later stage of the series. Let's look at the toons included in this set, as they're ordered on the discs.
DISC ONE
Porous Pockets finds SpongeBob and Patrick discovering a huge pearl (they hear the giant clam shrieking as it tries to cough it out)...which they naturally think is a volleyball. A pawnbroker pays SpongeBob truck-loads of money for it, but with SpongeBob's questionable intelligence, his capricious spending lands him with a mansion and no friends. I was hoping that Porous Pockets would provide some good gags about SpongeBob spending like a drunken sailor, but outside of the hilarious caricature they draw of SpongeBob-as-millionaire (he looks like one of those effete, rich snobs from 1930s Hollywood films, with an Adolphe Menjou mustache and pursed, bee-stung lips above his cravat and sartorial finery), Porous Pockets can't seem to summon up too much energy for what should have been a natural set-up. Choir Boys is a little stronger. Squidward, ready for his try-out as the lead soloist for the Bikini Bottom Men's Choir, is waylaid throughout his journey by who else, SpongeBob. Constructed similarly to a typical Looney Tunes short (some of the visuals reminded me of the Roadrunner and Coyote toons), Choir Boys' simplistic plot--Squidward needs to get somewhere, SpongeBob is tying him up, and then the twist: SpongeBob beats him at his own game by snagging the lead soloist position--allows the toon to stay trim and focused, with plenty of good gags (I particularly liked the beatific SpongeBob, carried aloft by supplicant jellyfish and then dropped down like a porous Jesus, hitting a perfect high note in front of the adoring choir).
Krusty Krushers finds Patrick and SpongeBob being tricked into wrestling two huge monsters so Mr. Krabs can pocket the one million dollar prize money. Reminiscent of countless wrestling toons (Bugs Bunny still owns the subgenre), some funny sight gags (SpongeBob and Patrick turned into a paddle ball), and the boys general air of enjoying their sadistic punishment, counter the absence of any story or build. The Card takes its time getting going, setting up Patrick as the owner of a rare, valuable Mermaid Man and Barnacle Boy trading card that SpongeBob desperately wants. Once Patrick promises SpongeBob the card...but only after he's kept it for the day...does the toon start to work, with Patrick's various abuses to the card quite funny (scraping his dirty outdoor grill was probably the best).
Dear Vikings, another in a line of movie genre spoofs the writers of SpongeBob seem to enjoy plugging their insanely sunny character into (such as the successful spaghetti western satire, Pest of the West, and the not-so-successful gladiator send-up, Spongicus). Here, Mr. Krabs has devised an incredibly cheap promotional gimmick for The Krusty Krab: order the Viking-sized drink cup (which is the same size as every other cup), and the customer gets to try on a beat-up, 10-year-old cardboard Viking hat he found in his attic. SpongeBob, discovering he knows nothing about Vikings (and getting little help from a contemptuous Squidward, who makes up ridiculous lies about them), decides to write the marauders a letter, which miraculously finds its way to the Viking lair, high in the mountains. There, Gordon the Viking (the unrecognizable voice of Ian McShane) decides to visit SpongeBob...smashing and looting The Krusty Krab and kidnapping Patrick, Squidward and SpongeBob according to the Viking code of "redecorate, appropriate and liberate." Once on the boat, SpongeBob gets bored with the Viking way of life until he patches a hole in the hull with his body. And...that's...it. Surely one of the writers for Dear Vikings has seen a Viking film? There are countless clichés of the genre to exploit here, with enough spoofable material for a hundred good sight gags. But in spite of the agreeably silly SpongeBob way the material is set-up, Dear Vikings just lays there. The Viking destruction of The Krusty Krab is over too quickly, and then, once on their boat, nothing happens. There are one or two desultory gags about throwing flaming shields and Squidward getting catapulted off the boat, and then SpongeBob uses his sponge body to stop a leak (a weak gag we've seen numerous times before), and the short just ends, as if the scripters ran out of their allotted screen time. The comedic possibilities with Vikings and Viking films would seem abundant (just as they were for gladiator films in the equally underdeveloped Spongicus), but you'd never know it from Dear Vikings.
Ditchin' is far more successful in creating some movement and energy for its promising premise, even if the sometimes amusing gags could have been stronger. SpongeBob's and Patrick's favorite superheroes, Mermaid Man (voice of Ernest Borgnine) and Barnacle Boy (Tim Conway), have a new book out, and they're going to sign copies for their fans at the Bikini Bottom book store. Unfortunately, SpongeBob has boating class in the morning, and he never skips school. Patrick, however, comes up with an idea for SpongeBob: just tell Mrs. Puff he has to go to the bathroom, and then ditch class; get the autograph, and slip back into school before anyone knows. Naturally, Patrick and SpongeBob get sidelined heading back to school, before SpongeBob learns that all criminal behavior begins with skipping school. SpongeBob's twisted logic in denying himself relief in going to the bathroom the night before school (to make his request for a potty break more believable) is classic SpongeBob comedy (his subsequent leg-crossing fits in class are great), while the later dust-up between badminton opponent Dale and Johnny Law also fits in with the frequent SpongeBob riffs on campily square delinquency hijinks (I love the cop holding up Dale's "Quasi-Gummy Chewy Candy Fish," and spitting out, "Is this how you have fun? Eating your own kind? Scum like you make me sick!"). But more could have been done with the events that sideline the duo on their way back to school.
Pineapple Fever promises a pressure-cooker situation for SpongeBob, Patrick and Squidward as they're confined in SpongeBob's home, with a raging storm threatening outside. There's a beautifully sick joke when Squidward rips off a strip of skin when he's trying to pluck his eyebrow, courtesy of a perfectly-timed hammer blow next door by Patrick (they top the gag by letting Squidward smack his head on the toilet), and SpongeBob has one of his celebrated "annoying-to-the-10th-power-squared" moments when he lists--veeeeerrrrry slooooooowlyyyyy--all the cozy things they're going to do during the storm, like play board games, and drink cocoa, and watch TV. Patrick ages 60 years from excess brain activity (trying to figure out where the last piece of the jigsaw puzzle goes), and SpongeBob gets to affect a hilarious Communist bloc border patrol uniform--complete with a little Checkpoint Charlie barbed wire hut--to keep out Squidward when they play his "leave me alone" game, "Boundaries." All of this culminates in a bad case of cabin/"pineapple" fever, with everyone scrabbling around for food, but unfortunately, that final scene is far too short for the satisfying pay-off we want (I love SpongeBob screeching like an rabid monkey). I thought Cave Dwellers might be a solid SpongeBob entry with its energetic opening. Plankton discovers Mr. Krabs' secret hiding place for the Krabby Patty formula, and in an effort to tunnel under the restaurant to get it, discovers a beautiful underground cavern with hideous, Time Machine-like Morlocks ready to be whipped into submission (the writers yet again get their kicks by letting Plankton use that bullwhip). But the short quickly deteriorates into a one-joke premise of Krabs and Plankton tunneling under each other, with both alternately crashing through the soil. This plays more like a try-out for a SpongeBob video game (as well as that old Dig Dug arcade game), than an actual short, and the laughs suffer for that design.
Grandpappy the Pirate has almost no gags when Mr. Krabs' grandpappy comes to visit, expecting the restaurant owner to be what else, a pirate (the only good joke is when Grandpappy spots a sea monster: his granddaughter, Pearl). Cephalopod Lodge also suffers from a paucity of good sight gags, which shouldn't be the case with a natural set-up like SpongeBob getting Squidward kicked out his secret lodge (shouldn't more have been done inside the lodge, with bits about the rituals and initiation rites?). SpongeBob and the gang in chicken suits is funny - but that shouldn't be the best gag in the short. Shuffleboarding wastes the appearances of Borgnine and Conway, getting only minor laughs with the boomeranging "mermarang," and their "Wonder Twin powers" ring trick. And finally, Professor Squidward plays all too much like a retread of numerous other "SpongeBob-in-class" shorts, with curiously few if any jokes or sight gags in what should have been at least a by-the-numbers effort.
DISC TWO
Pet or Pests is one of the more gloriously disgusting SpongeBobs I've seen (and I like them like that). During a game of leap frog, SpongeBob and Patrick come across "Mr. Wormsley," a grotesque, quivering worm that SpongeBob brings home. Gary doesn't like him ("Mr. Wormsley" barks at him), and things get worse between the pets when "Mr. Wormsley" gives birth to a handful of absolutely repulsive babies - an act that causes Gary to kick "Mr. Wormsley" out of the house. Now it's up to SpongeBob to care for the babies. SpongeBob toons always score a touchdown when they go for the gross-out, and Pet or Pests delivers with those revolting, nauseating worms (the animators turn up the stomach-churning quotient by having the babies always lolling uncontrollably back and forth, their eye goggling at nothing, until they hideously screech or vomit on someone--quite vile...and hilarious). Komputer Overload, a Plankton headliner (always a favorite), has the evil little sea creature suffering sagging sales at The Chum Bucket, while enduring more withering sarcasm from his computer wife, Karen (they could have their own sitcom). Deciding he can return to past glories and make new robots to help him get the Krabby Patty formula, Plankton creates some hilariously inept robots (I like the TU1 19A Kompu-Matic...which is a toaster) in the hopes of smashing The Krusty Krab. Some great stentorian line-readings for Plankton ("Oh, yeah! I don't need you! I'll show you, woman!"), along with a memorable, hilarious action film one-liner ("Bring on the boom-boom!"), but the writers really shouldn't have built up our expectations of Plankton's giant zord...and then not let him use it. Unusually good sound effects on the active audio track for this fun toon.
Gullible Pants is yet another variation on "SpongeBob screws up at work" theme. This time, he's left in charge of The Krusty Krab for all of 15 minutes (while Mr. Krabs gets an embarrassing manicure), an act of reluctant benevolence on Mr. Krabs' part that sends SpongeBob into orbit on the trail of rainbows. Of course, SpongeBob messes up by listening to terminally bitter Squidward, who manages to convince SpongeBob to dirty-up the Krab (some good, gloppy scenes with customers covered in slime). Overbooked is a clever, energetic entry, with SpongeBob overcommitted to three events all on the same night (Sandy's unveiling of her new invention; putting together Mr. Krabs' telescope at his house; and Patrick's birthday party), resulting in SpongeBob running around in a state of panic, trying to be a good little overachiever (a dependable laugh-getter for the character). SpongeBob gets naked in this one (always amusing), but Overbooked has one of the single funniest sight gags I've seen in a SpongeBob when, after forgetting to buy Patrick's cake, he takes the last one available. The salutation written on the cake? "Sorry about the scabies." Classic. No Hat for Patrick, centered around Patrick's desire to get a job at The Krusty Krab just so he can wear one of the employee hats, succeeds not only because of the droll storyline, but also all the pratfalls Patrick suffers. Once Patrick earns the right to wear one of Mr. Krabs' hats, he immediately starts to fall down, with Mr. Krabs dubbing him "The Falling Fool" (love that moniker), and charging money for people to watch Patrick take a header. The toon builds nicely to its logical conclusion (people eventually get bored, so Mr. Krabs has to up the ante, eventually having Patrick fall off a high dive into spiny sea urchins), with a neatly observed wrap-up: the tiny little hat was just heavy enough to make barely-stable Patrick fall over. A clean, neat, funny little SpongeBob. Toy Store of Doom takes a classic childhood fantasy-- who didn't want to get locked in overnight at the local toy store?--and twists it humorously around the SpongeBob conventions. Of course, the minute SpongeBob rebels or does something naughty, he pays for it, and sure enough, the minute the lights go out, little chickens SpongeBob and Patrick start to freak out. Patrick activates the flashlight in his head (until the batteries go dead) to see who is making those strange noises in the store, but eventually, SpongeBob decides to meet the enemy head-on...by dressing up like Rambo, complete with containers of blowing bubbles on his ammo belt, and liquorice whips for ropes. A silly SpongeBob that kids will particularly enjoy.
The Clash of Triton (a re-name of Neptune's Party) is one of the more sorry examples of the later SpongeBobs I've seen, with a too plot-heavy storyline, and a surprising paucity of good gags. King Neptune (John O'Hurley), turning 5,000-years-old on his birthday, lays in his bed, too depressed to do anything other than watch daytime TV. Sad over his estrangement from his son, Triton (Sebastian Bach), the King may feel better when he attends his birthday dinner at The Krusty Krab, arranged by his wife, Queen Amphitrite (Victoria Beckham). Of course, SpongeBob blows it by mentioning the absence of his son from the party, wherein he decides to bring the feuding father and son together. Although there are a few, isolated funny sight gags here and there (SpongeBob in drag is always good for a laugh, or Neptune on his other throne, complete with toilet paper roll, or the brief shot of the spectators with shards of glass in their eyes and faces), The Clash of Triton spends way too much time on exposition, setting up the short's premise, while skimping on what should have been a priority: the jokes. SpongeBob is barely in it (always a mistake to make him a secondary presence), while the vocal...ahem, "talents" of Victoria Beckham are to put it bluntly, the only truly laughable thing in The Clash of Triton. As for the painfully unfunny Triton character, suffice it to say: can SpongeBob and every other cartoon in the world please retire the Spicolli-inspired "surfer dudes" from their repertoire of clichéd characters? It's enough already. As disappointed as I and my kids were with The Clash of Triton (my nine-year-old yawned and said, "That's it? Not funny," when it was over), you don't need to take my word for it; just listen to the two fish spectators--a SpongeBob staple--who dismissively comment, "This is a rip-off!" and "Things just got lame again!" as the short progresses. They know what's what.
Much better as far as gags go, but ham-fisted when it comes to its obvious, overblown message, Sand Castles in the Sand takes a simple premise--Patrick and SpongeBob go to the beach--and gets quite a bit of mileage out of that basic framework. Good bits include Patrick ripping off his face in anticipation of going out, and SpongeBob annoying everyone on the bus ride, and I particularly enjoyed the "small plastic disc that you can throw" gag. But once you see where the short is going (right into familiar Dr. Seuss Butter Battle territory), it's only a matter of time before a mushroom cloud appears for our little subliminal message for the day. I don't watch SpongeBob for a message; just make me laugh and entertain me. Stick your message, SpongeBob. Shell Shocked works much better because it expertly escalates its destruction gags. SpongeBob breaks Gary's shell (some good gross-out shots of Gary's soft, shelled body), so it's off to Angry Jack's Shell Emporium (voice work of Dee Snyder), who has a hilarious TV commercial parody of all those frenzied "madman" pitchmen, where he tells the viewer not to bring the kids, and clues them into why he's so angry ("The wife's gone for good!"). Naturally, SpongeBob starts breaking every shell he sees, starting slow before he's running across rows of them, singsonging, "Why...can't...I...stop...breaking...shells?"--a great bit.
Chum Bucket Supreme is a solid Plankton entry (he's the only secondary SpongeBob character who can anchor his own short) premised on, what else, trying to get more customers into The Chum Bucket (or as he later calls them, "doo-doo dunderheads"). Big laughs come from Plankton pretending to eat his own chum, from his rear-end-shaking dance (always funny), Patrick having a brain emergency (his "Department of Thoughts" catches on fire after he tries to think too hard), and always a SpongeBob showstopper: customers barfing into buckets. Any SpongeBob short that references A Face in the Crowd is a winner with me. And finally, continuing with another Plankton entry, Single Cell Anniversary finds Plankton having to give his computer wife, Karen, an anniversary gift (which he forgot), or else he won't get the present she got for him: the Krabby Patty formula. I don't know what's funnier: Plankton's speech about the "stench of failure" on him, or his screaming, "Get your hands off my wife!" when SpongeBob bangs on Karen's keyboard.
The DVD:
The Video:
As usual with these SpongeBob SquarePants DVDs, the full screen, 1.33:1 video transfers for the shorts look terrific, with incredibly bright colors and a super-sharp picture. There were no big compression issues to speak of; edge enhancement is acceptable.
The Audio:
The Dolby Digital English 2.0 stereo audio tracks are perfectly acceptable here, with appropriately loud recording levels and some discreet directionality. All dialogue is cleanly and crisply rendered. Close-captions are available.
The Extras:
Wouldn't some new extras, never released on DVD, help sell these season boxed sets--particularly if the toons have already been out on stand-alone disc releases? The same piddling extras from SpongeBob's Last Stand and The Clash of Triton are included here. Bollywood Bob, a music video in Bollywood style, runs 1:52, but since it only features the cast handing off the shape of SpongeBob back and forth, and not the actual character, it seems...incomplete. Much better is How To Make SpongeBob SquarePants, running 5:20, that shows you how to take a yellow sponge and some construction paper, and make your very own SpongeBob doll. We tried it, and my little kids loved it. Great extra. Two Clash of Triton shorts, SpongeGod and Neptune's Origins, each run less than two minutes, and are hardly worth anyone's time--they're certainly not good come-ons for buying this new set.
Final Thoughts:
There are solid entries here for this second volume of Season Six SpongeBob SquarePants toons. Choir Boys, Pet or Pests, Overbooked, Shell Shocked, and three Plankton headliners (Komputer Overload, Chum Bucket Supreme, and Single Cell Anniversary) all delivery steady laughs...but I'm not sure they're on a par with series' best entries like The Splinter, Slide Whistle Stooges, Boating Buddies, and The Slumber Party, all of which were featured on the first volume of Season Six toons. I'm recommending SpongeBob SquarePants - Season 6, Volume 2 for the serious SpongeBob fan (it will make a pretty little stocking stuffer for Christmas), but casual admirers may want to rent first.
---
Paul Mavis is an internationally published film and television historian, a member of the Online Film Critics Society, and the author of The Espionage Filmography.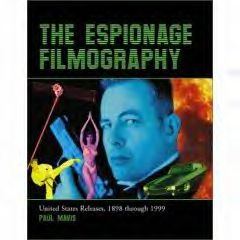 ---
C O N T E N T

---
V I D E O

---
A U D I O

---
E X T R A S

---
R E P L A Y

---
A D V I C E
Recommended
---
E - M A I L
this review to a friend
Sponsored Links
Sponsored Links