SpongeBob SquarePants: Legends of Bikini Bottom
List Price: $19.99 [Buy now and save at Amazon]
---
At least you can give them credit for a new marketing angle. Nickelodeon and Paramount have released SpongeBob SquarePants: Legends of Bikini Bottom, a skimpy collection of only six new shorts that apparently haven't been broadcast yet as part of either Season 7 or Season 8 (at least according to what I've read). That's a departure from most of these stand-alone releases that include previously-broadcasted episodes. I suppose that "newness" factor might pique the interest of fanatical SpongeBob lovers who want anything SpongeBob-related before anyone else. However, the hit-and-miss quality of these few shorts unfortunately is "par for the course" for these later SpongeBob efforts. So...buyer beware.
I've written quite a few reviews for SpongeBob, and it's been pretty clear for years now that as the series wears on, the success of the episodes varies greatly from entry to entry--and with SpongeBob, the only measure of success must be whether or not an episode makes you laugh. The last stand-alone release I reviewed for the show, SpongeBob SquarePants: 10 Happiest Moments, was a knock-out...but that's because it featured selections from the earliest, best seasons of the series. SpongeBob SquarePants: Legends of Bikini Bottom is all-new, and therein lies what has becoming increasingly routine: haphazard quality. Some are mildly amusing, and others blow their promising set-ups. Let's look briefly at the six here.
SPOILERS ALERT!
Beginning, as do all the shorts here, with a filmed insert of a book, The Legends of Bikini Bottom, opening up to reveal a screen with the episode's title card on it, The Monster Who Came to Bikini Bottom has an amusing premise, but it fails to deliver the goods right when it's getting truly funny. Adding to his rubber stopper collection, Patrick pulls the plug on a can of toxic waste, only to discover while he's laughing at his snow globe that he's created a huge, horrific monster that becomes his equally dimwitted friend. Once their playtime becomes violent, SpongeBob realizes too late things are getting out of hand. The Monster Who Came to Bikini Bottom starts off quite good, with some funny bits with Patrick and the monster establishing a brain-dead rapport (laughing over a snow globe, smelling each other's arm pits), which seemed to kick into high gear when the monster starts throwing around houses for fun. That set-up had a nice, manic quality to it as Patrick continues to obliviously laugh, and SpongeBob panics. But like a joke with no punch line, The Monster Who Came to Bikini Bottom craps out at the end, with no payoff: the cops come and the monster walks off--a major let-down. Welcome to Bikini Bottom Triangle has exactly the same problem. Discovering that items from their houses are missing, SpongeBob, Patrick and Squidward discover Mr. Krabbs is missing, too. An eerie fog settles on Bikini Bottom, and the siren song of the mermaids is heard again, and soon, everyone is sucked up into "the sky" (which is somehow still underwater...), where the gang discovers that Valley Girl mermaids are using a huge vacuum to suck up things to keep them from getting bored. I'll admit that the discovery of the mermaids as shallow, snotty little Paris Hilton-wannabes was pretty amusing, as well as their desire to go to that strange world they've never encountered before: the mall. Yet again, though, there's no payoff. The story just...ends, without using the good premise for a satisfying wrap-up (criminally, we don't get to see annoyingly funny Pearl take the mermaids to the mall--isn't that the whole point of the episode's central joke?).
The Main Drain is far more successful in getting some solid laughs out of a story we all knew when we were kids: if you swam in the ocean, and found the "main drain plug," don't pull it. Of course, Patrick and SpongeBob, upon hearing about this legend, go immediately in search of the drain, much to the horror of Mr. Krabbs and Plankton. Lots of funny bits here, including the opening Krusty Krab segment where SpongeBob breaks off his nose from freezer burn, and uses part of his tongue as a sponge to clean off the filthy grill (I love those disgusting close-up shots, reminiscent of Ren & Stimpy). Old Man Jenkins, a "geezer" who supposedly knows everything, gives a succinct, "I have no idea," when asked where the drain is, and best of all, the second Patrick finds the plug, he immediately states, "Let's pull it," after all the dire warnings. That's the essence of a good SpongeBob joke, and the scripters make it even better when they have SpongeBob waver in the face of Patrick's insane logic. A solid entry. Trenchbillies, the next episode, offends me--but not because of the stereotypes of Southern white yokels on grotesque display here. Personally, I love that stuff; I'm secure enough in my background to find such parody highly amusing (sign me up for Ma and Pa Kettle, Judy Canova and Hee-Haw any day). What bothers me is that shows like SpongeBob show not the slightest compunction in ripping apart that particular group, but they wouldn't dare do it to any other. It's essentially safe, gutless bravado. Still...it's pretty funny safe, gutless bravado. SpongeBob and Patrick are out jellyfishing, before they fall into a deep trench and smash a trenchbilly's outhouse. Before you can say, "purty folk," SpongeBob and Patrick must pass a series of physical challenges to become members of the clan. Uncle Belcher was a stand-out gag, while the Deliverance-inspired fiddle contest--with SpongeBob as the fiddle--was solid, too.
Sponge-cano! would have been just another amusing variation on the disaster flicks SpongeBob often parodies, had it not been for the inclusion of the "ancient warrior from long ago" dolphin who shows up to absolutely hilarious effect. Squidward is having a bad day, and in typical Squidward fashion, he's going to take it out on anyone who gets in his way. Suddenly, Mount Bikini Bottom erupts, and burning lava reigns down on the town. As the residents flee in terror (I love the guy rocking in a fetal position on the floor as the roof burns), and Mr. Krabbs panics, believing civilization is ending, a magical dolphin with a speech impediment appears and suggests a human sacrifice--Squidward. If the magic dolphin that appears here is based on some newer show or character than I'm not familiar with, email me, because the voice work (by Dee Bradley Baker) sounded like a dead-on parody of comedic actor Ed Wynn...on helium and crack. And when that dolphin, with his dark blue, crazy, crazy eyes, strikes a campy pose and lisps out, "You must make...a sacrifice!" I hit the floor. As far as I'm concerned, if Nickelodeon is looking for the next star in its animated line-up, try the dolphin; he's a scream. And finally, The Curse of the Hex yet again suggests some good comedic bits to come...only to inexplicably sidestep them. Disgusting Grandma hagworm wants a Krabby Patty after the doors have closed, and then she has the nerve to be one penny short for the price (Mr. Krabbs immediately sits up and screams, "No way, Granny!"). Enraged, she puts a hex on the Krusty Krab, and the customers begin to dry up. I enjoyed the tornados that immediately whisked away the customers who stepped outside of the Krusty Krab (even though it didn't have anything to do with the story), and the hagworm was delightfully disgusting, vomiting all over Squidward and SpongeBob. I even liked the Lair of the Golden Eel sequence, with the dopey Eel who sounded like Mortimer Snerd. But the misdirection off the hexworm to this scene didn't work; I would have preferred to stay with her. But apparently, the scripters couldn't come up with any good gags involving her hex, leaving the resolution to the story to one fairly lame sight gag. Too bad; this one seemed to have promise.
The DVD:
The Video:
As usual with these SpongeBob SquarePants DVDs, the full screen, 1.33:1 video transfers for the shorts look terrific, with incredibly bright colors and a super-sharp picture. There were no big compression issues to speak of (although some shimmering is noticeable from time to time). Edge enhancement is acceptable.
The Audio:
The Dolby Digital English 2.0 stereo audio track is perfectly acceptable here, with appropriately loud recording levels and some discreet directionality. All dialogue is cleanly and crisply rendered. Close-captions are available.
The Extras:
There's a brief, five-minute behind the scenes look at the some of the production of this disc, but it's not anything you haven't seen before on a SpongeBob disc.
Final Thoughts:
SpongeBob SquarePants: Legends of Bikini Bottom is a tough one to recommend, because even the two or three shorts that really work aren't up to the level of the earlier seasons. Still, The Main Drain and Trenchbillies are fairly funny, while the magical warrior dolphin in Sponge-cano! may be worth the price of admission alone here. I'm recommending SpongeBob SquarePants: Legends of Bikini Bottom...but only for certified SpongeBob freaks. Everyone else can either wait for their TV debuts, or click on Netflix.
---
Paul Mavis is an internationally published film and television historian, a member of the Online Film Critics Society, and the author of The Espionage Filmography.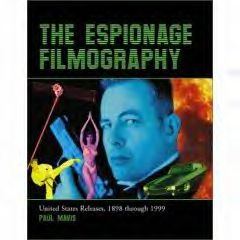 ---
C O N T E N T

---
V I D E O

---
A U D I O

---
E X T R A S

---
R E P L A Y

---
A D V I C E
Recommended
---
E - M A I L
this review to a friend
Sponsored Links
Sponsored Links