Spongebob Squarepants: The Great Patty Caper
List Price: $16.99 [Buy now and save at Amazon]
---
Mostly funny...on the whole. Nickelodeon and Paramount have released SpongeBob SquarePants: The Great Patty Caper, a seven-toon collection from the long-running animated series' seventh season. No stand-out toon in this collection, SpongeBob SquarePants: The Great Patty Caper includes Growth Spout, Stuck in the Wringer, Someone's in the Kitchen With Sandy, The Inside Job, Greasy Buffoons, Model Sponge and the title toon. I've written quite a few reviews for SpongeBob over the years, and it's been evident for some time now that as the series wears on, the success of these individual episodes varies greatly from entry to entry―and with SpongeBob, the only measure of success must be whether or not an episode makes you laugh. Since this disc offers no new hooks or unaired offerings, your decision to buy, then, will be based solely on how much you need anything and everything SpongeBob-related. Let's look briefly at the toons included here.
SPOILERS ALERT
The title toon here, The Great Patty Caper, is certainly one of the more energetic entries I've seen from the series in some time. With SpongeBob and Mr. Krabs a little shaky on the specifics of the famed Krabby Patty formula, and Plankton once again close to succeeding in stealing the recipe, Mr. Krabs decides to ship the formula halfway around the ocean to the Far-Out-Ville bank for safe-keeping. Unfortunately, neither Krabs or SpongeBob remembered to actually look at the recipe before shipping it off, so it's up to SpongeBob and Patrick to retrieve it. Boarding a long-distance train for Far-Out-Ville, SpongeBob discovers that the safety deposit key he was holding, is now missing. I'll admit I was a little disappointed that someone didn't exploit the obvious Agatha Christie Murder on the Orient Express-flavored train sequence by having SpongeBob adorned as Poirot or even Miss Marple as he went about his inept sleuthing (SpongeBob in drag is always a solid winner). However, once the gags really start with Patrick trying to stop the runaway train whose tracks dead-end into the front door of an old folks' rest home (he tries a stop sign and a lemonade stand before using a giant boulder), The Great Patty Caper picks up a good head of steam to a satisfying conclusion (SpongeBob as an old geezer is also foolproof).
Growth Spout is a fairly good variation on the standard "Krabs-as-harried-parent-to-gargantuan-daughter-Pearl" storyline we've seen before. With nothing more to the storyline than Pearl experiencing a growth spurt, the writers have plenty of opportunities to show Krabs' desperation as he searches for food to feed his starving daughter. Mr. Krabs isn't one of my favorite SpongeBob characters (something about the vocal work always seems a tad forced), but his stock penurious grumblings are usually amusing (when he first sees the enormous, suffering Pearl, who's crashed to her bedroom floor, he exclaims, "This is terrible...I paid 30 bucks for that bed!"). A nice gross-out moment comes with Krabs getting vomited on by Mrs. Puff's pet peanut worms ("There you are, sucker!" she yells as she hits him with a crowbar), and it's always funny to see SpongeBob's preoccupation with incompetent police officers―the ones here are more interested in going to the 24-hour Taser Emporium than catching Mr. Krabs. The finale, though, where SpongeBob solves Pearl's starvation by giving her some food made with love, is a little too precious and saccharine for my SpongeBob tastes, however. Stuck in the Wringer could have been far more memorable, too, had it avoided this kind of sentimental ending. SpongeBob, caught in the wringer he uses after washing up in the morning, can't move his arms or swallow (leading to some good physical gags), before Patrick's tears release him. Solid laughs from SpongeBob getting his skin ripped off; using his teeth to pry himself out of the wringer; burning out Squidward's eyes with mustard; and SpongeBob finally going insane ("What with all the lovely voices in my head?"). Too bad they couldn't have stayed frosty with the finale, though.
Someone's in the Kitchen with Sandy generates quite a few gross-out gags as Plankton steals Sandy's fur (she takes it off to shower) in an effort to steal the Krabby Patty formula. It's nicely disgusting to see Plankton work the hollow-eyed skin as an automaton, while the writers don't fail to give some choice rejoinders from the standard SpongeBob angry mob ("Aren't you ashamed of having your pink rat flesh exposed?" is my favorite). The toon's best moment comes from another standard SpongeBob trick―having SpongeBob repeat something over and over and over again until the viewer is driven nuts―when SpongeBob cheerily intones "Ooooooohh, try again!" about twenty times as Plankton tries to get the top bun on a Krabby Patty at the precise center. The Inside Job has another familiar-but-promising premise―Plankton plugs into SpongeBob's brain to discover the Krabby Patty formula―and there are some funny bits along the way, including Plankton unplugging SpongeBob's eyes ("Hey, we blew a fuse!"), a blind SpongeBob making a disgusting Krabby Patty out of a dirty sponge and soap, and later groping his way through the customers, pulling on their faces as he asks, over and over again, "Order seventeeeeeeeeeeeeeeeeeen?" Unfortunately, the lack of a solid payoff for the situation mars this otherwise funny outing.
Greasy Buffoons is a disappointment, where it fails to capitalize on a seemingly can't-miss premise: Mr. Krabs' unwanted excess grease fuels Plankton's new-found success, leading the two businessmen to engage in a fat-war to see who can sell the most delicious―and most deadly―fat-filled food item. No memorable gags to speak off, and a weak finish hurt the admittedly funny cartooning showing the gang covered in fatty slime. Finally, Model Sponge is an evenly hit-and-miss effort that takes the (overly) familiar "SpongeBob-freaking-out-over-his-job-status" plotline to poke some fun at TV commercials. It's great seeing SpongeBob used as an actual sponge to clean a disgusting bathroom, and the screaming TV director is a classic. But again―and this is happening in these episodes with increasing frequency―no one seems able to cleanly and neatly wrap up the short with a satisfying ending, letting the impact of any of the preceding jokes, trail off.
The DVD:
The Video:
As usual with these SpongeBob SquarePants DVDs, the full-screen, 1.33:1 video transfers for the shorts look terrific, with incredibly bright colors and a super-sharp picture. There were no big compression issues to speak of (although some shimmering is noticeable from time to time). Edge enhancement is acceptable.
The Audio:
The Dolby Digital English 2.0 stereo audio track is perfectly acceptable here, with appropriately loud recording levels and some discreet directionality. All dialogue is cleanly and crisply rendered. Close-captions are available.
The Extras:
What are called three short toons here―Spongeholmes, The Porter Reveal (from The Great Patty Caper), and Gumshoe SpongeBob―are really nothing more than 30-second promo bumpers for the show. I will say, though, that the promo for Gumshoe SpongeBob was hilarious, with SpongeBob scraping Plankton off his shoe, while Plankton screams in absolute agony.
Final Thoughts:
Overall, not a bad collection of middle-of-the-road SpongeBob shorts...but it's not essential viewing, either. Setting aside the fair-to-middling results of the toons, these have all been airing for some time on cable, and you'll get them all again if you buy the full season sets, so.... A rental is probably best for SpongeBob SquarePants: The Great Patty Caper.
---
Paul Mavis is an internationally published film and television historian, a member of the Online Film Critics Society, and the author of The Espionage Filmography.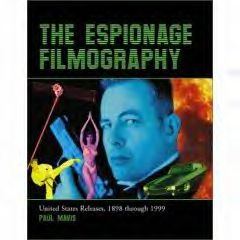 Sponsored Links
Sponsored Links