S.W.A.T. The Final Season
List Price: $44.99 [Buy now and save at Amazon]
---
S.P.L.A.T. (Severe and Pronounced Let-down After Too many years of not having seen this unfortunately marginal 70s cop show). Shout! Factory, that golden-winged savior of the abandoned TV series on DVD, has released S.W.A.T.: The Final Season, a 6-disc, 22-episode collection that gathers together the flash-in-the-pan ABC hit's last go-around for the 1975-1976 season. Executive produced by the legendary team of Aaron Spelling and Leonard Goldberg, S.W.A.T. made a big impression on kids from my generation when it first aired, but today...it fizzes out like a wet squib. No extras for the only-fair transfers here.
An unnamed major urban area in Southern California. Lieutenant Dan "Hondo" Harrelson (Steve Forrest) is in charge of the police force's elite S.W.A.T. commando team: Special Weapons And Tactics. Hondo and his boys handle the jobs that make Reed and Malloy wet their pants: holed-up, heavily-armed bank robbers; holed-up, heavily-armed diamond thieves; holed-up, heavily-armed microelectronics thieves; holed-up, heavily-armed soldiers-of-fortune; holed-up, heavily-armed racist revolutionaries, and the holed-up, heavily-armed like. Veteran cop and sage touchstone Sergeant David "Deacon" Kay (Rod Perry) is Hondo's right-hand man and observer/communicator. Pretty boy Adonis Officer Jim Street (Robert Urich) is company scout. Unfunny comedian and unprepossessing ladies' man Officer Dominic Luca (Mark Shera) is the team's sharpshooter. And wholesome, wooly-haired Officer T.J. McCabe (James Coleman), is the team's all-purpose back-up/no definable job/back-up player. Their job? Waste the criminals who hole up with heavy arms. Their uniforms? Uncomfortable onesie coveralls that don't breathe and bag in the seat. Their weapons? Automatic machines guns they never fire in full automatic mode. Their super-secret, heavily-armed surveillance vehicle? A laundry truck chock full of one radio and some bench seats. Look out, you punk criminals: you're about to get shot in the shoulder.
Hey, it only made it worse that I just reviewed the fourth season of Kojak last week (now that's a brilliant cop show). Now hold off on the emails. The six or seven of you who regularly read my reviews (the Mavis family, in particular) know that I live for 70s television. It's what I grew up on, and I have a great, abiding affection for all its manifestations, regardless of how a particular show is perceived by newer audiences or critics. I can find beauty and truth and "art" (whatever the hell that is) in a Spelling creation like The Love Boat or Charlie's Angels as readily as I can find it in diverse programs like Kojak or All in the Family or The Mary Tyler Moore Show or The Waltons or Sigmund and the Sea Monsters. I make no distinctions based on accepted levels of snobbery that somehow pervade evaluations of 70s TV programming today (mostly from internet troll dumbasses who watch one compilation disc of 70s TV and brand the whole era "cheesy"―the analytical equivalent of calling War and Peace "long"). So I'm not predisposed to not liking S.W.A.T.. Quite the contrary. I remember loving this show as a kid (the Mavis boys at play: "Hondo! Take the swing set! Street! Cover me at the Big Wheel!"). And even if I haven't seen it in oh, say...thirty-five years, I knew then and I know now as a, um...historian (yeech) that Spelling and Goldberg usually deliver a product that's at the minimum, entertaining (and sometimes, transcendently so).
Memory, though, of course, is a tricky thing. And after watching the episodes here in this 6-disc S.W.A.T. set...my memory of my memories came crashing down to reality. You see, now I remember S.W.A.T. as this kick-ass show I used to watch where guys were running around, rappelling down ropes, smashing in doors, somersaulting over hedgerows, and crashing through glass windows while blasting away at the bad guys as they died, pirouetting in simulated bullet hits, before crumpling to the ground like so many marionettes with their strings suddenly cut. That S.W.A.T. I loved...but I couldn't find that show here. Of course, there's rappelling, and somersaulting, and crashing...but there's more talk than action. And there's no criminals pirouetting in a haze of bullets. Criminals get shot in the arm here. S.W.A.T. never seems to kill any of them. Only wound them. I've read a couple of articles where someone claims S.W.A.T. was cancelled because it was too violent. Can't be. If anything, this second season was cancelled because some suit toned down the original concept and the viewers―kids like me and their dads who wanted some PG-rated network bloodlust―got fed up and walked (during its first half-season, it came in a phenomenal 16th for the entire 1974-1975 season. Once it went into full production in 1975-1976, and switched nights to deadly Saturdays at 9:00, it flamed out but fast). I didn't want that to be my reaction to the show (I couldn't believe my luck when the title was assigned to me). But there it is. S.W.A.T. is light on action and heavy on clichéd, second-rate Rookies-styled "progressive" cop show fare (another series I remembered well...at my own peril). In a word...it's mediocre. Let the emails begin!
As for the episodes themselves here...they're almost mind-numbingly the same: a hostage situation is set up; we cut to that cool basement headquarters where the guys are sitting around, lamely joking about Luca's latest sexual conquest; the call is put out for S.W.A.T. (the criminals call out "S.W.A.T!" like the villains call out "Batman!" when they spot him); the boys grab their guns (always the same ones); they run out to the waiting van (the same cop holds the gate open every time―there's a job for you, officer); an initial encounter is stymied; the cops then begin to heavily investigate the first encounter before a final stand-off is initiated and settled (with remarkably little bloodshed). And that's it. We don't get to know the guys (to call them 2-dimensional is being kind). We don't see anyone else (the use of guest stars, usually a forte of Spelling's unsurpassed by anyone else in television, is desultory here). No supporting characters. And critically, precious little sense of humor about itself (even Vega$ knew how to laugh at itself). This is grimly rote and pedestrian. It's just the boys in their onesies getting into the van, getting out of the van, getting into the van, and running around. Now granted, those scenes are kind of interesting to a little kid, strictly from a bright, shiny, moving object level (it's like those videos of big trucks moving dirt). But as action scenes for anyone over the age of say, eight, they're pretty tame, and worse, they're not dominant. S.W.A.T. should be called T.A.L.K. because that's what these guys do best.
I could go over each episode, or highlight the "best" ones here, as I do for every TV show I review (even for ones that have no business being covered so thoroughly), but honestly...what's the point? What I described above is what you're going to get for 22 episodes here (and I watched 'em all). Just switch the names of the guest stars around, and pencil in "diamonds" or "guns" or "microprocessors" for what's being stolen―you'll never know the difference. Some good performances do manage to come around (by sheer force of will). Harris Yulin comes to mind; he's good in Vigilante, but not because of his part but because he's a terrific actor who can't help but be good even in this slop. But again, don't come to S.W.A.T. for any of the genuine, masterful joys that an all-star Spelling production usually creates. You won't find them here. It's all too serious. Too glum. Too routine. Just little boys, running around in the sun, pretending to play cops and robbers. Just like their viewers, so many years ago. All lost in memory.
The DVD:
The Video:
The full-frame, 1.33:1 transfers for S.W.A.T.: The Final Season aren't exactly impressive, with quite a bit of color fading, dirt, scratches, and only a medium-sharp image.
The Audio:
The English mono audio track is only okay, with a bit of moderate hiss and dialogue that's understood. No closed-captions or subtitles.
The Extras:
No extras for S.W.A.T.: The Final Season.
Final Thoughts:
Unexpectedly tedious. I sure remember S.W.A.T. being a kick-ass cop show as a kid...but it doesn't hold up, either as an action-filled cop show or as a Spelling/Goldberg pop culture smorgasbord of incongruous guest stars. Too bad for me; I liked that memory. A rental for die-hard fans, but everyone else can skip it.
---
Paul Mavis is an internationally published movie and television historian, a member of the Online Film Critics Society, and the author of The Espionage Filmography.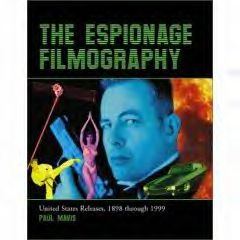 Sponsored Links
Sponsored Links