List Price: $44.99 [Buy now and save at Amazon]
---
Telly really hits those Big Apple mean streets this go-around, but alas to no avail...at least in the ratings. Shout! Factory doesn't disappoint its growing legion of vintage TV fans by releasing Kojak: Season Four, the 6-disc, 24-episode collection representing the CBS cop show's 1976-1977 season. No extras this time around, but some series' bests crop up here in the iconic detective show's penultimate season. And the transfers look, for the most part, as shiny and clean as Telly's beautifully bald pate.
New York City, 1976. NYPD's 13th Precinct, Manhattan South Patrol Borough. Avuncular detective Captain Frank McNeil (Dan Frazer) has a big, loud, bald problem on his hands: Lieutenant Theodopolous "Theo" Kojak (Telly Savalas). In a frenetic borough in the busiest city in the world, where violent, persistent crime can range from rape to sniper fire to mad bombers to diamond heists, McNeil is lucky to have as resolute a crime fighter as Kojak on his team...but look out when Theo blows his cool, baby, because you might just find yourself on the end of a withering put-down and accompanying sarcastic sneer. Sartorially resplendent Kojak may not observe all the niceties of protocol when it comes to his $240-a-week-after-taxes job, but he gets the job done, you dig? He's cynical, and contemptuous, and generally pissed off at everything...but he's also surprisingly understanding and even sympathetic to the junkies, whores, stoolies, and other damaged people he encounters in his pressure-cooker occupation. After all...he grew up right alongside them, in the same neighborhood. The most frequent targets of his affectionate put-downs are the members of his squad: tough, James Caan-like hothead Detective Bobby Crocker (Kevin Dobson); fuzzy, slightly befuddled Detective Stavros (George "Demosthenes" Savalas), and anonymous filler detectives Saperstein and Rizzo (Mark Russell and Vince Conti).
After reviewing both Season Two and Three of Kojak, the most obvious change this season―perhaps in a bid to stem the sickening ratings' slide?―is the extensive location work in New York City, giving this fourth season of Kojak a gritty, grimy verisimilitude that's most welcome. As well-written and performed as those previous seasons' episodes were, nothing compares to Telly and Kevin Dobson and George Savalas delivering dialogue, drawing their weapons, and slamming their big Detroit wheels around on actual Big Apple streets, alleys, docks, warehouses, and tenement slums on a regular basis. Sure there are still the occasional episodes and sequences here that were obviously shot on the Universal back-lot (just as there was occasional, well parsed-out location work in previous seasons), but it's apparent that the producers and the network made a conscious decision to change the look of Kojak (even the lighting on the sets looks more realistic and less blown-out and "TV-y"), and it's a big, big boost for the show (when the later episodes feature a cold, grey, snowy NYC, it feels like you're watching The French Connection or The Seven-Ups).
Now...truth be told, as a lover of all things Telly, what also appears to have changed for this fourth season, is Savalas' demeanor. It's almost imperceptible, it's very subtle...but it's there, just the same. He just doesn't seem to be having as much fun now. Was it the knowledge that the ratings were going south fast and that the party was probably already over? Was it trouble with the network suits, as reported at the time? Career anxiety, perhaps (unlike contemporary James Garner, who also went from television to movies, and then back to television to restart a second motion picture career, Savalas' post-Kojak big screen resurrection largely failed)? Hard to say. But gone are a lot of the obviously off-the-cuff adlibs and wisecracks and the playful, almost child-like mugging (that I adore) that showed the liberated-by-success Savalas in all his TV stardom glory. He's not smiling nearly as much here; he's far more somber, more thoughtful (no doubt a by-product of some of the storylines this season), with little of that "cutting up" to lighten the mood or end a scene on a humorous coda. Savalas was a fine, serious actor way before he was a bona fide "personality," so there's nothing wrong with him taking the Kojak character into darker territory. But I'd be lying if I wrote I didn't also miss the smart-assed, hip, deliciously snide Savalas that could put me on the floor with one rap to Dobson's face and a snotty "Coochie coo, baby," for dessert.
As for this year's episodes, sopener Birthday Party wouldn't have been the one I'd lead-off the season with, especially if I'm looking to grab new viewers while keeping the old ones still around. A familiar kidnapping story (featuring a hyped-up, skinny Richard Gere), the trackdown procedurals are detailed, but some of the set-ups seem blatantly arbitrary and obvious (you're telling me nobody noticed the kid missing from that tiny birthday party for hours???). Much better is the nuanced A Summer Madness, featuring two fine performances by Joseph Mascolo and Fionnula Flanagan as husband and wife: one a guilt-ridden cop pushed to the edge; the other, his mentally unsound, vengeful wife. Telly gets a chance to show Kojak's reassuring sensitivity when dealing with disturbed Flanagan, while again reiterating one of the Kojak character's main tenants: "charity is learning how to forgive others; wisdom is knowing how to forgive yourself." (Savalas is always so good in these quiet, dramatic moments). Regular contributor Gene R. Kearney comes up with a solid twist on the usual serial killer storyline in Out of the Shadows, featuring a scary turn by Ken Sylk as the would-be killer, enraged by the failure of his life and yet powerless to alter it (his tense scene in a restaurant with ex-wife Lara Parker, of Dark Shadows fame, is particularly well-acted and directed).
A Need to Know, featuring Hector Elizondo as a pedophile U.N. chauffer with diplomatic immunity, suffers from some outdated (and misguided) medical context (the shrink says most child molesters can be "helped"), as well as a hands-off approach to the molester's crimes (Kojak gives a lollipop to a kid who was just abused...and the kid is all smiles), but its discourse on the ridiculousness of intelligence agencies keeping diplomatic criminals free from justice is all too relevant even today (it's nice to see at least one episode from one 70s CBS series that has some well-earned contempt for the U.N.). A Hair-Trigger Away has a compelling core story featuring that excellent, underrated character actor Walter McGinn (The Parallax View) as a cop trying to wean his junkie girlfriend, Lynn Redgrave, off heroin, along with some funny Telly-isms sprinkled throughout ("Fit for kings and queens, these Jewish jellybeans" when he's eating a hot potato knish, and the sage "Hey, that's life, baby―if you don't laugh about it, you're gonna go bananas."). Unfortunately, the episode is tipped off-kilter by a ridiculous (and hilariously miscast) subplot featuring of all people, Hurd Hatfield (in a beret, no less), traipsing around, dealing heroin and killing people when he's not making love to his, um...girlfriend, Morgan Fairchild (you can't make this stuff up). The Pride and the Princess, from scripter James M. Miller, has a lightness of touch that's unusual for a heavy story involving Montenegro partisans avenging WWII Nazi betrayals on present-day mobsters (laughing Maria Schell and Herb Edelman, in an uncharacteristic Errol Flynn-type role, no doubt help keep things breezy).
One of my favorite episodes last season, Bad Dude, with Rosey Grier as private eye Salathiel Harms, is given a poor follow-up this time with Black Thorn, a weakly-plotted, familiar outing that doesn't have nearly enough give and take between Savalas and Grier. Stephen Macht, on the other hand, gives a solid performance as a tortured Native American high steel worker in Where Do You Go When You Have Nowhere To Go?, a standard "accidental killing" plot enriched by Macht's turn and Savalas' sympathetic take on this story of a doomed young man unable to fit into any culture. Telly gets to be (chastely) romantic with Brooke Adams (on-screen too briefly) in Dead Again, a workmanlike entry with a typically solid turn by old pro Simon Oakland as an ex-cop-turned-security-manager dealing with an extortionist. When You Hear the Beep, Drop Dead (one of the best titles I've seen in a long time) could have been a Murder, She Wrote, with its twisty little whodunit plot and its obviously fake backlot/studio look, while I Was Happy Where I Was goes in the opposite direction, detailing a sad storyline about a Puerto Rican cop (well-played by Tony Diaz) who reluctantly goes undercover for Kojak in his old barrio neighborhood, and rediscovers why he fought so hard to leave it behind.
Season (and series) best offerings this time around include The Godson, an unsentimental, ultimately sad outting from Joseph Polizzi that concerns Theo's futile efforts to re-ingratiate himself into a poor black family who once befriended him back during his uniform days (in those refreshingly pre-P.C. days, when some two-sided truth could actually be uttered on television, this kind of exchange was possible: "You remember Lt. Theo Kojak," Rosalind Cash asks son Todd Davis, who replies, "The honky cop?" to which Kojak snaps back, "The honky friend, Sambo."). Law Dance, from James M. Miller, is a dense, complicated investigative piece showing the impossibilities of re-conducting an investigation four years after the fact, once the slow-moving courts finally kick into gear (Kojak has a great moment where he acknowledges the immoveble obstacles of their jobs, trying to drain NYC's ocean of crime with a bucket, before he rages that it does matter that the cops keep "keeping on," protecting the citizens no matter what). An Unfair Trade is a deft examination of the hypocritical political pressures exerted whenever race and crime intersect in the public's conciousness, headed up by David Selby giving a noteworthy performance as a good cop ruined simply because he's white, and therefore an expedient political target. Finally, the season's best episode (as well as one of the series' best), the extended 90-minute , is a yet another Kojack entry worthy of being compared to a big-screen effort from say, Sidney Lumet, with a screenplay by William P. McGivern that weaves an emotionally complicated story of rape, murder, and political cover-up that perfectly captures the cynicism and defeatist attitude of post-Watergate America. Guest star Geraldine Paige is remarkably facile sparring with the obviously delighted Savalas; she gets the moral rot and corruption of the too-powerful down pat, with just an imperious glare and arched eyebrow. This should have been the season opener.
No wonder at this time there were reports in the press that Savalas was frustrated with CBS, as the network suits still ignored the ratings' trend this 1976-1977 season, and continued to use Kojak as a diminishing returns anchor for their losing Sunday night programming. The previous season, Kojak managed a relatively healthy (but disappointing) 20th slot in the Nielsen year-end ratings' round-up. This fourth season, however, Kojak would drop out of the coveted Nielsen Top Thirty, never to return. Lead-off 60 Minutes certainly got the ball rolling for CBS at 7:00pm (a surprising 18th for the year), but once Mom and Pop and Grandma and Grandpa had enough of Mike Wallace's obvious theatrics, it was time for a quick flip of the dial to ABC for The Six Million Dollar Man at 8:00pm, which scored even bigger ratings this season, clocking in as the seventh most-watched series of the year―Kojak's direct lead-in, the newly reunited/still divorced The Sonny & Cher Show, didn't stand a chance against the bionic man. So viewers just stayed with either ABC for The ABC Sunday Night Movie (a terrific showing at 8th for the year), or they switched over to NBC's much-hyped The Big Event anthology showcase at 9:30pm for miniseries events and blockbuster movie premieres (an even more remarkable 6th most-watched "series" of the season). Kojak, once the most exciting detective show on television, suddenly seemed like old hat (and nobody wanted to stick around for lead-out Delvecchio with Judd Hirsch anymore than Kojak's last season lead-out Bronk, with Jack Palance). A time slot move and some hot sitcom lead-ins were a classic case of too-little, too late next season for Kojak's final go-around
Here are the 24 episodes of Kojak: Season Four, as described on the inside DVD cover:
DISC 1
Birthday Party
On her birthday, Kojak's niece is kidnapped by criminals who want to exchange her for an incarcerated cop killer.
A Summer Madness
Already confronted with problems at home, Detective Jeff Braddock must face the inquiry of the murder of his mistress, while Kojak investigates the bombing of a restaurant.
Law Dance
Kojak searches for the killer of a key witness in a prominent murder trial.
Out of the Shadows
Kojak and the detectives scour the city for "The Grim Reaper," a slasher who murders his victims out of greed.
DISC 2
A Need to Know
Kojak and the detectives try to stop a child molester who has diplomatic immunity before he strikes again.
An Unfair Trade
The shooting of a Puerto Rican youth by the police angers the community.
A Hair-Trigger Away
The drug-addicted girlfriend of a cop is under scrutiny for accidentally killing his partner during a drug bust.
By Silence Betrayed
Kojak finds that the longshoremen's lips are sealed when he inquires into labor-related waterfront murders.
DISC 3
A Shield For Murder, Parts 1 & 2
A wealthy political leader quashes Kojak's efforts to reopen a two-year-old matricide case. When Kojak gets too close to discovering the truth, he is framed.
The Pride And the Princess
An émigré princess and her servant scheme to recover family jewels they believe are held by a mobster.
Black Thorn
Private eye Salathiel Harms returns, pursuing the same bail jumper as Kojak.
DISC 4
Where Do You Go When You Have Nowhere To Go?
A desperate, unemployed ironworker accidentally kills a construction kingpin.
Dead Again
A woman informs the detectives that she has been threatened by a wanted man who supposedly died in a house fire, but they don't believe her until it's too late.
The Godson
Kojak's 17-year-old godson becomes mixed up with a gang involved in an armed robbery, but Kojak hopes he can get through to the boy before it's too late.
The Condemned
A boxer accused of murder holes up inside a church and threatens to kill the parishioners unless the police meet his demands.
DISC 5
When You Hear the Beep, Drop Dead
A wealthy ecologist's wife plans to murder him and uses a fake phone message to frame a nonexistent call girl.
I Was Happy Where I Was
A Puerto Rican cop goes undercover in his old neighborhood to find out who is trying to start a barrio gang war.
Kojak's Days, Part 1
Kojak must unravel the mystery of a white Rolls-Royce with a body in the trunk while trying to find a woman who murdered her husband.
Kojak's Days, Part 2
The search continues for a woman who murdered her husband, abandoned her child and is threatening to commit suicide.
DISC 6
Monkey On a String
A veteran police officer whose gambling has put him in financial straits decides to go on the take.
Kiss It All Goodbye
Crocker accidentally shoots a fashion model while trying to stop a robbery, jeopardizing his career.
Lady In The Squad Room
Kojak and a female detective must overcome their dislike for each other when she is transferred from the rape squad to help nab a drug-dealing rapist-murderer.
Sister Maria
A vengeful nun tries to bring to justice the airline executive she believes is responsible for the death of her sister.
Another Gypsy Queen
A Gypsy woman is determined to find and kill the man responsible for the mass murder of her family many years before.
The DVD:
The Video:
Again, the full-screen, 1.33:1 video transfers for Kojak: Season Four are quite good: solid, correctly-valued color, a sharpish image, good contrast for the most part, and few screen blemishes.
The Audio:
The Dolby Digital English mono audio soundtrack is re-recorded at a decent level, with little fluctuation and minimal hiss. No close-captions or subtitles of any language are available.
The Extras:
No extras, unfortunately.
Final Thoughts:
Kojak stays almost exclusively on the hot, humid/snowy, grey streets of New York City, and the results are big, big boost for the show's gritty feel. The writing is as strong as ever, the supporting performances are top-notched, as you would expect, and Savalas is fine going deeper and darker with the Kojak character...but I do miss his more playful side. I'm highly, highly recommending Kojak: Season Four.
---
Paul Mavis is an internationally published movie and television historian, a member of the Online Film Critics Society, and the author of The Espionage Filmography.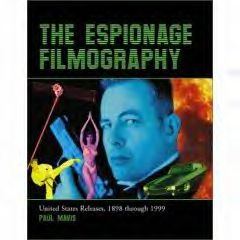 ---
C O N T E N T

---
V I D E O

---
A U D I O

---
E X T R A S

---
R E P L A Y

---
A D V I C E
Highly Recommended
---
E - M A I L
this review to a friend
Sponsored Links
Sponsored Links