List Price: $49.99 [Buy now and save at Amazon]
---
Goodbye, DCI Tom Barnaby. Acorn Media has released Midsomer Murders: Set 20, a four-disc, four-episode collection that comprises the last four episodes of the internationally-acclaimed U.K. murder mystery series' 13th "series" ("season" in Brit-TV speak), which originally aired in 2010. Episodes included are Master Class, The Noble Art, Not in My Back Yard, and Fit For Murder. That front cover is a bit of a tease, with Acorn putting Neil Dudgeon alongside John Nettles as if he's a co-star in these episodes, when Dudgeon only appears in the final entry for five minutes, but I suppose it was considered a savvy marketing trick to link Dudgeon with Nettles for this transitional set (at least Acorn got rid of that stupid Law and Order quote). As for that final episode with John Nettles...his iconic character is given a worthy, touching send-off. No extras to speak of here in these gorgeous widescreen transfers.
Having reviewed twelve (!) previous sets of Midsomer Murders, I can assure you that if you're not familiar with the series, don't feel that you can't begin watching the show even this late in the game (please click here, if you wish to read my previous reviews for background). Each mystery is essentially "stand alone," so newcomers are more than welcome. Not to spend too much time on recapping the series for the thirteenth time, but to briefly acquaint new readers with the basic set-up, Midsomer Murders details the bizarrely continuous mayhem (which nobody notices or cares to comment on, except Barnaby on rare, wry occasions) that afflicts rural, affluent (and fictitious) Midsomer County, England. Bodies drop like flies, and in the most appalling ways, and it's up to Detective Chief Inspector Tom Barnaby (John Nettles) of the Causton Criminal Investigation Department, to clean up the mess. Barnaby is aided in his inquiries by Sergeant Ben Jones (Jason Hughes), an inquisitive, competent copper who offers an oftentimes wry, slightly baffled compliment to Barnaby's low-key detective skills. Lending a hand with vital forensic data is jovial coroner Dr. George Bullard (Barry Jackson), while DC Gail Stephens (Kirsty Dillons), is often seen at the station. Offered as comedic punctuation, but rarely as significant subplots, glimpses of Barnaby's home life frequently bookend an episode, featuring Joyce Barnaby (Jane Wymark), Tom's vibrant but put-upon wife...who often loses her husband to a case right before an important event in their social life.
MASTER CLASS
Slimcase synopsis: "When world-famous pianist Sir Michael Fielding offers an audition-only master class in Midsomer, the competition is fierce. Introverted, anxious piano prodigy Zoe Stock wins a place in the class, but soon afterward witnesses a drowning that reminds Barnaby of a 20-year-old case. The detectives race to investigate a scandal from the past in order to prevent another death in the present."

A mid-level Midsomer from scripter Nicholas Martin. As I've written before, I get a little nervous whenever supernatural elements are introduced into these episodes. I love Midsomer's cynical, aware, even dyspeptic view of human nature and its base foibles, but when ghosts and clairvoyants are introduced into the mix (which seems to be happening more and more with these episodes, including playing a prominent role in Nettles' final episode), it adds an otherworldly hierarchy that somehow negates the venal, jealous, psychotic, or even the frighteningly mundane "evil" of the murderers and their actions. Still...Master Class does have a rather nice Hammer-esque feel to its structure, with young, innocent Zoe (Lydia Wilson, in a good turn) prey for witchy sisters Miriam and Constance Fielding (Sylvestra Le Touzel and Frances Barber) and perverted pianist Sir Michael (James Fox, whose bored, desiccated handsomeness is perfect here) at their remote country house. The mystery itself is quite baffling until midway through, scripter Martin drops a lead balloon clue when Joyce, inexplicably reading a bio of famous criminologist (whose picture Sir Michael features in his room), casually mentions the criminologist was all for breeding out imperfections in people...and the whole plot fell into rather routine, Chinatown-like place.
---
THE NOBLE ART
Slimcase synopsis: "When Midsomer Morchard resident John Kinsella wins an international boxing title, it seems that everyone in town is delighted with his success, especially wealthy landowner Gerald Farquaharson. However, the celebrations sour during a reenactment of a Victorian prizefight, which reveals a story of greed, resentments, and complex entanglements that threaten to turn deadly."

A densely complicated little Midsomer mystery that is unfortunately telegraphed way, way too early. Scripted by Barry Purchese, The Nobel Art has a fascinating framework (the recreation of a famous Victorian fight, featuring a local boxer turned champion belt holder) that's amplified by the almost comic level of cross-dynamics of the various characters. Purchese ping-pongs back and forth from character to character, revealing new connections between the characters, time and time again, until the viewer is dizzy with trying to figure out who means what to whom...and do they mean enough to that person to want to kill them. All of that convolution is quite entertaining in and of itself...but unfortunately, the identify of the killer is so clumsily announced early in the game that the viewer finds himself marking time while waiting for the inevitable announcement of whodunit (looking back over my notes, when this particularly egregious scene was on, I wrote, "it can't be that easy?"...and it was). Even more disappointing is the teasing subplot of Tom coming under the "spell" of "lord of the manor," magistrate Gerald Farquaharson (Kevin R McNally), identifying with the magistrate as "one of us," (a provocative statement from Tom which is never adequately explained or addressed), before the issue is dropped altogether. How about roughing up the Tom character a little bit, and taking the shine off his armor? Why wasn't that subtheme explored a little bit more? Why couldn't we see Tom "taken in" a little bit, and have his own societal biases and prejudices exposed? Too bad the producers didn't; it might have made up for the blown mystery here.
---
NOT IN MY BACK YARD
Slimcase synopsis: "Maureen Stubbs of the Midsomer Conservation Society is aghast at a wealthy builder's plans for a modern development in bucolic Pelfe Chase. After Stubbs is murdered, the detectives' investigation reveals that she may have been responsible for a string of burglaries and vandalism targeting supporters of the development."

That title would indicate a level of irony that seems to be missing from this entry. Certainly one of the criticisms aimed at Midsomer Murders―from detractors who somehow have neglected the show's satirical bent―is that it celebrates a view of English country life that's entirely old-fashioned and even fantastical (see the recent and unfounded attack on Midsomer producer Brian True-May for proof). Well, of course it does―on purpose. It provides that cozy, comforting framework that so many viewers across the globe associate with the British village mystery genre, and then assaults it with a modern, even perverted viewpoint that's perfectly articulated by the grotesque level of violence that permeates this well-heeled county. So one would think that a story like Not in My Back Yard, where a wealthy businessman wants to provide "opportunity" for a village that is dozing to death, would have something to say about that clash of interests. Dismayingly, only the clichéd, British P.C. party line is tossed out here: the traditionalists win (with the aid of illegal activity that Joyce and Tom tacitly approve of) and the businessmen are all evil spoilers of the land. Wouldn't it have been far more interesting to play off that title, and show how the well-off villagers want progress for England...but hypocritically not in their own back yard, instead of siding with the violent cranks who don't want anything to change? As a mystery, Not in My Back Yard is fast-moving and fairly clever in its various grisly deaths, but it flops as social commentary, taking the easy, clichéd way out.
---
FIT FOR MURDER
Slimcase synopsis: "A relaxing weekend at the spa turns into another murder investigation when Joyce finds a body in the spa's flotation chamber. The detectives discover several possible motives, including a feud between the spa's owners and their neighbors and a mysterious manuscript. After solving the crime, Barnaby decides it's time to pass the torch to his cousin, DCI John Barnaby."

Certainly the most interesting element of Fit For Murder, an average Midsomer in terms of murder and mystery, is the departure of DCI Tom Barnaby from the series. The mystery itself is passable, with a nicely textured group of suspects and some suitably eerie means of dispatch for the victims. For more compelling is the subplot involving Tom trying to come to terms with his own mortality, with the memory of his father's sad, lonely death, and his retirement from the Causton force. I don't want to give too much away, but I must write that John Nettles is quite effective in those scenes where he's visualizing his father's death, a death Tom feels guilty over since his last words to his father were "not affectionate." Seeing as how the long-time viewer feels a connection with Nettles' portrayal of the kind, fair-minded, and wise Barnaby, these moments of self-doubt and guilt and overwhelming sadness in the character are eye-openers, making one wish that the writers hadn't waited until Nettles' very last episode to go this deep into Tom Barnaby's make-up (maybe that's why Nettles got tired of it all?). The ending, where Tom says goodbye to his co-workers, is surprisingly poignant, as well, a testament to all the performers who were able to make an emotional connection to the viewer within a series that delights in showing people mangled and ground up in the most appalling (and delightfully funny) ways. I even enjoyed the passing of the baton to Neil Dudgeon, finally showing up on this set, cleverly arranged by a simple phone call for "Inspector Barnaby," which Tom deftly deflects to the new DCI Barnaby (and of course, in true Midsomer black comedy style, the call is about a vicar hung on his own bell rope). On the whole, Fit For Murder isn't close to the best of Midsomer, but those scenes dealing specifically with Barnaby, his coming to terms with his father's death, and his retirement, are truly fitting for such a notable (and beloved) fictional TV character. And that doesn't happen all that often on TV.
The DVD:
The Video:
As always, Acorn's transfers for Midsomer Murders never miss: they're superlative. The anamorphically enhanced, 1.78:1 widescreen transfers for Midsomer Murders: Set 20 look, as always, very good: crisp, sharp images with nicely balanced color and no compression issues whatsoever. The image is remarkably bright and clean.
The Audio:
The Dolby Digital English 2.0 stereo mixes for Midsomer Murders: Set 20 are more than adequate for these largely dialogue-driven mysteries. Discreet left-right directionality, with solid recording levels. Thankfully, Acorn Media is putting more and more subtitles on their U.K. imports, which is good news for some viewers who may have a hard time with those local accents. English subtitles are included here.
The Extras:
There's a photo gallery and some text testimonials from fans of the show (?), but no outgoing interview with Nettles, unfortunately.
Final Thoughts:
The end for Midsomer Murders. Now...don't get mad at me if you like Neil Dudgeon. Maybe I'll like him, too, when I see the next set of Midsomer Murders (he looks to be a good fit with the series, I'll give you that). I might even look forward to more adventures with him, provided underrated and underutilized Jason Hughes is along for the ride (tell me again why he didn't get a shot at headlining the series?). But Midsomer Murders as I know and love it...is over. I'm recommending Midsomer Murders: Set 20.
---
Paul Mavis is an internationally published film and television historian, a member of the Online Film Critics Society, and the author of The Espionage Filmography.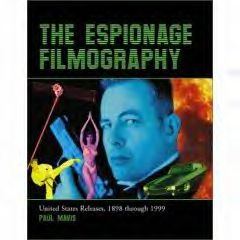 ---
C O N T E N T

---
V I D E O

---
A U D I O

---
E X T R A S

---
R E P L A Y

---
A D V I C E
Recommended
---
E - M A I L
this review to a friend
Sponsored Links
Sponsored Links