List Price: $44.99 [Buy now and save at Amazon]
---
Que sera, baby...and I completely dig that new disco title sequence. Shout! Factory polishes off the best cop show of the '70s with Kojak: Season Five, a six-disc, 22-episode collection representing the final (and low-rated) 1977-1978 season for the once-mighty CBS detective series. A season that often seems to lack direction, this last go-around for Telly and Company contains more middling hits than misses, while Mr. Adonis himself appears alternately amused or bored. Fans of the series, of course, will want this to round out their collection. No extras for these super-clean transfers.
New York City, 1977. NYPD's 11th Precinct, Manhattan South Patrol Borough. Avuncular detective Captain Frank McNeil (Dan Frazer) has a big, loud, bald problem on his hands: Lieutenant Theodopolous "Theo" Kojak (Telly Savalas). In a frenetic borough in the busiest city in the world, where violent, persistent crime can range from rape to sniper fire to mad bombers to diamond heists, McNeil is lucky to have as resolute a crime fighter as Kojak on his team...but look out when Theo blows his cool, baby, because you might just find yourself on the end of a withering put-down and accompanying sarcastic sneer. Sartorially resplendent Kojak may not observe all the niceties of protocol when it comes to his $240-a-week-after-taxes job, but he gets the job done, you dig? He's cynical, and contemptuous, and generally pissed off at everything...but he's also surprisingly understanding and even sympathetic to the junkies, whores, stoolies, and other damaged people he encounters in his pressure-cooker occupation. After all...he grew up right alongside them, in the same neighborhood. The most frequent targets of his affectionate put-downs are the members of his squad: tough, James Caan-like hothead Detective Bobby Crocker (Kevin Dobson); fuzzy, slightly befuddled Detective Stavros (George "Demosthenes" Savalas), and anonymous filler detectives Saperstein and Rizzo (Mark Russell and Vince Conti).
I don't know. I mean...what more can I write about Kojak? Especially after viewing this somewhat disappointing final season. In my previous reviews for the series, I made no bones about the fact that Kojak, when it was in its prime, was the toughest, best-written cop show of the '70s, and that Telly was...well, he was Telly. And that, my friends, is enough for me any day of the week (for sheer entertainment, I'd watch ten minutes of Savalas' work over Laurence Olivier's entire output hands down). A fine, underrated dramatic actor frequently (and sometimes unfortunately) caught up in his own iconic persona, Savalas absolutely soared in this series, bringing a modern, ballsy, swaggering, sexy confidence to an established TV stereotype that hadn't been seen before on the small screen. Hilariously funny when ad-libbing a put-down, or surprisingly sensitive and caring during more intimate, dramatic moments, Savalas' Kojak was a complete original at a time when TV viewers thought they had seen it all when it came to their television detectives. Add to that the producers' insistence on modeling the series after gritty, violent, complex big-screen urban thrillers like The French Connection and The Seven-Ups, and Kojak made the emotionally tortured Rookies or the terminally socially-conscious Mod Squaders look like a bunch of pussies.
Clearly by this last season, though, those creative sparks had long-since faded away. Most of the episodes are still competent, still interesting in terms of construction and thematics, while Savalas even bored to death is always at the very least watchable. However, the fire in the belly that Kojak routinely let loose, is now largely gone. If ratings can be taken as a small indicator among many other factors as to a series' aesthetic direction, it certainly didn't help Kojak's Nielsens that CBS continued to keep Kojak playing in the wrong time slot. However, I suspect even long-time, loyal viewers were developing a "take it or leave it" attitude by this point, and it probably had little to do with what night the show aired (I was often absent during this last season). In my last Kojak review, I commented on the almost imperceptible change in Savalas' demeanor...but there's nothing "imperceptible" about it now in this fifth go-around. Oh, he can still be funny, and charming, and suitably serious when sufficiently roused, but more often than not, there's a distance, a wary, weary kind of boredom, that seems to permeate his performances here. All one has to do is pop in any random episode from the first or second season, and compare it the best this fifth season has to offer, to see the marked change in Savalas' physical appearance (he often looks tired and glum and a bit overweight now, moving much more slowly) and his emotional commitment to the character (just watch those early episodes, where he's bouncing off the walls with energy). There are probably a half a dozen plausible reasons or more for this drop-off in both the show's quality and Savalas' engagement―simple burn-out, the knowledge the series was steadily failing in the ratings, worn-out formula―but in the end...it doesn't really matter why. It just is, and no new title sequence, complete with grainy zooms and freeze-frames and a disco theme that sounds like a cross between Charlie's Angels and The Love Boat, is going to cover that fact up for viewers.
The season's opener, The Queen of Hearts is Wild, may not approach Sidney Lumet complexity in its examination of the moral complicity of an undercover Fed getting "close" to her target, but its admirable for not taking the easy way out of this uncomfortable subject (Telly gets some good tough-buy/Bondian scenes here, too, such as besting a hood at the roulette wheel). Mannix artiste Sutton Rolley takes a fairly clichéd story in A Strange Kind of Love and does some nice things with his patented big-screen framing, emphasizing creepy P.O.V. shots in the authentically grimy Big Apple location work (we're introduced to a new element in the series here―Kojak's new hangout, Stella's bar, with Carole Cook―but the producers don't do anything with her, really, in a few later episodes). Laid Off may not be terribly original, either―a laid-off cop can't fight the bills and goes on the take―but it's well-acted by Michael Durrell and Jenny O'Hara. Cry For the Kids gets a little message-y, particularly at the end when we get a little groaner (Telly's voice over, repeating the episode's main concern), but it's a good examination of the impossible situation where kids act like adult criminals, and the courts' inability to deal with the consequences. Justice for All feels closer to earlier Kojak episodes, with his moral outrage over the city not caring about junkie kids dying nicely dovetailing with his (almost) decision to quit the force. Kojak doesn't have to decide whether to quit or not in the excellent Chain of Custody, a complex little thriller that evolves from a garment worker's murder, to malfeasance in the prosecutor's office...with Kojak suspended for insubordination (Savalas is best when he's pushed too far by his "superiors").
Those kinds of episodes, however, a fewer and farer between this season. A handful of episodes attempt a lighter touch, with mixed results. May the Horse Be With You can't decide if it's a drama or out-and-out comedy in this story of a cop keeping a racing horse at the police department's stables (there's a silly, Benny Hill-type chase at the end that's quite unfortunate). Anything with Shelley Winters gets my attention, and teaming her with Savalas noticeably jacks up his energy level in The Captain's Brother's Wife, where she plays a scheming con artist who's not too bright. Certainly one of the lightest Kojak episodes I've ever seen is Case Without a File, where everyone drops any pretext of reality as Kojak becomes a private eye right out of a Bogart film noir. Sporting Bogey's trenchcoat and fedora, Savalas seems to be having a ball here, and the results are undeniably fun...but loyal fans of the series will have to wonder just how in hell this format-changer got green-lighted. Competent but rather dull mysteries take up too much space this season, as well, including I Could Kill My Wife's Lawyer, Mouse, and Photo Must Credit Joe Paxton (a potentially interesting idea sabotaged by the less-than-inspired casting of Tige Andrews as the romantic paparazzi).
Far too many episodes this season, unfortunately, either feature similar miscasting (casting used to be one of this series' strongest suits) or just plain wrong-headed conceptions and executions. Caper on a Quiet Street blows the good casting of Armand Assante and Bill Vint as heisters with the misplaced comedienne Candice Azzara in a pivotal role; we keep expecting a laugh track when she talks (the final assault is botched, as well). If you've read my other TV reviews, you'll know that I have a special fondness for Mannix, a completely different show in terms of aesthetics and themes compared to Kojak (apples and oranges, obviously, in terms of which one is "better"). So...why should I tune into Kojak to see bad studio-bound Mannix episodes like Letters of Death (red-eyed Telly really looks bad here), Tears For All Who Loved Her (Savalas sleepwalks through this one), The Halls of Terror (two sensational character actors―Zohra Lampert and Michael Lerner―completely wasted), and No License to Kill (how do you screw up a hitman/sniper plot so badly?). "Miscasting" doesn't even begin to excuse In Full Command, a thoroughly familiar story of a prominent desk jockey blowing his career when he tries to hijack a field operation. "Comedian" Danny Thomas had enough trouble with the jokes, but when he tries for straight drama, the results are frankly bizarre (check out how seriously weird he looks, talking to that hooker about his wife...and that final scene where we're supposed to be embarrassed for his character, backfires squarely onto Thomas, instead).
By this point, Kojak can't seem to play it either straight or for laughs. The Summer of '69 should have been one of those two-parter Kojak showcases, telling the story of Kojak's guilt over killing the wrong serial killer...but poor story construction of too many subplots (either that, or someone hacked this to pieces in the post-edit), miscasting again (the marvelous Diane Baker as Theo's jealous lover???), and one really bad supplication to Telly's ego (a tango sequence, for god's sake) sabotage this potentially interesting outing (and Stephen McHattie's excellent psycho portrayal). Most disappointing of all, though, is 60 Miles to Hell, another Mannix-y episode that finds Crocker kidnapped in the Las Vegas desert, with Telly going west, bald man, to save him. You know, if I'm going to watch one of the best cop shows to ever grace the small screen implode, than I want to see it done with some style. So if I'm offered the pop culture equivalent of a small planet exploding―seeing Savalas and Liberace of all people performing a straight dramatic scene...baby, it better be f*cking hilarious. Tragically, it's not. The makers of Kojak weren't Aaron Spelling, so nobody knows what to do with Telly in Vegas. He only gambles once (...and loses―how stupid is that); he's accompanied by absolutely gorgeous Priscilla Barnes...and yet does nothing about that tantalizing proposition (jesus is she good-looking); and in the end, he's given a desert jeep chase that goes nowhere. What could have been classic '70s kitsch instead just lays there: flaccid, non-vulgar, unexploited. If Kojak is going to flame out, I want that last bang to be either forthright and blunt like earlier efforts...or clowned up with so much excess that it would choke Rip Taylor. No dice on either score here. Oh, sure; Kojak would eventually come back in the '80s with a series of excellent TV movies...but the series proper just limps away here in this unsung, unsatisfying final go-around.
Limping away in the ratings, too. How CBS took the seventh most-watched series in America and turned it into basement dweller is a lesson in blinders-on programming. Determined to stick it out on Sunday nights, when all evidence pointed to that being the wrong night for this show, CBS bumped Kojak back an hour to 10:00pm on Sundays...and promptly sent it even further into the Nielsen dumps when it tried to find viewers who were already engrossed in the first hour of NBC's The Big Event offerings (30th for the year) and The ABC Sunday Night Movie, at 20th in the Nielsen's (even stellar lead-ins All in the Family, 6th for the year, and Alice, 8th for the year, were of no help to Telly). In a case of way too little, way too late, CBS signaled the end of the series by moving it in December to Saturday nights, (swapping time slots with the dying The Carol Burnett Show), where it sank for good.
Here are the 22 episodes of Kojak: Season Five, as described on the inside DVD cover:
DISC 1
The Queen of Hearts is Wild
The girlfriend of a local gangster who hates Kojak is the only witness in the murder of a police officer.
A Strange Kind of Love
A psychotic killer thinks that a television talk show host is subliminally brainwashing him to murder.
Laid Off
A laid-off police officer with two jobs and a sick wife takes a bribe under pressure from a loan shark.
Cry for the Kids
A teenager accidentally kills a gangster's hired hand while robbing him, only to have a rival gangster hire him to take out the competition in order to gain control over the neighborhood.
DISC 2
Once More from Birdland
A singer is determined to prove her wrongfully imprisoned father innocent after he has spent 14 years in prison.
Caper on a Quiet Street
A woman is Kojak's only link to finding $6 million, but her boyfriend has other plans.
Letters of Death
Anonymous messages begin turning up informing a model that someone close to her is in danger of being murdered.
Tears for All Who Loved Her
Crocker falls for a woman while investigating the death of her mobster husband.
DISC 3
The Summer of '69, Part 1
Kojak must reopen a case in which the prime suspect accused of murdering three women was gunned down in a shootout with him. Now, eight years later, the murders have started again, and it appears that Kojak may have killed the wrong man.
The Summer of '69, Part 2
Kojak is framed when he gets too close to discovering the truth in a serial murder investigation.
Case Without
Kojak poses as a murdered private investigator in order to find out why the man was killed.
I Could Kill My Wife's Lawyer
A detective believes that his wife's divorce lawyer hired an arsonist to destroy his boat.
DISC 4
Justice For All
While Kojak is contemplating leaving the police department to become a law firm's investigator, a series of recent drug-related deaths begins to overshadow his decision.
Mouse
Kojak encounters a case in which a highly respected surgeon may be performing unnecessary procedures in order to use the money to pay off gambling debts.
Chain of Custody
Kojak is suspended after reacting to an incompetent district attorney who failed to convict a known killer.
The Captain's Brother's Wife
Kojak tries to protect Captain McNeils' widowed sister-in-law from big-time gamblers.
DISC 5
No License to Kill
Kojak offers to help a jealous police officer search for a professional hit man.
The Hall of Terror
Kojak and the detectives go undercover in a local hospital in order to investigate a string of murders that have been occurring while the victims were on duty.
May the Horse Be With You
A retired police officer is injured after attempting to prevent the theft of a race horse that he illegally housed in the NYPD stables.
DISC 6
Photo Must Credit Joe Paxton
A photographer becomes the prime suspect in a jewel theft and the phony kidnapping of a former actress whom he photographs.
60 Miles to Hell
Crocker is taken hostage while trying to transport a prisoner back to New York.
In Full Command
After being rejected for a promotion, a disgruntled inspector sees a current case as a way to boost his career.
The DVD:
The Video:
The full-screen, 1.33:1 transfers for Kojak: Season Five look quite solid, with a sharp, sharp picture, solid color, and no compression issues.
The Audio:
The Dolby Digital English mono audio track is adequate, with little hiss or fluctuation. No subtitles or closed-captions available, however.
The Extras:
No extras for Kojak: Season Five.
Final Thoughts:
So long, Telly baby. No one is going to call this fifth and last season of Kojak its strongest...but it's Telly Savalas, after all. That should be enough, right? A disappointing farewell, with only a few episodes that even come close to the series' former glory. Loyal followers of the Greek god Savalas will of course will buy it...but newcomers should start at the beginning. I'm recommending Kojak: Season Five...but only for the fans.
---
Paul Mavis is an internationally published movie and television historian, a member of the Online Film Critics Society, and the author of The Espionage Filmography.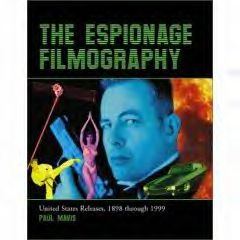 ---
C O N T E N T

---
V I D E O

---
A U D I O

---
E X T R A S

---
R E P L A Y

---
A D V I C E
Recommended
---
E - M A I L
this review to a friend
Sponsored Links
Sponsored Links