List Price: $49.99 [Buy now and save at Amazon]
---
The countdown continues...and the new man on the case is briefly introduced. Acorn Media has released Midsomer Murders: Set 19, a four-disc, four-episode collection that comprises the internationally-acclaimed U.K. murder mystery series' 13th "series" ("season" in Brit-TV speak), which originally aired in 2010. Episodes included are The Made-To-Measure Murders, The Sword of Guillaume, Blood on the Saddle, and The Silent Land. Fans of Midsomer Murders know that star John Nettles has already vacated the role of Detective Chief Inspector Tom Barnaby, but with the delay in release dates for Acorn's sets, we still have a few episodes left before Neil Dudgeon takes over as Tom's cousin, John Barnaby, the new DCI for Causton CID―a character introduced here in the gory The Sword of Guillaume. No extras to speak of here in these gorgeous widescreen transfers.
Having reviewed eleven (!) previous sets of Midsomer Murders, I can assure you that if you're not familiar with the series, don't feel that you can't begin watching the show even this late in the game (please click here, if you wish to read my previous reviews for background). Each mystery is essentially "stand alone," so newcomers are more than welcome. Not to spend too much time on recapping the series for the twelfth time, but to briefly acquaint new readers with the basic set-up, Midsomer Murders details the bizarrely continuous mayhem (which nobody notices or cares to comment on, except Barnaby on rare, wry occasions) that afflicts rural, affluent (and fictitious) Midsomer County, England. Bodies drop like flies, and in the most appalling ways, and it's up to Detective Chief Inspector Tom Barnaby (John Nettles) of the Causton Criminal Investigation Department, to clean up the mess. Barnaby is aided in his inquiries by Sergeant Ben Jones (Jason Hughes), an inquisitive, competent copper who offers an oftentimes wry, slightly baffled compliment to Barnaby's low-key detective skills. Lending a hand with vital forensic data is jovial coroner Dr. George Bullard (Barry Jackson), while DC Gail Stephens (Kirsty Dillons), is often seen at the station. Offered as comedic punctuation, but rarely as significant subplots, glimpses of Barnaby's home life frequently bookend an episode, featuring Joyce Barnaby (Jane Wymark), Tom's vibrant but put-upon wife...who often loses her husband to a case right before an important event in their social life.
THE MADE-TO-MEASURE MURDERS
Slimcase synopsis: "On her way to confession, Milton Cross resident Sonia Woodley gets stabbed to death in the churchyard. As Barnaby and Jones investigate the gruesome case, they uncover new information about the death of her husband two years prior. While the detectives ponder what Sonia was so eager to confess, another villager is killed--and the coroner makes a startling discovery about the murder weapon." As I've written before in my reviews for the Poirots and the Marples and the Midsomers, I'm no detective. I don't actively try and solve a mystery when I watch one in the theaters or on TV. I like to be befuddled as the mystery deepens; I like that sense of not knowing where things are headed, until the solution is presented and everything falls into place. So...if I can figure out the murderer in about the first five minutes of The Made-To-Measure Murders, something is wrong with the episode. It doesn't help, certainly, that the actor who plays the murderer here is so determined to telegraph his/her guilt from his/her first line; my 13-year-old son watched this with me, and the minute the character walked on, my son simply said, "(S)He did it," and walked out of the room...and he was right. But even if the actor involved hadn't been so blatant in his/her overacting, this particular mystery, written by Andrew Payne, is a fairly transparent effort that wouldn't fool even the most novice crime aficionado. Red herrings in motivation and act are obvious, while the underlying attack on religion threading through the story―no big surprise there from England's aggressively secular television―feels more like a tacked-on lecture rather than an integral part of the story...and this from a non-believer reviewer ("Well, that's religion for you, Jones: brings out the irrational in people," Tom states, a biased little dig―like Dr. Bullard's "rigmarole" description of high church rituals―that's then inexplicably undercut when Tom contributes money to the church's donation tin when the vicar is killed). There are some nice moments here, though, including some funny bits with Ben when he's caught by Tom seemingly goofing off on the job, and a particularly good scene with Tom, fingering a piece of expensive, vintage Scottish tweed and remembering how his father's tweed jacket smelled after a rain storm (Nettles plays this scene perfectly: not sentimental or broad, just...remembering). Not a particularly memorable episode to start the set.
---
THE SWORD OF GUILLAUME
Slimcase synopsis: "Visiting Brighton with the Causton Chamber of Commerce, Barnaby becomes embroiled in a case of dubious real-estate deals, missing swords, and ancient family history. When Barnaby grows suspicious of the shady Causton mayor's motives for traveling to the seaside, he enlists the help of his cousin, Brighton's DCI John Barnaby. The detectives' investigation begins with a series of threatening letters to a wealthy landowner that quickly escalates to murder."

Our first glimpse at Nettles' replacement, Neil Dudgeon. Before we deal with that momentous occasion in the series' timeline, the episode itself, The Sword of Guillaume, is a rather fanciful entry, with a complicated plotline that mixes two of Midsomer Murders' favorite thematic elements: crooked politics instigated by obnoxious, social-climbing public servants (who of course clash with the local imperious, impoverished gentry), and a homicidal murderer avenging a past wrong. A voluptuous, sexy hotel manager comes on to Tom, but as usual with the series, the teasing suggestions that a lot of the women that Tom encounters are attracted to him, is sidestepped (we do get a funny scene, though, where Joyce freezes Tom out of jealousy). Other than Dudgeon's appearance, probably the most notable aspect of The Sword of Guillaume are its two horribly grotesque decapitation murders, done in that blackest of British humor. The first headless body, sitting upright, is seen coming out of a horror "dark house" carnival ride, still gripping the safety bar (funny), while the matching head is in another car for an added laugh, while the second decapitation goes for pure shock, having the grimacing head neatly situated on a vanity (I actually like it when Midsomer Murders goes for broke in the violence department; it's a humorous, jolting contrast to the supposedly genteel facades of the Midsomer villages―a recognized convention of British black comedy/mysteries). As for Dudgeon...it's hard to say from his brief turn here. How he's introduced here is clunky (from scripter Michael Aitkens), with Tom phoning his cousin John Barnaby, an inspector in Brighton, several times for help, before they team up at the coastal resort. I've enjoyed Dudgeon in other English entries (he was particularly good with Diana Rigg in the otherwise iffy The Mrs Bradley Mysteries series), but it's hard to tell how he's going to fit in with the series' format from his turn here; obviously (or hopefully), the character is going to be fleshed out when he takes over the role after the few remaining Nettles episodes.
---
BLOOD ON THE SADDLE
Slimcase synopsis: "Ford Florey's Wild West show becomes a grisly crime scene after a woman is shot and killed while working in the dunk tank. Barnaby and Jones discover that the victim's lover was Jack Fincher, an unpopular farmer involved in a longstanding dispute over a patch of land called "the Swamp." As the fight over the property intensifies, the cowboy killer claims another victim, and the detectives must race to uncover the Swamp's true owner. "

A solid entry...but could have been one of the series' best. Ostensibly a spoof of American Westerns, Blood on the Saddle, written by David Lawrence and directed by Richard Holthouse, opens with a bizarre scene worthy of an early Avengers episode: an American cowboy rides into a quaint English village, dismounts from his horse, takes out a Winchester rifle, enters a charming little cottage, fires, and a woman emerges, screaming someone has been killed. Terrific. What follows then is a highly amusing day at the Wild West Fayre, with Joyce besting Tom at the midway skill games, and an enthusiastic Tom enjoying a mock gunfight from the Wild West cowboy enactors ("Oh, it was great in those days...just shoot 'em dead on Main Street," a blissful Tom states). Various American Western conventions are then sent up (I don't find the filmmakers inability to authentically recreate the look of American Westerns―right down to the just off costumes―annoying; it's part of the show's charm). There's a barroom brawl (when warned by someone with the cliché that "there's trouble at the Last Chance Saloon," Ben does an bemused two-second take before replying, "There would be, yes,") and a final shoot-out, complete with the killer's psychotic viewpoint visualizing a Western town set...and Barnaby in Wyatt Earp gear (that costume looks...marvelously ridiculous on him). Unfortunately, the middle section of the episode goes a bit soggy when the script strays from the Western parody to incorporate a subplot about gypsy "travelers" that eschews any humor. Now had they somehow paralleled the gypsies with the Indians in a typical Western, that would have quite amusing. A fun episode that should have been tighter.
---
THE SILENT LAND
Slimcase synopsis: "Joyce believes that she hit someone with her car in March Magna--but no body is found. When the local librarian, Gerald Ebbs, is discovered dead in a graveyard, Joyce is convinced that she's responsible. Barnaby and Jones investigate the librarian's peculiar fixation with the cemetery and uncover the town's ghastly history of murder, haunted inns, and cursed sanatoriums. "

A middling episode by typically high Midsomer standards. I always get a little nervous when the cynical, sardonic, doubting Midsomer incorporates a ghost into the proceedings. Of course, the main murder mystery is anything but paranormal, with a typical Midsomer emphasis on failed marriages (the husbands are always either lacking in bed, or obsessed by village minutia, both of which cause despair for their unfulfilled wives), and the resulting humor that comes from those farcical situations. It's not too hard to see where The Silent Land is going in terms of not only who the victims are going to be but also the murderer him/herself, nor is the commentary on small village life outside of anything you've seen in 30-odd other Midsomer episodes. It's just that whole ghost thing that bothers me. Joyce thinks she sees a person on the rainy, dark road at the beginning of the episode, a figure who is essentially confirmed as a supernatural presence by Tom of all people at the end of the episode. Now, the last thing I need in a Midsomer Murders episode is an otherworldly entity to clash with the decidedly all-too-human baseness that makes up the crimes in this violent fantasy world. So often, these episodes concern people living under the debilitating illusions of past events (failed loved affairs, thwarted inheritances, revenge for past slights, a now-passed society that was somehow "better back then"), so to throw a "real" live ghost into the mix somehow seems a "cheat" that too concretely confirms the already fanciful fantasy elements of the show. A forgettable episode in the series.
The DVD:
The Video:
As always, Acorn's transfers for Midsomer Murders never miss: they're superlative. The anamorphically enhanced, 1.78:1 widescreen transfers for Midsomer Murders: Set 19 look, as always, very good: crisp, sharp images with nicely balanced color and no compression issues whatsoever (no pesky PAL conversion issues, either). The image is remarkably bright and clean.
The Audio:
The Dolby Digital English 2.0 stereo mixes for Midsomer Murders: Set 19 are more than adequate for these largely dialogue-driven mysteries. Discreet left-right directionality, with solid recording levels. Thankfully, Acorn Media is putting more and more subtitles on their U.K. imports, which is good news for some viewers who may have a hard time with those local accents. English subtitles are included here.
The Extras:
Other than a photo gallery, no extras here.
Final Thoughts:
It's getting down to the wire. With John Nettles' final episodes here, it's a shame these last episodes aren't stronger. However...by any other mystery show standards, they're still quite effective and entertaining. I highly recommend Midsomer Murders: Set 19.
---
Paul Mavis is an internationally published film and television historian, a member of the Online Film Critics Society, and the author of The Espionage Filmography.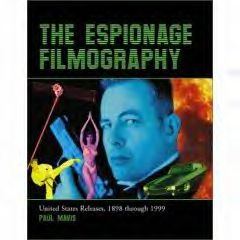 ---
C O N T E N T

---
V I D E O

---
A U D I O

---
E X T R A S

---
R E P L A Y

---
A D V I C E
Recommended
---
E - M A I L
this review to a friend
Sponsored Links
Sponsored Links