Bonanza: The Official Fourth Season, Volume 1
List Price: $58.98 [Buy now and save at Amazon]
---
The Ponderosa stands tall. CBS DVD and Paramount continue their terrific, extras-filled releases of the 1960's most successful TV series with Bonanza: The Official Fourth Season, Volume 1, a five-disc, 18-episode collection of the iconic TV Western, starring Lorne Greene, Pernell Roberts, Dan Blocker, Michael Landon, and a host of superlative guest stars. Representing the series' 1962-1963 season, Bonanza: The Official Fourth Season, Volume 1 continues' the series' strong showing in meticulously produced drama, action, and comedy anthology episodes―with writing, direction, and performances this good, no wonder Bonanza ran for 14 highly successful years. CBS and Paramount, not stinting on the bonuses for these beautifully restored transfers, comes up with another load of extras for the fans, including commentary tracks and cool behind-the-scenes stills of the show in action. Absolutely necessary viewing for TV Western and drama anthology fans.
It's the late 1850s, and gold and silver fever are sweeping through the hills and valleys of the celebrated Comstock Load. Virginia City, Nevada, sitting right on top of those millions of dollars' worth of ore, is bustling with miners, settlers, businessmen, rustlers, con artists, and killers. And butting right up against Virginia City is the massive Ponderosa ranch, a thousand-square mile New World Eden filled to the brim with pine and beef. Overseeing this operation is voice-of-God Ben Cartwright (Lorne Greene), the thrice-widowed land baron who watches over his spread as fiercely―and as tenderly―as he does his three grown sons. Eldest, Adam Cartwright (Pernell Roberts), is the most serious of the three siblings, and the one who works most directly under Ben in running the Ponderosa. His mother the daughter of a New England sea captain, Adam was schooled back East as an architect and engineer. Middle son Eric "Hoss" Cartwright (Dan Blocker) gets his massive physique from his mother, a six-foot tall Swede who reportedly could punch like a mule. Hoss, who may seem rather dim or naïve at times when he's not killing a bear with only his hands or knocking down a tree, is in reality quite sensitive to his surroundings and to the sufferings of others. Finally, Little Joe Cartwright (Michael Landon), the youngest son, gets his smoldering dark looks and equally tempestuous nature from his beautiful half-Creole mother, whom Ben met during a trip to New Orleans' French Quarter. Little Joe is certainly the most reckless of the clan, relying on his charm and his fast fists to both get him into trouble, and out of it again...especially if there's a lady involved. Constantly patrolling their land to keep opportunists at bay, the Cartwrights inevitably get involved week after week in the troubles of others, who look to the Cartwrights as one of the few stabilizing forces in the wild and wooly excesses of the Old West.
In my four reviews for Bonanza's first two seasons (I unfortunately wasn't assigned the third season), I wrote extensively about the series' inception, its production, and the aesthetic and thematic framework underpinning the show's construction. So I'll try not to cover the same ground in this review...although it's next to impossible not to when Bonanza's forte―compelling drama anthology stories within a Western framework, expertly produced and performed―is so consistently, even routinely, on display here, week after week, season after season. It's interesting, then, that producer David Dortort would risk altering the show's successful formula by introducing a major potential shake-up in the season opener: The First Born. Ranch hand and gambler Clay Stafford (Barry Coe) is new to the Ponderosa...but he seems to already know Little Joe...who turns out to be Clay's younger half-brother. The storyline again shows Dortort's gradual realignment of the Cartwrights from the violent, protective landowners of the first season, to the almost-patrician, calm, cool, civilizing agents aiding an untamed West (Ben tells fast-killing Clay his values aren't theirs...but that he hopes living with the Cartwrights will change Clay's behavior). Did Dortort introduce Barry Coe to genuinely add dimension to the Cartwright clan...or was it his way of shaking up his now-famous (and increasingly demanding) cast, putting them on notice that they could be replaced, should they prove stubborn come contract time? Hard to say, but you can certainly see why reports of the cast being suspicious of Coe might be true―he's terrific here, coming off as more handsome and more attractively mysterious than either Roberts or Landon. Too bad Dortort didn't keep him around.
Certainly the writers and directors gave the individual cast members opportunities to shine in their own specialty episodes this season. Landon, perhaps relieved at Coe's departure, is in good form in the following episode, The Quest, where Little Joe, angry at the world (is it because his older half-brother has just left?), wants to break free of the Ponderosa's stifling influence and become his own self-made man (good large-scale action in this nicely-tuned episode, with Landon hitting just the right note as maturing Little Joe). Blocker, excellent by contrast when his massive frame is inserted in a tender love story, scores in Knight Errant, where a terrific Judi Meredith falls for the big lug (what a pity the talented Meredith's career wasn't more prominent). Roberts in The Way Station (basically a reworking of The Petrified Forest) gets a chance to do his best Adam Cartwright turn: deeply cynical, slightly bemused, and always watching, waiting. And Greene gets a showy turn in The Deadly Ones, where he matches wits with Will Kuluva as a Juarez general, and killer henchman, Leo Gordon (the single creepiest set of too-small, ice-blue eyes you'll ever see in movies).
Along with these Cartwright-centric episodes, other familiar, recurring Bonanza themes pop up during this fourth outing. A fairly basic Western theme―the local townspeople as suspicious, violent mob, ready to take justice into their own hands―crops up in several episodes, including the opener, The First Born (the cowardly town folk beat up Little Joe in an effort to pressure killer Clay), A Hot Day for a Hanging (where Hoss is almost hanged by a vengeful town, helped by a cynical opportunist sheriff, Denver Pyle, who's willing to aid his town financially by letting innocent Hoss die), and The Jury, where Hoss (the perfect "innocent" when the distrustful townspeople are on the loose) is pressured after being the lone jury hold-out in a murder trial. The notion that the men of the Ponderosa being uniquely qualified―better educated, more refined culturally, more democratic and fair-minded than others in the West―to help desperate people in need comes through in The Artist (Ben's sensitivity is greater than blind, angry painter Dan O'Herlihy's), The Decision (even with Hoss dying of a punctured lung, Ben has time to help doctor DeForest Kelley redeem his own soul before the hangman ends his, and therefore Hoss', life), and the appropriately titled The Good Samaritan, where Hoss' supernatural kindness goes beyond all notions of Western hospitality in not only getting drunk friend Don Collier on his feet, but fixing him up with lonely, abandoned widow Jeanne Cooper and her child. The notion that the Ponderosa, and by extension, the Cartwrights who live there, is an island unto itself, too big and powerful to be pulled down into "ordinary conflicts," is turned on its head in The War Comes to Washoe, where Ben, adamant that the Cartwrights "straddle" the Civil War, must finally chose a side...much to the anger of Little Joe, who has fallen for a pretty Southern belle.
Only when Bonanza looks at the touchy issues involving Indians and the encroaching White civilization in this season does the series stumble―not for lack of trying, but as dictated by the network standards and expectation of the time that for the most part, demanded neat, tidy conclusions that left moral quandaries patly solved within the hour. The Deserter features a complex, ambiguous set-up involving Army Colonel Claude Akins hunting down the deserter who tried to warn-off the Indian village Akins was set to slaughter, the deserter turning out to be his son. However, this triple-layered drama (the deserter has personal ties to the Indian chief...who wants the son dead for the father's crimes), is wrapped up in ridiculous fashion when the Indians are satisfied with Akins going to Washington to confess his crimes. The Beginning makes the same mistake, giving the viewer an intriguing storyline of White Carl Reindel, having been captured and raised by Indians, unable to acclimate himself to confusing "civilized" White culture. Again, however, the story is wrapped up too neatly when it's suggested that good-intentioned, murdering Reindel will escape the hangman's knot. The otherwise delightful Half a Rogue largely ignores its Indian/White subplot: mountain man Slim Pickens makes noise about the discrimination he's encountered as a "half breed," but the episode focuses more on his scuffles with Blocker.
While almost all the episodes featured in this season of Bonanza rank with the best offerings on any of the network schedules during the 1962-1963 season, a few stand out as Bonanza series best outings. Elegy for a Hangman is another Bonanza take on the potential for corruption among the West's civilizing forces (this time a judge who lets an innocent man die in the name of the territory's progress), and the resulting vengeance from the man's son (veteran Otto Kruger and newcomer Keir Dullea are both excellent in this well-written entry). In The Colonel, the familiar theme of a former hero-turned-lying-failure is rejuvenated by scripter Preston Wood and director Lewis Allen, and by an excellent turn from John Larkin as a former veteran who soldiered with Ben Cartwright, and who has now become a threadbare traveling salesman (listen to series composer David Rose's unsettling, wheezy, out-of-tune cue for Larkin's character, suggesting past glories corrupted by the present day's dire circumstances―a sophisticated filmmaking technique not at all the norm during this time of network programming). Gallagher's Sons, scripted by Dick Nelson and directed with cool calculation by Christian Nybe, is a beautifully tempoed action piece, featuring Blocker chaperoning two little girls across the desert...with villain Robert Strauss in hot pursuit. A tricky script (little Larrian Gillespie's character is no dummy), excellent performances, and an editing rhythm that's damn-near perfect, Gallagher's Sons would stand up well against any of the best big-screen "B" Westerns you can name. And finally, Song in the Dark, another Bonanza foray into outright fable (much like season two's spin-off pilot, Sam Hill) from scripters Judith and George George, and director Don McDougall, is a remarkably potent little fantasy that has troubadour Gregory Walcott riding a white horse at night, singing Under the Red Rock Rim, while religious zealot Edward Andrews tries to frame him for murder. An overwrought, sometimes downright hysterical (in tone, not humor) episode, Song in the Dark is gorgeously, evocatively shot by series vet Haskell Boggs, creating a sinister, velvety picture-book visual that's entirely consistent with the episode's overt message (blind religious fervor is bad) and its weird undertone (just who exactly is Walcott's character? Jesus? Death?). It's a considerable achievement, showing the flexibility of the Bonanza format to accommodate stories and treatments outside the usual Western conventions.
Bonanza dropped a bit in the ratings for this 1962-1963 season, going from the second to the fourth most-watched network show in the country. Firmly entrenched in its Sunday 9:00pm timeslot, Bonanza's lead-ins, the new flop Ensign Pulver, followed by slightly dropping Walt Disney's Wonderful World of Color and faded Car 54, Where Are You? helped a little...but classy, low-rated lead-out DuPont Show of the Week may have been a bit of a drag against powerhouse Candid Camera over on CBS. Bonanza's direct competition, The Real McCoys on CBS, took a big hit against the Ponderosa, going from 14th the previous seaon to out of the Nielsen Top 30 altogether, while The ABC Sunday Night Movie was years away from being its usual solid ratings winner. Bonanza would bounce back in a big way over the next four years....
The DVD:

The Video:
Excellent. The full-screen, 1.33:1 color transfers for Bonanza: The Official Fourth Season, Volumes 1 & 2 look amazing, with rich, deep color, minimal grain and picture noise, and a sharp, sharp image. I know these look better than they ever did back when they were first broadcast.

The Audio:
The Dolby Digital English split mono audio tracks have been cleaned up and re-corded with little if any hiss and at a vigorous level. English subtitles are available.

The Extras:
No other long-running TV series on DVD (in my memory, at least) has sustained the level of buyer-enticing extras as have these CBS/Paramount Bonanza releases. On disc one, photo galleries (with helpful text) are included for every episode except A Hot Day for a Hanging, with NBC bumpers and logos for the first two episodes. A highlight of the set is the inclusion of the Chevrolet's Ponderosa Party extended commercial, originally broadcast at the end of commercial-free The Quest. Featuring the casts of Chevrolet's three network-sponsored shows (Route 66, My Three Sons, and Bonanza), Chevrolet's Ponderosa Party has Don Grady saying, "Man! This is turbulent!" for the new Corvair; William Frawley making fun of Victor Sen Yung's inability to say "Rs" ("Light, Mr. Frawley?" "Light!"); and Fred MacMurray and Lorne Greene, both taking a break from their rugs by wearing hats, taking a nice drive together in the latest "jet-smooth" Chevy ("Right, Lorne?" "Right, Fred!"). And all through it, Dan Blocker stays in character, eating and eating (that should have been a big, red typecasting flag to the talented Blocker). This is the kind of stuff that vintage TV lovers absolutely die over, and Paramount and CBS DVD, and the producers of these sets, should be commended for including them here.

On disc 2, photo galleries are available for every episode. On disc 3, there's a commentary track with co-star Larrian Gillespie, moderated by Andrew J. Klyde. She's well-spoken, with lots of good background info on her episode's production (Gallagher's Sons), while Klyde, as usual, is terrific as a moderator. Disc 4 has a photo gallery on The Colonel, while a special gallery shows the cast posing with David Rose's soundtrack album. On disc 5, Song in the Dark has a commentary track with star Gregory Walcott. He's wonderful, giving some fun stories about the series, and even crooning his episode song a bit to prove he's really singing it in the original (and beautifully he does, too, in that haunting, amazing episode). For Elegy for a Hangman, a photo gallery is included, along with a commentary track with star Keir Dullea. He's also excellent here in his commentary, giving some good historical background to his entry (it was filmed at the height of the Cuban missile crisis), along with some tips for acting on camera.

Again, for vintage television DVD sets, which usually have one or two extras for their first season's sets (to entice the buyers), before abandoning them altogether, this continued inclusion of heavyweight extras for the Bonanza sets is remarkable...and most welcome.

Final Thoughts:
It ran that long for a reason: it was one of the best drama anthologies of the 1960s. Bonanza: The Official Fourth Season, Volumes 1 & 2's first volume is filled with winners (and even a few series' best offerings), while the extras put this over into the "2012's best TV DVD releases" category. I'm giving Bonanza: The Official Fourth Season, Volumes 1 & 2 our highest ranking here at DVDTalk: the DVD Talk Collector Series award.
---
Paul Mavis is an internationally published film and television historian, a member of the Online Film Critics Society, and the author of The Espionage Filmography.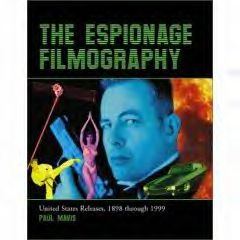 ---
C O N T E N T

---
V I D E O

---
A U D I O

---
E X T R A S

---
R E P L A Y

---
A D V I C E
DVD Talk Collector Series
---
E - M A I L
this review to a friend
Sponsored Links
Sponsored Links