Francis Ford Coppola: 5-Film Collection
List Price: $39.99 [Buy now and save at Amazon]
---
THE FILMS:
This Francis Ford Coppola: 5-Film Collection is the result of a recent collaboration between Lionsgate Films and Francis Ford Coppola's American Zoetrope studio. Coppola and George Lucas founded the San Francisco film studio in 1969, and each film in this collection bears the studio's distinctive corner-building logo. Lionsgate and Zoetrope partnered in 2010 to restore and release some of Coppola's greatest films in high definition. This is by no means a definitive collection - The Godfather Trilogy, The Outsiders and Bram Stoker's Dracula are not included - but fans looking to add several classic films to their high-definition collections should be pleased by this set's $30 price tag. The new Lionsgate/Zoetrope Blu-ray releases are uniformly impressive in both technical quality and added content, and this set includes five films: Apocalypse Now; Apocalypse Now Redux; The Conversation; Tetro; and One From the Heart, which is available on Blu-ray exclusively in this collection. Note that I've provided links to expanded DVD Talk reviews of each film.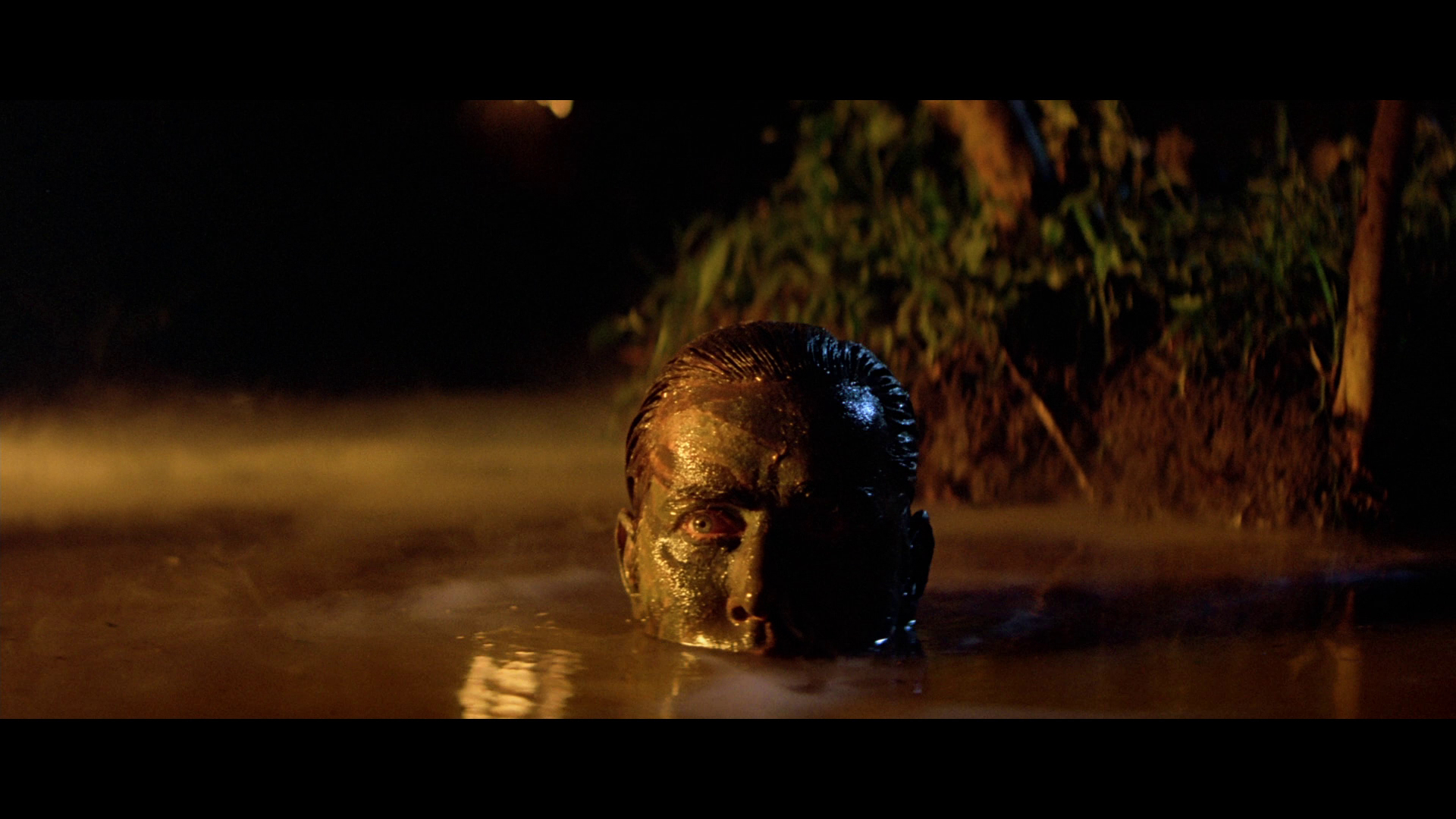 Click an image to view Blu-ray screenshot with 1080p resolution.
Apocalypse Now is a breathtaking journey into the troubled mind of Martin Sheen's Capt. Benjamin Willard, a military assassin stationed in Vietnam. Marlon Brando's Col. Walter Kurtz has gone rogue, disappearing into the jungle and succumbing to madness brought on by harsh wartime conditions. Willard is sent to kill Kurtz, but his own experiences in war cloud his judgment. Apocalypse Now and the extended Apocalypse Now Redux are war films of the highest order; near-perfect descents into the minds of combat soldiers. The film nearly drove its director mad, but its extraordinary scope, beautiful visuals and iconic performances from Brando, Sheen and Robert Duvall make it a classic. ***** out of ***** (for both cuts).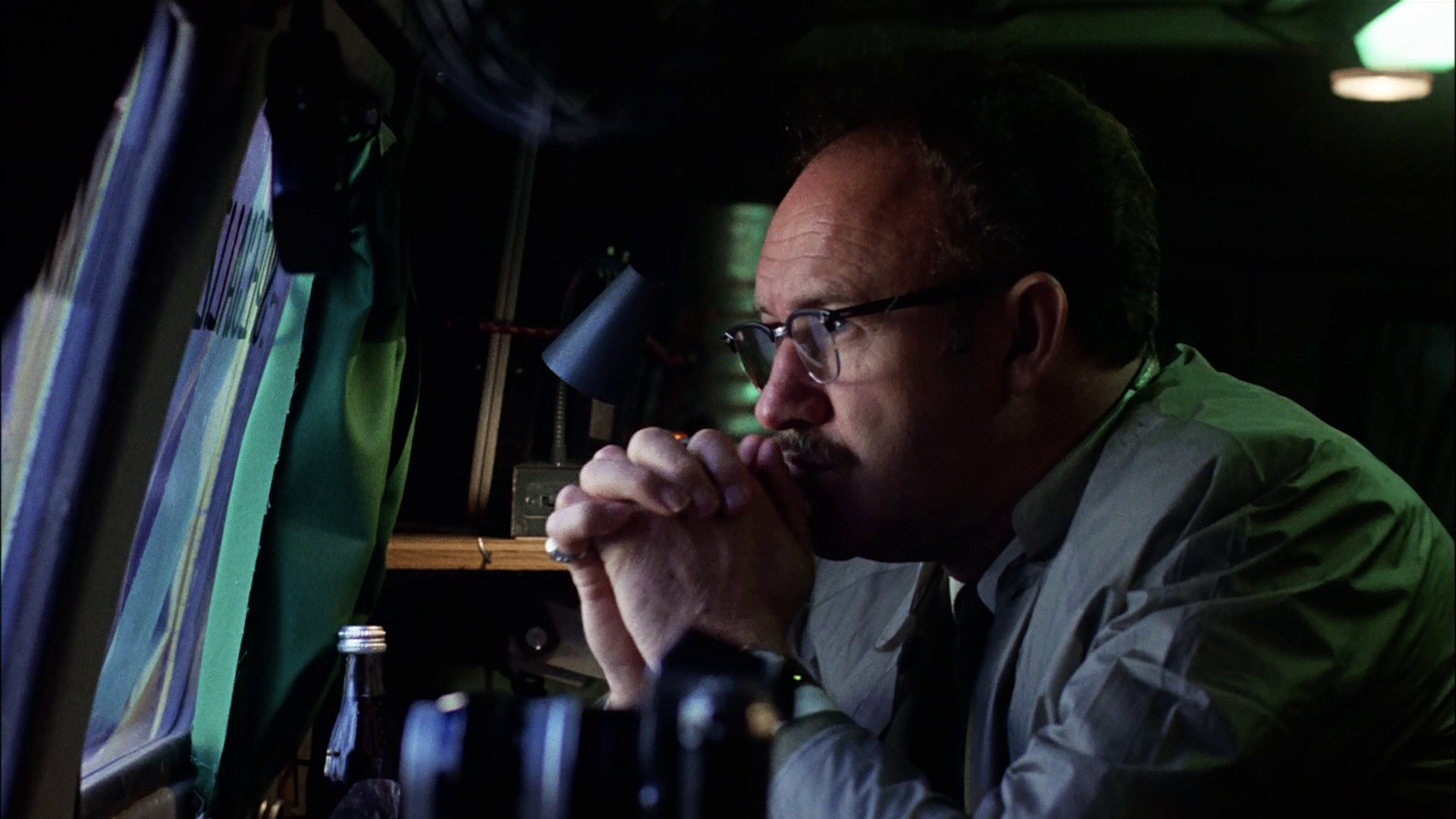 Decades before Bush-era wiretapping, Coppola directed The Conversation, a paranoid dramatic thriller with Gene Hackman in the lead as a surveillance expert whose work has serious consequences for the people unknowingly stalked. The seesaw chatter of hidden microphones and the drone of tape-recorded conversations plague the film, drawing viewers into an intense web of deception. The Conversation is a dense, deliberately paced thriller, but Hackman is masterful and Coppola captures intimate details of the profession previously unseen on film. Supporting performances by John Cazale and Harrison Ford don't go unnoticed, and Coppola suggests that most information can be had for a price. ****1/2 out of *****.
One of Coppola's more recent directorial efforts, Tetro is not as memorable as the previous two films. Alden Ehrenreich is the highlight of this somewhat dour film, and plays a young military school dropout who comes to visit his estranged brother, a moody thespian and writer named Tetro. Notoriously outspoken Vincent Gallo plays Tetro, who guards family secrets from his inquisitive younger brother. Shot largely in beautiful black and white, Tetro is nicely acted and lensed, but its 127-minute running time feels extraordinarily long. Ehrenreich resembles a young Leonardo DiCaprio, and his scenes offer a spark absent when Gallo is left to wallow alone. *** out of *****.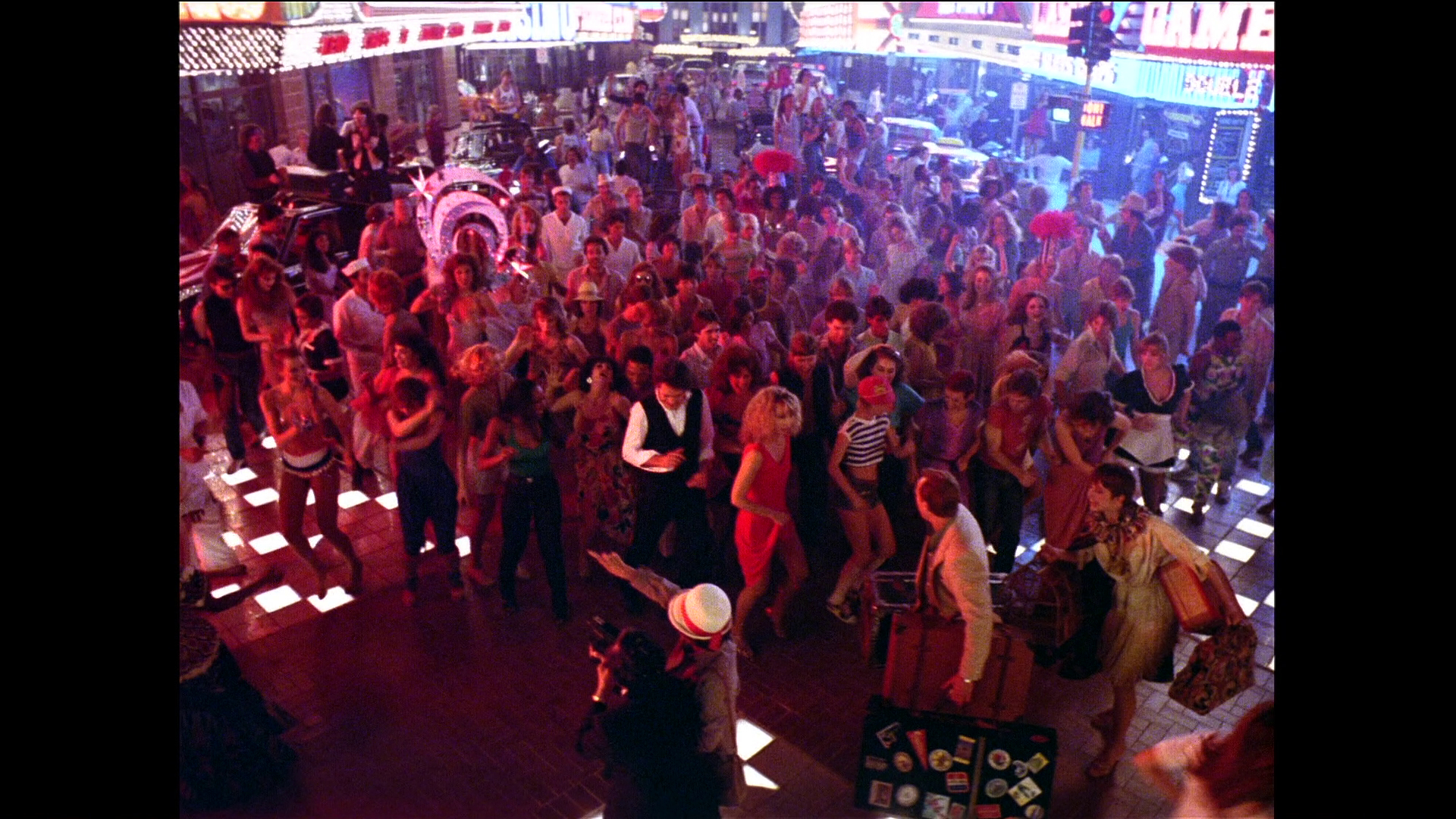 One From the Heart is a lightweight musical drama that Coppola directed in 1982. Hank (Frederic Forrest) and Frannie (Teri Garr) find their marriage in the dump and agree to split up. Each finds a new love interest, and the newly re-coupled couples wind up in flashy Las Vegas. Coppola mixes the overdone production values of big-studio musicals with indie-movie drama to decent results, but neither Hank nor Frannie is particularly likeable. The relationship drama shifts from comical to serious on a dime, and the film also features several campy musical numbers. Vittorio Storaro's cinematography is interesting if brash, and the music by Teddy Edwards recalls high-school theater. A lesser Coppola film for sure, but One From the Heart has its charms. *** out of *****.
THE BLU-RAYS:
Note: I averaged the scores for each film to get the star values presented above for overall content, picture and sound quality. I think an overall four-star rating for extras is appropriate instead of the 3.2 you get by averaging the scores.
PICTURE AND SOUND:
Coppola personally supervised the very impressive restoration of Apocalypse Now and Apocalypse Now Redux for their high-definition debut, and the hard work paid off. Both films are presented with 2.35:1/1080p/AVC-encoded transfers, and, since this is accomplished via seamless branching, I'm going to refer to the transfers as a single presentation. Apocalypse Now was presented in several aspect ratios over the years, but the wider ratio of Redux suits the picture well. The film was restored for DVD a few years ago, but this new presentation is leaps and bounds above that standard-definition release. Colors are particularly impressive; the yellow napalm and harsh reds and oranges of artillery fire explode from the screen, and Brando's camouflage face paint is startling. The image displays impressive depth - Just look at those helicopters flying in over the ocean! - and facial detail and texture are strong. There is some softness to the image, which is to be expected, but the grain structure is natural and film-like. Black levels are near perfect, and Brando is able to hide among the shadows without being completely overwhelmed by crush. I noticed some very minor print defects, and, while I suspect a bit of digital noise reduction was used, it was done judiciously. Picture: ***** out of ***** (for both cuts). The 5.1 DTS-HD Master Audio mix for Apocalypse Now/Redux is equally stunning. An important player in the birth of modern surround sound, Apocalypse Now gets a well-earned and totally immersive surround mix. Helicopter blades slice the air, and the throbbing whirl roars through the surround and front speakers. Artillery fire pop-pops throughout the sound field, and the subwoofer rattles along with battlefield explosions. The score is rich and presented with theater-quality resonance. Dialogue is clear, and ambient and action effects engulf the viewer. This is a damn impressive mix. The disc also includes English, English SDH, French and Spanish subtitles. Sound: ***** out of ***** (for both cuts).
The Conversation receives an impressive 1.78:1/1080p/AVC-encoded transfer that supports Coppola's vision for the film. The director used a number of cameras to shoot The Conversation, so the footage quality varies from scene to scene. Most important is that this Blu-ray retains the natural film grain and image detail, and I noticed no obtrusive artificial sharpening. There are a couple of specks and some light banding, but this is a solid restoration, displaying excellent facial detail and wide-shot texture. Black levels are good and crush is minimal, and skin tones remain natural. The image is very impressive for a 38-year-old film. Picture: ****1/2 out of *****. The Conversation's 5.1 DTS-HD Master Audio soundtrack is also excellent. Surveillance is a key part of the film, and the sound design allows for moderate surround speaker action for ambient effects. Surveillance chatter and crowd noise are sprinkled throughout the sound field, and dialogue, while usually presented from the front speakers, is perfectly audible. The score is rich and hearty; softer scenes are impressive due to the track's great clarity. The disc also offers the original theatrical mono soundtrack, presented in 2.0 DTS-HD Master Audio, along with English, English SDH and Spanish subtitles. Sound: **** out of *****.
Tetro unspools with a gorgeous 2.35:1/1080p/AVC-encoded transfer. Shot primarily in black and white, the film's accomplished cinematography by Mihai Malaimare, Jr. benefits from this strong transfer. Detail is excellent, and the fine layer of grain makes for a beautiful, film-like presentation. The black and white image is nicely textured, and features plenty of facial detail and deep-focus information. Splashes of color do pop up, and these bold detours are perfectly saturated. I noticed no compression artifacts, banding or noise reduction issues. Picture: ****1/2 out of *****. Tetro's 5.1 DTS-HD Master Audio soundtrack is strong. It is clear that a lot of thought went into the film's sound design and score, and this mix is weighty and well balanced. Dialogue is crystal clear, and there is plenty of directional chatter. Ambient effects like traffic noise and a dog barking play throughout the sound field, and a violent car crash causes the subwoofer to rattle the floor. The rousing score plays throughout the front and rear speakers, and is given a nice, surround-sound effect. Clarity and balance are excellent throughout. English SDH, English and Spanish subtitles are included. Sound: ****1/2 out of *****.
One From the Heart has caused a bit of controversy among online reviewers. I generally don't read other reviews of films before writing my own, but I happened upon several opinions of this 1.33:1/1080p/AVC-encoded transfer before receiving this set. First, the good: Colors explode from the screen, and detail is impressive in this full-frame image. The Las Vegas lights and bold costumes sparkle, and skin tones appear natural despite all the neon lighting. The image is nicely textured, and I am glad to report that the Blu-ray technicians didn't overuse digital noise reduction; the grain structure is good, and facial details are impressive. The (possibly) bad: Several other reviewers have also noticed that there is some sort of strange banding - or streaking - that pops up on occasion. It's difficult to describe, but there are what appear to be lines of varying thickness, differentiated only by a slight color variation, that appear in some scenes. I relate their appearance to the clouding that you get on some lower-end high-definition televisions. I'm not sure if this is a source flaw, or if some Blu-ray filtering went awry. It's not a terribly big issue and is hardly noticeable when the picture is in motion, but it's worth noting. I'll report back if Lionsgate comments on this issue. Picture: *** out of *****. Less controversial is One From the Heart's 5.1 DTS-HD Master Audio soundtrack. The film has the trappings of a musical, and the mix supports the singing and dancing with great element separation and clarity. Dialogue remains clear, and effects and score are nicely balanced. The mix is somewhat front-loaded - not surprising for a 1982 production - but the surround sound speakers support the ambient effects and score's depth. The disc also includes an isolated score track, which is also presented in 5.1 DTS-HD Master Audio. This is a nice addition for fans of Teddy Edwards and Tom Waits' music. Subtitle options include English SDH and Spanish. Sound: **** out of *****.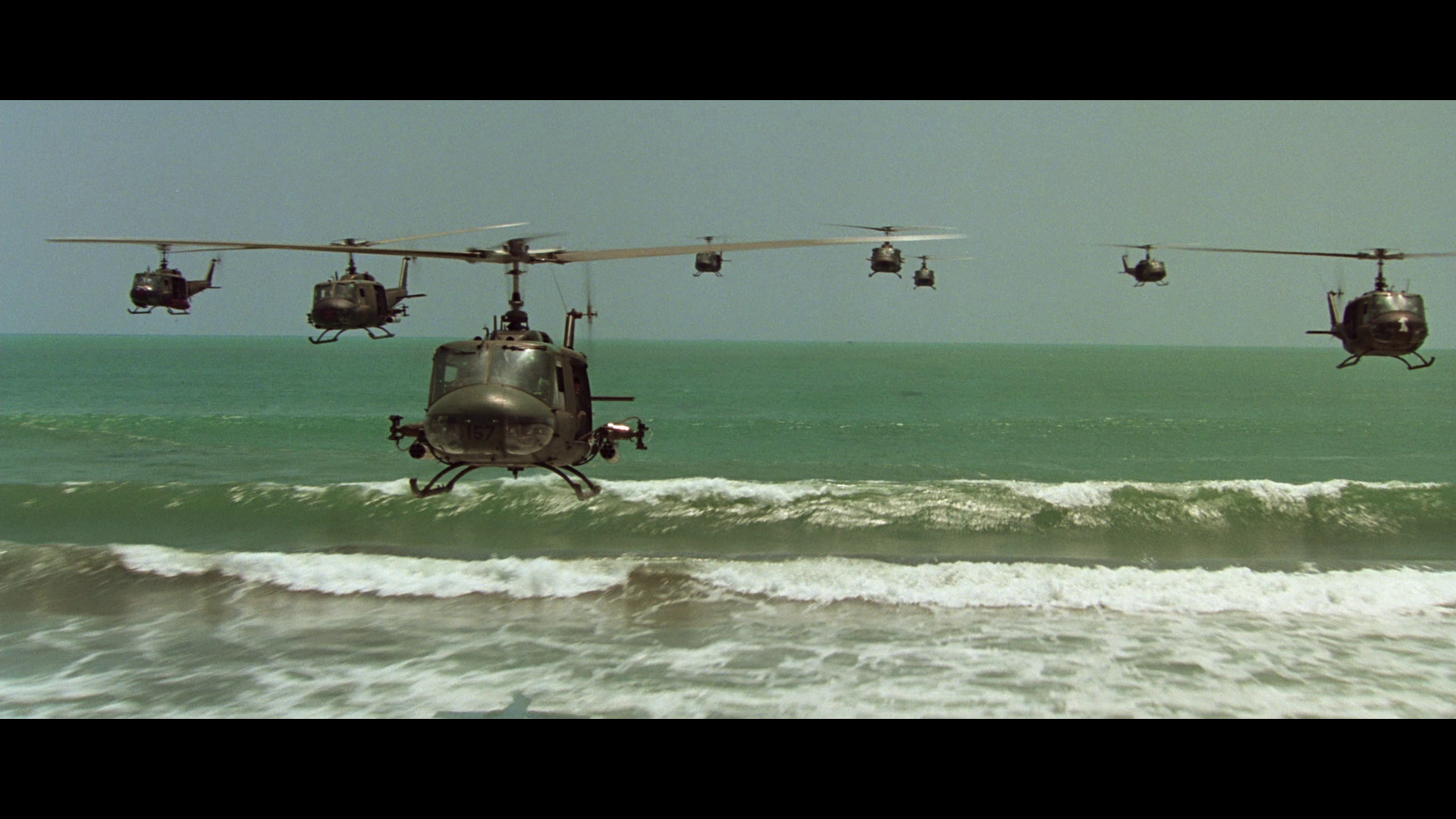 PACKAGING AND EXTRAS:
This five-film, four-disc set retails for around $30, and is an affordable way to add these films to your high-definition collection. Apocalypse Now and Apocalypse Now Redux are on the same disc; each remaining film gets its own disc. The discs are housed in a double-hinged Blu-ray case, which is wrapped in an embossed slipcover. Each disc features a number of extras, though fans of Apocalypse Now will certainly miss the second disc of extras from the recent Blu-ray release and the "Hearts of Darkness: A Filmmaker's Apocalypse" documentary; they are not included in this set. The extras are as follows:
Apocalypse Now/Redux: ** out of *****
Commentary by Francis Ford Coppola - Commentary is available for both films, and is clearly taken from one long recording. Coppola provides excellent insight into the making of Apocalypse Now, a project that nearly killed him. This is certainly not as candid as "Hearts of Darkness," but Coppola doesn't gloss over the production's numerous setbacks.
The Conversation: **** out of *****
Audio Commentary with Director Francis Ford Coppola - You guessed it; this is another excellent commentary by Coppola, who reveals that The Godfather's success allowed him to make this passion project. Coppola discusses repeating scenes in the film for effect, as well as editing and pacing.
Audio Commentary with Editor Walter Murch - Murch provides solid insight into the tricky editing techniques used on the film to great effect.
Close-up on The Conversation (8:39/HD) - This is a vintage production featurette.
Cindy Williams Screen Test (5:02/HD) - Teri Garr got the part Williams reads for.
Harrison Ford Screen Test (6:45/HD) - Indiana Jones actually tried out for this film!
"No Cigar" (2:26/HD) - A short student film by Coppola.
Harry Caul's San Francisco - Then and Now (3:43/HD) - A look at how the locations of the film have changed with time.
David Shire Interviewed by Francis Ford Coppola (10:57/HD) - Coppola interviews the film's composer.
Archival Gene Hackman Interview (4:04/HD) - Press-shy Hackman gave this interview in 1973.
Script Dictations from Francis Ford Coppola (49:23/HD) - This is an incredibly interesting and worthwhile inclusion. Here, Coppola provides dictations to the film's screenplay as images of typed pages appear on screen.
Theatrical Trailer (2:50/HD).
Tetro: **** out of *****
Commentary by Francis Ford Coppola and Alden Ehrenreich - Director and actor recorded their remarks separately, but this is still a fairly cohesive discussion of Tetro. Coppola discusses making the film outside the Hollywood studio system, and Ehrenreich talks about working with notoriously outspoken Gallo.
The Ballet (8:06/HD) - Ballet features prominently in the film, and Coppola discusses how dance relates to the story.
Mihai Malaimare, Jr.: The Cinematography of Tetro (8:30/HD) - This piece features remarks by Malaimare on shooting in black and white and working with Coppola.
The Rehearsal Process (8:33/HD) - An interesting look at Coppola's method; Gallo is none too keen on extended rehearsals.
Osvaldo Golijov: Music Born from the Film (9:16/HD) - Composer Golijov talks about his vision for the film's score.
La Colifata: Siempre Fui Loco ("I've Always Been Crazy") (5:47/HD) - This piece concerns the radio-broadcast sequence, which Coppola shot in a Buenos Aires mental hospital.
Fausta: A Drama in Verse (4:34/HD) - A longer version of the play from the film.
Tetro: End Credits (3:32/HD) - The credits that run after the film don't include everyone who worked on the film; their names are presented here.
One From the Heart: **** out of *****
Commentary by Francis Ford Coppola - Another excellent commentary from Coppola, this track features a lot of information about the technical aspects of filmmaking, and Coppola reveals his personal connection to the material.
The Dream Studio (29:37/HD) - This excellent feature details the creation of Coppola's American Zoetrope studio, and the director reveals that he butted heads with the film's original financiers.
The Electronic Cinema (9:58/HD) - This details Coppola's love of cutting-edge filmmaking techniques and his use of before-its-time technology.
Tom Waits and the Music of One From the Heart (14:03/HD) - The film's unique songwriter is the focus of this piece, which features vintage behind-the-scenes footage.
The Making of One From the Heart (24:19/HD) - A standard marking-of with interviews and on-set footage.
Deleted Scenes - A number of deleted scenes are included without a "Play All" option: "Early Opening Sequence with Director's Commentary" (4:24/HD); "Frannie's Dream" (1:09/HD); "Y.A. Tittle Time" (1:05/HD); "Odd Little Boy Blue w/o effects" (3:13/HD); "Little Boy Blue alternate version" (1:29/HD); "Frannie and Hank Drive Home (extended)" (1:52/HD); "Early Version of Ending" (2:19/HD) and "Laundromat Meeting/Hank & Moe Meet Leila" with optional commentary (1:53/HD).
Videotaped Rehearsals (6:55/HD).
The Tom Waits Score: Alternate Tracks - Segments include "Wages of Love" - Uptempo (4:01); "Pickin' Up After You" - Early Demo w/ Edie Lehmann (3:23); "I Beg Your Pardon" - Take 1 (5:25); "Candy Apple Red" Bass Solo (1:05); "Cold Chisel" - Work in Progress (8:27); and "Take Me Home" - Waits Vocal (1:59).
Press Conference at the Studio (7:51/HD) - This is from a February 4, 1981, screening of the film.
Francis Ford Coppola Speaks to the Exhibitors (1:30/HD) - Coppola tells you why you should show One From the Heart.
"This One's From the Heart" Music Video (4:07/HD).
Stop Motion Demo (3:35/HD).
1982 Theatrical Trailer (3:09/HD).
2003 Theatrical Trailer (2:16/HD).
FINAL THOUGHTS:
This Francis Ford Coppola: 5-Film Collection is a hell of a bargain for fans of the director's work. This is not a definitive Coppola collection but is a nice offering from Lionsgate, which recently partnered with Coppola's American Zoetrope studio to restore and release several of the director's films on Blu-ray. This collaboration has been remarkably fruitful, and each film receives a Blu-ray boasting impressive technical specs and bonus features. This set includes five films - Apocalypse Now; Apocalypse Now Redux; The Conversation; Tetro; and One From the Heart. Apocalypse Now and The Conversation are classics, Tetro and One From the Heart are interesting if imperfect works by a talented director. With a retail price of about $30, this four-disc, five-film set is a steal. The films all look and sound great - save a possible glitch on One From the Heart - and each is accompanied by thoughtfully produced bonus materials. Coppola fans will likely want the more expansive edition of Apocalypse Now with a second disc of extras and the "Hearts of Darkness" documentary, but the Francis Ford Coppola: 5-Film Collection is a great way to add these films to your high-definition collection. Highly Recommended.
William lives in Burlington, North Carolina, and looks forward to a Friday-afternoon matinee.

---
C O N T E N T

---
V I D E O

---
A U D I O

---
E X T R A S

---
R E P L A Y

---
A D V I C E
Highly Recommended
---
E - M A I L
this review to a friend
Sponsored Links
Sponsored Links