Spongebob Squarepants: Ghouls Fools
List Price: $14.98 [Buy now and save at Amazon]
---
If you like "Dutchie"...then you'll like this compilation. Nickelodeon and Paramount have released SpongeBob SquarePants: Ghouls Fools, an 7 toon collection from the long-running series, all featuring "Dutchie," The Flying Dutchman ghost (voiced by the funny, gruff Brian Doyle-Murray). Toons featured here are Ghoul Fools, The Curse of Bikini Bottom, Ghost Host, Born Again Krabs, Arrgh!, Your Shoe's Untied, and Money Talks. All of these have long-since played on cable, but with Halloween coming up, this themed release is a nice one to have around when the kids want to some funny, gross-out scares on a Saturday night. No extras for this great-looking release.
As I wrote numerous times for these SpongeBob SquarePants reviews, I can't even remember how many SpongeBob discs I've written about, but I do know that it's still one of the "go to" toons out there for my littlest kids when they want a laugh. Sure, there are newer shows out there that capture their attention more readily (Gravity Falls and Regular Show are the latest obsessions). However, I can't remember a day in the last 10 years or so when I didn't hear that goddamned theme song playing at least once on our TV, so I guess that's just one small testament to how endearing/enduring SpongeBob SquarePants is proving to be (my old man probably felt the same thing when he heard the Gilligan's Island or The Brady Bunch themes). I suppose, too, that the general consensus among fans of SpongeBob SquarePants is that it peaked artistically some time ago, and I would agree....to a point, evidenced by the increasingly hit-and-miss seasons that continue to premiere (it's hard to be so critical when the show is so good-natured and silly). SpongeBob SquarePants: Ghouls Fools, though, at least samples from previous seasons, picking entries that, while not series' bests, are still quite funny, while the frequently hilarious linking character for all these toons―Brian Doyle-Murray's "Dutchie," The Flying Dutchman―is deserving of having his own compilation. Let's look briefly at the toons.
Ghoul Fools, the Halloween special from SpongeBob's eight season that premiered in October, 2011, finds SpongeBob and Patrick doing what they normally do―staring off into space―when Lord Poltergeist (voice talent of Chris Elliott) crash-lands his flying (swimming?) house boat. Patrick thinks it's a fake, SpongeBob is scared, but they both board her, meeting Lord Poltergeist, who sends them on a mission: retrieve a head gasket for his busted engine within 24 hours...or lose their souls. A special double-length episode, Ghoul Fools takes a pretty simple premise and expands on it nicely. Good one-liners are plentiful ("It calms my inner demons," Patrick opines about cloud-watching; "Who needs a soul when you're filthy rich?" offers Mr. Krabs; "No one touches my booty and gets away with it!" an enraged Lord yells), while the gags are quite fun. It's always funny when dimwit Patrick acts stupid/brave, especially when he's lamenting the "lame" scares in the Lord's house as SpongeBob is besieged by poltergeists (the snakes in the picture were good), or yanking on the Lord's jaw, shoving a nickel in his nose ("You're coin operated, aren't you?"). An added bonus is the writers actually ending the episode on a high point (which doesn't happen often, lately...), with the "welcome to the void" gags that score (the exasperated doughnut on Patrick's head is the best). A solid kick-off to the compilation.
2009's The Curse of Bikini Bottom finds Patrick and SpongeBob again laying in the sand and doing nothing when they get the idea to hang out in "Old Man" Squidward's shed. Allowed to mow his lawn, the boys veer off towards the cemetery, waking up Dutchie way below, who pops up...where he promptly gets his beard shaven off. For his revenge, he turns the boys into ghosts. Shorter than Ghoul Fools but just as funny, The Curse of Bikini Bottom is crammed full of funny moments, starting right off with the boys wanting to screw around with "Old Man" Squidward (I love it when the show references old sitcom conventions). Patrick asking, "Is this a trowel?" that's stuck in his rear is hilarious, before the animators top it with Squidward imagining SpongeBob chopping off his patty-flipping hand with the lawn mower. Hard to say what's the best gag here: the boys wondering how you can live without a soul, invisible to the world...before they cut to a shot of Squidward, all alone, drinking tea, or after they've been "ghostified," Patrick looks down and states, "We're mermaids" (the kids love to feel superior to Patrick). Ghost Host, from 2006, has Dutchie crash landing and, while waiting for Triple A, haunting SpongeBob. Ghost Host has the funniest Dutchie moments here on the disc, with the best gross-out moment, too: the transformation of SpongeBob, where he alternately turns into a giant baby-head, an über-handsome WASP male, and then himself...with worms and spiders crawling out of his eye sockets (the kids all laughed hysterically at that one). The best sequence comes when Dutchie becomes a freeloading waster, getting fat and having biker friends over trashing the place, as the married Dutchie hits on girls ("Oh, that? That's nothing!" he says when the girl points out his wedding ring. Classic.). Another void/torture freak-out finale settles up this excellent SpongeBob nicely.
The four remaining toons, unfortunately, have Dutchie pop up for glorified cameos only. Born Again Krabs, from 2003, is a pretty standard but amusing "SpongeBob at work/miserly Krabs reborn" combination that finds SpongeBob in trouble for almost throwing away a filthy, old Krabby Patty he found on the floor. Krabs makes him keep it, then eats it himself when no one will buy it, and soon he's in the hospital, with Dutchie making an appearance to take him to Davy Jones' locker if he doesn't start acting nice. The growling, caged Krabby Patty is a pretty good gimmick (Mr. Krabs screaming, "Make sure you wrap it up...I'm not finished with it yeeeeeeeeeet!" as he's wheeled into surgery, is funny), but we've seen greedy Mr. Krabs redeemed too many times by now. Arrgh!, all the way back to the first season in 2000, has Mr. Krabs becoming obsessed with the Flying Dutchman's Treasure Hunt board game, eventually corralling SpongeBob and Patrick for a wild goose chase for real hidden booty. Only a couple of good gags here, including the boys donning peg legs and eye patches―of course SpongeBob puts on both peg legs and Patrick both eye patches as they crash around― and the whole "there's no rule about touching" bit where the boys take a peek at the treasure map...but overall, a pretty empty outing.
Fortunately, Your Shoe's Untied, also from 2000, is a brilliantly simple, hilarious little entry predicated on the simple premise of SpongeBob forgetting how to tie his shoes (what kid didn't do that once?) and the calamities that befall him, tripping on the laces. The opening gag is the best: SpongeBob watching "porn"―real-life footage of a "dancing" sponge, set to 60s go-go music as SpongeBob watches wide-eyed...before Gary comes in and SpongeBob, sputtering "I was just looking for the sports channel!" switches to football. Tons of funny variations of SpongeBob falling on his face, with the patented "SpongeBob repeating something endlessly until you're sick" joke of him falling, saying, "I'm readddddd-y! I'm readddddd-y! I'm readddddd-y!", and a knock-out bit where he tries to reach Squidward at the Krabby Patty, taking a million little choo-choo steps...and getting nowhere, before Dutchie shows him some knots (the "gut knot" is the sickest). Finally, Money Talks, from 2007, is another weak "Mr. Krabs is greedy" entry where Dutchie gives Krabs the ability to hear his own money. Only the coin that got stuck in Mr. Krabs' bellybutton during his last coin bath got a laugh from the kids in this outing, with Dutchie's participation here almost nil―not the best way to round out this compilation.
The DVD:
The Video:
As usual with these SpongeBob SquarePants DVDs, the full-screen, 1.37:1 video transfers for the shorts look terrific, with incredibly bright colors and a super-sharp picture. There were no big compression issues to speak of (although some shimmering is noticeable from time to time). Edge enhancement is acceptable.
The Audio:
The Dolby Digital English 2.0 stereo audio track is perfectly acceptable here, with appropriately loud recording levels and some discreet directionality. All dialogue is cleanly and crisply rendered. Close-captions are available.
The Extras:
No extras for SpongeBob SquarePants: Ghouls Fools.
Final Thoughts:
Solid gathering of "Dutchie," The Flying Dutchman ghost toons from SpongeBob SquarePants. One or two entries here don't cut it (all with Mr. Krabs...so draw your own conclusions there...), but the remainder are quite funny outings (a few are even excellent, like Ghost Host and Your Shoe's Untied), and make for perfect viewing on a fall night, with Halloween coming up soon. I'm highly recommending SpongeBob SquarePants: Ghouls Fools.
---
Paul Mavis is an internationally published movie and television historian, a member of the Online Film Critics Society, and the author of The Espionage Filmography.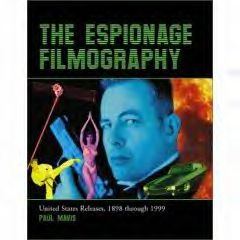 ---
C O N T E N T

---
V I D E O

---
A U D I O

---
E X T R A S

---
R E P L A Y

---
A D V I C E
Highly Recommended
---
E - M A I L
this review to a friend
Sponsored Links
Sponsored Links