SpongeBob SquarePants: Extreme Kah-Rah-Tay
List Price: $14.98 [Buy now and save at Amazon]
---
Only two of the toons feature kah-rah-tay, so.... Nickelodeon has released SpongeBob SquarePants: Extreme Kah-Rah-Tay, the latest grab-bag of SpongeBob toons from Seasons 8 and 9. Titles included are Squid Defense, The Way of the Sponge, House Sittin' For Sandy, The Krabby Patty That Ate Bikini Bottom, Extreme Spots, Squirrel Record, Face Freeze, and Demolition Doofus. No doubt SpongeBob SquarePants: Extreme Kah-Rah-Tay is a catchy title for marketing purposes, but buyers could be forgiven for assuming they're getting a compilation here that at least includes a few more kah-rah-tay episodes (I mean...where's the single greatest SpongeBob episode of all time: Karate Island?). An amusing set of episodes (the energetic House Sittin' For Sandy is the best), these great-looking transfers come without any extras.
As I wrote numerous times for these SpongeBob SquarePants reviews, I can't even remember how many SpongeBob discs I've written about (yes I can; it's 21), but I do know that it's still one of the "go to" toons out there for my littlest kids when they want a fast laugh. Sure, there are newer shows out there that capture their attention more readily (Regular Show seems to be tops now). However, I can't remember a week going by in the last 10 to15 years or so when I didn't hear that goddamned theme song playing at least once on our TV, so I guess that's just one small testament to how endearing/enduring SpongeBob SquarePants is proving to be. I suppose, too, that the general consensus among fans of SpongeBob SquarePants is that it peaked artistically some time ago, and I would agree....to a point, evidenced by the increasingly hit-and-miss seasons that continue to premiere (it's hard to be so critical when the show is so good-natured and silly...and when it's really best enjoyed by kids, not hyper-critical adults). Let's look very briefly at the toons here.
First up is Squid Defense, animated in hi-def widescreen, from January 1, 2013. When Squidward, on his way home from work with his groceries, spots a menacing stranger following him in a dark alley, he panics and asks SpongeBob for training in the ancient art of kah-rah-tay. Of course, delusional SpongeBob, who believes himself a sensei master, is quite hopeless at karate, so Sandy is employed to help out. A fair-to-middling Squidward entry, Squid Defense has a few minor gags, such as SpongeBob splitting himself in two when trying to split a board, and Squidward's amusing training montage (the short's best gag is SpongeBob's extended laughing at a joke on TV, before he stops and says, "Oh, wait―I don't get it."). However, a lackadaisical pace keeps this one from taking off. Much better is The Way of the Sponge, from November 25, 2011, where SpongeBob wishes to earn a belt from Sandy's sensei, Fuzzy Acorns. Humiliated by Acorns during his disastrous test for the "Blacker Belt," SpongeBob decides to stick with what he knows best: working at the Krusty Krab, and it's there where he ultimately defeats Acorns. While the Fuzzy Acorns character isn't particularly funny (the voice work is poor, and he has few effective gags), it's always amusing to see SpongeBob become obsessed with some task (his teddy bear-barbell training is a highlight). Nice mix of two perennial SpongeBob elements―karate and workplace comedy.
...and that's it for the karate here in SpongeBob SquarePants: Extreme Kah-Rah-Tay. House Sittin' For Sandy, from September 30, 2011 (and the best offering here), finds SpongeBob saved from a workless Sunday: he's asked to housesit for Sandy, where she entrusts him with protecting her valuable collections and sensitive experiments. A nicely constructed episode of increasingly funny, outsized gags, House Sittin' For Sandy reminded me of offerings from earlier, better seasons of SpongeBob, where these kinds of consistently funny slapstick toons were the norm. The premise is solid, if a bit familiar (it always works to leave SpongeBob in charge of something so he can completely screw it up), while the gags are memorable. Highlights including SpongeBob's hilariously detached, bored, monosyllabic phone conversation with Sandy, SpongeBob in a French maid's outfit (SpongeBob in drag always scores), Sandy's robots immediately starting a shoving match the second they're switched on, and Patrick's topper line, "Wasn't me!" when everything is finally destroyed. The Krabby Patty That Ate Bikini Bottom, from November 25th, 2011, finds Mr. Krabs anxious to get a peek at Sandy's giant soybean. Seeing that her magic growth hormone is responsible, he secretly pours the whole bottle on a krabby patty in hopes of tons of free meat, only to create an all-consuming blob that menaces Bikini Bottom. Again, as with the previous toon, the set-up is all too familiar (a direct rip-off of The Blob), but The Krabby Patty That Ate Bikini Bottom keeps the jokes coming as the patty blob keeps growing, with Plankton (of course) getting the best line: "It's...it's gorgeous! Oh, Great Patty, take me! Take me home, Daddy!" he screams as he willingly lets it consume him―classic).
Extreme Spots, in hi-def widescreen, from July 21, 2012, has SpongeBob and Patrick wishing they could be cool like the Drastic Radicals, a group of extreme sports fanatics who hang out near Sand Mountain. SpongeBob asks leader Johnny Krill if he can join, but Krill wants to see SpongeBob's stuff...which is hopelessly inept and not at all "extreme." Basically a series of pain/punishment gags, Extreme Spots gets big laughs from some very funny bits, including a motorcycle ripping off SpongeBob's arms, and SpongeBob's pathetic attempts at "extreme jump roping" and "extreme pillow fighting." Not Dead Ted and particularly Grand Maul Granny (funniest SpongeBob name in a long time) are quite amusing creations, while that stereotypical Britisher fish, complete with monocle and bad teeth, is a scream. Squirrel Record, also in hi-def widescreen, from July 21, 2012, has Sandy trying to beat every stunt she finds in a Guinness-type world record book...with SpongeBob's help. The weakest entry here in SpongeBob SquarePants: Extreme Kah-Rah-Tay, it features my least favorite SpongeBob character in a series of bits that aren't even mildly amusing: stretching her tongue, chucking woodchucks (only one sight gag works: SpongeBob in pieces after some chainsaw juggling). Juvenile to the point where even my six-year-old didn't laugh.
Face Freeze, from July 21, 2012, didn't have that problem. The simplest of set-ups: SpongeBob and Patrick are having fun making faces at each other, until Mr. Krabs warns them that their faces could freeze if they're not careful. Sure enough.... As is often the case with these one-joke premises for a SpongeBob tune, they turn out to be unexpectedly funny―the simplicity and the repetition work quite well within the short 10 minute runtime. Here, it's all about laughing at the increasingly grotesque faces the animators come up with for SpongeBob and Patrick, with little kids sure to find this one an instant favorite. And finally, to close out the SpongeBob SquarePants: Extreme Kah-Rah-Tay set, Demolition Doofus, also from July 21, 2012, has SpongeBob finally pushing Miss Puff over the edge when he causes her inflation sac to collapse. Bent on killing SpongeBob, she encourages him to join the demolition derby. Not much here that you haven't seen before, these "arena mayhem" episodes pretty much follow the same pattern, with escalation gags that are louder than they are especially funny (I did enjoy "The Cackling Cruiser" clown, though).
The DVD:
The Video:
As with all the SpongeBob discs I've reviewed, the transfers here are pretty close to perfect, with the two hi-def widescreen efforts here particularly sharp. Saturated color.
The Audio:
The Dolby Digital English stereo audio tracks are equally good, with solid discreet directionality, and no hiss. Closed-captions are available.
The Extras:
No extras for SpongeBob SquarePants: Extreme Kah-Rah-Tay.
Final Thoughts:
If you're going to market this in a way that suggests karate is the linking element for the collection...could you have more than two episodes featuring it, please? As it stands, SpongeBob SquarePants: Extreme Kah-Rah-Tay has a couple of amusing episodes, a few fair-to-middling, and one pretty weak entry―about par for one of these later stand-alone SpongeBob discs. How much you're into SpongeBob will determine if you want to buy this, but since they're on TV all the time, anyway...a rental is about all I can do for SpongeBob SquarePants: Extreme Kah-Rah-Tay.
---
Paul Mavis is an internationally published film and television historian, a member of the Online Film Critics Society, and the author of The Espionage Filmography.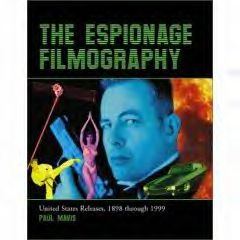 Sponsored Links
Sponsored Links