Bonanza: The Official Fifth Season, Volumes 1 & 2 (Vol. 1)
List Price: $58.98 [Buy now and save at Amazon]
---
Reviewer's Note: Owing to my own policy here at DVDTalk of watching every episode of any television season I receive (even if that means over 30 hours of TV watching in this particular case), I'm going to break up my take on Bonanza: The Official Fifth Season, Volumes 1 & 2 into two separate reviews. Readers should know, though, that they can purchase both volumes together at a discounted price (as it was sent to us), or individually.
One of the 1960s' best television dramas--which also just happened to be an oater--confidently rides on. CBS DVD and Paramount continue their terrific, extras-filled releases of the 1960's most successful TV series with Bonanza: The Official Fifth Season, Volume 1, a five-disc, 18-episode collection of the legendary, iconic TV Western, starring Lorne Greene, Pernell Roberts, Dan Blocker, Michael Landon, and a host of superlative guest stars in this their 1963-1964 season. CBS and Paramount, not stinting on the bonuses for these beautifully restored transfers, comes up with another load of extras for the fans, including an episode commentary track, a brief snippet of Blocker and Greene performing on The Andy Williams Show, and cool behind-the-scenes stills of the series in action.
It's 1861 (according to one episode here with a prominent gravestone), and gold and silver fever are sweeping through the hills and valleys of the celebrated Comstock Load. Virginia City, Nevada, sitting right on top of those millions of dollars' worth of ore, is bustling with miners, settlers, businessmen, rustlers, con artists, and killers. And butting right up against Virginia City is the massive Ponderosa ranch, a thousand-square mile New World Eden filled to the brim with pine and beef. Overseeing this operation is voice-of-God Ben Cartwright (Lorne Greene), the thrice-widowed land baron who watches over his spread as fiercely―and as tenderly―as he does his three grown sons. Eldest, Adam Cartwright (Pernell Roberts), is the most serious of the three siblings, and the one who works most directly under Ben in running the Ponderosa. His mother the daughter of a New England sea captain, Adam was schooled back East as an architect and engineer. Middle son Eric "Hoss" Cartwright (Dan Blocker) gets his massive physique from his mother, a six-foot tall Swede who reportedly could punch like a mule. Hoss, who may seem rather dim or naïve at times when he's not killing a bear with only his hands or knocking down a tree, is in reality quite sensitive to his surroundings and to the sufferings of others. Finally, Little Joe Cartwright (Michael Landon), the youngest son, gets his smoldering dark looks and equally tempestuous nature from his beautiful half-Creole mother, whom Ben met during a trip to New Orleans' French Quarter. Little Joe is certainly the most reckless of the clan, relying on his charm and his fast fists to both get him into trouble, and out of it again...especially if there's a lady involved. Protective of the Ponderosa, which they carved out of the wilderness, the Cartwrights nonetheless inevitably get involved week after week in the troubles of others, who look to the land barons as one of the few stabilizing forces in the wild and wooly excesses of the Old West.
In my previous reviews of Bonanza, I wrote extensively about the series' inception, its production, and the aesthetic and thematic framework underpinning the show's construction. So, as I wrote before, I'll try not to cover the same ground in this review...although it's next to impossible not to when Bonanza's forte―compelling drama anthology stories within a Western framework, expertly produced and performed―is so consistently, even routinely, on display here, week after week, season after season. It's always more difficult to get a complete handle on a particular season after only viewing half of it, but several themes do make themselves apparent in these first 18 go-arounds.
It's well-known among loyal fans of Bonanza that anytime a woman is introduced into the Cartwright boys' mix, she won't be around for long, and that's certainly true here. The season opener, She Walks in Beauty, sees Hoss smitten with Frisco bad girl Gena Rowlands (looking sensational, as always). Written by William Stuart, She Walks in Beauty does a fine job of drawing an intriguing parallel between naive, optimistic Hoss and his brother Adam's more cynical, cultured view of women (Adam "knew of" Rowlands from one of his Frisco jaunts), set against the complicated dynamic between Rowlands, who's unable to reform, and her prim, determined sister (the always excellent Jeanne Cooper). Journey Remembered, written by Anthony Laurence, gives us the flashback memory of Ben Cartwright losing Hoss' mother during a harrowing wagon trip west (Greene is excellent here, and Gene Evans has a good role as a hardcase loner who has written off humanity after he loses his family to Indian killers--a fact that Ben says still doesn't give Evans the right to murder Indians in mindless retaliation). Greene gets another chance to be romantic in My Son, My Son, written by Denne Petitclerc, this time successfully wooing Teresa Wright...only to have her wayward son Dee Pollack return and doom Ben's upcoming marriage (it's rather invigorating to see such a rotten example of a son show up here, with no mitigating or extenuating circumstances given to "soften" him for the audience; he goes as far as slapping and shoving his mother around, and shooting father-figure Ben!). And most notable of all for hard-core Bonanza fans, The Waiting Game, written by Ed Adamson, sees the debut of Kathie Browne as the troubled widow whom the Bonanza producers were grooming as the character who would take soon-to-be-departing Pernell Roberts out of the series (...which, in double Bonanza irony, she would not get to do, when Roberts decided to stay another season). A sensitively-directed episode by Richard C. Sarafian (the cult classic, Vanishing Point), Adamson's script is a rather remarkable exploration of a frightened young woman's failed marriage, with the Adam character drawn equally as caring and sensitive...and opportunistic (it's a pity Roberts, such a skilled performer, would eventually leave the series).
Bonanza's marked pacifist and charitable leanings are in full view in several outings this half-season. In Rain from Heaven, a poor, flinty family headed up by rainmaker John Anderson gets every break in the book from both the Cartwrights and the people of Virginia City, when their little girl gets typhoid (Bonanza's subtle yet persistent thematic thread of nature versus religion shows up again here, with Greene arguing that the drought, and Anderson's failed efforts to make it rain, are acts of Nature, not the Devil...before he advises the proud Anderson to humble himself and pray to God). That delineation would be more overt in The Quality of Mercy, from Peter Packer, with Ben giving Little Joe an impassioned lecture on how Nature reserves the right to always preserve life, and to fight for it--the words "God" or "religion" are never mentioned (was the short bit with the Cartwright men singing a subtle plug for the Bonanza albums that were being sold?). Bonanza's frequent theme of rejecting violence in favor of ethical justice is given a powerful (if at times "message-y" and too patly wrapped-up) treatment in Warren Douglas' The Toy Soldier (despite the regurgitated liberal gripes a lot of critics trot out for classic TV Westerns--most of which they've never even seen, let alone studied--Bonanza, like many of the "adult" Westerns from that time period, offered thoughtful, sympathetic portrayals of the clash between White and Indian cultures during the expansion of the West). That notion that understanding and acceptance of people's differences, along with a healthy respect for the legal laws of justice, are most blatantly applied to The Legacy, from Anthony Wilson, where Ben worries his three boys will commit murder against the men they wrongly suspect killed their Pa (a beautifully engineered episode, directed by Bernard E. McEveety).
Despite that emphasis on peaceful resolution being critical to the settling of the West, Bonanza-style, certainly there are episodes this season with dark, even obsessive tones. In Alias Joe Cartwright, from Robert Vincent Wright, an almost noir feeling of fatalistic dread is summoned up when Little Joe is caught up in a scheme that sees him facing a firing squad. In The Prime of Life, the all-encompassing drive that Ben summoned to build the Ponderosa spills over into the accidental death of a kindly laborer, spinning Ben into a depression so deep he hands over the reigns of the ranch to his bickering sons. And in The Lila Conrad Story, scripter Preston Wood (from a story by George Waggner), creates a weirdly perverse story (hampered, no doubt, due to the network self-censorship standards of the day) about a rigid judge, Andrew Duggan, becoming obsessively protective of sinner saloon girl Patricia Blair (imagine what they would do with this story today, with all of Duggan's sweaty entreaties as to whether or not sexy Blair was finally, fully "punished," before she's properly prepared to be his). Best of all, the strange, intense, Twilight Zone-worthy entry from scripter Cy Chermak, Twilight Town, finds Little Joe wandering dazed and bloodied into a ghost town that suddenly comes to life, with its inhabitants looking for a leader to loosen their earthly bounds.
Humor, however, both gentle and slapstick, is a hallmark element throughout the series (and one I would imagine loyal viewers value most highly in this family show). A couple of historical figures drop by in this first half-season in two light, fun episodes: Charles Dickens (Lost in Space's Jonathan Harris, in a marvelous turn) in A Passion for Justice (the matching of sensitive Blocker and cultured, waspish Harris is charming), and Calamity Jane (the gorgeous, funny Stefanie Powers) in Calamity Over the Comstock (these fictional visits from historical figures give Bonanza an even bigger, outsized feel, as if the Ponderosa is mythically connected with what we read about in history books). As for the breezy, even touching The Gentleman From New Orleans, scripted by William Bruckner, that may be infamous pirate Jean Lafitte (John Dehner, perfectly cast in a broad turn) turning up to continually swindle Hoss, but we'll never know for sure. Now apparently, die-hard fans of Bonanza rate Hoss and the Leprechauns as not only one of the funniest episodes of the series, but as one of the best period. Scripted by Robert V. Barron and directed by John Florea, this slapstick farce is delightfully mounted, particularly the expertly-staged rabbit-in-the-hole slapstick chase as the "leprechauns" evade capture (Florea had me laughing out loud at his precision staging). However, as admirable as Hoss' sermon for tolerance is at the end of the episode, I like my comedies to stay comedic: save the messages for the more serious tales. I found Ponderosa Matador, however, even funnier, with a witty, raucous script by Alex Sharp, complete with hilarious sight gags (the boys' chemistry is perfect here), peppered by modern-sounding ("He sure wasn't discussing the price of tacos,") and envelope-pushing one-liners...for 1963 ("She'll get fed up with all that bull!"). When the episode climaxes with a wild bull running into a saloon, with Little Joe and Adam looking at each other with delight and yelling, "Oh, yeah!" to join in the fun, Ponderosa Matador had me laughing out loud―tough to do in an empty room at 8:30 in the morning.
The DVD:
The Video:
Excellent. The full-screen, 1.33:1 color transfers for Bonanza: The Official Five Season, Volume 1 look amazing, with rich, deep color, minimal grain and picture noise, and a sharp, sharp image. I know these look better than they ever did back when they were first broadcast.
The Audio:
The Dolby Digital English split mono audio tracks have been cleaned up and re-corded with little if any hiss and at a vigorous level. English subtitles are available.
The Extras:
No other long-running TV series on DVD (in my memory, at least) has sustained the level of buyer-enticing extras as have these CBS/Paramount Bonanza releases...and this fifth season is no different. On disc one, original NBC bumpers and tags are included on the first episode, with photo galleries for the first, second and third (there's a cool Chevy advert featuring Blocker's cute little kids on the first episode). Disc two has bumpers and a Chevy promo on the first episode, with photo galleries for the second and fourth. Disc three has a photo gallery on the second episode, while Hoss and the Leprechauns has an audio commentary track with Bonanza expert Andrew J. Klyde (his tracks are the best). Disc four has bumpers and a Chevy promo on episode one, while episode three has a photo gallery. And disc five has a fun skit from The Andy Williams Show, with Greene and Blocker playing writers who look suspiciously like themselves. Fantastic.
Final Thoughts:
It just keeps getting better and better: confident, assured dramatic/comedic anthology television at its best...masquerading as an oater. I'm giving Bonanza: The Official Fifth Season, Volume 1 our highest ranking here at DVDTalk: the DVD Talk Collector Series award.
---
Paul Mavis is an internationally published film and television historian, a member of the Online Film Critics Society, and the author of The Espionage Filmography.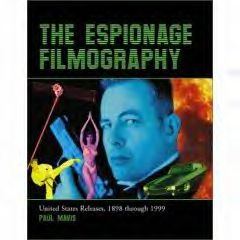 ---
C O N T E N T

---
V I D E O

---
A U D I O

---
E X T R A S

---
R E P L A Y

---
A D V I C E
DVD Talk Collector Series
---
E - M A I L
this review to a friend
Sponsored Links
Sponsored Links