Last Days of Pompeii (1984), The
Other // Unrated // June 5, 2012
List Price: $26.99 [Buy now and save at Amazon]
---
Not earth-shaking...but not at all bad, either. Sony's Choice Collection vault of hard-to-find cult and library titles has released The Last Days of Pompeii, the epic 1984 ABC television miniseries directed by Peter Hunt and starring (in alphabetical order, as these things are done) Ned Beatty, Brian Blessed, Ernest Borgnine, Nicholas Clay, Lesley-Anne Down (I feel faint...), Olivia Hussey, Siobhan McKenna, Franco Nero, Linda Purl, Anthony Quayle, and Duncan Regehr, with "Special Hot Ash and Stones Victim Guest Star," Laurence Olivier (alarmingly frail). Pleasantly long and involved, this Italian co-production of The Last Days of Pompeii is the first of the many cinematic versions of author Edward Bulwer-Lytton's famous novel to not only be shot in English (the '35 RKO film only used the title), but also to remain fairly faithful to Bulwer-Lytton's original story of pagan decadence and Christian redemption in the shadow of smoldering Mt. Vesuvius. No extras for this good-looking full-frame transfer.
With over a 5 ½ hour running time, a brief synopsis is perhaps best. Italy, some forty years or so after the crucifiction of Christ. The decadence and corruption running rampant in capital city Rome is rapidly seeping into the lively, bustling seaside resort town of Pompeii...while a new, unbreakable faith is taking counter-hold. Calculating Roman magistrate Quintus (Anthony Quayle) wearily listens to his advisors and to the screams of the mob to make scapegoats of the secret Christian sects, while Egyptian priest of Isis, Arbaces (Franco Nero), encourages him, so that his Isis cult can obtain more riches and political influence. Fish sauce monger Diomed (Ned Beatty), a gauche, wealthy, socially-climbing member of the declasse mercantile class, wishes nothing more than to acquire cultural cache by having his spoiled daughter, Julia (Catriona MacColl) marry into the aristocracy. Young, debauched Roman Clodius (Gerry Sundquist) would gladly sleep with Julia, but he's jealous of his friend, kind, cultured, Greek ladykiller Glaucus (Nicholas Clay), who is continually maneuvered with Julia by her father.
Glaucus, however, has eyes only for Ione (Olivia Hussey), the soon-to-be Isis cult priestess who is Arbaces's ward, and who will soon take a vow of celibacy. Her brother, innocent, handsome Antonius (Benedict Taylor), is being groomed, as well, to become an Isis priest, and to take over the Pompeii branch while Arbaces moves towards Rome and dictatorship. Glaucus's love for the unobtainable Ione mirrors blind slave Nydia's (Linda Purl) unrequited affections for Glaucus himself, who has been her benefactor since they were both young. And her love for unobtainable Glaucus mirrors former slave and now the magistrate's gladiator champion Lydon's (Duncan Regehr) love for Nydia (Lydon's trainer, Marcus, played by Ernest Borgnine, only loves his sword). Diomed's slave Petrus (Malcolm Jamieson) knows that his love readily returns his feelings, but Chloe (Lesley-Anne Down) is painfully aware that her profession―probably the best-looking hooker this side of the Roman Empire―drives poor Petrus mad with jealousy. Good thing they can find solace and personal redemption as secret Christians, through blacksmith priest Olinthus (Brian Blessed)...if the lions in the arena don't get them first.
Oh, and everyone is slated to die for their various sins when Mt. Vesuvius blows its top.
When The Last Days of Pompeii showed up in my mailbox, I couldn't for the life of me remember this ABC miniseries until I checked out the old Nielsen's for the May '84 sweeps. Sure enough, I was probably watching―back in those "I don't have $600 for a VCR" days―NBC's V: The Final Battle (ancient Rome lost to the aliens, by the way, with the Sunday night premiere installment coming in 7th for the week, while V: The Final Battle placed 5th). If The Last Days of Pompeii was ever repeated, I must have missed it again, so I came to this Choice Collection disc fresh. Of the 9 or 10 The Last Days of Pompeii movies that have been produced from Edward Bulwer-Lytton's 1834 historical novel of the same name, the 1935 splashy special effects-driven RKO version from Ernest B. Schoedsack and Merian C. Cooper (which has nothing to do with the book), and Sergio Leone's 1959 peplum 'Scope hit, with Steve Reeves, are probably the two most recognizable adaptations. When one starts listing notable network miniseries off the top of one's head, however, ABC's American/Italian coproduction of The Last Days of Pompeii doesn't readily spring to mind.
Seen within the limitations of the format, though, The Last Days of Pompeii holds up pretty well, as these things go. Miniseries and event programming made specifically for television ratings' "sweeps" periods can manage to be significant works of art as well as blatantly commercial enterprises (see Dan Curtis' War and Remembrance, for example)―but they needn't be. They can exist purely as shiny, flashy vehicles meant to grab enough of an audience so the winning networks can then jack up their upcoming advertising rates. I wouldn't call anything in The Last Days of Pompeii "art" (unless we're discussing Leslie-Anne Down...and then the proper word is "masterpiece"), but it's certainly flashy, and entertaining, and it keeps you coming back (from the freeze-frames that indicate all those commercial breaks we don't have to watch). It's not terribly difficult to "read" The Last Days of Pompeii: it's deliberately convoluted romantic melodrama, dressed up as an ersatz historical drama, with a veneer of thoughtfulness to its dialogue about contrasting cultures, religions, and ethics that sounds good...but which isn't very deep. Throw in some (for then) hot sex, a host of heavyweight stars earning what I hope were hefty fees, some nice-looking sets and top-notch (again, for 1984 TV) special effects, with the promised spectacle of a city destroyed by a volcano, and you have the thematic raison d'etre of The Last Days of Pompeii. It's exactly what it appears to be on the surface, and no more.
The mini's most easily-grasped (and most familiar) themes―unrequited love amid the persecution of the Christians, and the venality of politics and social climbing―are emphasized over potentially more unfamiliar (and more interesting) territory for TV watchers: the dynamics of cultural ebb and flow, represented by oldest Egypt, older Greece, newer Rome, and newest polyglot culture of avarice and kooky religious cults, rubbing up against each other, causing friction. The romance element dominates, of course. The Last Days of Pompeii is, in the end, for the housewives, after all (and I don't mean that as dismissive at all), and they'll see and identify with poor little blind Linda Purl as "sweet," and beautiful Hussey as "conflicted" and "romantic," and sexy Down as a "temptress with a heart of gold," wondering themselves with guilty pleasure what they would do in pagan Pompeii as a paid sex slave with all that oiled-up beefcake strutting around. And there's nothing wrong with that limited, more conventional approach. I like my romantic melodrama coarse and obvious: the best bedtime stories are the ones that are the most familiar. We've seen variations on these storylines and characters far too many times to count―that's where the harmless fun lies. We know what's going to happen to them, so we get to suffer and strive along with them, absolutely secure in the knowledge that we know what's going to happen to them, while they don't. Everyone loves someone else madly in The Last Days of Pompeii, and we wait for the lava to ultimately sort things out.
What counts, then, as to whether a mini like The Last Days of Pompeii is successful or not, isn't so much story or character motivation, but the production itself. How does it look? How does it sound? And how does it play? And on those scores, The Last Days of Pompeii does quite nicely, thank you. It may not look especially "epic" in that original full-framing (have you watched the 1951 Quo Vadis? lately? Entertaining as hell...but gargantuan as it is, it still feels...small in that little square box frame). However, the dialogue is suitably "period" sounding (which always equals in these epics U.K. performers speaking stylized dialogue), while the performers are, with one or two exceptions, fitted to their characters quite well. Tech credits are okay (some of those sets look a little sparse, even for a TV budget), with the final destruction of Pompeii not bad at all with its model and matte work (modern viewers will sneer, of course...but I'll take a real model any day over CGI―that "toy" feel makes it seem more like a movie. In other words: fake). Screenwriter Carmen Culver (lots of good TV, like First, You Cry, When She Was Bad..., and The Thorn Birds) and director Peter Hunt (a genius in my book for directing what is still the best James Bond movie: On Her Majesty's Secret Service) keep everything bubbling along, while most of the actors show themselves off to good advantage. Veterans like Ernie Borgnine (god I miss actors like him), Anthony Quayle, Ned Beatty (doing his usual top-notch job of being comically repulsive), Brian Blessed, and Franco Nero sail through their scenes with nary a line or reaction shot out of place, while relative newcomers like Gerry Sundquist, Nicholas Clay, and Duncan Regehr make good impressions, as well (rippling giant Regehr looks like he could make pudgy blowhard Russell Crowe wet his Gladiator toga). Olivia Hussey is appropriately regal and tortured by her frustrated libido, but Linda Purl is way out of her element as the blind slave pining for Clay. As for Down, what more do you need to say other than her character is stock, but her rather alarming physical presence in her dirty dance for Regehr, and even dirtier (for 1984 TV) three-way sex dream with Taylor, vie more than successfully with the destruction of Pompeii in the explosive finale. The Last Days of Pompeii may not be terribly deep, but it's entertaining spectacle...and that's enough.
The DVD:
The Video:
The full-screen, 1.37:1 transfer for The Last Days of Pompeii looks fairly good, with okay color, a medium-sharp image, and low grain.
The Audio:
The Dolby Digital English mono audio track is serviceable, with low hiss and a decent re-recording level. No subtitles or closed-captions.
The Extras:
No extras for The Last Days of Pompeii.
Final Thoughts:
It's not Cleopatra, let alone Ben-Hur...but it's still entertaining. An accomplished cast, some more-than-welcome sex from the incomparably beautiful Lesley-Anne Down, and some decent TV-sized special effects give you everything you need for a long, long visit to the Ancient Roman Empire. I'm recommending The Last Days of Pompeii.
---
Paul Mavis is an internationally published film and television historian, a member of the Online Film Critics Society, and the author of The Espionage Filmography.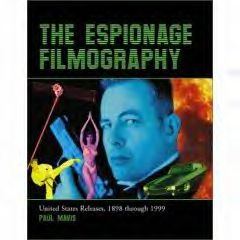 ---
C O N T E N T

---
V I D E O

---
A U D I O

---
E X T R A S

---
R E P L A Y

---
A D V I C E
Recommended
---
E - M A I L
this review to a friend
Sponsored Links
Sponsored Links