Babes in Toyland (1954 & 1955 TV versions)
List Price: $29.95 [Buy now and save at Amazon]
---
Another rare glimpse into early live television's ghostly past. Video Artists International (who specialize in this type of fare) has released Babes in Toyland, a single disc offering that features black & white kinescopes of two live TV stagings of Victor Herbert's beloved operetta, originally aired on NBC in 1954 and 1955. Produced and directed by Max Liebman, and starring Dave Garroway, Dennis Day, Wally Cox, Jack E. Leonard, Karin Wolfe, Ellen Barrie, the Baird Marionettes, Bambi Linn, Rod Alexander, and Jo Sullivan ('54) and Barbara Cook ('55) as ingénue Jane Piper, these two holiday-themed "spectaculars," as they were known then on NBC, are certainly invaluable historical records for anyone interested in that particularly fascinating period. They're also quite charming little entertainments for the small fry this holiday season (that would be six months late or early, depending on your mood...). An episode guide is included with these decent transfers.
To early television history buffs, the pre-production story behind these two Babes in Toyland "spectaculars" is at least as interesting as the shows themselves. It's weird, but I looked all over the cover and the enclosed booklet for this VAI disc release, and I didn't see "NBC" written anywhere on it (maybe due to copyright reasons?). What network these shows originally aired on, though, is important to know, because Babes in Toyland was part of a costly new experiment NBC attempted in regularly scheduled "spectaculars" programming that helped change viewer habits during those first few years of the medium.
During the previous 1953-1954 season, NBC was losing ground fast to CBS in the ratings, due to NBC's aging comedy-variety line-up (like The Colgate Comedy Hour, Your Show of Shows, and All Star Revue), and the rise of filmed dramas and particularly sitcoms―a format rival network CBS dominated. Former NBC programming whiz Pat Weaver was re-hired as network president in 1954 with one stated goal: overtake CBS in the ratings. Convinced his earlier idea of regularly programmed one-shot "spectaculars" of musical reviews and Broadway plays was the key to boosting NBC's fortunes, Weaver overcame sponsors' trepidations about viewers jettisoning their comfortable weekly viewing habits, and gave Weaver his head (a decision based more on Weaver's track record with Your Show of Shows, as well as his creation of the newest, biggest money-maker on the network, The Today Show, rather than for any firm belief in this new format). Weaver set aside 90 minutes once a month on Saturdays, Sundays, and Mondays for these "spectaculars," and hired producers Max Liebman for the weekend Max Liebman Presents shows, and Fred Coe for Mondays' Producer's Showcase.
Since NBC was aggressively promoting color television as a way of competing with CBS, these one-off musical variety specials were particularly well-suited to color broadcasting...a fact not lost on NBC's parent company, RCA, which hoped to sell more color sets (it didn't work, however, with TV audiences color-bline at this juncture in television history). In the fall of 1954, NBC went overboard marketing their new "spectaculars" programming concept, setting up impossible expectations with audiences and particularly critics―a situation that backfired on NBC when the first broadcasted "spectacular" (Betty Hutton's Satins and Spurs) bombed spectacularly in the ratings and with the pundits. Despite the high costs of these outings (since everything, including sets, casts, books, scores, and lyrics, had to be fabricated new each month) and initial viewer resistance to the idea, the notion of skipping an episode of a favorite regular TV show to watch a "spectacular," began to take hold with viewers. Ratings still rose and dipped, depending on how "special" the special really was (that March, Coe's Peter Pan with Mary Martin, shattered all ratings' records, with the classic being routinely re-broadcasted into the 1970s), until the programming concept was retired three years later in favor of periodic, intermittent, one-off "specials" slotted into the schedule, rather than the set month-by-month time slot. Max Liebman Presents and Producer's Showcase may not have ever cracked the year-end Nielsen Top Thirty; however, they did help evolve viewer habits to include taking a break from their weekly TV sitcoms and dramas to check out a once-only TV event.
Which brings us to 1954's Babes in Toyland. Premiering on Saturday, December 18th, 1954, and sponsored by Oldsmobile, this Weaver/Liebman "spectacular" was one of the better-reviewed and more widely-seen specials on Max Liebman Presents, no doubt owing to the classic Christmas-themed, children-oriented content, along with the presence of some well-known NBC stars, including The Today Show's Dave Garroway, then one of the most popular performers on network television. Quite a few of the original songs featured in Victor Herbert's and Glen MacDonough's songs remain here (Hail to Christmas, Don't Cry, Bo-Peep, Barney O'Flynn, Castles in Spain, Go to Sleep, the delightful I Can't Do That Sum, and of course Toyland), while only a vague framework of the original book is the basis for the storyline: Macy's department store Santa Dave Garroway reads to lost Joan (Ellen Barrie) the story of Tommy Tucker (Dennis Day), who sings for his supper and who is to wed Jane Piper (Jo Sullivan). Evil Silas Barnaby (Jack E. Leonard), however, vows revenge, leading to his falsely luring the children, Ann and Peter Piper (Karin Wolfe and Edward Brian) into the dark woods, before Grumio the toymaker's (Wally Cox) wooden soldiers come to Tommy's rescue.
Adapted by William Friedberg, Will Glickman, Fred Saidy, Bill Jacobson, and future Broadway superstar Neil Simon, this first Babes in Toyland is a charming little offering, with several clever lines and amusing moments inbetween the songs and the slapstick and the puppetry. Modern viewers of course are going to focus too much on the technical limitations of live television production at that time (exacerbated by the kinescope format), but considering the scope of what the cast and crew were attempting here―all going out live to millions of viewers, without a second take―it's a pretty smooth operation. The camera moves are surprisingly agile, mixing in well with the dancers (that Bambi Linn is something), while the songs are delivered in a pleasant, smooth manner. The screeching, annoying clown A. Robbins at least has a clever act (lots of folded-up objects in his pockets), but Charlie Cairoli and Paul are awful in an extended bit about musical instruments that had my kids turning stone-faced. Much better are the delightful marionettes by Bil Baird, as well as the rest of the pro cast. Dennis Day's piercing tenor voice and sunny manner is a perfect compliment to pretty, happy Jo Sullivan's ingénue, while Jack E. Leonard hams it up something terrible (thankfully), as Barnaby (listen to the crewmen laughing off-camera at his exits). Karin Wolfe, too, deserves a note; she's quite sweet, with a lovely young voice, while Ellen Barrie works well with funny, ironic, sly Garroway (when Barrie explains Barnaby's bad behavior in perfect 50s Freudian terms―"I think he's basically insecure due to an unhappy childhood"―Garroway looks at the audience and deadpans, "There's today's three 'R's': reading, writing, and rationalization.").
Premiering on December 24, 1955, the re-staged Babes in Toyland already shows a slicker, more accomplished technical prowess in its camera operation and staging...but somehow it's not nearly as much fun as the first broadcast. Most of it is the same in terms of songs and lines from the first outing; as much as this was re-staged because it was popular and an obvious candidate for seasonal repeat, it also no doubt served as a money-saver for the already petering-out "spectaculars" programming budget. Although new lead Barbara Cook probably has the bigger rep when it comes to Broadway chops, her Jane comes over as a tad more cold and "professional" than sweet Jo Sullivan. Someone told Jack E. Leonard to tone it down this time, though, with his lines enunciated much more...to the detriment of the comedy. And poor Wally Cox doesn't have any more to do here than he did the first time out (a real waste of his considerable talents). The most striking difference is Garroway--there's just something...off with his turn here that puts a damper on the proceedings. He doesn't seem to be having the fun he did in the first broadcast, while returning Ellen Barrie (noticeably older), so funny and sharp with Garroway the first time out, responds in kind: she's a bit glum now, too. Already by 1955, when this second Babes in Toyland aired, the writing was on the wall for live musical TV specials like this...what a shame more room couldn't have been made for them amid all the filmed sitcoms and detective series and game shows and medical dramas and westerns that soon choked the airways.
The DVD:
The Video:
A fairly typical kinescope image for the first broadcast: black and white, 1.33:1 image with all the various expected drawbacks, like contrasty, soft images, and lots of video noise. For the second broadcast, the image has been cropped for some reason to 1.5:1 for about 2/3rds of the show, before it reverts to full-screen. It's a sharper image, with more picture clarity, but also more anomalies and glitches (a couple of video rolls, also).
The Audio:
Not bad, considering. The Dolby Digital English mono audio track has hiss, but you can hear everything.
The Extras:
No extras outside that episode guide.
Final Thoughts:
A charming look back at a kind of television that is long gone, kids. Babes in Toyland will be of primary interest to fans of vintage TV...but don't count out the small fry enjoying this sweet, funny adaptation of the Christmas stage classic. I'm recommending Babes in Toyland.
---
Paul Mavis is an internationally published movie and television historian, a member of the Online Film Critics Society, and the author of The Espionage Filmography.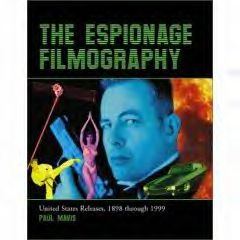 ---
C O N T E N T

---
V I D E O

---
A U D I O

---
E X T R A S

---
R E P L A Y

---
A D V I C E
Recommended
---
E - M A I L
this review to a friend
Sponsored Links
Sponsored Links