Midsomer Murders: Series 1
List Price: $59.99 [Buy now and save at Amazon]
---
It's good to start at the beginning. Acorn has gone back to square one and released Midsomer Murders: Series 1, properly labeling this set in BritTV-speak, highlighting the first "series" of episodes of the long-running international smash hit mystery show--now in proper, original U.K. broadcast order. Episodes included are: The Killings at Badger's Drift, Written in Blood, Death of a Hollow Man, Faithful Unto Death, and Death in Disguise (all of which are based directly on Barnaby creator Caroline Graham's original mystery novels). Fans of the series who've only caught it hit and miss will enjoy going with this proper reboot, while newcomers have the perfect opportunity to jump right in. Minor text bonuses are included in these okay full-screen transfers.
For those new to the series, Midsomer Murders details the continuous mayhem (which nobody seems to notice or comment on) that afflicts rural, affluent (and fictitious) Midsomer County. Bodies drop like flies, and in the most appalling ways, and it's up to Detective Chief Inspector Tom Barnaby (John Nettles) of Causton's Criminal Investigation Department, to clean up the mess. He's aided by Detective Sergeant Gavin Troy (Daniel Casey), a young, callow officer who frequently states the obvious to the sarcastic Barnaby, and who makes no bones about his prejudices (gays, in particular)--but whom Barnaby finds increasingly helpful during their investigations. Lending a hand with vital forensic data is seasoned, sardonic coroner Dr. George Bullard (Barry Jackson). Barnaby's settled home life is represented by Joyce Barnaby (Jane Wymark), Tom's put-upon wife (who frequently loses her husband to a case right before an important event in their social life), and Cully Barnaby (Laura Howard), their somewhat directionless daughter (she wants to be an actress), making frequent appearances.
Over the last seven years or so, I've written reviews for at least as many sets of Midsomer Murders, beginning with episodes that originally aired in 2004. So it's a lot of fun for me to go back to the show's first outings which premiered in England back in 1997. As I wrote before, what marks Midsomer Murders as unique is its strange, English black humor mixture of eccentric, deceptively quaint characters, a delicious sense of reveling in the macabre (as only the English seem to do with a straight face), and a distinctly English standoffishness in the face of Midsomer County's utter mayhem. Much of Midsomer Murders is smart send-up of the classic "English village" mystery genre, and so competently done, that it can be enjoyed as either straight representation of that form, or as farcical commentary on it.
It's been noted before of the ridiculously high murder count in the fictional Midsomer County (much like the fictional Cabot Cove--or any other place that Murder, She Wrote's Jessica Fletcher happens to find herself); if you watch Midsomer Murders end to end, I suppose that sense of the homicidally absurd would be driven home more forcefully. After all, a series of seemingly unending gruesome murders in small, affluent rural villages, all in the same county, week after week? But since each episode is largely self-contained, and the murders occur in various small villages throughout the Midsomer County, you can approach each entry as a "straight" mystery. Taking all the episodes together, however, the silliness of the crime rate becomes quite funny.
John Nettles' square, stolid interpretation of Detective Chief Inspector Barnaby at first glance seems to be better suited to an uncomplicated piece of genre work, not a intricate spoof. Designed specifically to have no distinguishing quirks or "handles" to attract the audience (no Columbo raincoat and junker car; no Rockford Files trailer parked in an empty lot), the Barnaby character seems colorless upon first inspection. However, once the joke starts to settle in, Nettles' assured, minimal performance reveals itself to be perfectly pitched for the understated British diffidence and sly wit that marks Midsomer Murders. Watching him closely, you can see Nettles putting his own restricted little spins on his line readings, with his closed-off facial expressions bringing just the right amount of straight-man commentary on the patently outlandish goings-on in Midsomer County.
In addition to some of the more humorous supporting characters (Casey's Detective Sergeant Troy is quite funny in his combination bumbling/pissed-off manner), much of the humor of Midsomer Murders comes from the bizarre, peculiar inhabitants and suspects that lurk in the corners of the deadly County, many of them recognizable English stock characters transformed into jealous, petty, venal creatures capable of murder. One of the series' strong points is its ability to take a seemingly innocuous, mundane affair in English country life, and gradually peel away the layers of social facade to reveal the perverse, angry, seamy underbelly of greed, lust, class envy, and ambition that drive the truly terrible crimes that are visited upon the country folk...while providing plenty of smart comedy along the way. These facades are frequently tied in with storylines and plot elements that emphasize a nostalgia for a sense of the disappearing way of English country life (or perhaps more accurately, our manufactured movie, TV, and novel sense of English country life). This isolation, both in actual locale and in thematic elements stuck in events obsessed with passing traditions, further removes Midsomer Murders from reality, creating a series of cozy mysteries starring broad, outrageous characters, with surprisingly tart resonance.
In the series' opener, The Killings at Badger's Drift, a few soon-to-be-series-conventions were easily recognizable, including setting the scene for the mystery within a cozy, even satirical framework (the victim rides around a quaint village on her bike as chirpy music plays); the victim seeing something off-camera that is decidedly not of the quaint, old-school "English village" mystery dictums (the victim sees a naked couple having sex in the woods); Tom's home life portrayed as a source of further comedic relief (Joyce cooking some god-awful meal); a series of characters, some broadly outlandish, are introduced as possible suspects; the various murders are quite gory in nature (a slasher film-worthy throat cutting); and the mystery is wrapped up with an ironic, comedic coda (a forgotten clue is "solved" through one of Tom's outside activities). Midsomer Murders's obsession with the sexually perverse is first on display here, as well (incest will be a theme in many upcoming episodes, it seems), while our first delightfully hammy performance cropped up, too (Elizabeth Spriggs is hilariously grotesque as the snooping Iris Rainbird). Whereas The Killings at Badger's Drift had me stumped, Written in Blood's mystery wasn't terribly challenging (as I've written before, I usually don't suss these things out...but this solution was pretty evident right from the start), nor was its social commentary in any way effective (the deus ex machina inclusion of AIDS into the final Grand Guignol horror finale smacked of desperation, not commentary). However, its evocation of a small-town literary group, loaded with jealous, frustrated incompetents, was both amusing and quite sad, with David Troughton turning in a tour de force as a repulsive, squalid high school drama teacher consumed with his own false importance (full of funny little line readings, Timothy Bateson scores, as well, in a miniscule cameo as a lawyer).
Death of a Hollow Man, scripted by Graham herself, was a terrific backstage murder mystery centered around Causton's village players putting on a version of Amadeus. Not only was the mystery itself wonderfully convoluted and impenetrable, with liberal sprinklings of acidic asides aimed at fatuous directors and small-fry, hammy amateurs, but several of the performances were stand-outs, including Sarah Badel as a vengeful divorcee, Nick Woodeson as a suspicious, bitchy, jealous bookseller, and Bernard Hepton as a mad, dictatorial has-been director, lording it shamelessly over the small-time players. Faithful Unto Death sported a rather complicated (but too terribly difficult-to-solve) mystery involving another favorite Midsomer Murders motif: the shady development deal, which either involves gullible villagers getting ripped off by one of their own (in this case), or villagers going on the rampage when they think their isolated village will be ruined by "progress." If you ever wanted to see normally straight-laced Barnaby high as a kite, this is your dream episode, while one of my all-time favorite Midsomer couples--Eleanor Summerfield and Peter Jones as the delightfully daffy (and baked) Elfrida Molfrey and "The Bunny Boy" Dawlish--showed up here to truly hysterical effect (Summerfield can get a belly laugh from just the waggling of one over-painted eyebrow). Rather unusually (in comparison with later episodes), this particular mystery dragged on quite a bit after it was solved, with the tone turned unnecessarily somber as Tom frets over justice being done; I prefer my Midsomer Murders neat, clean, and humorously nasty. Thankfully, Death in Disguise skewed back along those lines in a funny, murderous tale of a hippie commune gone awry when "the Master" (Michael Feast) is murdered...along with various others. There were lots of laughs when the normally forgiving Barnaby finally has had enough of the "New Age" speak, while supporting players Colin Farrell and Diane Bull as former brothel keepers, and particularly the magnificent Judy Cornwell as an overly-dramatic medium (she's priceless, flinging herself about), received big guffaws, too. This final episode in the series seems to point the way the series will increasingly turn, mixing almost-outlandish parody in with all-too-real venality and criminality, for a curious mix that is pure English black humor, with tongue firmly planted in cheek.
The DVD:
The Video:
Shot originally in 16mm (can you imagine? A major television program from 1996 still shot in 16mm???), the full-screen, 1.37:1 transfers look pretty good within the limitations of the stock...but why didn't someone at Acorn upload these full-frame transfers to an anamorphic platform? What are they just windowboxed flat? Too bad they missed the boat there (if you want to re-package these for sale, you need some kind of marketing angle other than "original U.K. broadcast order,"). Otherwise, image quality is okay, with expected grain and a reasonably sharp image.
The Audio:
The Dolby Digital English stereo audio track is better, with infrequent but discreet separation, reasonable base, and no hiss. For the first time, these transfers included English subtitling, which is a big plus.
The Extras:
Two minor bonuses, both on-screen text: a map of Midsomer and production notes (new extras would have helped sales, as well...).
Final Thoughts:
Let's start at the beginning, shall we? Lovers of Midsomer Murders who haven't started their collection will be the best bet here for Midsomer Murders: Series 1, but anyone not familiar with the show and who loves mysteries--particular the "English village" kind from the other side of the Pond--should put Midsomer Murders: Series 1 first on their "to buy" list. I'm highly recommending Midsomer Murders: Series 1.
---
Paul Mavis is an internationally published movie and television historian, a member of the Online Film Critics Society, and the author of The Espionage Filmography.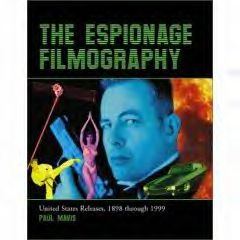 ---
C O N T E N T

---
V I D E O

---
A U D I O

---
E X T R A S

---
R E P L A Y

---
A D V I C E
Highly Recommended
---
E - M A I L
this review to a friend
Sponsored Links
Sponsored Links